This Red Hot Jello Salad is a bit nostalgic and perfectly delicious! Serve it as a fun side dish for dinner! It's also a great accompaniment to holiday meals!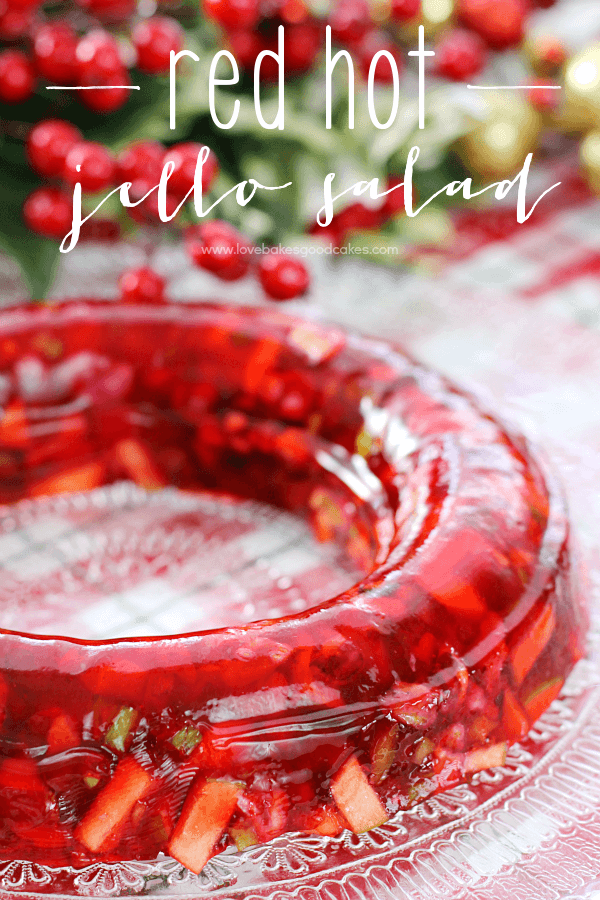 Red Hot Jello Salad
I know I have officially become an Arizonian when any weather below 75 degrees requires a jacket. I mean, I have turned into a complete wuss when it comes to dealing with the colder weather … and I know some of y'all are probably laughing at the colder than 75 degrees thing – but it's sooo true! If you have ever been here in the Phoenix area, then you know that I'm not the only one who completely wimps out.
As someone who has lived in the Midwest and up and down the East coast, I never thought it would come to this and I never thought I would become "one of those people" that I used to kinda laugh at for wearing coats and boots and complaining of how "cold" it is when the temps are in the 60's and 70's. I remember a time when that felt like summer to me …. man, oh man, how times have changed! I just can't handle it – Give me 110 degree days any day … y'all can keep this "cold" mess.
If nothing else, it kind of feels like Christmas here in Phoneix. And I guess, that can be a good thing. But I have to be honest, I'm ready for a little bit warmer weather already!
We've hosted all of our family get-togethers and were down to getting things ready for Christmas. One of the things I love to make for our holiday meal is this Red Hot Jello Salad! If you're a kid of the 60's and 70's, I'm sure you remember all of the crazy jello salad concoctions …. but I have to tell you, this is one of my faves! Although it reminds me of a wintery type of food, I love it year round! It's especially great with ham (in my opinion!) and I absolutely love the mixture of apples, celery, and walnuts in the sweet, spicy jello mix!
If you don't have a round tube pan, no worries! This is just as fantastic and pretty in a casserole dish! Sometimes, I like to add a dollop of sweetened whipped cream and eat it as a dessert instead of a side dish! Really, no matter how you serve it, you just can't go wrong with this easy and delicious Red Hot Jello Salad!
Just a side note to help make it easier to get the Red Hot Jello Salad out of the mold or pan – run a knife around the outside, then dip the pan in very hot water for about 10-15 seconds! Place a serving plate over the pan and carefully invert the salad onto the plate! It should help it come right out!
I've shared one of my favorite holiday dishes with you – this Red Hot Jello Salad. Please leave a comment below telling me one of your favorite holiday dishes!
Don't forget to pin it!
Other Posts You May Enjoy: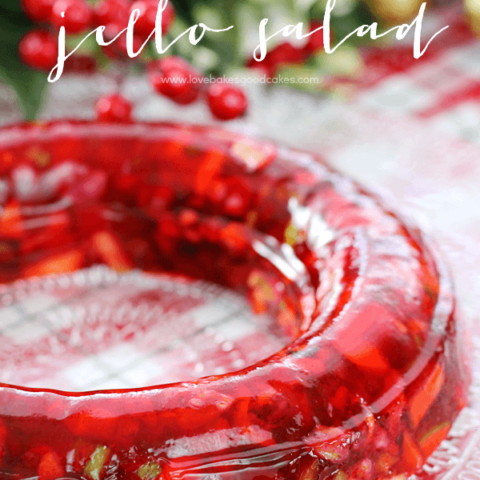 Red Hot Jello Salad
This Red Hot Jello Salad is a bit nostalgic and perfectly delicious! Serve it as a fun side dish for dinner! It's also a great accompaniment to holiday meals!
Ingredients
1 pkg. (3 oz.) cherry gelatin
1 1/2 cups boiling water, divided
1/4 cup red-hot candies
1/4 cup cold water
1 cup chopped tart apples
1 cup chopped celery
1/2 cup chopped walnuts
Instructions
In a small bowl, dissolve cherry gelatin in 1 cup boiling water. In a separate bowl, dissolve red-hots in remaining ½-cup water. Stir the red-hot water into gelatin mixture. Stir in cold water. Refrigerate until slightly thickened, about 1 hour.
Once the gelatin has thickened, fold in the apples, celery and walnuts. Pour into a 4-cup mold coated with cooking spray. Refrigerate for 2 hours or until firm.
Nutrition Information:
Amount Per Serving:
Calories:

127
Total Fat:

9g
Saturated Fat:

2g
Cholesterol:

0mg
Sodium:

27mg
Fiber:

2g
Sugar:

6g
Protein:

6g