These Candy Dipped Pretzel Rods are perfect for parties or for an easy no-bake treat! You can easily adjust the colors and sprinkles to fit any holiday or celebration! #pretzels #easyrecipes
This post may contain affiliate links. As an amazon associate, I earn from qualifying purchases. See my full Disclosure Policy for details.
Candy Dipped Pretzel Rods
*The backdrop used in these photos is courtesy of Ink and Elm.*
When we moved to Arizona, many of our neighbors stopped by and introduced themselves. To be honest, it took Brian and I by surprise ….. people just weren't that nice in North Carolina. I guess after you have lived somewhere for so long, you kind of forget what life is like in the world outside of those city limits.
Our neighbors are pretty cool and I couldn't have asked for a better neighborhood for my family to be a part of! Brian and I are very reserved around other people … and we are the kind of people who mind our own business. That's just the way we were raised. Not in an un-friendly sort of way – just very well-mannered. We are so quiet, that people are shocked to find out that people actually live in our house (it sat empty for over two years when the housing market took a nose-dive). Our neighbor Alyce has even commented she would never know there are five children living here. Seriously, they know that if they want to act a fool, they better do it when they don't live here. 😉
Back to the neighbors …. they like to get together every so often for a block party (for lack of a better word). Halloween is probably the biggest one! They set up tables with tons of food and candy. It makes it easy for the trick-or-treaters since they only have one stop on our street instead of having to go to all of the houses. It's like the candy jackpot … instead of one or two pieces – they get a handful!
With as quickly as this year has gone by so far, I'm already thinking about what I want to make for the Halloween Block Party. It seems like a long ways a way, but it'll be here before we know it! I thought about making these Candy Dipped Pretzel Rods because they're a grab and go treat and they're not too messy to eat. I haven't quite made up my mind, but these are definitely high on the list! 🙂
The great thing about these Candy Dipped Pretzel Rods is you can make them for an occasion! You can dip they in caramel and then into the candy melts. Change the colors. Change the sprinkles. Use colored sugar or add creepy eyes. Add your favorite candy in place of the sprinkles. The possibilities are endless!
Other Posts You May Enjoy: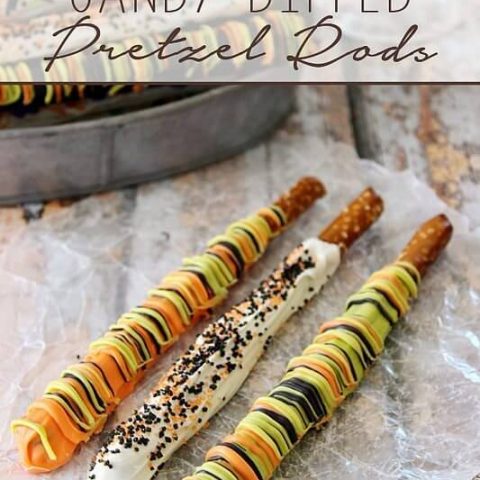 Candy Dipped Pretzel Rods
These Candy Dipped Pretzel Rods are perfect for parties or for an easy no-bake treat!
Ingredients
1 bag (12 oz.) pretzel rods
Wilton candy melts (assorted colors)
Sprinkles or seasonal candy (optional)
Instructions
Lay out a 3 foot strip of wax paper. Line up the pretzels on the wax paper leaving a space between each. Remove any broken pretzel rods.
Melt the candy melts according to package directions. Carefully dip and coat the pretzel rods into the candy melts, allowing excess to drip off. You may find using a spoon to help coat the pretzels helpful. Place the coated pretzels back on the wax paper to harden - If you would like sprinkles or candy, sprinkle them over the top before the candy hardens. You can also drizzle various colors of candy melt over the top. Make sure the pretzel rods do not touch each other. Continue until all pretzels are coated.
Nutrition Information:
Amount Per Serving:
Calories:

0
Total Fat:

0g
Saturated Fat:

0g
Cholesterol:

0mg
Sodium:

0mg
Fiber:

0g
Sugar:

0g
Protein:

0g