Sex on the Beach Cocktail is a drink with a spicy name, but with sweet, refreshing, tropical flavors mixed with vodka to keep you cool!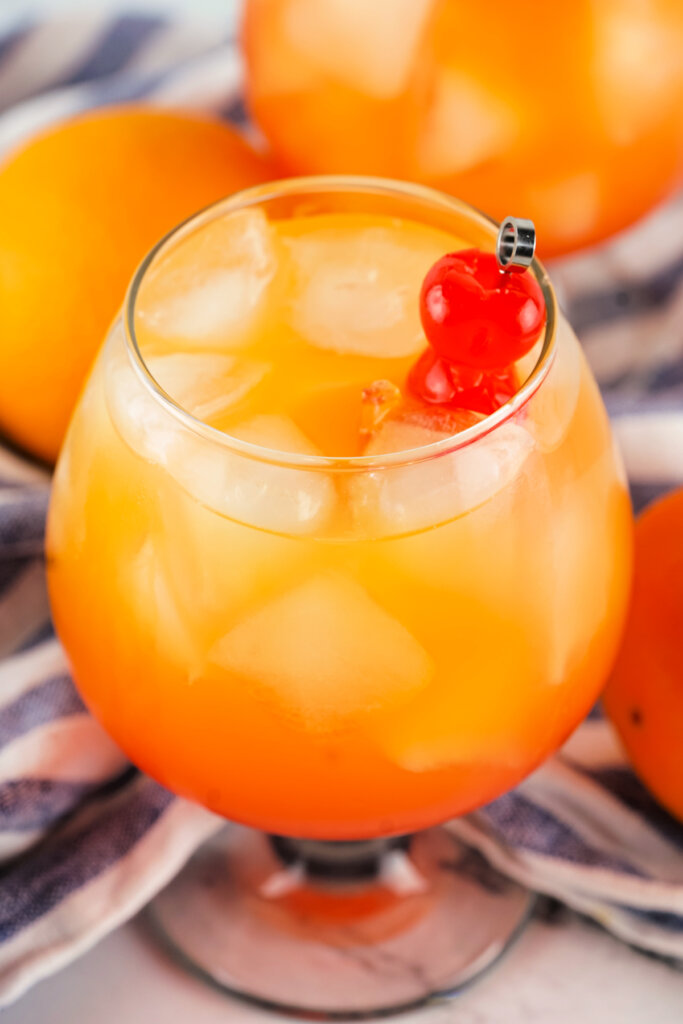 Recipe for Sex on the Beach Cocktail
A Sex on the Beach Cocktail is a drink with a spicy name, but a sweet and refreshing taste to keep you cool! There's nothing like a load of tropical flavors and vodka mixed into one drink.
Y'all, I've been down a rabbit hole again, researching the histories and names of the cocktails I enjoy … I mean, "Sex on the Beach"?! 🤣
Apparently, its exact history is lost to time. (Like all good alcoholic treats!!) But from what I can see, the most popular Sex on the Beach story claims a bartender named Ted Pizio created it in the 1980s.
He needed to sell the most peach schnapps during spring break for a contest in his Florida city. From there, the Sex on the Beach cocktail was born – one part vodka, one part peach schnapps, and loads of tropical fruit juices mixed in!
I think I was expecting something more … R-rated!! Ha! 🙈
If you've never had a Sex on the Beach cocktail before, it's an easy-to-make drink with a sweet and very tropical flavor.
Best of all – for those who may not like the taste of vodka – it's loaded with yummy fruit juice to take the edge off the alcohol.
Sweet and refreshing, but with plenty of punch … it's another wonderful summertime drink! I hope you enjoy it, because I know I will now that the weather's getting warmer!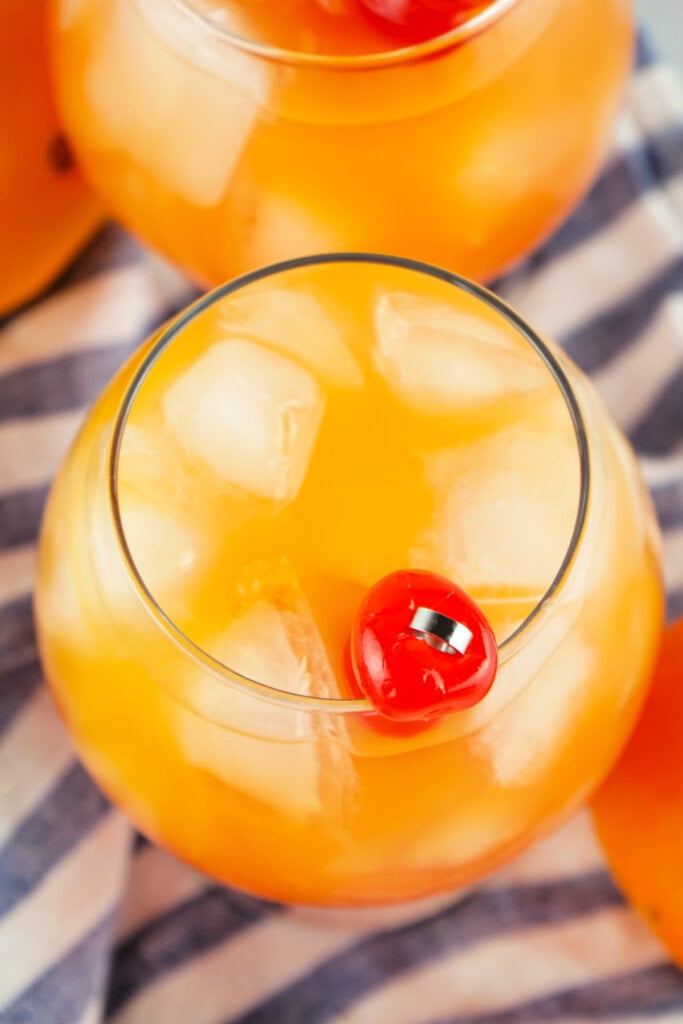 Sex on the Beach Recipe: Ingredients & Equipment
To make this Sex on the Beach recipe, you'll need …
Ingredients
vodka – in some cocktails, your vodka choice matters. I'd say in this one, vodka is vodka. Any on hand will be fine since the fruit juice will be the main taste!
peach schnapps – make sure not to confuse peach schnapps with peach liqueur!
orange juice – the first of your fruity non-alcoholic drinks. Pulped or 100% is fine, but the latter makes for a smoother drink in texture and looks!!
cranberry juice – the best to use for this recipe is 100% cranberry juice with a blend of some other sweet fruit juices. (Like Ocean Spray brand for example.) Normally, a pure unsweetened cranberry juice cocktail makes this drink too tart or bitter, but if you find the drink too sweet already, then unsweetened cranberry juice is worth a try.
garnish – is totally optional. You can use cherries, an orange slice – whatever seems to fit!
ice – you can't have a cocktail without some ice!! Trying freezing some juice or a bit of the cocktail to make for the cubes, just to keep it from diluting the flavor as it melts.
NOTE: Throw all this, and some ice, into a blender for a yummy Sex on the Beach slushie! 😍
Equipment
a glass – is optional, but, a long and tall glass is always the best for cocktails!!
spoon – a long one to mix your ingredients together.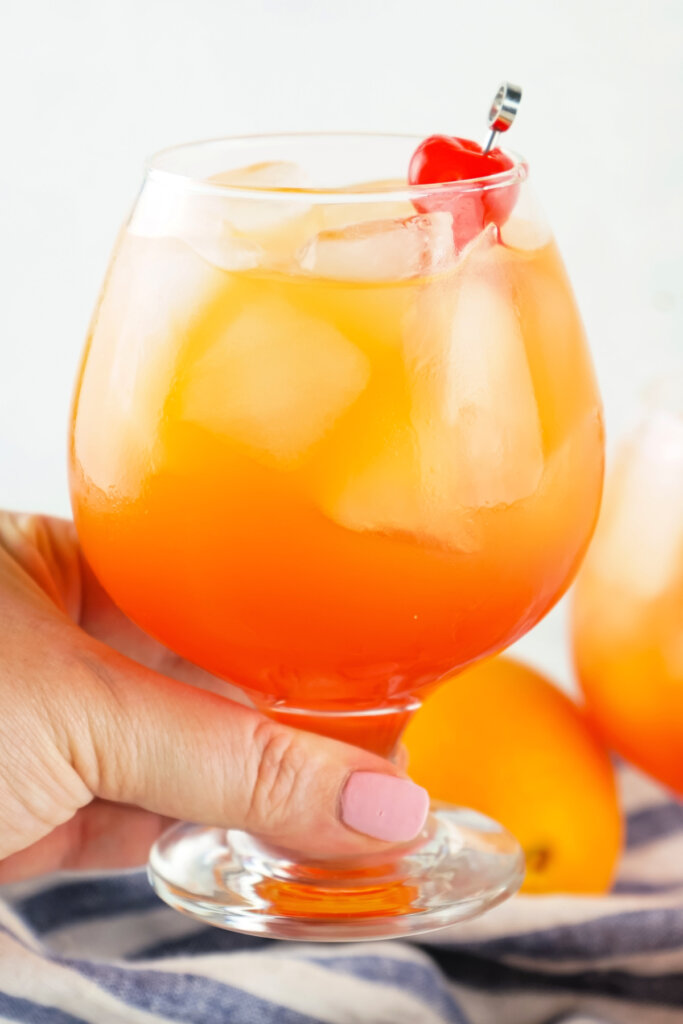 Sex on the Beach: FAQs
Can I make a "virgin" or kid-friendly Sex on the Beach?
Sure!! A virgin Sex on the Beach is called a Cuddles on the Beach … yes, really, y'all. You would just need to leave out the vodka (if you want, you can replace the vodka with ginger ale, club soda, or your favorite lemon-lime soda) and replace the peach schnapps with peach nectar. 
How long does it take to make a Sex on the Beach cocktail?
Just under 5 minutes! As with many cocktails, you're basically just mixing the ingredients together…a lot of them are much simpler than they look!!
How many drinks does this recipe make?
Just one! You might have to make a few batches if all your friends want one. 😊
Are there any variations you recommend for a Sex on the Beach cocktail?
I see a lot of people replace the orange juice with grapefruit juice or pineapple juice! Adding lemon juice will balance out a lot of the sweetness too if you find this cocktail a bit too indulgent!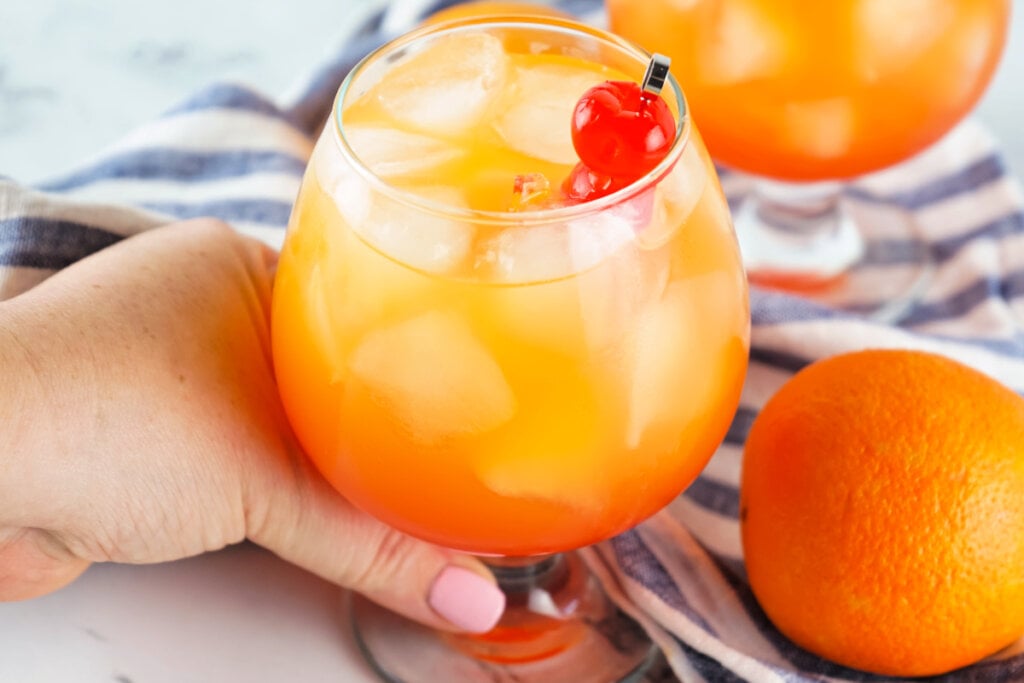 Other recipes you may enjoy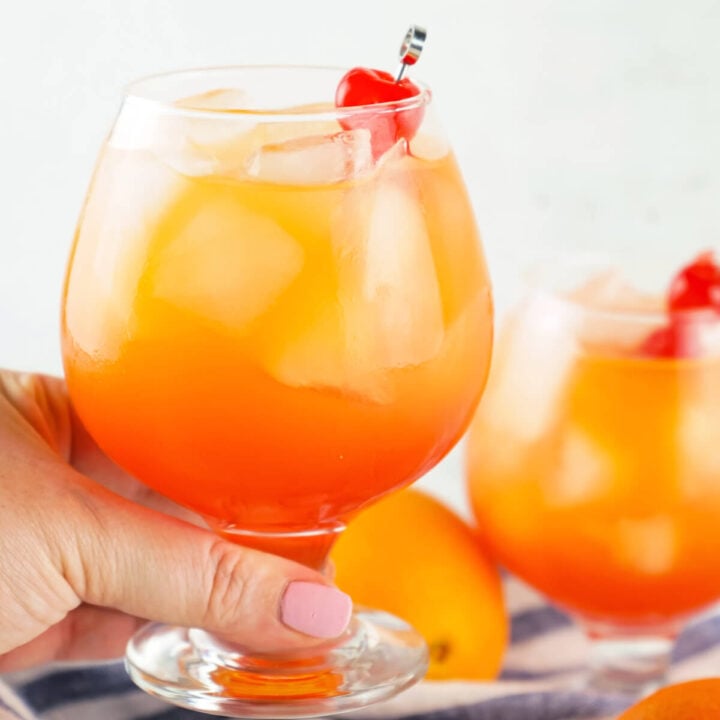 Sex on the Beach Cocktail
Sex on the Beach Cocktail is a drink with a spicy name, but with sweet, refreshing, tropical flavors mixed with vodka to keep you cool!
Ingredients
1 ounce vodka
1 ounce peach schnapps
1 ounce orange juice
1 ounce cranberry juice
ice
Maraschino cherrries or orange slice, for garnish (optional)
Instructions
Fill your glass with ice.
Add the vodka, peach schnapps, and orange juice to the glass.
Slowly pour the cranberry juice over the top to get that iconic color mixture.
Garnish with cherries and/or an orange slice. Enjoy!
Notes
This is an excellent drink for someone who doesn't drink much or is new to drinking. It is bursting with fruity flavors and doesn't have a strong alcoholic taste compared to some other drinks. Bonus - it is very simple to make!
If you prefer, you can add your ingredients to a cocktail shaker and add ice. Shake for 15 seconds and strain the mixture over ice in a glass for a deep orange color.
Recommended Products
As an Amazon Associate and member of other affiliate programs, I earn from qualifying purchases.
Nutrition Information:
Yield:

1
Serving Size:

1 drink
Amount Per Serving:
Calories:

220
Total Fat:

0g
Saturated Fat:

0g
Trans Fat:

0g
Unsaturated Fat:

0g
Cholesterol:

0mg
Sodium:

6mg
Carbohydrates:

33g
Fiber:

3g
Sugar:

27g
Protein:

2g
Please note that the nutritional information listed on this page is an estimation based on the products I used. Ingredients and nutritional information can vary significantly between brands. Always be sure to read labels. Please verify that a recipe fits your needs before using it. Nutrition info may contain errors, so please verify it independently. Likewise, recipes may contain errors, so please use your common sense when following them.