This simple, timeless Old-Fashioned Cocktail is the best way to relax with a classy drink! A staple of bars, cozy parties, and just unwinding on a long winter's night next to the fire.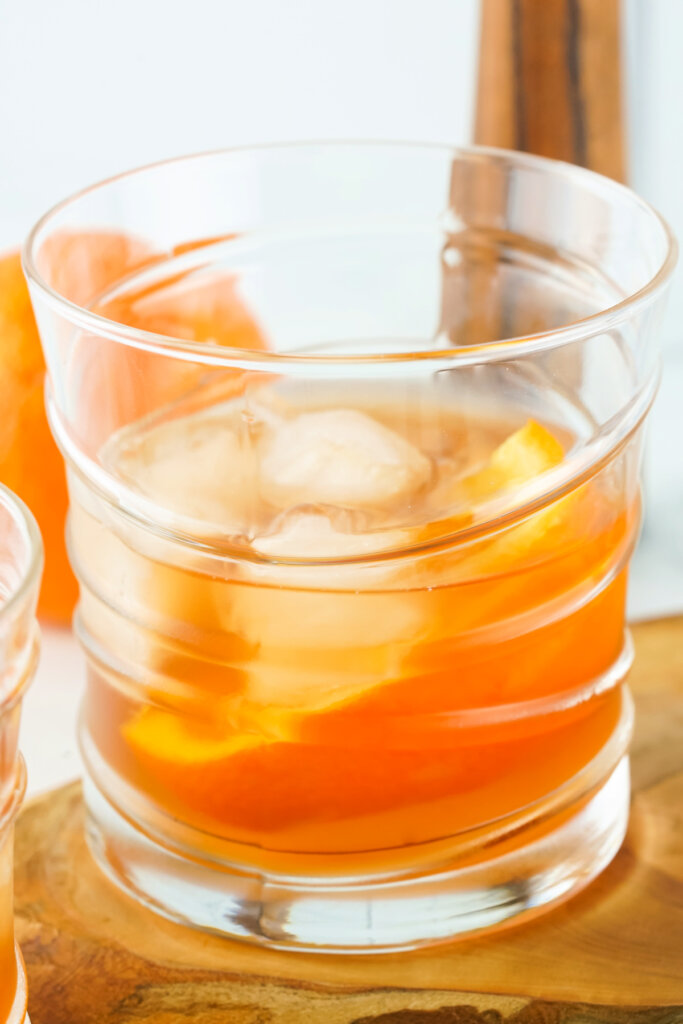 Old Fashioned Cocktail Recipe
Ever been the type to like a good, no-frills drink in your hand while you ease off a long day's stress? (I think all my moms here know what I mean!!) Because if so, an old-fashioned cocktail is definitely for you.
There's just nothing relaxing like an amazing old-fashioned, y'all. And I guess everyone else has thought so for a long time since it's one of the oldest cocktail recipes in the world! Like, 19th century old, or so I've read! Before the word "cocktail" was even invented. Can you imagine?
The recipe hasn't changed much since then, either. It's a simple and timeless drink made with only a handful of ingredients: bourbon mixed with bitters and sugar, and garnished with citrusy orange peels for a little extra flavor and that refreshingly sweet scent. Yum!
The small ingredients list also makes it perfect for some tidy mixing when you just want to melt into a recliner and get cozy fast. I hope you enjoy it!!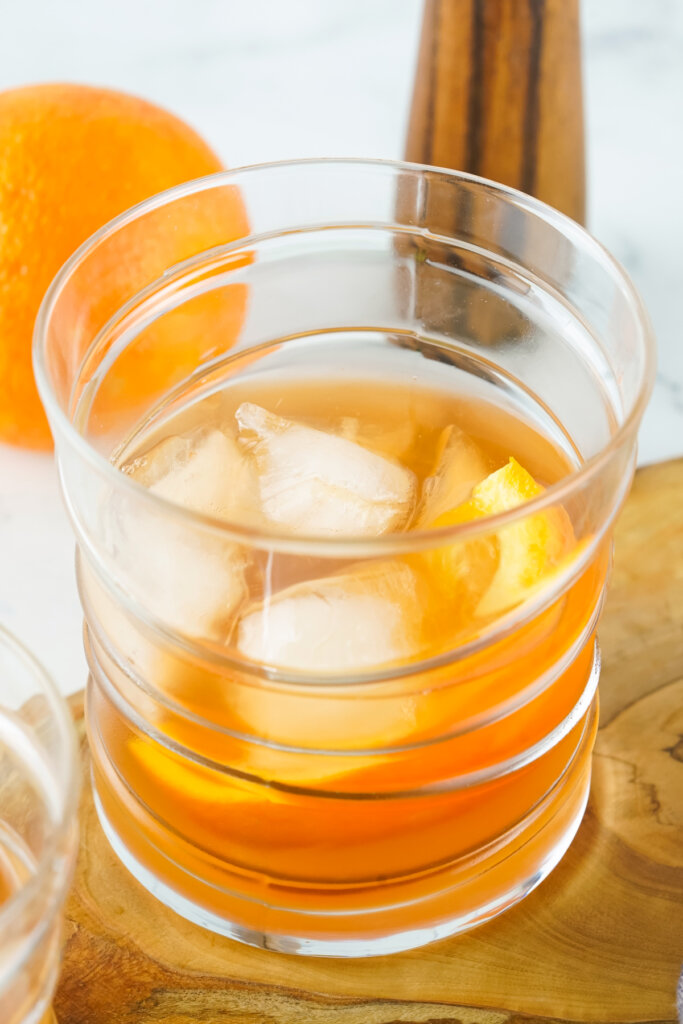 Old Fashioned: Ingredients & Equipment
To make this Old Fashioned Cocktail, you'll need …
Ingredients
one sugar cube – so you can gently crush it into the mixture in a technique called "muddling." You can also try replacing it with simple syrup, gum syrup, or even a bit of maple syrup – extra yummy in the winter!
six drops of bitters – use your favorite brand. I like Angostura, as it's an old-fashioned cocktail standby. By the way, you can add up to 10 drops if that's your preference – this is just a good place to start.
two ounces bourbon – the higher the proof the better here, y'all! Just measure the water to match your taste!!
garnish, optional: Many people like to use an orange peel or wedge, but you can also use lemon or both!
NOTE: Some folks also swear by adding a teaspoon of water into the drink. If you do this, it's best introduced with a bar spoon before the bourbon to keep it from flooding the alcohol's taste!
Equipment
bar spoon – for stirring the cocktail. A normal tablespoon will work just fine too, though.
a muddler – this is what you use to crush the sugar!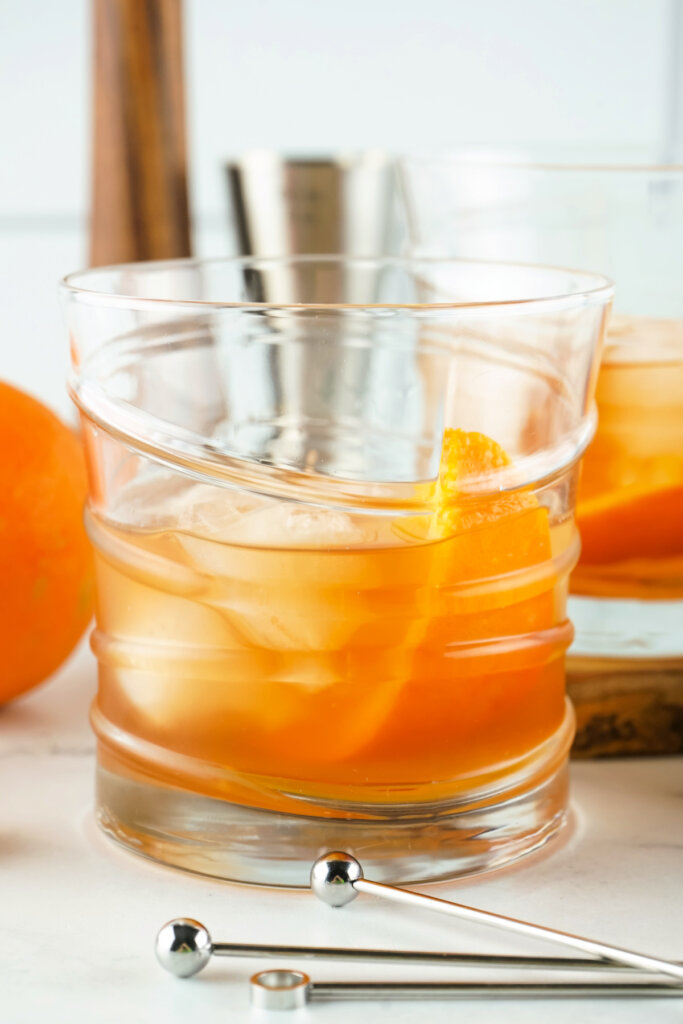 Old Fashioned: FAQs
How long does it take to make an Old Fashioned Cocktail?
Less than five minutes! It's just an easy stir and a long sip!
How many Old Fashioned Cocktails does this recipe make?
Just one serving! You might want to make a few batches if you have guests, or even just leave the ingredients out and help them make it a fun little activity!!
Can I use other spirits in this drink?
You can! Although an Old Fashioned is usually a bourbon drink, people also use to make them with Irish or rye whiskey instead. And in some places like Wisconsin specifically, I know people tend to prefer brandy. It seems to be a regional thing!!
What other garnishes can I use?
Maraschino cherries and even strawberries were common garnishes in the past, so take an idea from our ancestors! 😉
Can I mix in juices as well?
Mixing in blood orange soda is a classic and iconic twist on this classic drink too! Fresh pineapple juice is another option for a tropical take. Garnish it with some pineapple cubes on a skewer for a tasty and attractive decoration. Always make sure to just measure the juice to your taste depending on how sweet or boozy you like your Old Fashioned.
Other recipes you may enjoy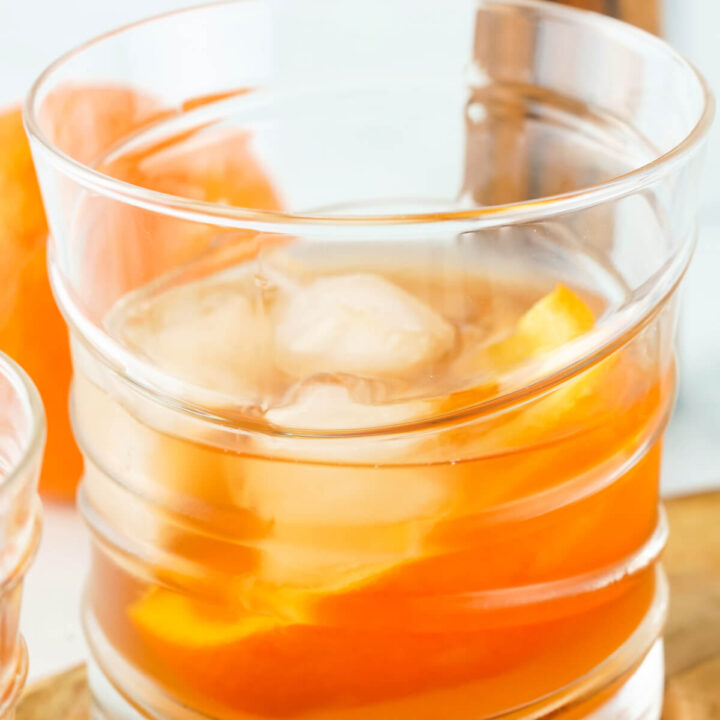 Old Fashioned Cocktail
This simple, timeless Old-Fashioned Cocktail is the best way to relax with a classy drink! A staple of bars, cozy parties, and just unwinding on a long winter's night next to the fire.
Ingredients
2 ounces bourbon
6 drops of bitters
1 sugar cube
orange peel or wedge, for garnish
ice
Instructions
Place the sugar cube in the bottom of a cocktail glass. Shake the bitters over the sugar cube so the sugar soaks up the flavor.
Use your muddler to completely crush the sugar cube.
Add some ice to your glass and pour your bourbon over the top. Stir until the sugar dissolves.
Rub your orange peel around the rim of the glass, then drop it in your drink.
Serve immediately.
Notes
If you want more of a citrus kick, squeeze an orange wedge into your glass after adding the bourbon.
Recommended Products
As an Amazon Associate and member of other affiliate programs, I earn from qualifying purchases.
Nutrition Information:
Yield:

1
Serving Size:

1 cocktail
Amount Per Serving:
Calories:

615
Total Fat:

0g
Saturated Fat:

0g
Trans Fat:

0g
Unsaturated Fat:

0g
Cholesterol:

0mg
Sodium:

4mg
Carbohydrates:

16g
Fiber:

1g
Sugar:

15g
Protein:

0g
Please note that the nutritional information listed on this page is an estimation based on the products I used. Ingredients and nutritional information can vary significantly between brands. Always be sure to read labels. Please verify that a recipe fits your needs before using it. Nutrition info may contain errors, so please verify it independently. Likewise, recipes may contain errors, so please use your common sense when following them.