When it comes to family-friendly drinks, there's nothing quite like Homemade Limeade to brighten up an already-sunny summer day! It's refreshing, delicious, full of citrus flavor, and the perfect companion to any BBQ!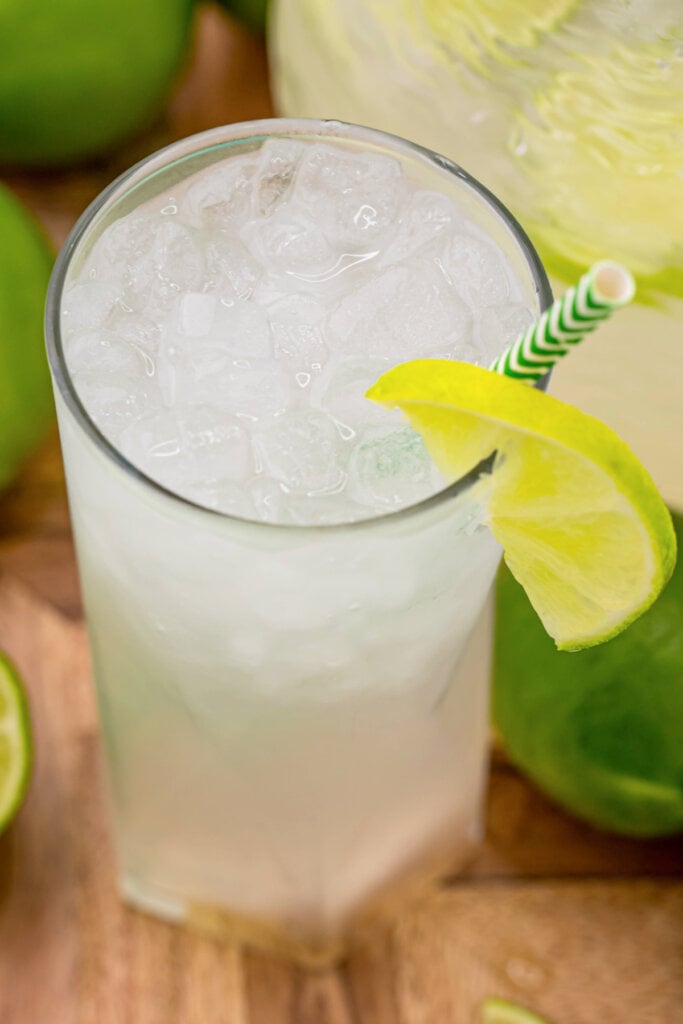 Limeade Recipe
I can't believe it's almost summer again, y'all. Well, maybe not summer, but warmer weather … which inevitably leads to summer.
I feel like every year goes by faster than the last! Is that happening with any of you?! Didn't I just put up a bunch of holiday recipes?!
I suppose I need to start thinking of summer recipes now … and this homemade limeade is a great place to begin. It's a simple family-friendly beverage your kids and loved ones will enjoy since it's lemonade – but with limes, of course! And if you only have adults in your life, it's a yummy base for a boozier drink! 😉
Either way, it's the kind of thing you want in a big icy pitcher at a picnic or BBQ this year. Enjoy!!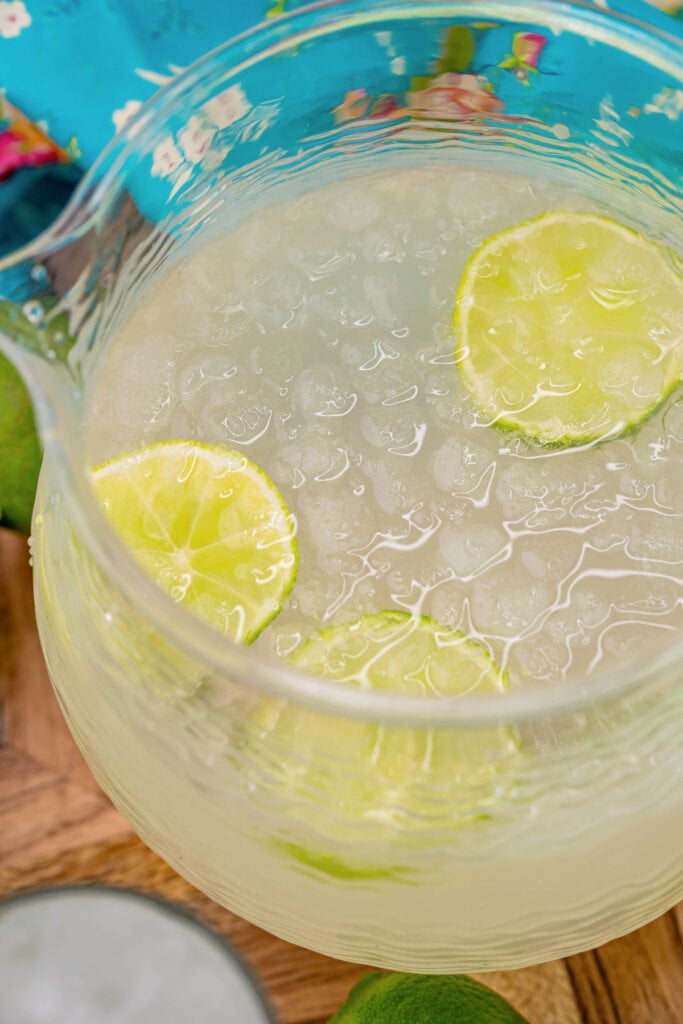 Limeade: Ingredients & Equipment
To make this Homemade Limeade, you'll need …
Ingredients
lime juice and water – you can't have limeade without it, right? One lime will give you about 2 tablespoons of juice more or less, so if you're using fresh lime juice (and you SHOULD use fresh lime juice, y'all!!) be sure to get enough for the recipe.
simple syrup – this is sugar and water mixed in a small saucepan, heat until the sugar is dissolved! I also have a recipe and full instructions for simple syrup right here on the blog. You'll use it to sweeten the drink evenly.
ice – limeade is best served cold! Throw this in the same pitcher you're using to make the limeade.
Equipment
pitcher – for stirring your ingredients together. That's it! That's all you'll need!!
Limeade: FAQs
The recipe is too tart/too sweet! Can I adjust the measurements?
Adjust the lime juice and simple syrup amounts until it's just right for you!
Should I use fresh lime juice?
Yes, I highly HIGHLY recommend using fresh lime juice rather than lime juice from the store. You'll taste the difference! Use a juicer or if you need to squeeze the limes themselves, microwave them for 30-ish seconds first or place them in warm water for about that long. This will soften them and allow you to squeeeeeeeeeeze all the juice out of them!!
What kind of limes am I looking for?
You want ripe (bright green) limes that feel very heavy. These will give you the most juice, as well as the most flavorful juice! If they're already turning yellow, they've gotten too mature and won't taste quite right in the limeade. 
How many servings does this recipe make?
Unlike most drinks I share, this recipe produces enough for 6 servings, which means the whole family can enjoy some tasty tasty limeade!
How long can I store this in the fridge?
If you skip the ice until serving time and keep it in a covered pitcher, it'll be fine in the fridge for 3-4 days.
Do you have any recommendations for additions?
If you want to touch up your limeade, you can add mint or lemon to it. I especially love mint in my limeade sometimes, although the kids can take or leave it!!
Can you make this drink boozy?
Oh yes! If you're a grown-up, of course. 😉 But seriously, add your favorite bourbon, rum, tequila, etc. to make this a delicious cocktail if you'd like.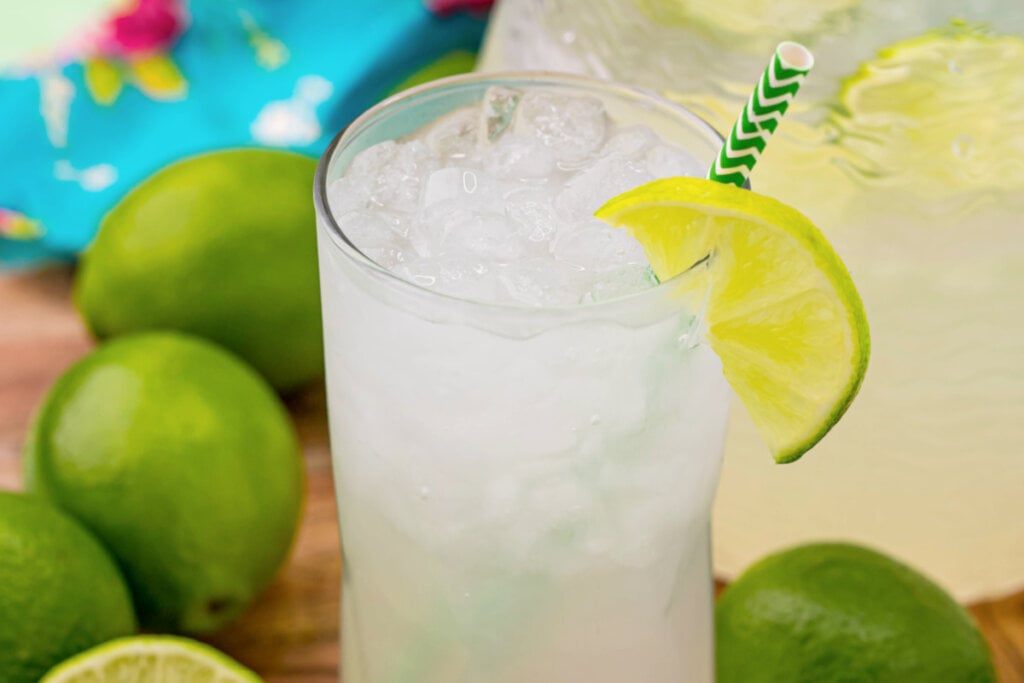 Other recipes you may enjoy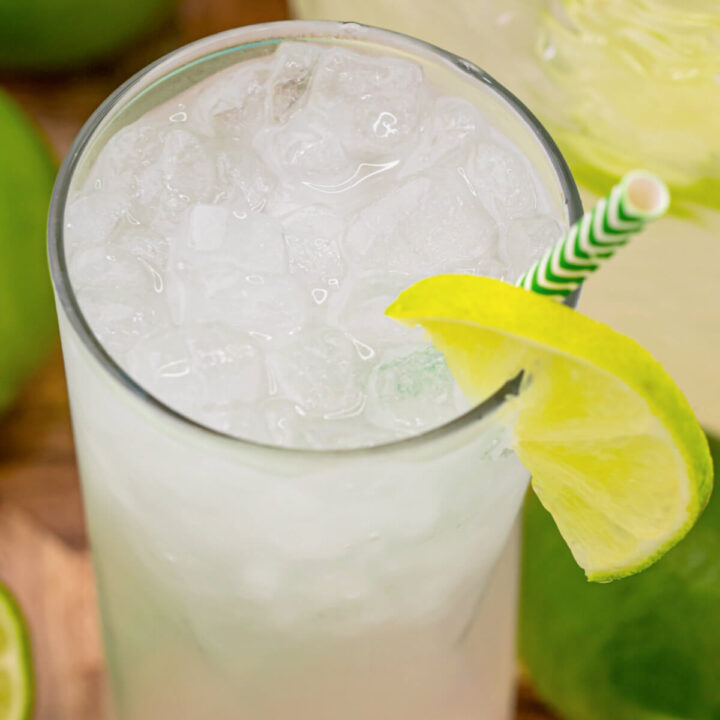 Homemade Limeade
When it comes to family-friendly drinks, there's nothing quite like Homemade Limeade to brighten up an already-sunny summer day! It's refreshing, delicious, full of citrus flavor, and the perfect companion to any BBQ!
Ingredients
1 cup freshly squeezed lime juice
4 cups water
ice
Instructions
Combine all of the ingredients in a large pitcher with ice.
Serve immediately.
Notes
Store any leftover limeade in a covered pitcher for up to 4 days in the refrigerator.
The amounts of lime juice and simple syrup can be adjusted to taste for tartness/sweetness.
Recommended Products
As an Amazon Associate and member of other affiliate programs, I earn from qualifying purchases.
Nutrition Information:
Yield:

6
Serving Size:

6 oz. cup
Amount Per Serving:
Calories:

10
Total Fat:

0g
Saturated Fat:

0g
Trans Fat:

0g
Unsaturated Fat:

0g
Cholesterol:

0mg
Sodium:

7mg
Carbohydrates:

3g
Fiber:

0g
Sugar:

1g
Protein:

0g
Please note that the nutritional information listed on this page is an estimation based on the products I used. Ingredients and nutritional information can vary significantly between brands. Always be sure to read labels. Please verify that a recipe fits your needs before using it. Nutrition info may contain errors, so please verify it independently. Likewise, recipes may contain errors, so please use your common sense when following them.