There is nothing quite so refreshing as this Bay Breeze Cocktail on a summer day. It's a simple fruity drink made with vodka, and it's perfect for sipping on during the hottest months of the year.
Bay Breeze Drink
Do you enjoy boozy tropical drinks – but not the taste of rum? (It seems like that's in every tropical drink, huh?) If so, I have a drink for you: this bay breeze cocktail!
It's two parts cranberry juice, two parts pineapple juice, and one part vodka. Delicious and easy to make!
This drink is also known as a Hawaiian sea breeze. However, it's not the drink known as the "sea breeze," since that generally uses grapefruit juice rather than pineapple juice.
It's also not the drink known as the "Malibu bay breeze," since that uses Malibu rum. It's also not a "Cape Codder," aka a Vodka Cranberry.
Lots of delicious drinks out there, whew – but just one wonderful bay breeze.
This recipe is, by the way, the most amazing drink to have during late spring or summer holidays/occasions/get-togethers. For instance, try it as a special cocktail during…
Mother's Day
Your bestie's birthday
A bridal shower
Or a picnic!
Though, I've prepared this once or twice during the winter just to remind me of the sunshine. I know it's a little weird, but it's just that good – and just that tropical!! It truly is like an ocean breeze captured in a glass. Enjoy!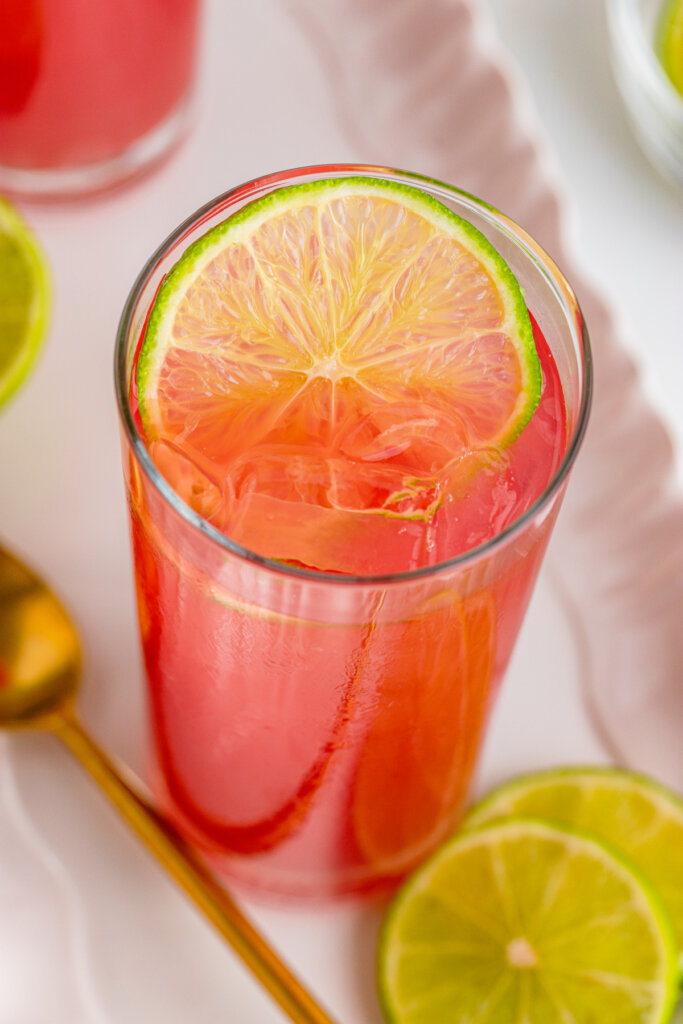 Bay Breeze: Ingredients & Equipment
For this Bay Breeze Cocktail recipe, you'll need …
Ingredients
vodka – the only alcohol in this beverage. Part of what makes it so simple yet tasty!
cranberry juice and pineapple juice: – these two juices combine to make a refreshing, sweet, and fruity flavor. You'll use the same amount of both for my bay breeze recipe, although there are some variations on this!
ice – this cocktail is best served cold for the summer months, of course.
lime wheel – optional, but makes a lovely garnish. I also like to sometimes squeeze it into the drink for a bit of citrus. Up to you, though!!
Equipment
measuring jigger – used to get the portions of juices and vodka right.
glass – grab your favorite cocktail glass for this one, y'all!! That's all you'll need to make a bay breeze cocktail.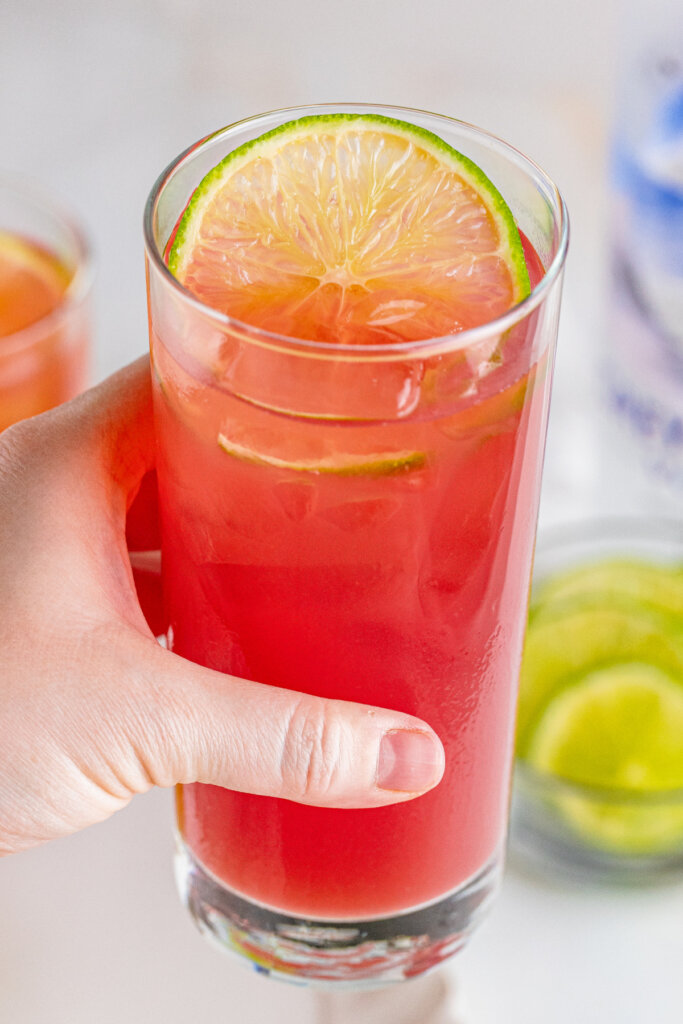 Bay Breeze: FAQs
How long does it take to make Bay Breeze?
Less than 5 minutes!! All you'll need to do is measure and stir the ingredients together.
How many bay breeze cocktails does this make?
Just one! You'll want to make a few batches if you have a party to serve.
Do you use cranberry juice or cranberry juice cocktail?
You can use either one. However, if you use cranberry juice, you may want to add some simple syrup or another sweetener into your drink, as it'll be a little tart. However, the cranberry juice cocktail already has a sweetener added, so you'll be good to go there.
Can I change up the ratio of the juices?
Absolutely. I've noticed some people prefer way more pineapple juice in a bay breeze. And the "official" way to make a bay breeze, apparently, is to use a TON more cranberry juice – like – a ratio of 5:1 or 6:1 cranberry-to-pineapple. Of course, in the end, you can flavor it to your taste if you don't like my ratio. However, I really think this recipe nails it perfectly.
Can I use a bit more vodka?
Yes, although most recipes don't call for more than 2 ounces at the very most!!
What other garnishes do you recommend?
Anything fruity, like pineapple wedges or maraschino cherries. Delicious!!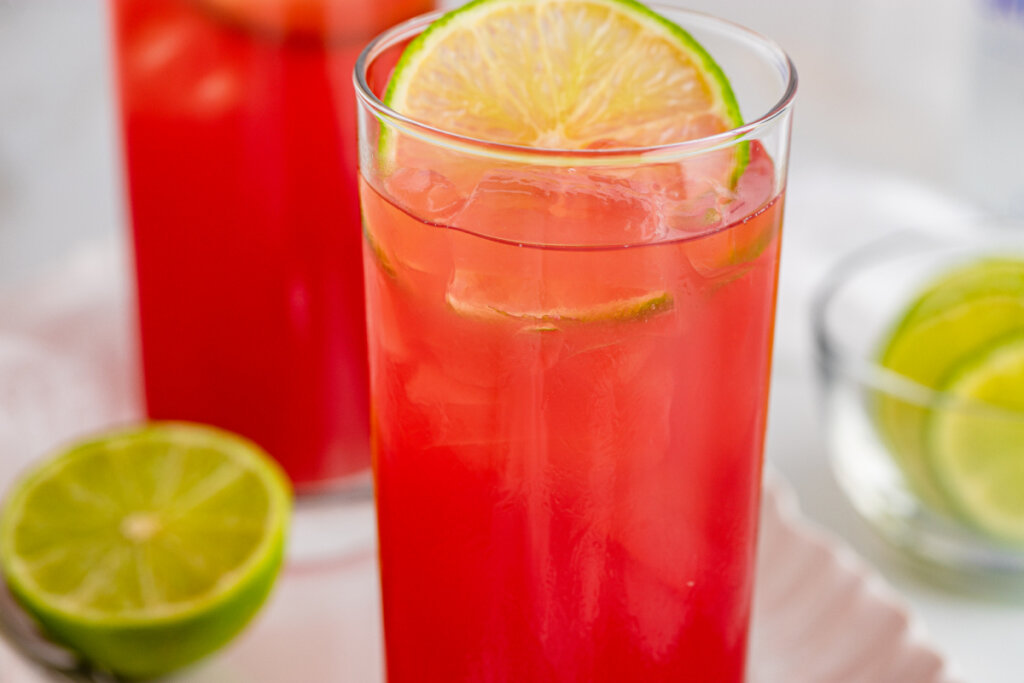 Other recipes you may enjoy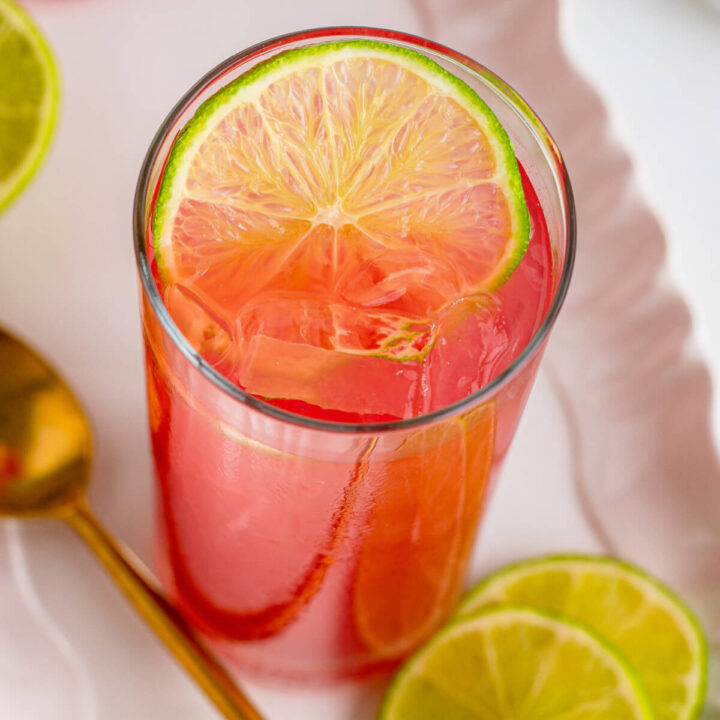 Bay Breeze Cocktail
There is nothing quite so refreshing as this Bay Breeze Cocktail on a summer day. It's a simple fruity drink made with vodka, and it's perfect for sipping on during the hottest months of the year.
Ingredients
ice
1.5 ounces vodka
3 ounces cranberry juice
3 ounces pineapple juice
lime wheel for garnish
Instructions
Fill a tall glass with ice.
Add vodka, cranberry juice, and pineapple juice.
Gently stir.
Garnish with lime wheel.
Notes
I personally love to squeeze the lime directly into my glass and mix it in, giving a little added acidic pop that pairs
perfectly with the flavors of this cocktail.
Recommended Products
As an Amazon Associate and member of other affiliate programs, I earn from qualifying purchases.
Nutrition Information:
Yield:

1
Serving Size:

1 drink
Amount Per Serving:
Calories:

207
Total Fat:

0g
Saturated Fat:

0g
Trans Fat:

0g
Unsaturated Fat:

0g
Cholesterol:

0mg
Sodium:

10mg
Carbohydrates:

29g
Fiber:

2g
Sugar:

19g
Protein:

1g
Please note that the nutritional information listed on this page is an estimation based on the products I used. Ingredients and nutritional information can vary significantly between brands. Always be sure to read labels. Please verify that a recipe fits your needs before using it. Nutrition info may contain errors, so please verify it independently. Likewise, recipes may contain errors, so please use your common sense when following them.