This Arnold Palmer Cocktail is an alcoholic version of the common "mocktail" that uses tea, lemonade, and a dash of bourbon! Delicious and refreshing, it may just become your new favorite drink!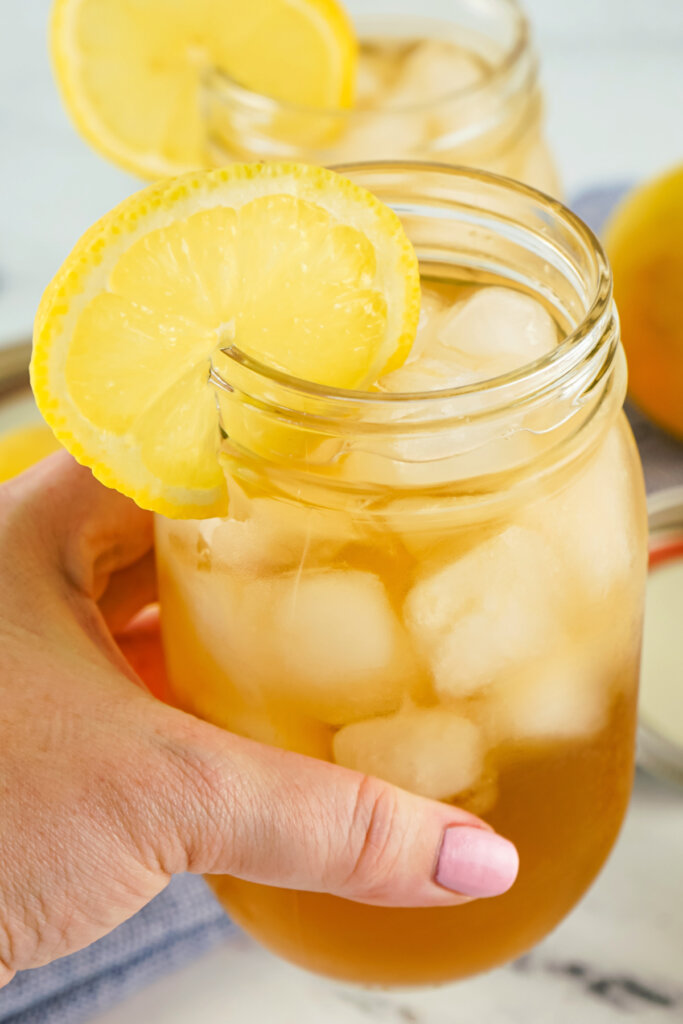 What is Arnold Palmer drink
An Arnold Palmer is a "mocktail," or non-alcoholic drink, that's one part tea and one part lemonade. It was a favorite of the famous golfer Arnold Palmer, though no one knows if he invented it or not!! Either way, it bears his name, and he loved it …
… and YOU will love this mega-refreshing Arnold Palmer cocktail, also known as a spiked Arnold Palmer!! It's an alcoholic, grown-up version of that classic.
The same idea as the non-alcoholic version – but the alcoholic version just has bourbon in it.
You may have heard this called a John Daly, but that drink has vodka instead of bourbon. Drink names are difficult … no wonder you have to go to bartending school to get it all right.
By the way, there are a lot of similar golf-related cocktails … even one called the Happy Gilmore. You know, after the Adam Sandler movie?! So interesting!
I guess because so many of these cocktails are great for summer get-togethers, and people associate summer with golf? Or maybe that's just me?
At any rate, I hope you enjoy this super-simple, super-delicious Arnold Palmer drink!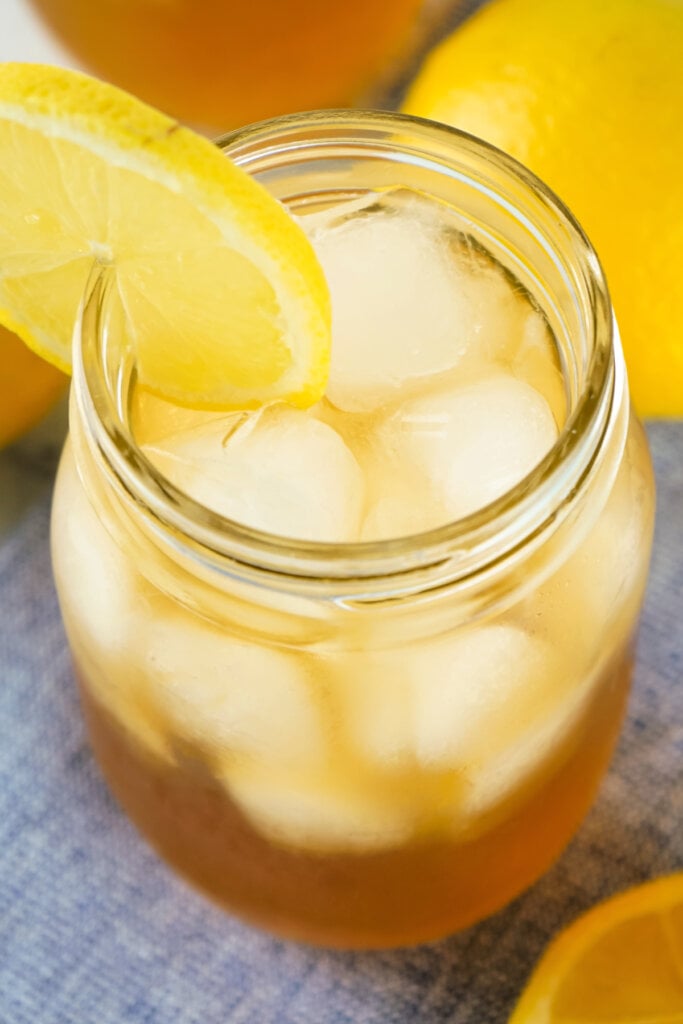 Arnold Palmer with Bourbon: Ingredients & Equipment
This is so easy, I can barely call it a recipe! It's more like a series of tips! But maybe some of you are new to putting together cocktails and alcoholic drinks. And so, to make this Arnold Palmer drink, you'll need …
Ingredients
unsweetened tea, lemonade – the two main parts of any Arnold Palmer, whether it's alcoholic or not! You'll need a 4:2 tea-to-lemonade ratio. Some people like more or less, so adjust the ratio after trying this cocktail if you need to.
bourbon whiskey – grab your fave in the 80-proof-ish area. You'll need about 2 ounces of this! And you can leave it out if you're going non-alcoholic or serving this up to the kids, since without booze the Arnold Palmer is a great (and SUPER tasty) mocktail, too.
ice – we can't have a warm cocktail, now can we?!
Equipment
cup – that's all you'll need to make this drink since you just have to stir the ingredients!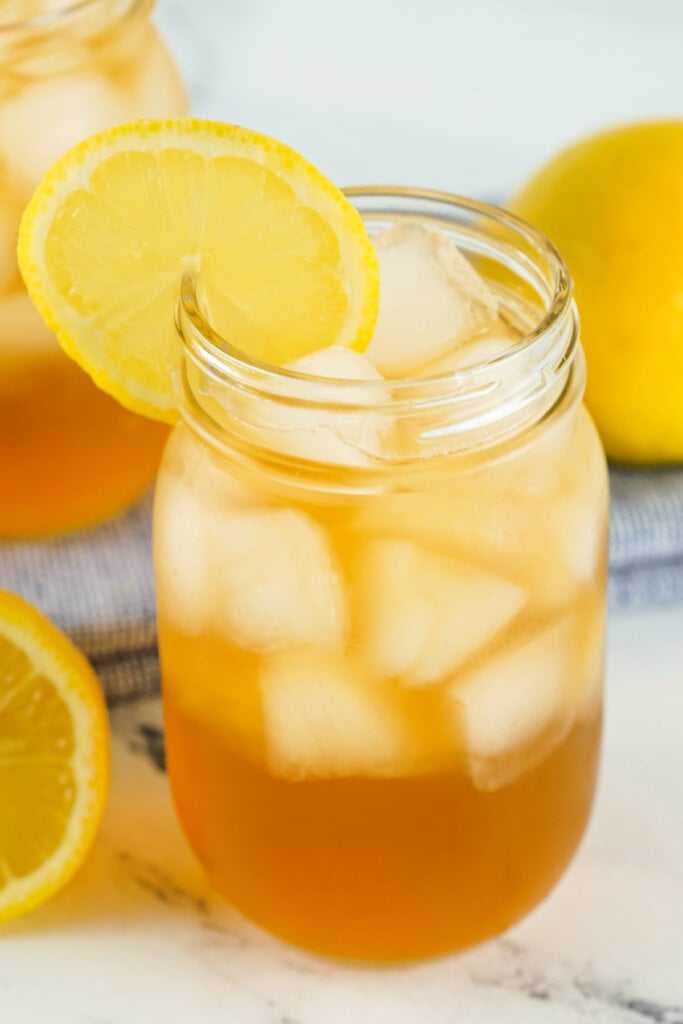 Arnold Palmer Cocktail: FAQs
What kind of tea do you recommend for the drink?
Sweet tea or black tea works well, either store-bought (like Lipton) or homemade if you happen to know how!! I'm also told you can use other teas, especially flavored ones (for tasty peach, mint, etc.) Arnold Palmers. I haven't tried it myself (I like the original recipe way too much) but I imagine it's absolutely delicious.
How many cocktails does this recipe produce?
Just one, for you or your favorite person! If you want more, you'll have to make a few batches. You can also easily double, triple, etc the recipe and throw it in a pitcher or something similar if you're having a get-together.
How long does it take to make an Arnold Palmer drink?
Just a minute or two! You only have to stir the ingredients, I promise! No secret instructions!! 😉
Can you use a shaker to make this drink?
You can if you have one! And it will make your drink cold really fast, too.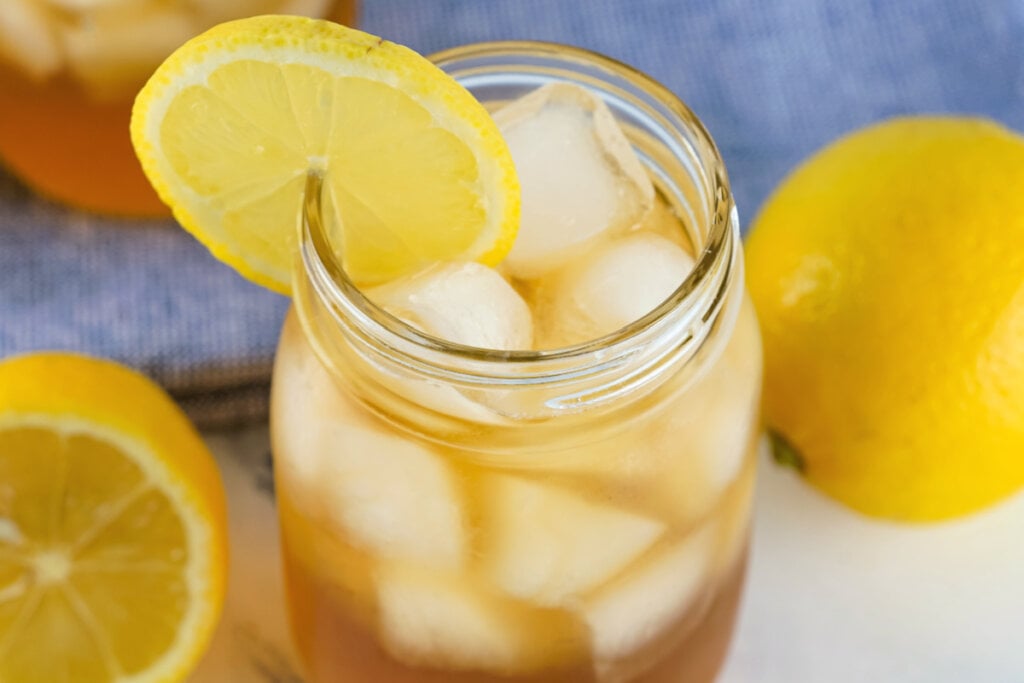 Other recipes you may enjoy
Arnold Palmer Cocktail
This Arnold Palmer Cocktail is an alcoholic version of the common "mocktail" that uses tea, lemonade, and a dash of bourbon! Delicious and refreshing, it may just become your new favorite drink!
Ingredients
4 ounces unsweetened tea
2 ounces lemonade
2 ounces bourbon whiskey
ice
Instructions
Fill your cup about halfway with ice.
Measure and pour your lemonade, whiskey, and tea over the ice in the glass.
Stir and enjoy.
Notes
If you prefer a sweeter drink, you'll want to use sweet tea instead of unsweet tea.
Recommended Products
As an Amazon Associate and member of other affiliate programs, I earn from qualifying purchases.
Nutrition Information:
Yield:

1
Serving Size:

1 cocktail
Amount Per Serving:
Calories:

154
Total Fat:

0g
Saturated Fat:

0g
Trans Fat:

0g
Unsaturated Fat:

0g
Cholesterol:

0mg
Sodium:

8mg
Carbohydrates:

7g
Fiber:

0g
Sugar:

6g
Protein:

0g
Please note that the nutritional information listed on this page is an estimation based on the products I used. Ingredients and nutritional information can vary significantly between brands. Always be sure to read labels. Please verify that a recipe fits your needs before using it. Nutrition info may contain errors, so please verify it independently. Likewise, recipes may contain errors, so please use your common sense when following them.