There aren't many summer cocktails as simple as this Fuzzy Navel with peach and orange flavors. It's a divine drink for brunch with your favorite people.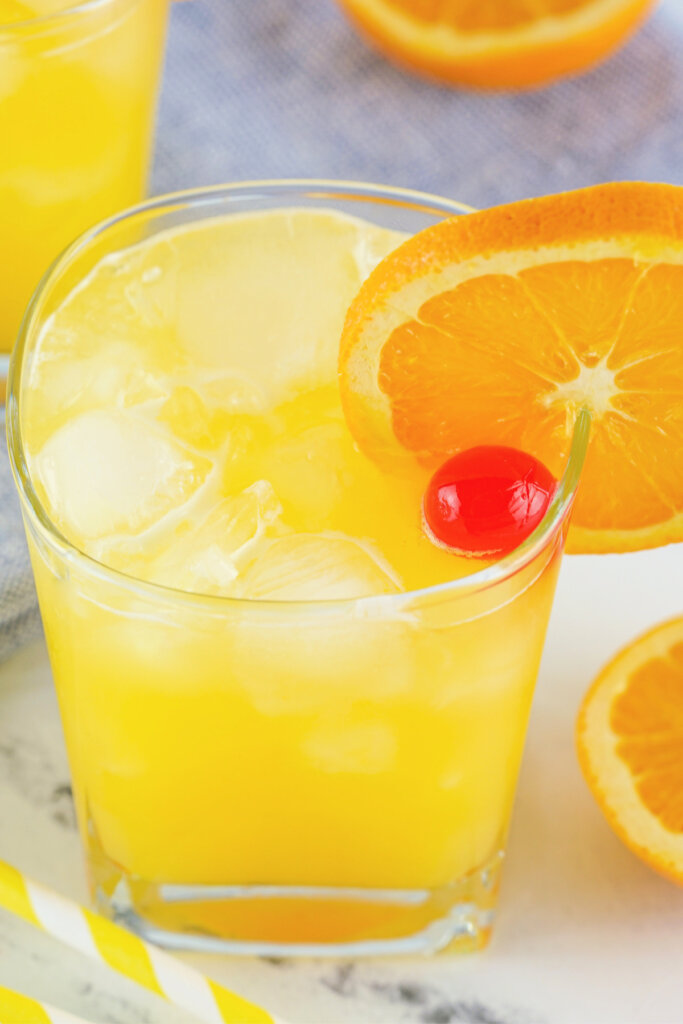 Fuzzy Navel
With the advent of warmer weather, I've been mentally prepping for more get-togethers with family and friends!
There's something about spring and summer that makes me want to leave the house more, you know? Even if the temperature doesn't change much, more sunshine means more energy for me!
Whenever I do a brunch or small party in the warmer, sunnier months, one of my favorite cocktails to order up is this fuzzy navel. It's my perfect idea for summer: a sweet, smooth drink filled with orange and peach flavors. Plus, if it's later in the evening, I can make it a bit "harder" with a spot of vodka – that's called a hairy navel! Enjoy this cocktail!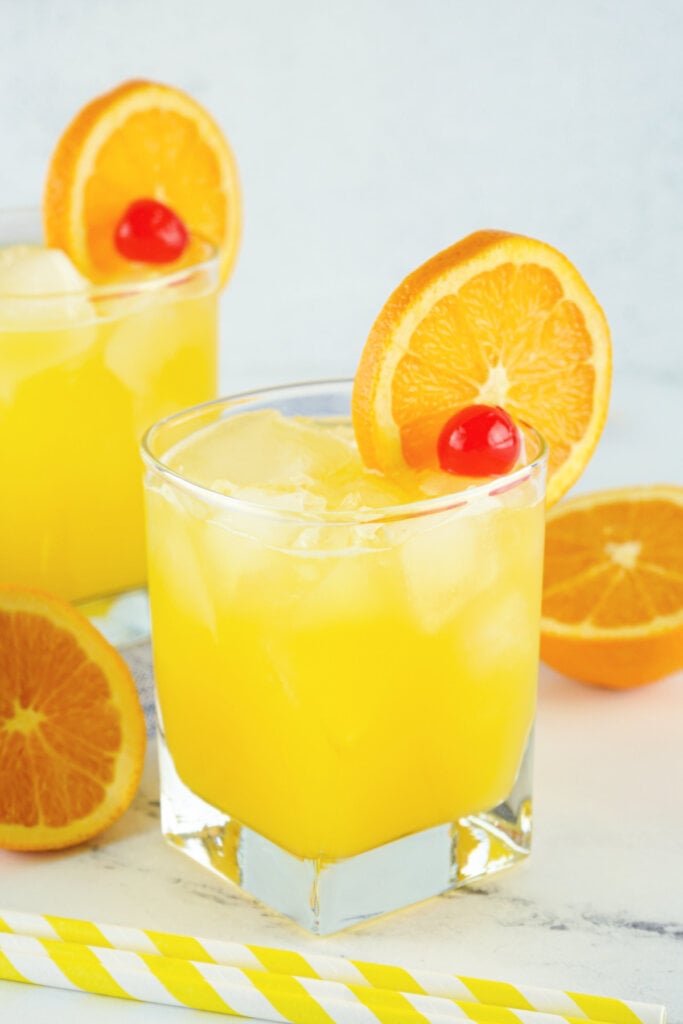 Fuzzy Navel: Ingredients & Equipment
To make a Fuzzy Navel, you'll need …
Ingredients
orange juice – one-half of the fuzzy navel. You'll want to use 2 parts of this for every 1 part of peach schnapps. I tend to use orange juice with no pulp or extra sugar added.
peach schnapps – the other important part of a fuzzy navel!
vodka, optional – a "hairy navel" is a fuzzy navel with added vodka, or with half of the schnapps replaced with vodka. You can give your drink a little more punch (and less sweetness) with the addition of vodka, but it's not necessary! If you DO use vodka, make sure it's not super cheap – which I know sounds crazy, but very cheap vodka can ruin this drink and make it taste like medicine. Ick!
ice – fuzzy navels are best served cold, after all!
NOTE: You may also want to garnish the drink with a slice of orange and a maraschino cherry!
Equipment
cocktail shaker – this is one of those drinks that you want to be shaken, so grab hold of a cocktail shaker to make your fuzzy (or hairy) navel just perfect.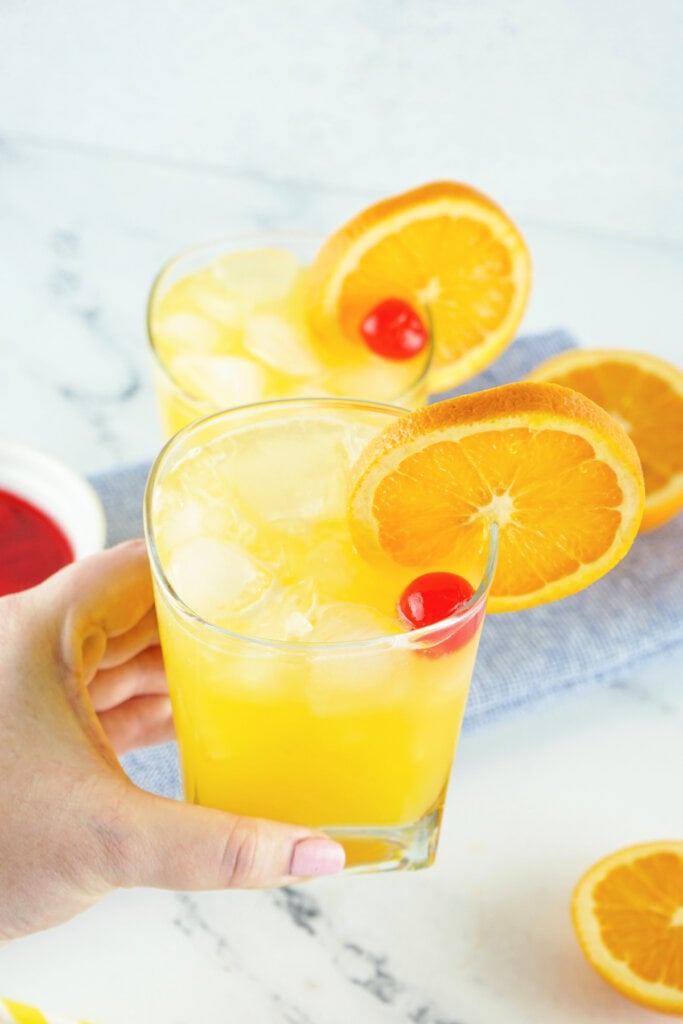 Fuzzy Navel: FAQs
How can I make this drink sweeter?
Use Sunny D instead of orange juice for the same flavor, just more sweetness. Yum!!
How long does it take to make a Fuzzy Navel?
Like most cocktails, just a few minutes! Nothing too fancy here!!
What kind of peach schnapps works best in this recipe?
You can find lots of different varieties at your local liquor store, so I'd have a browse. Traditionally, the drink uses a brand called DeKuyper – who may have also invented the drink if you believe all the "lore" behind the cocktail! However, some folks find DeKuyper a bit lower quality. If that's the case, don't feel like you need to use it.
How many servings does this fuzzy navel recipe make?
Just one! You'll have to make a few batches if you want to serve up a fuzzy navel to all your friends. It's also a recipe that's easily doubled, tripled, etc for a pitcher!
Can I switch up the ratio of schnapps and orange juice?
Absolutely! Some people prefer half and half rather than 2:1. (This will make a much, much stronger drink, just FYI.) You're still making a fuzzy navel if you modify it a bit!! 
Can I use fresh orange juice (that is, squeezed from an orange)?
Yes! I've had this recipe with fresh OJ before – heavenly. No need to run to the store if you have oranges lying around waiting to be juiced!
Is there a certain glass you use for fuzzy navels?
Get one of those tall, thin highball glasses for your fuzzy navel!! (Or you can do what I did once and drink it right from a big mug – that's definitely not as traditional, but it's also totally understandable. 😉)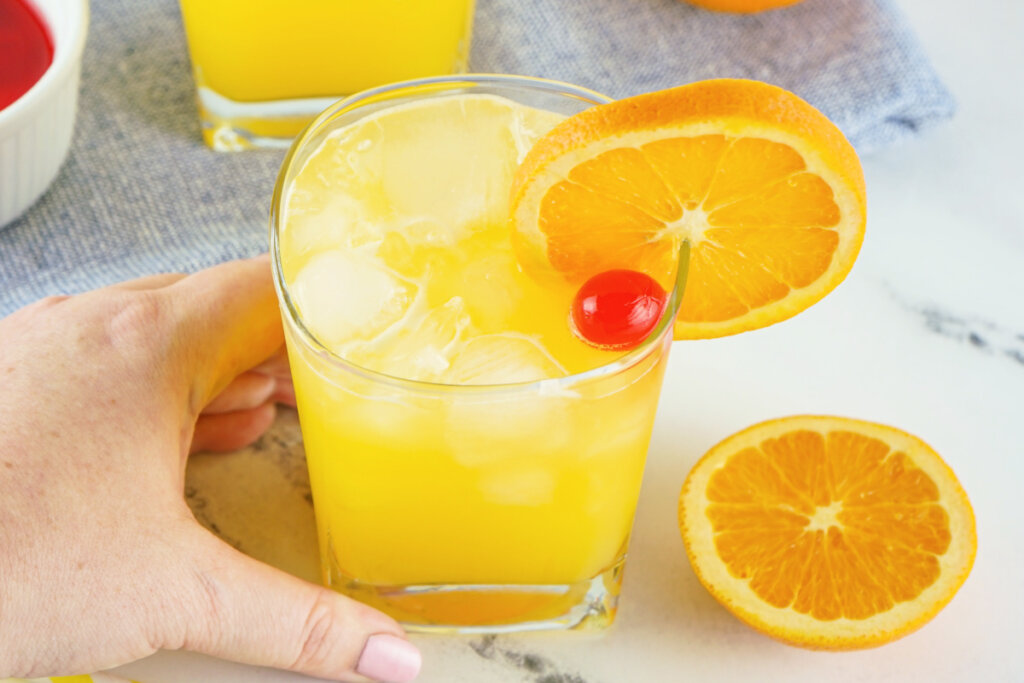 Other recipes you may enjoy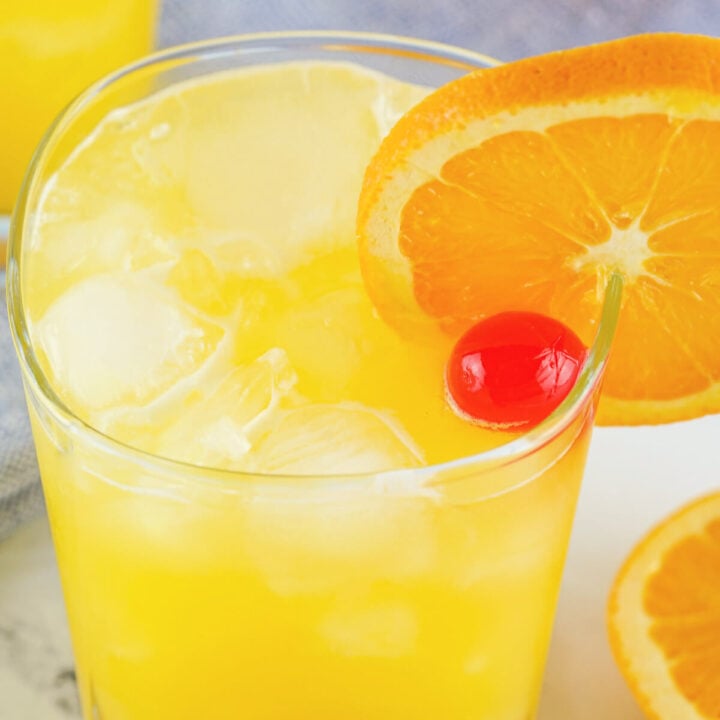 Fuzzy Navel Cocktail
There aren't many summer cocktails as simple as this Fuzzy Navel with peach and orange flavors. It's a divine drink for brunch with your favorite people.
Ingredients
4 ounces orange juice
2 ounces peach schnapps
1 ounce vodka (optional for the hairy navel)
ice
orange slice and maraschino cherry, for garnish (optional)
Instructions
Add ice to your cocktail shaker.
Add all ingredients to your cocktail shaker and shake well for 10-15 seconds.
Fill your cup with ice and strain the drink mixture over the ice.
If desired, garnish with an orange slice.
Notes
Want your drink to be a touch sweeter? Use Sunny D instead of orange juice.
This recipe easily doubles, triples, etc. for a crowd.
Recommended Products
As an Amazon Associate and member of other affiliate programs, I earn from qualifying purchases.
Nutrition Information:
Yield:

1
Serving Size:

1 drink
Amount Per Serving:
Calories:

299
Total Fat:

0g
Saturated Fat:

0g
Trans Fat:

0g
Unsaturated Fat:

0g
Cholesterol:

0mg
Sodium:

6mg
Carbohydrates:

47g
Fiber:

3g
Sugar:

39g
Protein:

2g
Please note that the nutritional information listed on this page is an estimation based on the products I used. Ingredients and nutritional information can vary significantly between brands. Always be sure to read labels. Please verify that a recipe fits your needs before using it. Nutrition info may contain errors, so please verify it independently. Likewise, recipes may contain errors, so please use your common sense when following them.