A beloved Taco Bell menu item, this homemade Mexi-Melt recipe will help you bring this classic back in all its cheesy glory. It only takes 20 minutes or less to make!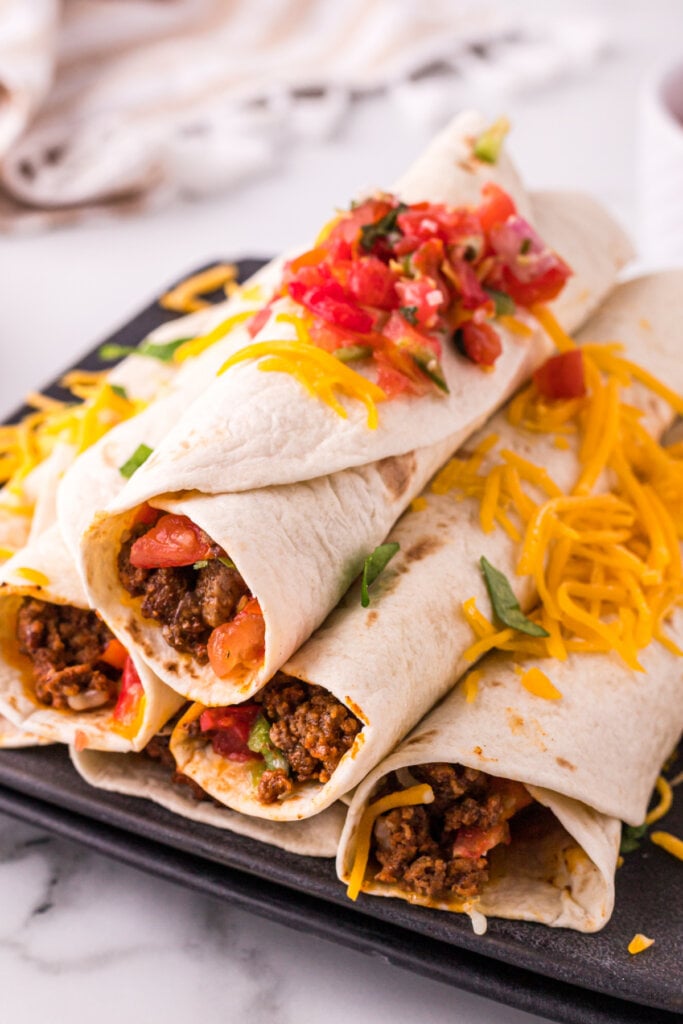 Taco Bell Meximelt
We don't eat at Taco Bell very much anymore. Maybe a few times throughout the year. However, that hasn't stopped us from enjoying some of our favorite Taco Bell recipes! Now we just make them at home!
One of my favorite on-the-menu items back in the day was the Mexi-Melt. Have you ever tried Mexi-Melts?
It's a really basic recipe, consisting of a tortilla with seasoned ground beef, topped with pico de gallo and cheddar cheese. They put it in their little oven thingy, and it gets all hot and melty and delicious, y'all!
I'm not going to lie … I've been bummed that Taco Bell has taken so many of my favorites off the menu!
But, the good news is, if there was ever a copycat recipe that was easy as pie, this, my friends, is it!! This is as near to Taco Bell as you can get.
To make a Mexi-Melt at home, you'll essentially cook ground beef with taco seasoning and roll it up in a tortilla with your toppings. Then all you need to do is throw it in the microwave for about 20 seconds or in the oven on a baking sheet for 5 minutes. It's so, so good!
Believe it or not, my first job was as a cashier at Taco Bell, so this recipe brings back some awesome memories! 😍
I think Homemade Mexi-Melts make a great change of pace from your typical taco night, and I hope you enjoy them!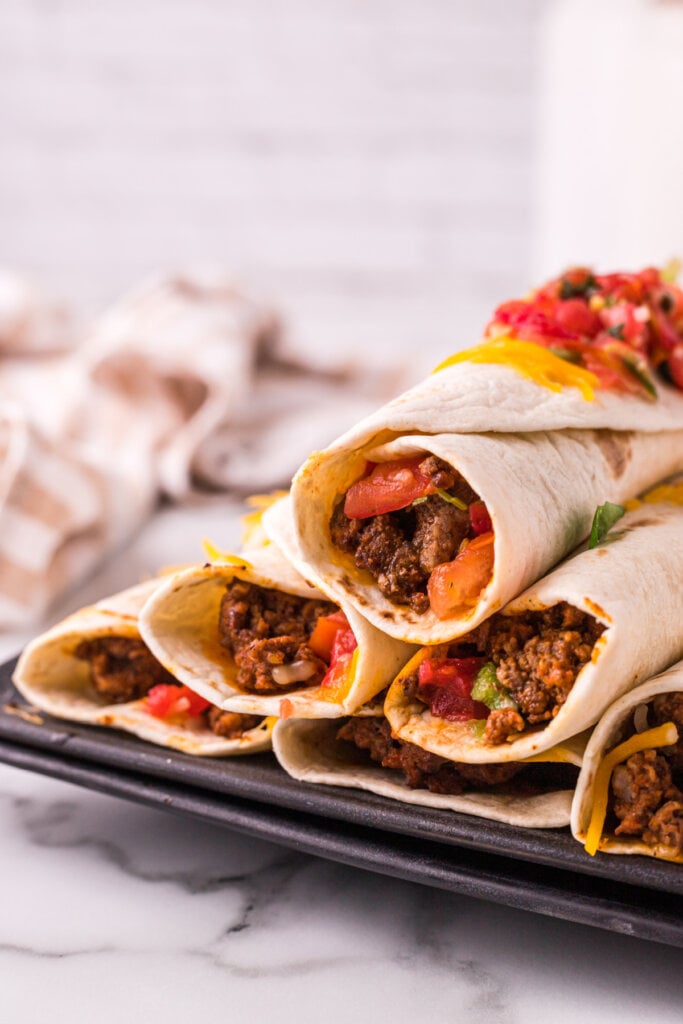 Meximelt Taco Bell: Ingredients & Equipment
For this Homemade Mexi-Melt recipe, you'll need …
Ingredients
lean ground beef – about a pound! Using a potato masher can help make the meat small and crumbly, just what you want for this Mexi-Melt copycat recipe.
water and taco seasoning – you'll cook your ground beef in this (obviously)! Check out my taco seasoning recipe if you want to go fully homemade.
flour tortillas – get the larger taco-sized ones so you can shove as much "stuff" in them as possible. Be sure to warm them up beforehand, too!
pico de gallo – grab your own from the store or make it at home!
Mexican-blend cheese – while you can buy the exact mixture used in Taco Bell at stores, just for reference, their Mexican blend cheese mix is equal parts mozzarella cheese, cheddar cheese, and pepper jack cheese.
Equipment
skillet – to cook your taco beef mixture.
baking sheet – only if you decide to cook these guys in an oven!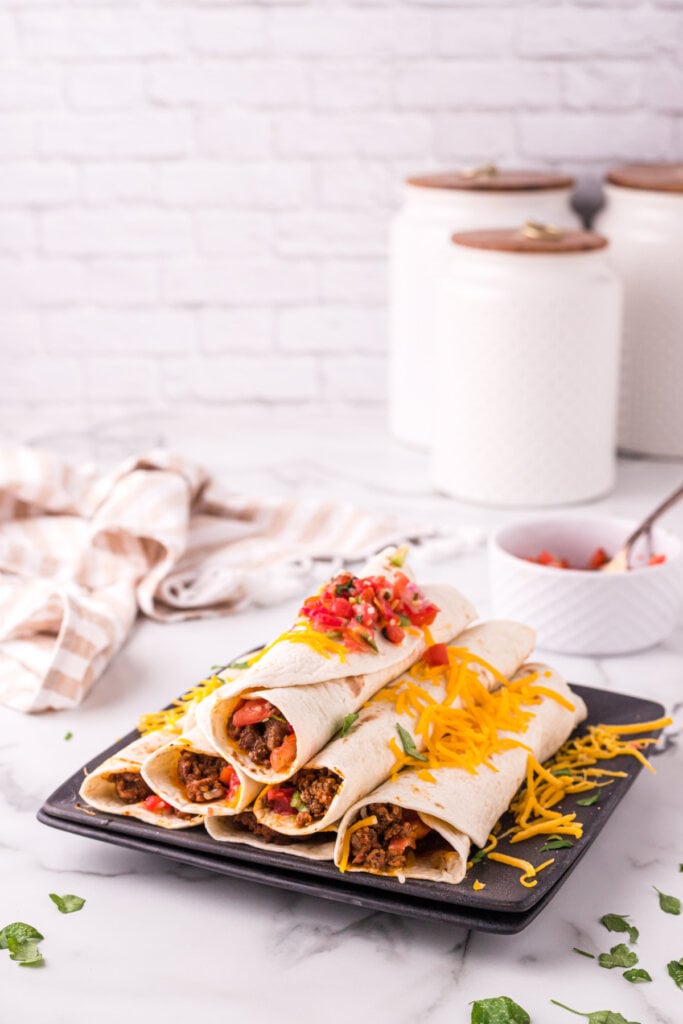 Mexi-Melts: FAQs
How many Mexi-Melts does this recipe make?
About 6, which should be enough for a small get-together or family! (Depending on those pesky serving sizes, of course.) You can definitely double the recipe if you need to.
How long does it take to make these Taco Bell Mexi-Melts?
Less than 20 minutes, as I said! It shouldn't take longer than 5 minutes to prep the ingredients and 10-15 to cook it all. So quick!
How do I store my Mexi-Melts?
Refrigerating your Mexi-Melts is a great way to store some easy-to-make meals for the week ahead! Simply assemble them uncooked, then wrap each one individually with parchment paper or cling wrap and store them in an airtight container. You should be able to keep them in the fridge for up to 4 days. To reheat them, microwave them for 30-45 seconds.
Can I freeze my Mexi-Melts?
Yes! Freezing them follows the same directions as for the fridge. Just add an extra layer of foil over the parchment paper or cling wrap before placing them in a freezer-friendly bag. They should keep for about 6 months in the freezer. To reheat them, follow the same directions as when they're refrigerated. Just remember to let the frozen Mexi-Melts thaw overnight first!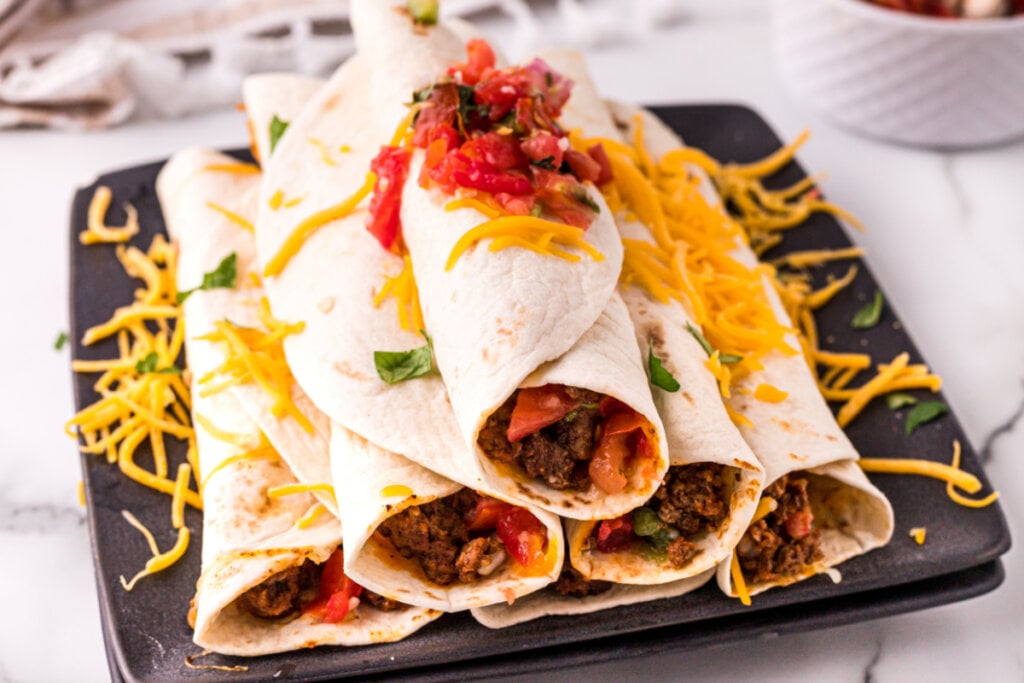 Other recipes you may enjoy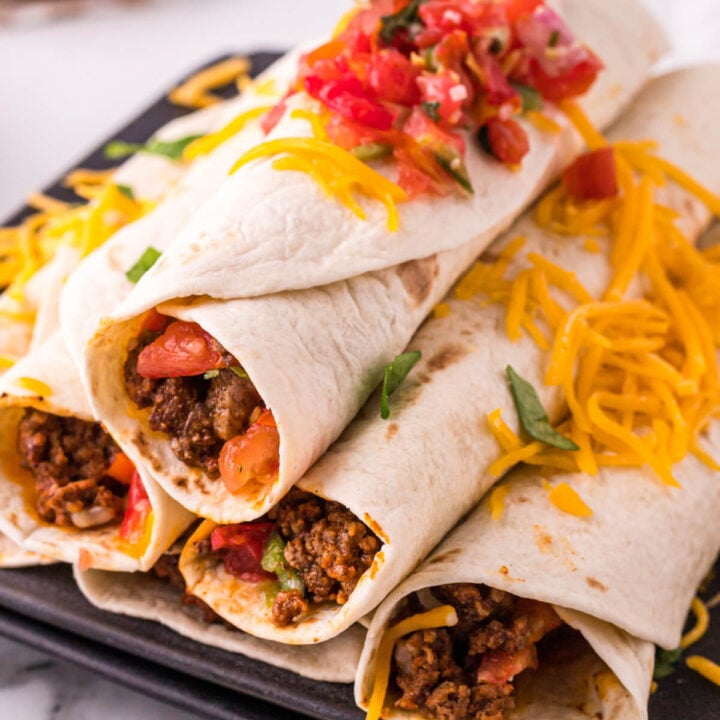 Homemade Mexi-Melts
A beloved Taco Bell menu item, this homemade Mexi-Melt recipe will help you bring this classic back in all its cheesy glory. It only takes 20 minutes or less to make!
Ingredients
1 pound lean ground beef
1/2 cup water
6 large flour tortillas, warmed
4 cups shredded Mexican-blend cheese
Instructions
Brown and crumble the beef over medium-high heat, cooking until the beef is no longer pink. Drain, if necessary.
Add the taco seasoning and water to the beef. Simmer over medium-high heat, occasionally stirring, until the meat mixture is saucy.
Top each tortilla with 1/6th each of beef mixture, pico de gallo, and cheese.
Roll each tortilla like a burrito and wrap them in a slightly damp paper towel.
Microwave on HIGH power for 15-20 seconds or until the cheese is melted.
Serve hot.
Notes
If you prefer, you can use your oven to heat up your melts by placing the rolled tortillas on a baking sheet and baking them in a 400°F oven for 3-5 minutes or until the cheese melts.
Recommended Products
As an Amazon Associate and member of other affiliate programs, I earn from qualifying purchases.
Nutrition Information:
Yield:

6
Serving Size:

1 mexi-melt
Amount Per Serving:
Calories:

460
Total Fat:

36g
Saturated Fat:

18g
Trans Fat:

0g
Unsaturated Fat:

14g
Cholesterol:

142mg
Sodium:

983mg
Carbohydrates:

37g
Fiber:

4g
Sugar:

4g
Protein:

46g
Please note that the nutritional information listed on this page is an estimation based on the products I used. Ingredients and nutritional information can vary significantly between brands. Always be sure to read labels. Please verify that a recipe fits your needs before using it. Nutrition info may contain errors, so please verify it independently. Likewise, recipes may contain errors, so please use your common sense when following them.
Originally published on February 14, 2017. Updated on August 12, 2022.