You can easily make these Homemade Mexi-Melts in 20 minutes or LESS!! Try something new for Taco Tuesday!!
This post may contain affiliate links. As an amazon associate, I earn from qualifying purchases. See my full Disclosure Policy for details.
Mexi-Melts
My very first job was as a cashier at Taco Bell. Believe it or not, I actually kind of enjoyed the job because of the people I worked with! I also remember that we would get discounts on our food and we got to make up our own creations using the ingredients on the line. There was a rumor back in the day, that Taco Bell actually encouraged that kind of creativity and that's how some of their ideas actually came to be on the menu – from regular people like you and me! I don't know if all of that is true, but if it is, it's pretty awesome, don't you think?!
We don't eat at Taco Bell very much anymore. Maybe once or twice a year. However, that hasn't stopped us from enjoying some of our favorite Taco Bell recipes! Now, we just make them at home!
One of my favorite on-the-menu items is the Mexi-Melt. Have you ever tried them? It's a really basic recipe, consisting of a tortilla with seasoned ground beef, topped with Pico de Gallo and cheddar cheese. They put it in their little oven thingy, and it gets all hot and melty! If there was ever a copycat recipe that was so easy … this, my friends, is it!!
I think Homemade Mexi-Melts make a great change of pace from your typical taco night! We love to serve ours with Mexican Rice and/or a side salad. If you love this recipe, be sure to check out my Mexican Pizza and Chili Cheese Burrito recipes!! They're Taco Bell copycats, as well! ?
Other recipes you may enjoy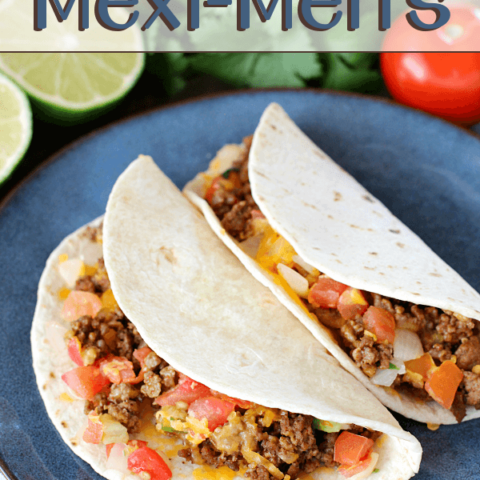 Homemade Mexi-Melts
Try something new for Taco Tuesday! You can easily make these Homemade Mexi-Melts in 20 minutes or LESS!!
Ingredients
1 pound lean ground beef
1/2 cup water
6 large flour tortillas, warmed
4 cups shredded Mexican-blend cheese
Instructions
Brown and crumble beef over medium-high heat, cooking until the beef is no longer pink. Drain, if necessary.
Add taco seasoning and water to the beef. Simmer over medium-high heat, stirring occasionally until the meat mixture is saucy.
Top each tortilla with 1/6th each of beef mixture, pico de gallo, and cheese.
Roll each tortilla like a burrito and wrap them in a slightly damp paper towel.
Microwave on HIGH power for 15-20 seconds or until the cheese is melted.
Serve hot.
Notes
If you prefer, you can use your oven to heat up your melts by placing the rolled tortillas on a baking sheet and baking them in a 400°F oven for 3-5 minutes or until the cheese melts.
Nutrition Information:
Amount Per Serving:
Calories:

507
Total Fat:

40g
Saturated Fat:

18g
Cholesterol:

137mg
Sodium:

323mg
Fiber:

0g
Sugar:

0g
Protein:

33g