This Mexican Cornbread Casserole is always an instant winner wherever I share it. If you have any leftovers from dinner, this casserole works out as a good breakfast meal too!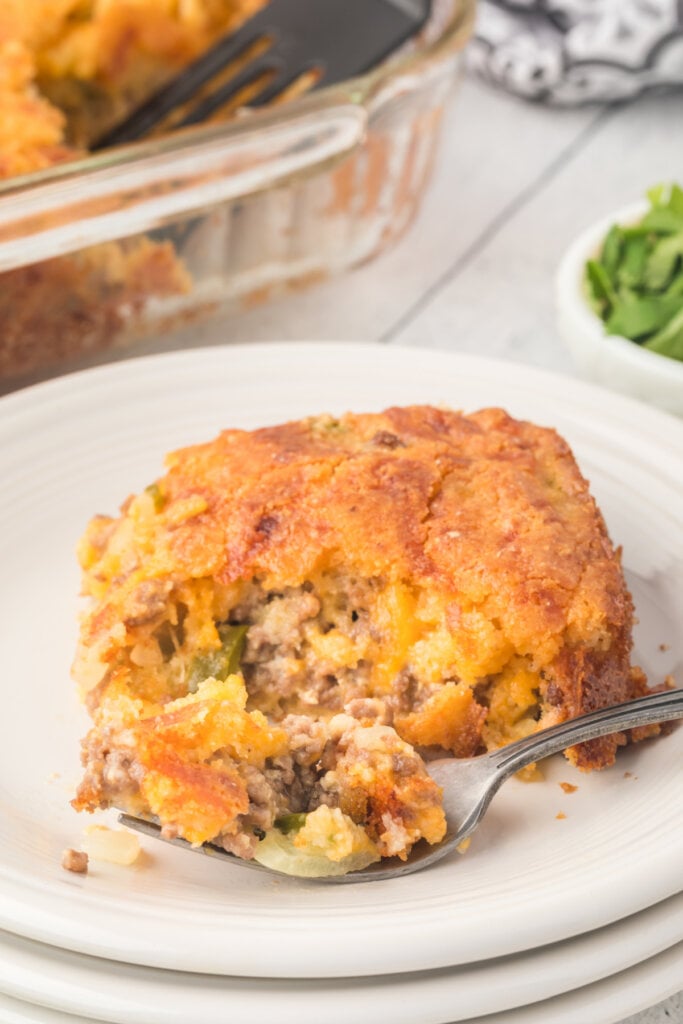 Cornbread Casseroles
Casseroles … the very word makes some people cringe, while others smile in delight. What side of the great casserole debate are you on? Personally, I love them. I think they're comforting and they're usually fairly economical. That's a pretty good start to a wonderful recipe in my book!
This Mexican Cornbread Casserole is no different! It's a casserole – in fact, it's one of my own personal favorites. And it's wonderful, trust me. This recipe has been in our family's handy-dandy "keeper" binder forever.
It's easy to make and there's always plenty to feed our family of 7! I have to admit, I have even enjoyed the leftovers for breakfast!
This is pretty much a one-of-a-kind recipe. I hope your crew enjoys it as mine does. Here's how you make it …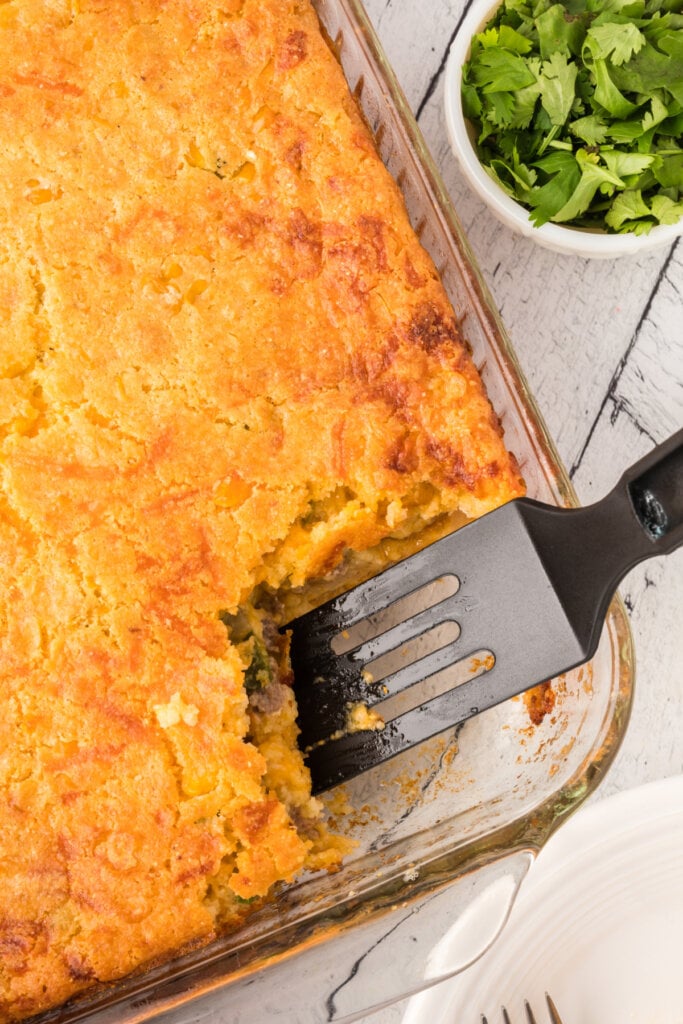 Cornbread Casserole Recipe: Ingredients & Equipment
For this Corn Bake, you'll need …
Ingredients
lean ground beef – the "beefy" part of this beefy jalapeno corn bake. You'll put it into your casserole already cooked. Remember to drain the meat after it's done cooking, or else your casserole will be all soggy!
eggs, corn, milk, oil, cornmeal, baking powder, salt, flour – these are all together because they make cornbread! Like I said, this recipe is one kind of a take on cornbread casserole, and you're going to love it.
onions and shredded cheddar cheese – your "mix-ins." In my opinion, you can't have a good Mexican or Southwest-style recipe without cheese and onions!
jalapenos – for additional Mexican flavor!! Believe it or not, this recipe doesn't have a lot of "heat" to it. Just remove the seeds and membranes from these guys. It's even kid-friendly!
Equipment
13x9x2 inch baking pan – to cook your beefy jalapeno corn bake.
pan – to separately cook your crumbled beef.
bowl – for mixing the cornbread batter part of this recipe.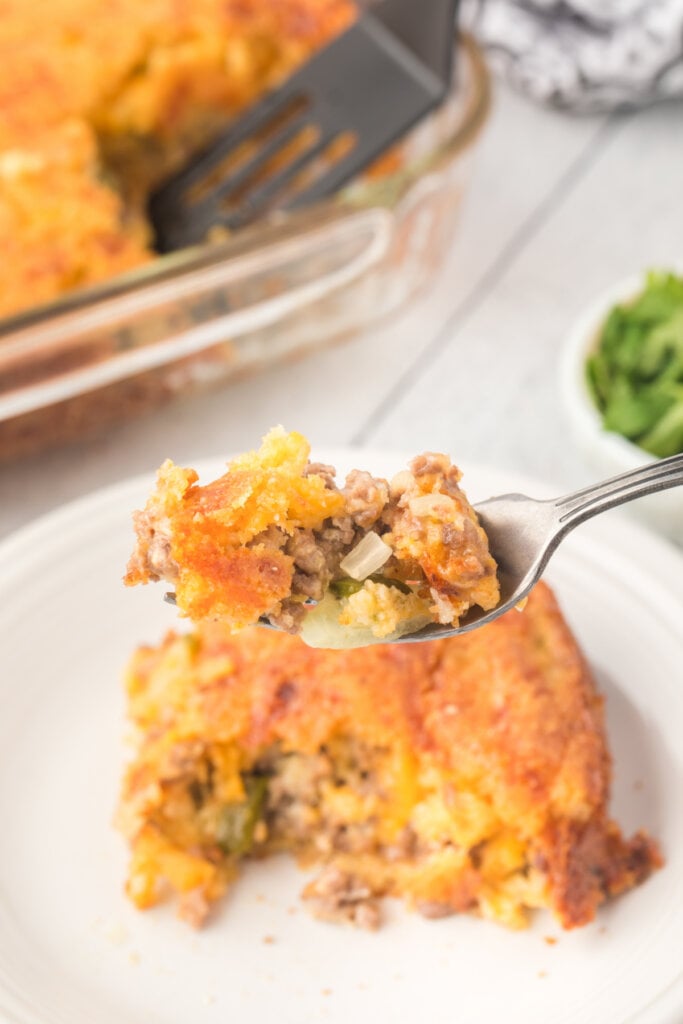 Cornbread Casseroles: FAQs
How many servings does this recipe make?
Usually about 10-12 servings. Feed all your loved ones!
How long does it take to cook a beefy jalapeno corn bake?
About an hour and twenty minutes. You'll want the twenty minutes for prepping the ingredients, than an hour to actually cook the casserole.
What do you suggest as a side for this recipe?
It honestly holds up by itself in my opinion. It's really filling! But if you find you need more, I recommend something light, like a salad or some kind of fruit-based side.
Can I use red jalapenos?
Sure, but keep in mind they're hotter than the green ones even if you remove the seeds and such! (And remember to always wear gloves when handling peppers so you don't get the juice in your eyes or nose by accident. Oww. It sounds goofy, but it happens more often than you think.)
Do you have to use jalapenos at all?
Technically, no. I think they work the best in this bake and provide the most flavor without adding a lot of spice.
Can I switch out the cheddar for another kind of cheese?
Of course! A Mexican blend also tastes wonderful in this recipe. Really, though, any cheese that you love with your Mexican food will work. Just remember you'll just want something that melts well in the casserole, so feta may not be a great option here!
Is there anything I can add to season the meat?
Sure! You can add a packet of taco seasoning to this Mexican Cornbread Casserole if you would like! Or even quicker – use leftover taco meat!
Anything else I can add?
Sometimes I like to add a can of well-drained Rotel tomatoes and green chilies.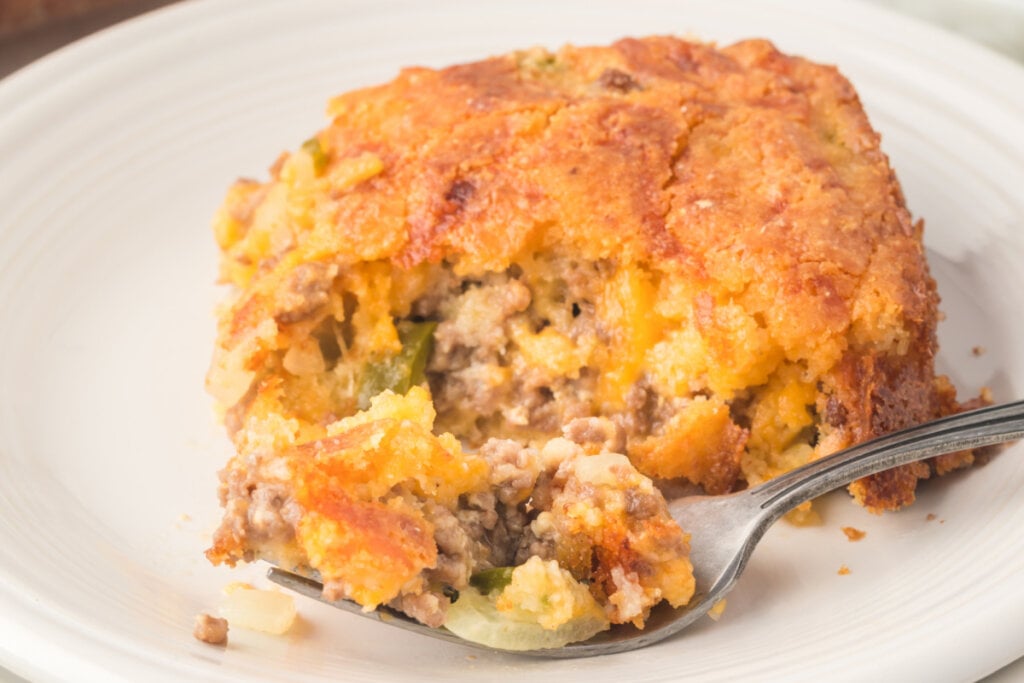 Other recipes you may enjoy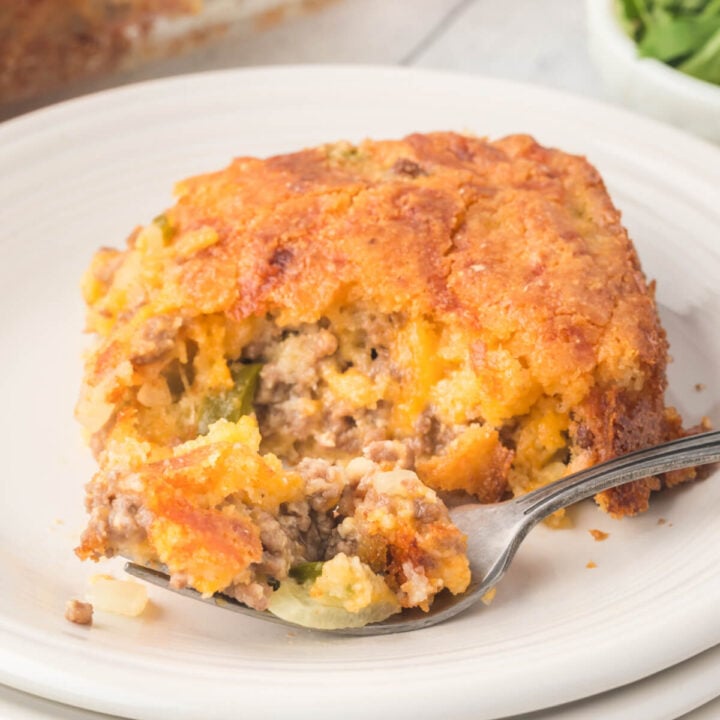 Mexican Cornbread Casserole
Total Time:
1 hour
20 minutes
This Mexican Cornbread Casserole is always an instant winner wherever I share it. If you have any leftovers from dinner, this casserole works out as a good breakfast meal too!
Ingredients
1 pound lean ground beef
2 eggs
1 can (14 oz) cream-style corn
1 cup milk
1/2 cup vegetable oil
1 cup cornmeal
3 tablespoons all-purpose flour
1-1/2 teaspoons baking powder
3/4 teaspoon salt
4 cups (16 oz.) shredded Cheddar cheese, divided
1 medium onion, chopped
4 jalapeno peppers, seeded and chopped
Instructions
Preheat the oven to 350° F. Grease a 13x9x2-inch baking pan and set aside.
Meanwhile, cook and crumble the beef until no longer pink. Drain and set aside.
In a bowl, beat eggs, corn, milk, and oil. Add the cornmeal, flour, baking powder, and salt. Mix well.
Pour half of the batter into the prepared pan. Sprinkle with 2 cups of cheese. Top with beef, onions, and jalapenos. Sprinkle with remaining cheese. Pour the remaining batter over the top. Use the back of a spoon to spread the batter all the way to the edges.
Bake, uncovered, for 55-60 minutes or until a toothpick inserted near the center tests clean.
Serve hot.
Notes
Try adding some taco seasoning to the ground beef - or use leftover taco meat from taco night!
Sometimes I like to add a can of well-drained Rotel tomatoes and green chilies.
Nutrition Information:
Yield:

12
Serving Size:

1 slice
Amount Per Serving:
Calories:

285
Total Fat:

19g
Saturated Fat:

5g
Trans Fat:

0g
Unsaturated Fat:

12g
Cholesterol:

76mg
Sodium:

334mg
Carbohydrates:

14g
Fiber:

1g
Sugar:

2g
Protein:

16g
Please note that the nutritional information listed on this page is an estimation based on the products I used. Ingredients and nutritional information can vary significantly between brands. Always be sure to read labels. Please verify that a recipe fits your needs before using it. Nutrition info may contain errors, so please verify it independently. Likewise, recipes may contain errors, so please use your common sense when following them.
Originally published on August 19, 2012. Updated on June 29, 2022.