A quick and easy dish full of color and flavor, this 7 Layer Bean Dip will liven up any party! It's better than any store-bought version and a total crowd-pleaser too.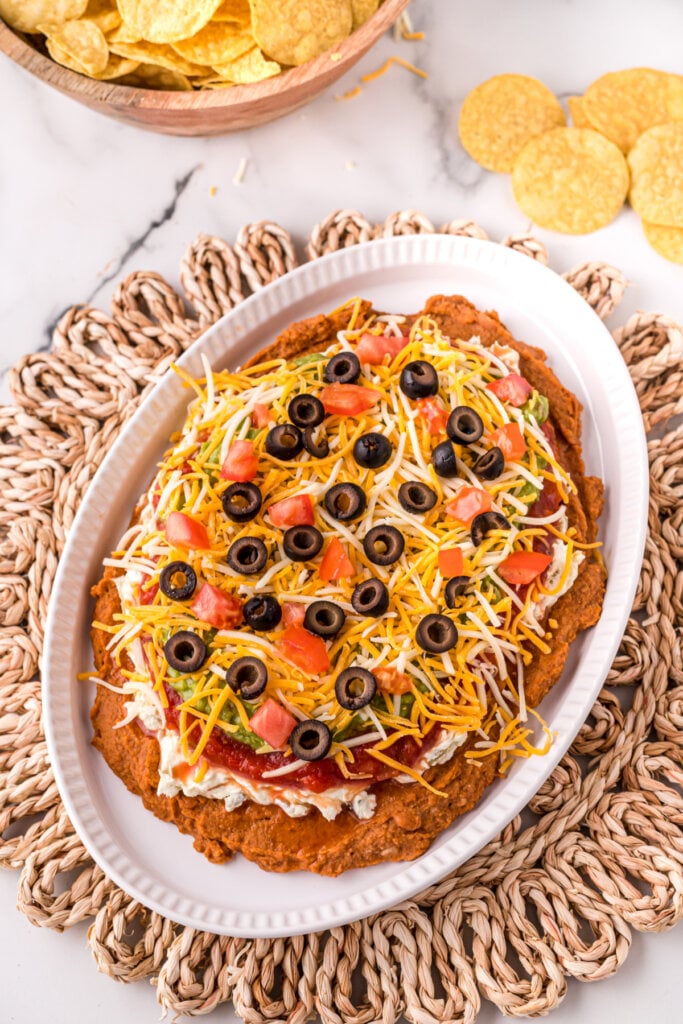 Layered Bean Dip
It's no secret that I have an affinity for both Mexican food and entertaining guests! I think it's even better when I can combine the two – so I have to share this 7-layer bean dip recipe today.
It's an easy go-to appetizer or party snack! In fact, it uses everyday ingredients that you have at home or can buy ready at any supermarket. It doesn't get much more convenient than this, folks!!
But if you've never had 7 Layer Bean Dip before … gasp!! 😲 (Just kidding.)
This particularly flavorful bean dip is 7 layers of refried beans, cream cheese, guacamole, Mexican cheese, olives, tomatoes, and green chiles. (With a dash of taco seasoning, of course!) Put it all together and all you'll need are some crunchy tortilla chips to scoop it all up. Easy-peasy!
Game-time, party-time, any time – this 7 Layer Bean Dip is a definite mainstay at my house!! Honestly, this recipe is a party in itself. I hope you enjoy it!!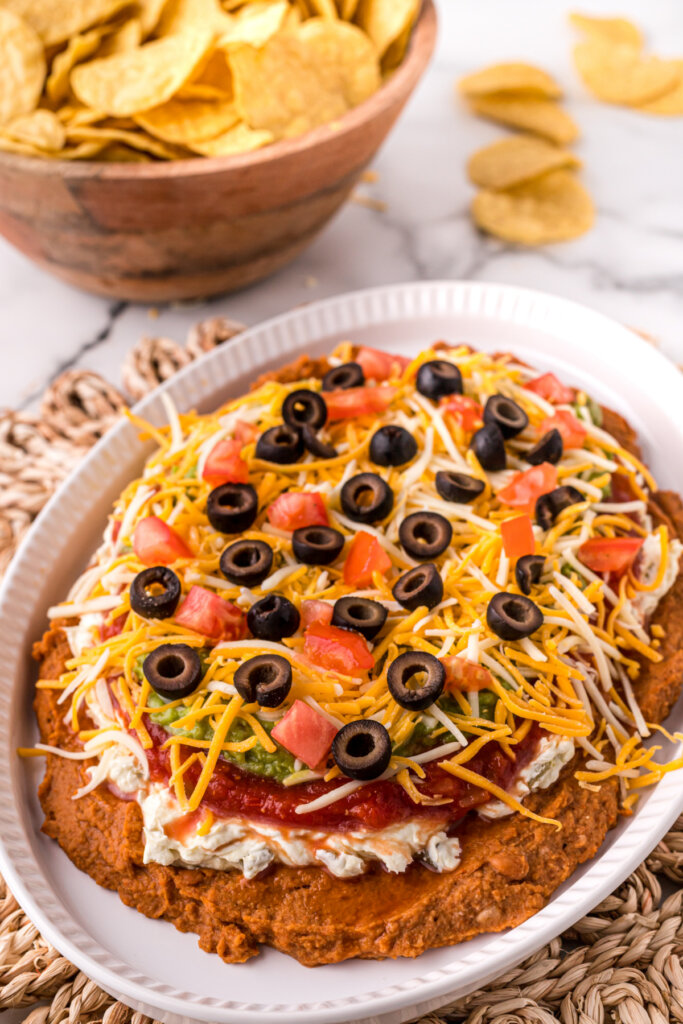 Bean Dip: Ingredients & Equipment
To make this 7 Layer Bean Dip recipe, you'll need …
Ingredients
refried beans – any brand will work, but homemade refried beans are a fun way to make this dip taste just the way you want!
taco seasoning mix – this mix will wrap all the layers together with a tasty, well-known Mexican flavor. Feel free to use homemade taco seasoning or store-bought.
cream cheese – softened. This is one part of the bean dip's cheese experience, and the best part, in my opinion!! 😉
chopped green chiles – for a hint of spice.
salsa – draining some liquid can help keep the dip from becoming too runny.
prepared guacamole – if you want to try out a homemade guac, try this homemade guacamole recipe!
Mexican cheese blend – or your favorite cheese blend, shredded.
ripe olives – drained. I know olives are hit-or-miss for some, but trust me, they taste amazing here!
medium tomato – diced. Any kind of tomato is fine, but Roma tomatoes have a lower liquid content that can keep the dip from becoming runny in the fridge.
Equipment
mixing bowl – a glass one is ideal for mixing the ingredients in this bean dip. You can even use one to serve it attractively!!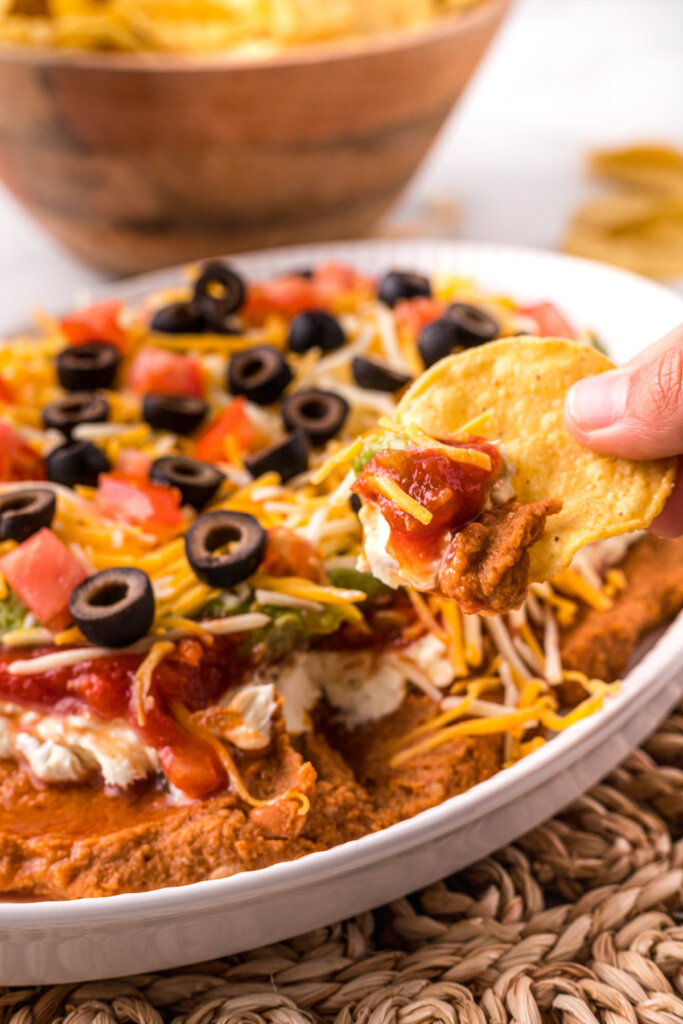 Bean Dip 7 Layer: FAQs
How long does it take to make this Layered Bean Dip?
Only about 15 minutes! You're essentially just mixing/layering the ingredients together.
How long can I keep my layered Mexican Bean Dip stored?
Covered correctly (in an airtight container or wrapped airtight in plastic wrap), this 7 Layer Bean Dip can be stored for up to 48 hours. The guacamole makes it hard to keep any longer, but you can enjoy any leftovers the day after!!
Can you freeze this layered bean dip?
Unfortunately, no!! It ruins the texture, and the tomatoes will turn runny once thawed.
Can I make my 7 Layer Bean Dip in advance?
You should make your bean dip on the same day as serving when possible!! However, you can make it one day in advance if you need to. Just make sure to keep it stored in something airtight.
What additions can I make to my 7 Layer Bean Dip?
You can try adding shredded ham or crushed bacon bits if you want a meatier bite! Or go for the big flavor with cooked and crumbled chorizo or taco-seasoned ground meat. Adding a bit of sour cream to the cream cheese can change up the flavor with a tangier finish, or just Greek yogurt for a low-fat way to thicken out the creaminess. Yum!!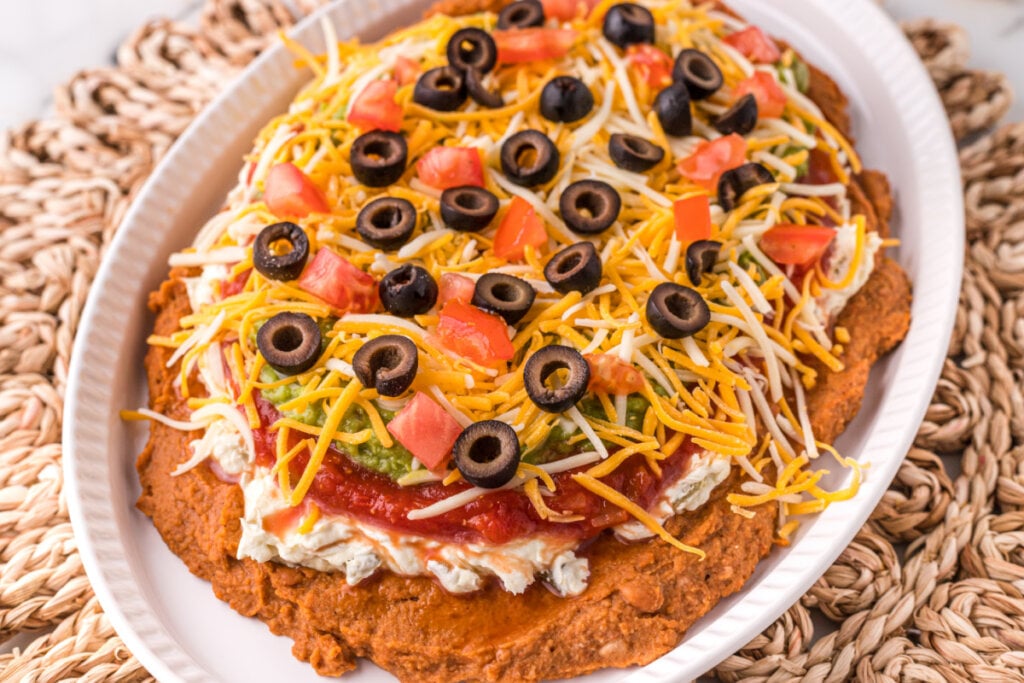 Other recipes you may enjoy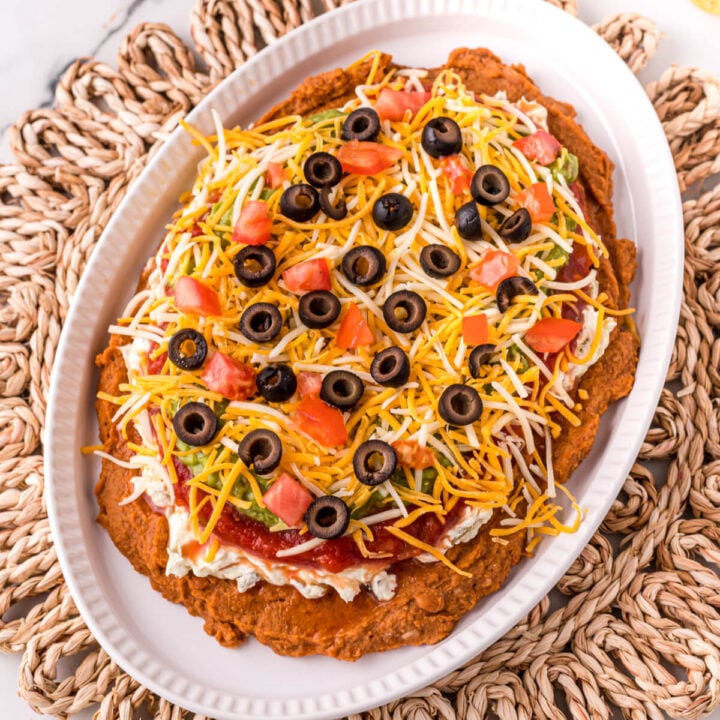 7 Layer Bean Dip
A quick and easy dish full of color and flavor, this 7 Layer Bean Dip will liven up any party! It's better than any store-bought version and a total crowd-pleaser too.
Ingredients
1 can (16 ounce) refried beans
1 package (1 ounce) taco seasoning mix
1 package (8 ounce) cream cheese, softened
1 can (4 ounce) chopped green chiles
1 cup salsa
1 cup prepared guacamole
1 cup shredded Mexican cheese blend
1 can (2.25 ounce) sliced ripe olives, drained
1 medium tomato, diced
Instructions
In medium bowl, mix refried beans and taco seasoning mix. Spread the mixture on a large platter.
In another medium bowl, mix cream cheese and green chiles. Carefully spread over bean mixture.
Top with salsa, guacamole, cheese, olives, and tomato. Refrigerate until serving time.
Serve with tortilla chips.
Notes
Try adding cooked and crumbled chorizo or taco-seasoned ground meat.
Recommended Products
As an Amazon Associate and member of other affiliate programs, I earn from qualifying purchases.
Nutrition Information:
Yield:

12
Serving Size:

1
Amount Per Serving:
Calories:

102
Total Fat:

6g
Saturated Fat:

2g
Trans Fat:

0g
Unsaturated Fat:

3g
Cholesterol:

11mg
Sodium:

390mg
Carbohydrates:

9g
Fiber:

3g
Sugar:

3g
Protein:

5g
Please note that the nutritional information listed on this page is an estimation based on the products I used. Ingredients and nutritional information can vary significantly between brands. Always be sure to read labels. Please verify that a recipe fits your needs before using it. Nutrition info may contain errors, so please verify it independently. Likewise, recipes may contain errors, so please use your common sense when following them.
Originally published on April 27, 2016. Updated on July 26, 2022.