Fruit Punch Oreo Truffles – with only 3 ingredients, a fun fruit punch flavor, and no baking involved, these truffles are perfect for summer! #nobake #oreo #truffle
Those of you who follow me on social media, may have seen me mention that my oldest son is graduating from high school this week. As a mom, I have had a whirlwind of emotions – from pride all the way to fear. To be honest, I am amazed at how fast almost 18 years have gone by.
This past weekend, I think the reality of everything really started to sink in. It's one of those things, you know it's coming, but you never really prepare for it …. it just kinda sneaks up on you. You know what I mean? Needless to say, I have shed many tears and questioned myself as to whether or not I have done everything I could to prepare Elijah for the world he is about to face. I'm almost certain most parents have the same sorts of feelings when their babies get ready to step out on their own.
One of the ways I cope with stress and/or change, is by baking or creating yummy things to eat. It's my zone, my happy place. Although the idea of Oreo Truffles is not new, I couldn't resist taking one of Oreo's newest flavors and creating a fun summer truffle with it. I love that it's no bake (hello, no hot kitchen!!) … and truthfully, these truffle are kinda cute with their pink centers and white candy coating. A sprinkle of some cookie crumbs on top makes it perfect!
Have you seen these Fruit Punch Oreos at your local store?
Let's check out that truffle recipe, shall we?
Yield: about 48
Fruit Punch Oreo Truffles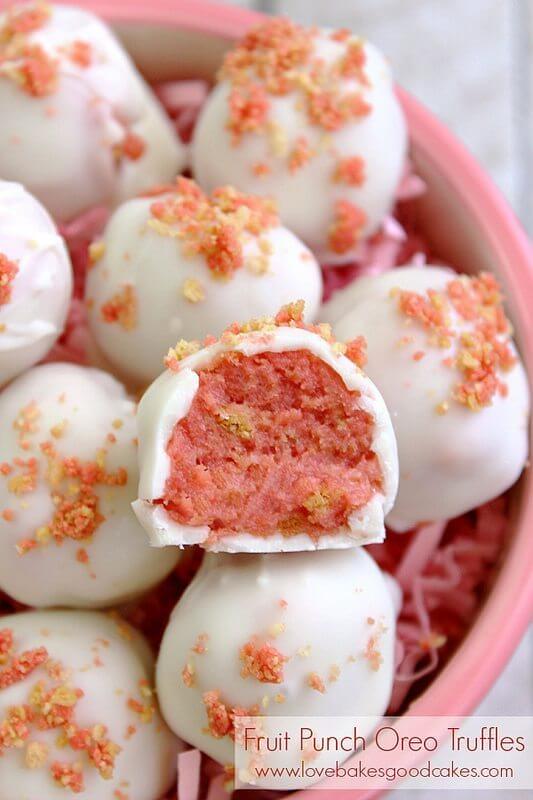 Fruit Punch Oreo Truffles - with only 3 ingredients, a fun fruit punch flavor, and no baking involved, these truffles are perfect for summer!
Ingredients
1 pkg. (12.2 oz.) Fruit Punch Oreos
1 pkg. (8 oz.) cream cheese, softened
1 pkg. (16 oz.) vanilla flavored CandiQuik
Instructions
Line a baking sheet with waxed paper and set aside.
Place the Fruit Punch Oreos in the bowl of a food processor and blend until the cookies resemble fine crumbs. Measure out ¼ cup cookie crumbs. Set them aside.
Combine the remaining cookie crumbs with the cream cheese until thoroughly combined. Using a rounded teaspoon, shape the mixture into 1-inch balls. Place on prepared baking sheets. Repeat until all of the cookie/cream cheese mixture has been used.
In a microwave, melt the CandiQuik according to package directions. Dip each ball into the melted candy coating, allowing excess to drip off. Replace the covered balls back onto the cookie sheet. Immediately sprinkle a bit of the reserved cookie crumbs over the top of the truffle before the candy coating hardens. Repeat with remaining balls, candy coating, and reserved cookie crumbs. Allow to stand until firm.
Store truffles in a tightly closed container in the refrigerator.
Nutrition Information:
Amount Per Serving:
Calories:

86
Total Fat:

3g
Saturated Fat:

1g
Cholesterol:

5mg
Sodium:

54mg
Fiber:

0g
Sugar:

5g
Protein:

1g
How do you cope with change? Do you bake or make yummy things to eat, too?
Other Posts You May Enjoy: