Make these Melting Snowman OREO Cookie Balls for a treat everyone will love! They're perfect for the winter season and they are so easy to make!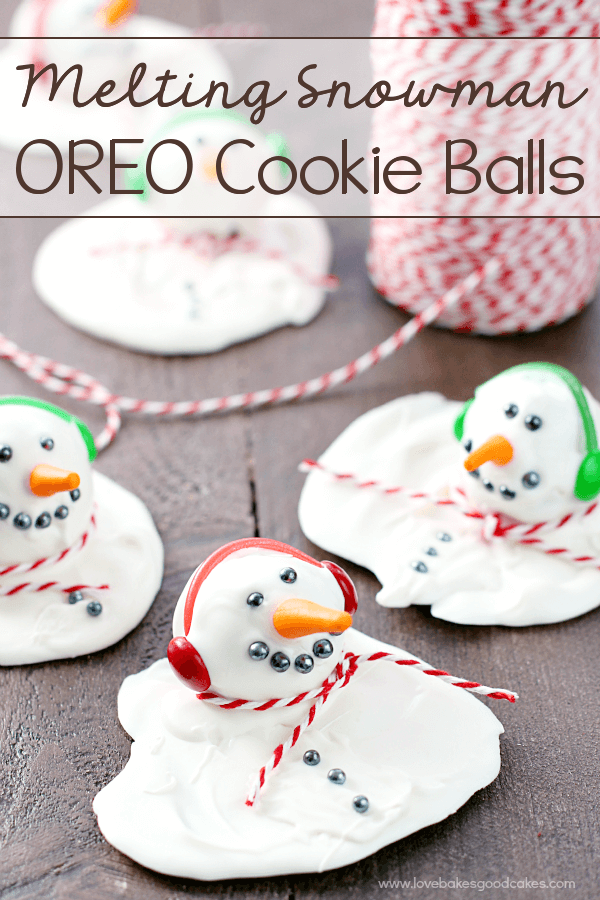 This shop has been compensated by Collective Bias, Inc. and its advertiser. All opinions are mine alone. #SpreadOREOCheer #CollectiveBias
Melting Snowman OREO Cookie Balls
My kiddos have been wanting to do a fun recipe for the winter season. We usually make gingerbread men and decorate sugar cookies … and we try a bazillion flavors of flavored syrups in our hot cocoa trying to find the best flavor combo for the year – let me tell ya, sometimes they get crazy with the flavors!! How about Maple Bacon Hot Chocolate or Peach Melba White Hot Chocolate … anyone?! (I know some of y'all are raising your hands!!) While those things are all fun, I wanted to do something different with them this year!
We love making OREO Cookie Balls. I'm sure you know the recipe – it's so popular for a reason – especially during the holiday season! Not only are they easy to make, but they are always a hit with friends and family! We debated on making Reindeer OREO Cookie Balls or Melting Snowman OREO Cookie Balls …. since the title of this post is Melting Snowman OREO Cookie Balls, I'm sure you can guess which one won! 🙂
Our recipe required a quick trip to our local Fry's to grab OREO cookies (of course!) and a few other ingredients to make these simple and cute little snowmen!
OREO helps make celebrating the holiday season even more magical, by offering simple yet fun solutions for holiday treats! Whether we enjoy the cookies themselves or dress them up in a delicious and festive holiday recipes, OREO is a trusted brand for busy moms throughout the holiday season!
Of course, you can find OREO cookies at your local Kroger banner stores (in my case, Fry's!) Not only can you find all of your favorite OREO cookie varieties, but Fry's is the perfect place to stock up on all of your seasonal entertaining needs! They have the freshest ingredients and I love the great values!
My kiddos and I had such a great time putting these Melting Snowman OREO Cookie Balls together – we want to see if we can make the Reindeer OREO Cookie Balls turn out just as cute as these ones! Be sure to follow me on Instagram to get a sneak peek when we make them!
It's important to note that I had some pre-made white fondant on hand. I just kneaded in some orange food coloring. Since I know that the black sugar pearls can be hard to find, feel free to use mini chocolate chips instead if you need to!
I also have to share this little tidbit with y'all …. I'm so excited to have made my very first blogging video! I can't believe I finally made one! I realize that I have a few things to learn about making blog videos so, please bear with me while I learn …. and I do hope you enjoy watching!
Be sure to check out more delicious OREO recipes at spreadoreocheer.com. I'd love to hear about your favorite OREO recipe!
Other Posts You May Enjoy:
Red Velvet Cupcakes with OREO Cream Cheese Frosting
Chocolate OREO Sprinkle Donuts
More than 70 recipes that use OREO cookies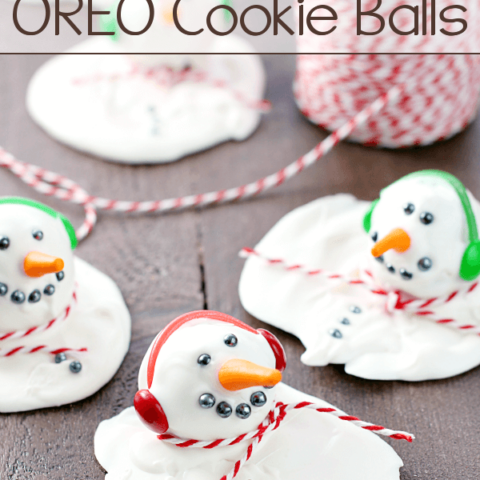 Melting Snowman OREO Cookie Balls
Make these Melting Snowman OREO Cookie Balls for a treat everyone will love! They're perfect for the winter season and they are so easy to make!
Ingredients
1 pkg. (8 oz.) PHILADELPHIA Cream Cheese, softened
1 pkg. (14.3 oz.) OREO Cookies, finely crushed
3 pkg. (12 oz. each) white candy melts, melted
About 1/4-cup orange fondant
Watermelon pull-and-peel candy, cut into 1-inch lengths
Red and green chocolate button candy
Black sugar pearl sprinkles or mini chocolate chips
Baker's twine
Instructions
Mix cream cheese and OREO cookie crumbs until blended.
Shape into 48 (1-inch) balls. Freeze 10 min.
Using a ⅛-tsp. for a measure, scoop fondant. Remove fondant from measuring spoon and divide in half. Shape each piece of fondant into carrot shapes. Repeat with remaining fondant until you have 48 carrot noses. Set aside.
Place a puddle of melted candy melt on a wax-paper lined baking sheet; immediately dip one of the OREO cookie balls into the candy melts, allowing excess to drip. Place the ball onto the puddle. Immediately place the pull-and-peel candy on the top of the ball. Working quickly, add a chocolate button candy to each side of the pull-and-peel candy to create the earmuffs. Add eyes and a mouth. Press and hold the nose for a few seconds. If desired, use black sugar pearls to make buttons in the "melted" part of the snowman. Repeat with remaining balls and candy melts.
Place snowmen in the refrigerator to stand until completely cooled and the candy melts are firm, about 1 hour.
Cut pieces of baker's twine to length and carefully tie one piece around each snowman's neck to create the scarf. Repeat with remaining snowmen.
Nutrition Information:
Amount Per Serving:
Calories:

160
Total Fat:

10g
Saturated Fat:

5g
Cholesterol:

5mg
Sodium:

52mg
Fiber:

2g
Sugar:

16g
Protein:

2g