You can be enjoying these Easy Pretzel Dogs in no time! I've got a quick start tip that will have dinner on the table in about 30 minutes!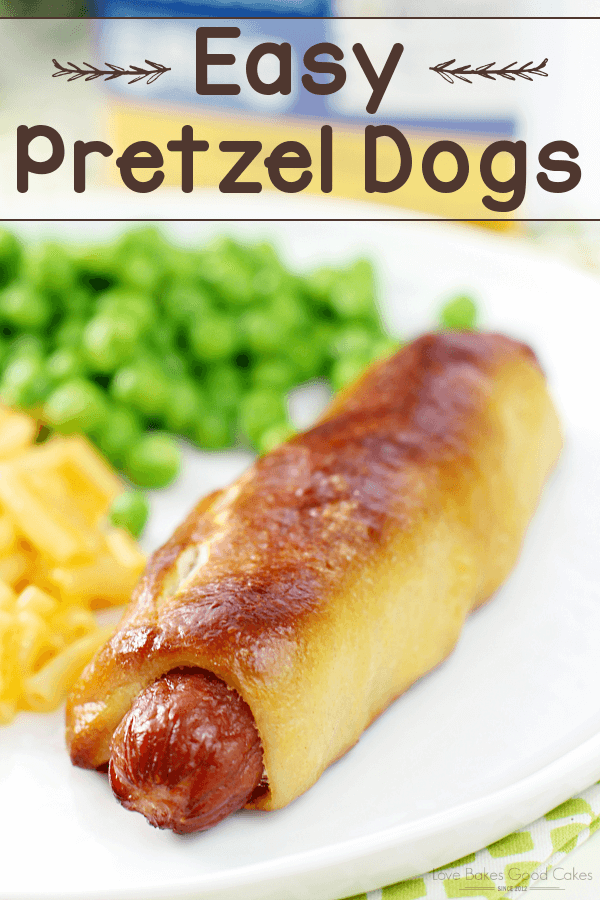 Easy Pretzel Dogs
I have been wanting to share this Easy Pretzel Dogs recipe with y'all for months. For one reason or another, it just never worked out – mostly because dinnertime is hectic and that often means that I am short on time. You know how life is!
While I do enjoy making my own breads – sometimes, I need a quicker solution. I found a way to make these Pretzel Dogs quickly and easily with the help of refrigerated pizza dough! That means no yeast, no kneading, and no waiting!
When it comes to easy side dishes, one of our favorites is Kraft Macaroni and Cheese! Kraft Macaroni and Cheese has been a staple in American households since 1937 – and a favorite of mine since 1976! It's a brand that many of us grew up with and it's a brand we know our families love!
The New Mac and Cheese
You may remember that back in April 2015, Kraft announced that it would be removing all artificial flavors, preservatives and dyes to work towards improved nutrition and better ingredients. Official changes to the product were rolled out in December of 2015 – without an official announcement to the public to show that the changes didn't alter the classic taste and texture!! Do you know what that means?! If you have bought a box of Kraft Macaroni and Cheese lately – you probably didn't even notice the change! Don't worry – you're not alone! My family didn't notice it either and I have been eating Kraft Macaroni and Cheese for almost 40 years!! Original Kraft Macaroni & Cheese replaced artificial dyes (yellow 5 and 6) with paprika, annatto and turmeric to maintain signature color, and removed all artificial preservatives from the recipe. Isn't that awesome?!
Now Kraft Mac & Cheese is out to thank fans who tried the new recipe and still loved every bite. The brand will be surprising non-noticing fans who ate the new recipe with thank you gifts! You can share your #didntnotice stories on Twitter with the hashtag #didntnotice or on the Kraft Macaroni & Cheese Facebook page for a chance at thousands of thank you gifts from Kraft!
I shared this Easy Pretzel Dogs recipe with you – what is one of your favorite quick dinner solutions?!
Other Posts You May Enjoy:
The ULTIMATE List of Hot Dog Recipes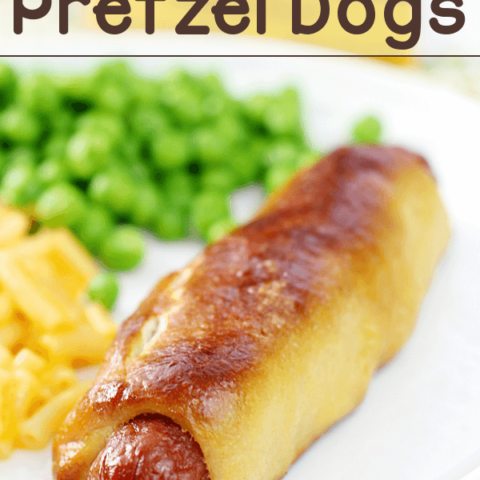 Easy Pretzel Dogs
You can be enjoying these Easy Pretzel Dogs in no time! I've got a quick start tip that will have dinner on the table in about 30 minutes!
Ingredients
1 tube (13.8 oz.) refrigerated pizza crust
1 pkg. (16 oz.) hot dogs
5 cups water
1/3 cup baking soda
1 egg yolk
1 tbsp. water
Kosher salt, optional
Instructions
Preheat an oven to 450°F.
Line a baking sheet with parchment paper or grease with vegetable oil. Set aside.
Stir baking soda into 5 cups water in a large pot until dissolved, and bring to a boil over medium-high heat.
Turn the pizza dough out onto a lightly-oiled surface. Press or roll the dough into a rectangle.
Cut the dough in half lengthwise. Then cut into 4 equal section width-wise. Wrap each square tightly around a hot dog, pinching the edges to seal, and leaving the ends open. About half an inch of hot dog should peek out of each end of the dough wrapper.
Drop 2 or 3 dough-wrapped hot dogs into the boiling water for 30 seconds.
Arrange the boiled hot dogs on the prepared baking sheets. Beat the egg yolk in a small bowl with 1 tablespoon water. Brush each pretzel dog with the egg yolk mixture, and sprinkle with salt, if desired.
Bake in the preheated oven until golden brown, about 12-15 minutes.
Nutrition Information:
Amount Per Serving:
Calories:

311
Total Fat:

18g
Saturated Fat:

7g
Cholesterol:

47mg
Sodium:

3288mg
Fiber:

1g
Sugar:

0g
Protein:

11g