These Hawaiian Dogs at your next BBQ or party. If you're looking for a change of pace from the usual hotdogs and burgers, try these!
This post may contain affiliate links. As an amazon associate, I earn from qualifying purchases. See my full Disclosure Policy for details.
Hawaiian Dogs
I'm not much of a hot dog eater – but having young children pretty much obligates me to make them on occasion. I don't really do boring dogs at our house …. Instead, I like to come up different kinds of toppings to make them fun and more tolerable for me (although my kiddos are quite content with just the regular ol' ketchup and mustard!). I love the idea of having a sweet, spicy and salty combo – so I came up with these Hawaiian Dogs.
If I were a betting person, I'd bet they don't necessarily eat stuff like this in Hawaii …. but just go with me here – mmmkay?!
The dogs are wrapped up in bacon and grilled (carefully – you'll wanna watch those flames with the bacon grease!) – and then they are topped off with a spicy pineapple salsa. Mayo or BBQ sauce would be good condiments to add if you're so inclined – although, they're just as good without it! 😉
Other recipes you may enjoy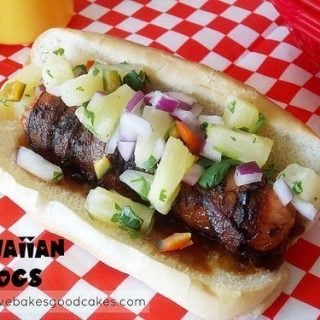 Hawaiian Dogs
I love the idea of having a sweet, spicy and salty combo - so I came up with these Hawaiian Dogs.
Ingredients
1 package (16 oz.) hot dogs
8 slices of bacon
8 hot dog buns
1 can (8 oz.) pineapple tidbits, drained
1/4 cup red onion, chopped
1 jalapeno, seeded and chopped
2 tablespoons lime juice
A small handful of cilantro, chopped
1/4 cup BBQ sauce or mayo, if desired
1/4 cup mayonnaise
Instructions
In a medium bowl, combine the pineapple, red onion, jalapeno, lime juice and cilantro. Mix well. Refrigerate until serving time.
In a separate small bowl, stir together the BBQ Sauce and mayo until well combined. Refrigerate until serving time.
Preheat grill.
Wrap each hot dog in a slice of bacon, overlapping slightly. Secure the loose end with a toothpick. Grill, turning occasionally until the bacon is crisp and the hot dog is heated through.
To serve, remove the toothpick from the hot dog. Place a hot dog in a bun and top with the pineapple salsa.
Serve with BBQ sauce mixture, if desired.
Nutrition Information:
Amount Per Serving:
Calories:

436
Total Fat:

29g
Saturated Fat:

10g
Cholesterol:

47mg
Sodium:

867mg
Fiber:

1g
Sugar:

8g
Protein:

15g
Originally published on August 1, 2013. Updated on April 23, 2021.