Buffalo Chicken Meatballs are the perfect go-to meal or appetizer. This recipe is like scrumptious wings in a quick and easy meatball form.
Chicken Meatball Recipe
When you want to have chicken but don't want the same-old-same-old, these Buffalo Chicken Meatballs are absolutely a go-to meal or appetizer. With just a few ingredients, you'll have scrumptious wings in meatball form – and all in less than a half-hour!
I've said before that chicken is always a winner for busy households! You can always turn chicken into something unique and flavorful with just a few ingredients, and it's super versatile meat all around. There's no better example of that than these buffalo chicken meatballs!
Whether you want to serve these meatballs as the main dish or an appetizer/snack before dinner, they're filling and oh-so-delicious. They're like standard buffalo wings but in meatball form.
All you'll need is some ground chicken, your favorite buffalo sauce, and a few flavorings you likely already have in the fridge or pantry. I hope you enjoy this chicken meatball recipe!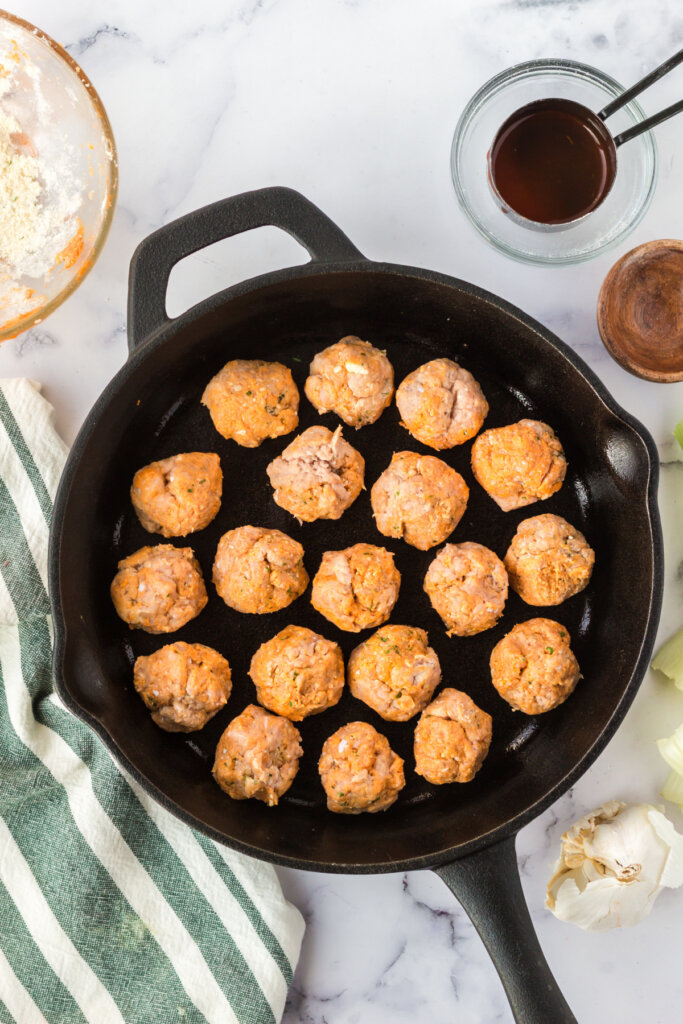 Buffalo Chicken Meatballs: Ingredients & Equipment
To make this chicken meatball recipe, you'll need …
Ingredients
ground chicken – the base of your meatballs. You'll need about a pound.
Buffalo sauce – ah, yes … what brings the wonderful flavor to this chicken meatball recipe! You can use whichever brand is your favorite or even make your own at home.
flour – if you've made meatballs before, you know that this helps hold them together.
Parmesan cheese, garlic powder, parsley – your herbs, spices, and flavorings. These seriously take the meatballs from a simple variation on buffalo chicken to something completely sublime!!
olive oil – you'll cook your ingredients in this oil.
Equipment
bowl – to combine all your ingredients at once. I honestly just use my hands for mixing, but a wooden spoon is fine too.
skillet or pan – to cook your meatballs. Nonstick pans are better for cleanup, but the skillet will give you beautifully browned meatballs … so it's up to you. Pros and cons!
meat thermometer – not super necessary, but HIGHLY recommended. It's an indispensable kitchen tool. You'll know your meatballs are done when they're about 165°F in the middle!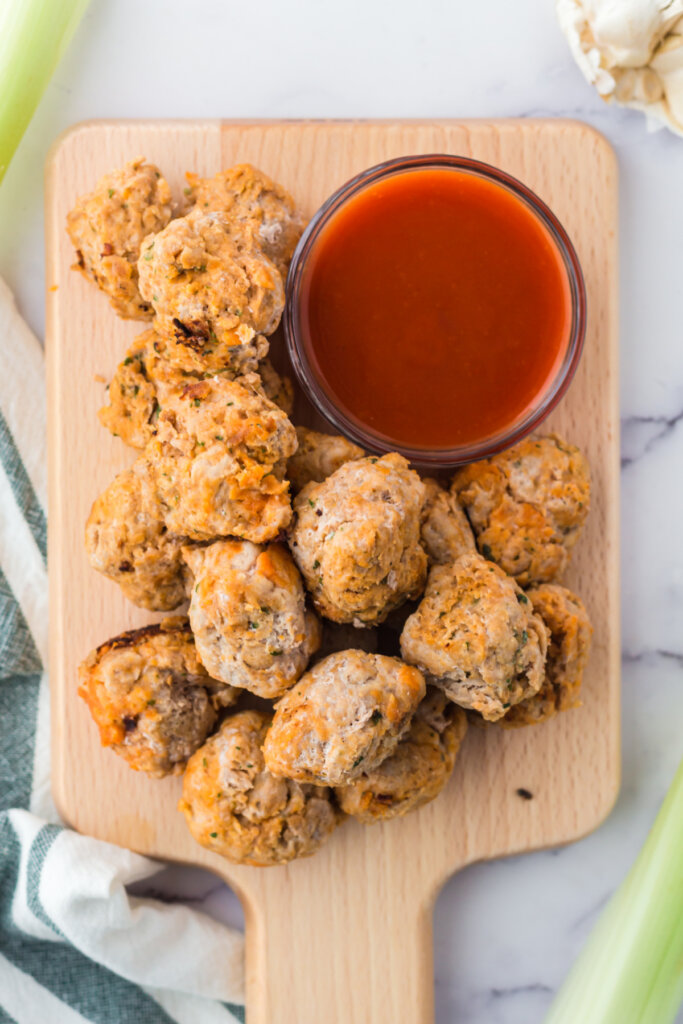 Buffalo Chicken Meatballs: FAQs
Do you have any other suggestions for flavorings to use?
Oregano is awesome in this recipe! I also like onions, too, either fresh and diced or in the form of onion powder. Celery bits also give the meatballs a fantastic crunch.
Can I use ground turkey instead of ground chicken?
Yes!! It tastes about the same in the end and you'll cook them the same way.
How long does it take to make Buffalo Chicken Meatballs?
A little less than a half-hour – isn't that fabulous?! You'll need just 10 minutes for prep and 15 minutes to cook the meatballs.
How many servings does this chicken meatball recipe make?
This should make enough meatballs for four people for dinner!! As an appetizer, you can probably feed about six people.
Can you make buffalo chicken meatballs ahead of time?
Yes! You can store them in the freezer for 3 months or in the fridge for a day or two, uncooked. If your meatballs are cooked, they'll last about half a year in the freezer – yes, really!! – or a week in the fridge.
Are these chicken meatballs spicy?
It depends 100% on what kind of buffalo sauce you use! If your family likes (and can handle) a big kick, use a spicier sauce. But they sell lots of mild sauces too if you prefer that.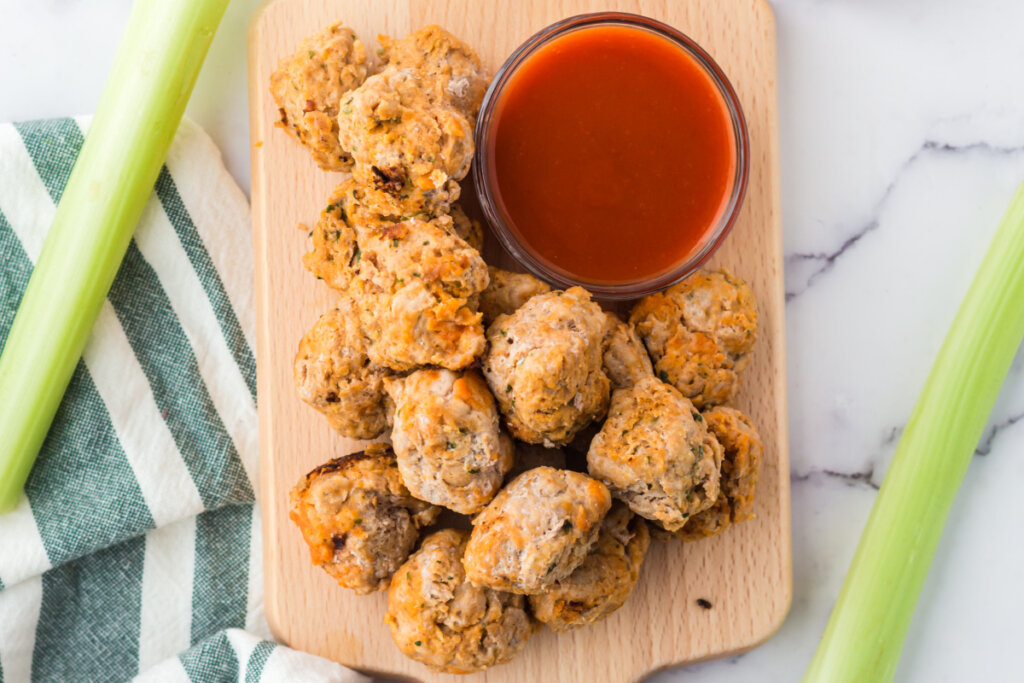 Other recipes you may enjoy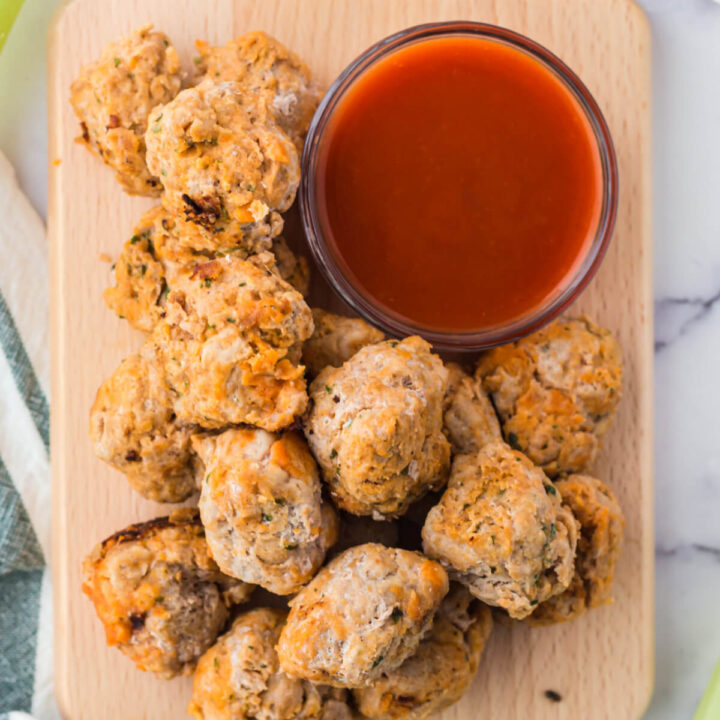 Buffalo Chicken Meatballs
Buffalo Chicken Meatballs are the perfect go-to meal or appetizer. This recipe is like scrumptious wings in a quick and easy meatball form.
Ingredients
For the meatballs
1 lb, ground chicken
1/3 cup all-purpose flour
1/3 cup grated parmesan
1/4 cup buffalo sauce
1 teaspoon garlic powder
1 tespoon dried parsley
For serving
carrot sticks, celery sticks, additional Buffalo sauce, blue cheese or Ranch dressing, etc.
Instructions
In a medium-sized bowl, use a wooden spoon or your clean hands to combine all the ingredients until well combined.
Coat a cast-iron skillet or frying pan in a thin layer of olive oil and preheat it for 2-3 minutes.
Meanwhile, roll the ground chicken mixture into balls of about two tablespoons each.
Place the meatballs in the skillet/pan and cook on medium heat for 15 minutes, or until they reach an internal temperature of 165°F. Be sure to turn and cook the meatballs on all sides, so they cook evenly.
Serve the meatballs with carrots, celery, buffalo sauce, etc. Enjoy!
Notes
You can use any buffalo sauce with this recipe.
These meatballs are a great appetizer or dinner idea and have a nice kick to them, especially when dipped in additional buffalo sauce.
Recommended Products
As an Amazon Associate and member of other affiliate programs, I earn from qualifying purchases.
Nutrition Information:
Yield:

4
Serving Size:

1
Amount Per Serving:
Calories:

363
Total Fat:

20g
Saturated Fat:

7g
Trans Fat:

0g
Unsaturated Fat:

12g
Cholesterol:

136mg
Sodium:

821mg
Carbohydrates:

14g
Fiber:

1g
Sugar:

2g
Protein:

32g
Please note that the nutritional information listed on this page is an estimation based on the products I used. Ingredients and nutritional information can vary significantly between brands. Always be sure to read labels. Please verify that a recipe fits your needs before using it. Nutrition info may contain errors, so please verify it independently. Likewise, recipes may contain errors, so please use your common sense when following them.