This Brownie Parfaits recipe has all your favorite brownie flavors mixed with pudding and fruit in a convenient individual-serving form.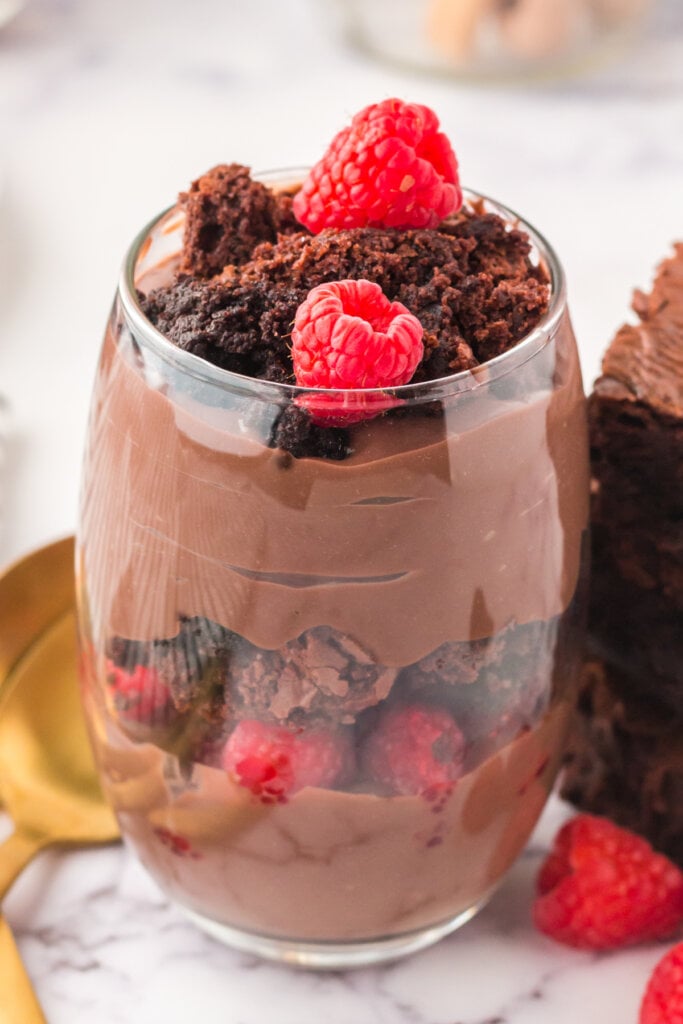 Brownie Parfait Dessert Recipes
When you're craving parfait but want to make something special and sweet, try this Brownie Parfait! All your favorite brownie flavors are mixed with pudding and fruit in a convenient dessert form.
Y'all, I've been craving chocolate so much lately! I guess that's not unusual if you've been following me for a long time. But as of writing, I've been thinking about chocolate for days now and trying not to buy up every bit of Easter candy I see!
A slightly (but only slightly!!) healthier idea I've had: making these brownie parfaits at home! A parfait is a kind of easy-to-make layered dessert, generally with fruit and pudding or another similar sweet.
This Brownie Parfait recipe, in particular, uses raspberries, chocolate pudding mix, and crumbled brownie. It's a luxurious yet simple treat that is family-friendly.
I've made them for myself before (which is why I can recommend this recipe 100% with my whole chocolate-loving heart!) but haven't gotten around to making them for my entire household. I think I'll do that this week, or else we might have an Easter candy disaster on our hands. 😉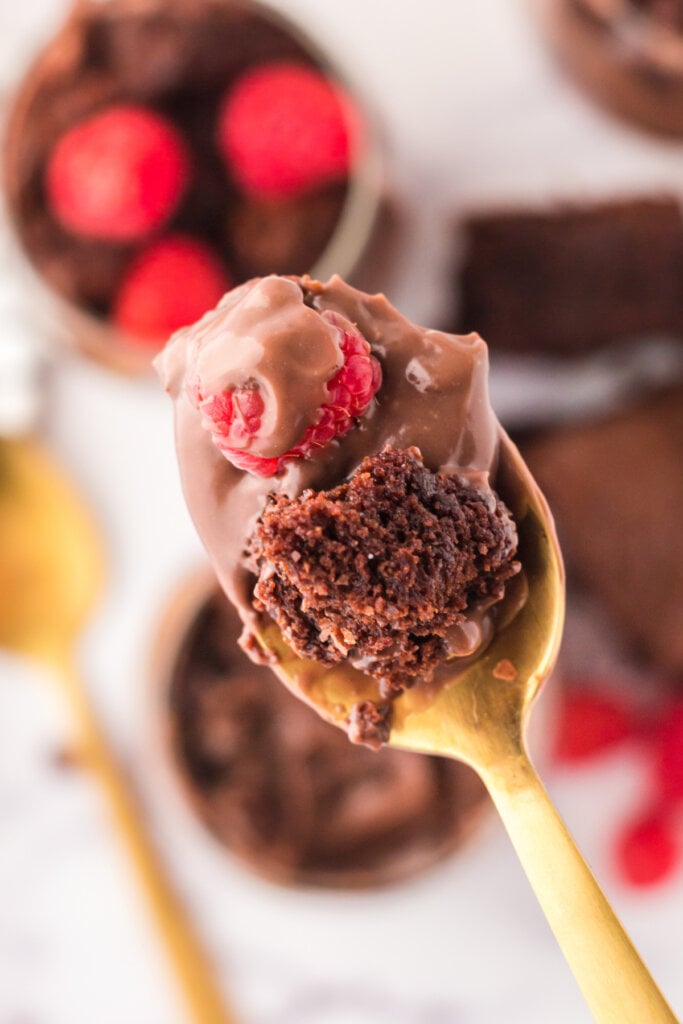 Brownie Parfait: Ingredients & Equipment
To make this Brownie Parfait recipe, you'll need…
Ingredients
chocolate or vanilla pudding mix, milk, heavy cream – to get the right parfait consistency, you'll whisk these together and let them set in the fridge for about 2 hours.
raspberries, crumbled brownie – the other layers of your parfait. You'll alternate between these and your pudding mixture above.
Equipment
anything you might need to make the brownies – if you're doing homemade, of course. If not, skip this part!
bowl – to whisk together your pudding mix, milk, and heavy cream.
glasses – you'll need 6 oz. – 9 oz., to hold your parfait!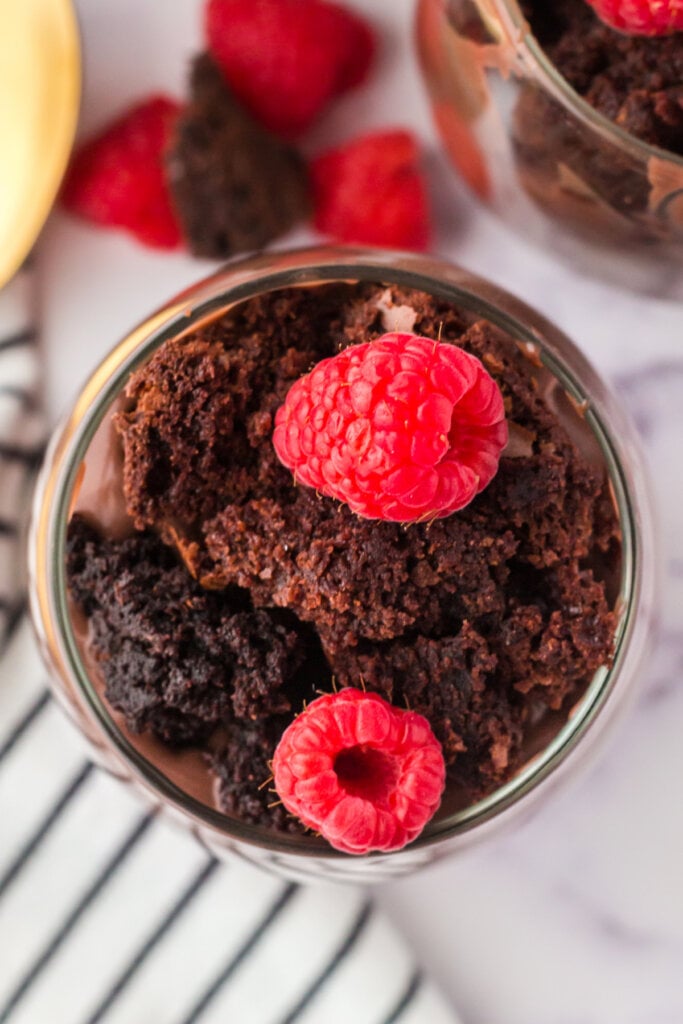 Brownie Parfaits: FAQs
Can I store this Brownie Parfait recipe in the fridge?
You can store the unassembled pudding mixture in the fridge for about a week. If your parfait is already put together, though, you really should just eat it the day you make it!
How many parfaits does this recipe produce?
About four to six of them! If you need more than that, you'll want to make a few batches. If it's just you and a loved one, or a small family, this recipe will be more than enough.
How long does it take to make Brownie Parfaits?
About 2 hours! But a very easy 2 hours. It's not 2 hours watching the oven – most of it is just waiting for the parfait mixture to set.
Should I use fresh raspberries for this recipe?
I recommend it!! Frozen ones tend to get soft and unappetizing when they thaw.
Are there any toppings you recommend?
Totally optional, but whipped cream is amazing on top of this parfait. I usually leave it out, but that's just a personal preference. Other toppings you can try include …
– chocolate chips
– chocolate sauce
– caramel
– sprinkles
– more fruit
– nuts (peanuts, pecans, etc)
What about add-ins or substitutions?
Though I think this parfait is wonderful as-is, there's lots of other variations on it you can try! Experiment with using these alongside your pudding, fruit, and crumbled brownies for an extra-sweet treat …
– M&Ms
– vanilla wafers
– graham crackers
Should I use homemade brownies?
It's up to you! Feel free to use homemade, store-bought, boxed … whichever is most convenient for you.
Are there other fruits that taste good in this parfait?
Cherries, strawberries, blackberries – anything that's yummy paired with the chocolate flavor!!
Can I use pudding cups instead of making pudding?
Absolutely if that's more convenient! You'll need about eight to twelve of them for this recipe – depending on how much pudding you want to use.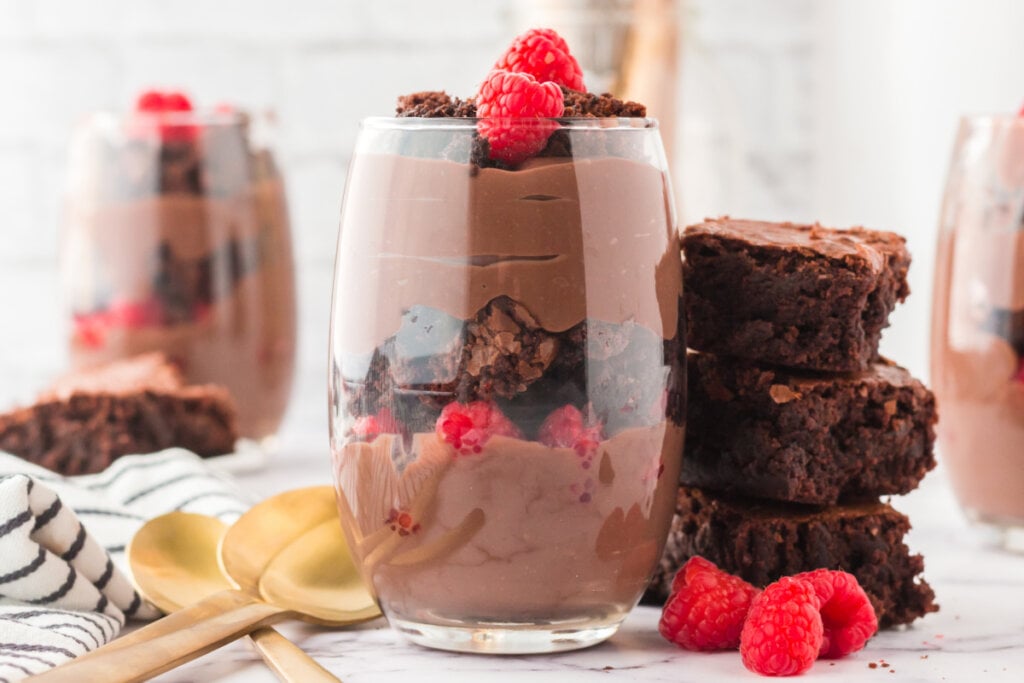 Other recipes you may enjoy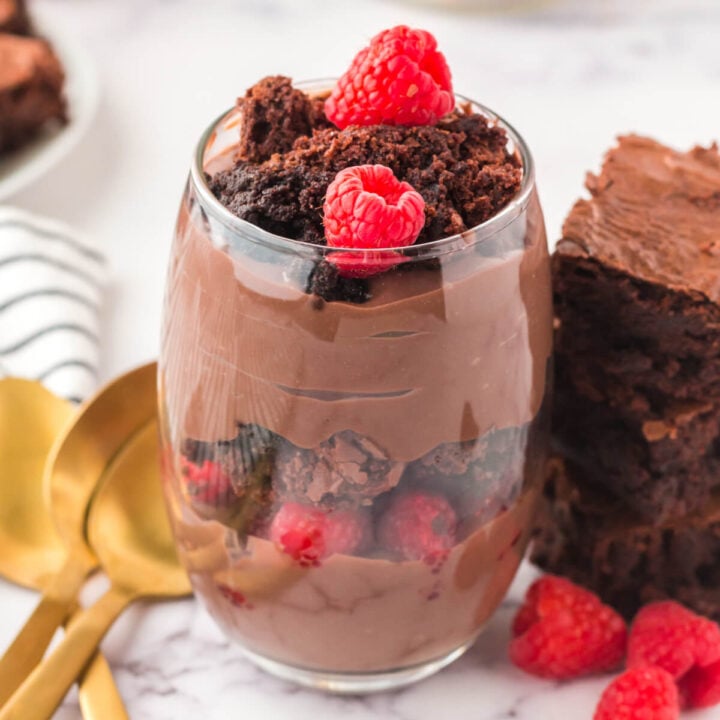 Brownie Parfaits
Total Time:
2 hours
15 minutes
This Brownie Parfaits recipe has all your favorite brownie flavors mixed with pudding and fruit in a convenient individual-serving form.
Ingredients
1 box (3.4 oz.) instant chocolate pudding mix
1 cup whole milk
1 cup heavy cream
1-1/2 cups fresh raspberries
3 cups brownies, premade, cooled and crumbled
Instructions
Combine the pudding mix, milk, and cream in a medium-sized bowl. Whisk the ingredients together vigorously and place the mixture in the fridge to set. Allow the mixture 2 hours to set, or until the center of the mixture is no longer runny.
Divide half of the pudding mixture evenly between four to six 6-9 oz. cups or glasses. Place a layer of raspberries on the pudding, followed by half of the crumbled brownies divided evenly between the four parfaits.
Finish assembling the parfaits by adding another layer of pudding, followed by a layer of brownies and a few raspberries on top.
Serve immediately or store overnight in the fridge.
Notes
It is best to use fresh raspberries in this recipe. Frozen raspberries tend to get too soft when they are out of the freezer for too long and make the parfaits look a little too messy.
A spoonful of whipped cream goes great on top of this parfait.
When fully assembled, this dessert should be consumed within a day or two; however, you can prepare the pudding mixture and store it for up to one week in the fridge. This is a great option if you want to assemble one parfait at a time.
You can use vanilla pudding (or your favorite flavor!) in place of the chocolate pudding if you prefer.
Recommended Products
As an Amazon Associate and member of other affiliate programs, I earn from qualifying purchases.
Nutrition Information:
Yield:

6
Serving Size:

1
Amount Per Serving:
Calories:

596
Total Fat:

38g
Saturated Fat:

16g
Trans Fat:

0g
Unsaturated Fat:

20g
Cholesterol:

104mg
Sodium:

580mg
Carbohydrates:

60g
Fiber:

3g
Sugar:

16g
Protein:

8g
Please note that the nutritional information listed on this page is an estimation based on the products I used. Ingredients and nutritional information can vary significantly between brands. Always be sure to read labels. Please verify that a recipe fits your needs before using it. Nutrition info may contain errors, so please verify it independently. Likewise, recipes may contain errors, so please use your common sense when following them.