This Hawaiian Chicken recipe is filled with scrumptious tropical flavors that are perfect when your typical chicken dishes just won't do.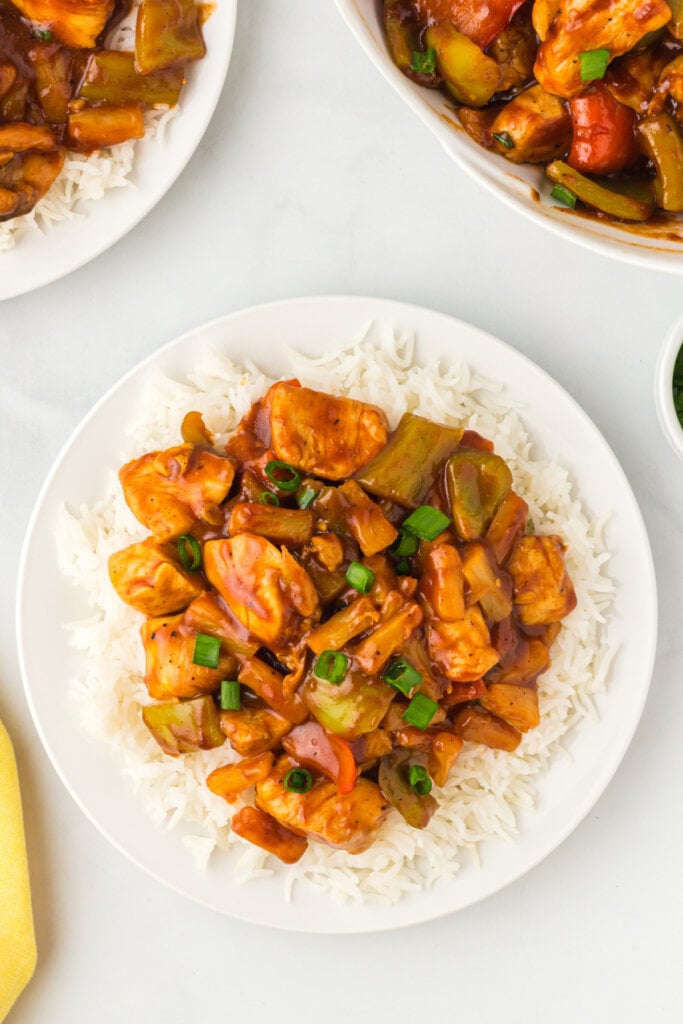 Hawaiian Pineapple Chicken Recipe
This Hawaiian Chicken recipe is filled with scrumptious tropical flavors that are just to die for! It's quick, it's simple, and it makes for a fantastic meal when your typical chicken dishes just won't do.
Chicken's a winner in most households, isn't it?! I don't know many grown-ups or kids that won't eat it, or some variation on it, like tofu chicken. But sometimes the same old recipes get boring, especially if you eat chicken a lot.
Thankfully, poultry's pretty versatile, and there's no better example of that than this Hawaiian chicken!
Hawaiian Chicken is a sort of sweet-savory meal that'll remind you of summertime at the beach. It's family-friendly, it's pretty unique, and it's full of those lovely tropical flavors like pineapple and ginger, as well as BBQ sauce.
It's also a total drama-free recipe that's great for nights you just don't have much energy to cook anything else.
My mouth is watering just thinking about it. Quick and easy chicken recipes are always my go-to for a stress-free dinner! How about you?
We usually serve this dish over rice, but pasta works just as great. You can also serve it as is or in a wrap.
I hope you enjoy this tasty recipe as much as we do!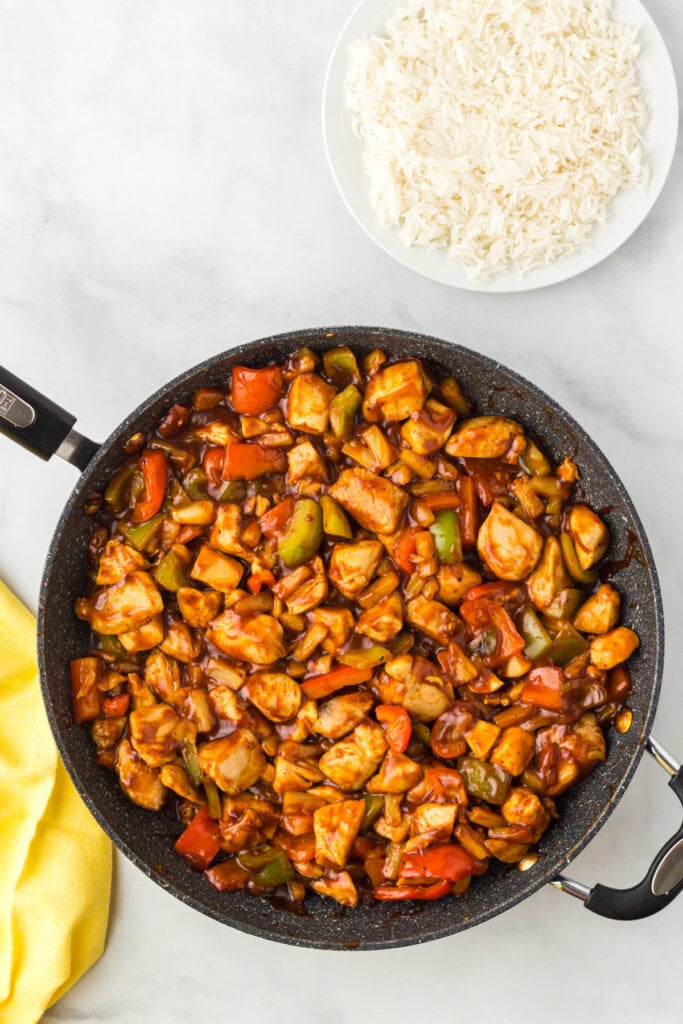 Hawaiian Chicken Recipe: Ingredients & Equipment
To make this Hawaiian Chicken, you'll need …
Ingredients
chicken pieces – skinless and boneless cubed chicken breasts work wonderfully in this recipe.
olive oil – to cook your chicken, above, and to cook your vegetables later.
salt and pepper – for flavoring your chicken as it cooks. Add to taste!!
green pepper, red pepper, pineapple chunks, minced ginger, and minced garlic – these delicious fruits, veggies, and spices come together to make some of the lovely tropical flavors in this Hawaiian Chicken recipe.
pineapple juice – from your canned pineapple. You need this for the recipe if you want the full Hawaiian flavor!
cornstarch – you'll mix this with your pineapple juice to create a sort-of sauce. It'll help thicken it up to just the right consistency.
BBQ sauce, soy sauce, brown sugar, and apple cider vinegar – the remaining ingredients in Hawaiian chicken, bring out the full tropical, sweet-savory taste. Note that what BBQ sauce you use has a HUGE effect on the final dish (smoky, honey BBQ, etc) so choose your sauce wisely.
chopped green onion – optional, but, in my house, kind of not optional, since it's so good sprinkled on top of the chicken once it's done!
Equipment
frying pan/skillet – to cook most of your ingredients, such as the chicken, the vegetables, etc.
bowls – one to make your pineapple juice mixture, and one to stir together your BBQ sauce mixture.
knife & cutting board – for chopping your veggies.
measuring cups and spoons – for accurately measuring your ingredients.
whisk – for combing your sauce and cornstarch slurry.
rubber spatula or cooking utensils – for cooking your dish.
meat thermometer – to ensure your chicken is thoroughly cooked.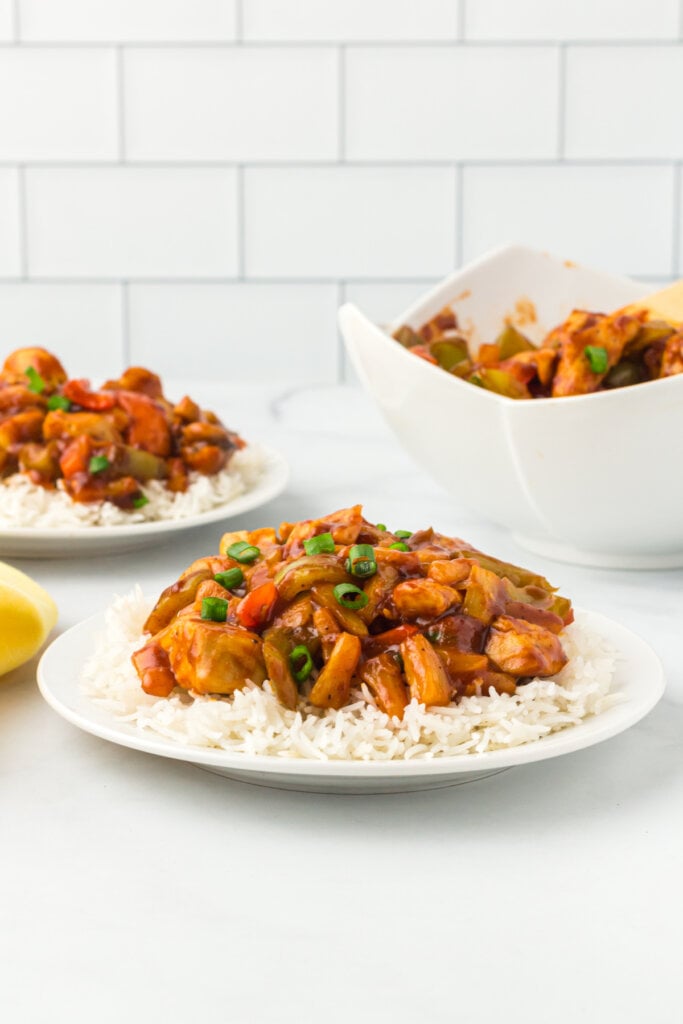 Hawaiian Chicken Recipe: FAQs
How long can Hawaiian Chicken last in the fridge?
You can keep leftovers for about 3 days in the fridge. Keep them covered!!
Can you freeze Hawaiian Chicken leftovers?
You can, for up to 2 months! Be sure to let your Hawaiian chicken cool first and as always, use an airtight container.
How long does it take to make Hawaiian Chicken?
No more than a half-hour! It takes just 10 minutes to prep and 20 minutes to cook.
How many servings does this recipe make?
About 6! Plenty for a larger family – or a smaller family with leftovers for lunch the next day!
Can you reduce the amount of BBQ sauce in the recipe?
Absolutely!! (I know it seems like a lot.) You can reduce the BBQ sauce to 1/2 cup if you prefer to use less.
Can I use fresh pineapple instead of canned pineapple?
The juice that comes with canned pineapple is crucial to the recipe, so I'd have to say no here! You want that oh-so-good sticky sweetness.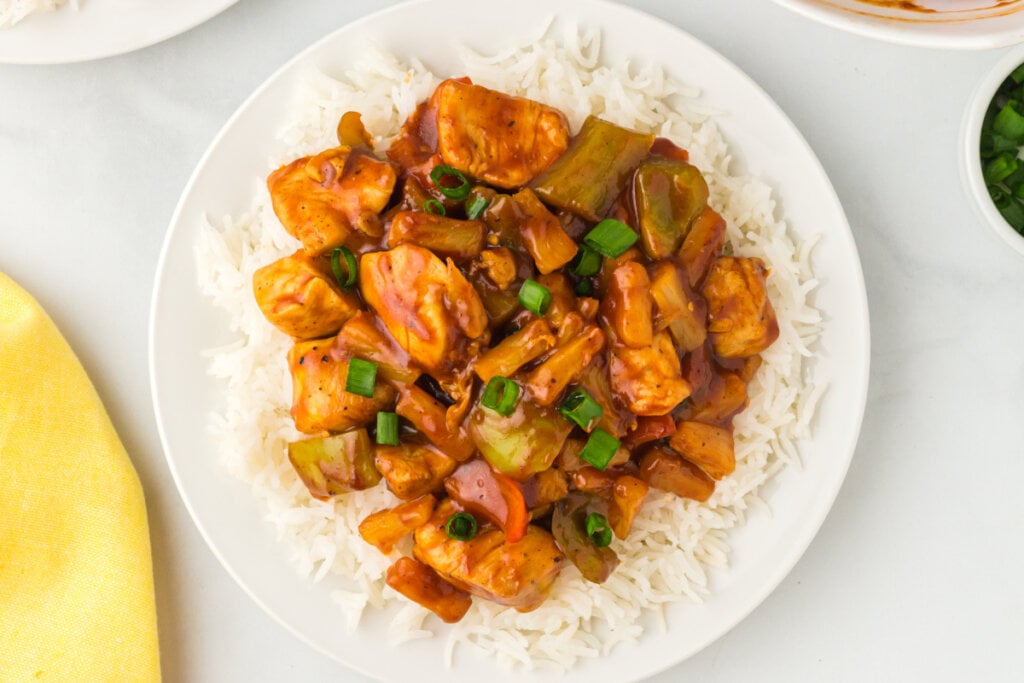 Other recipes you may enjoy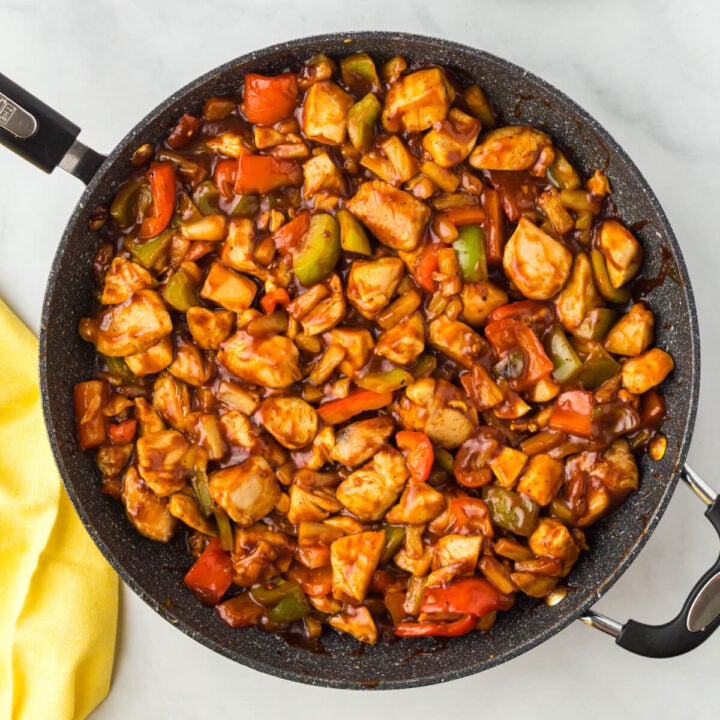 Hawaiian Chicken
This Hawaiian Chicken recipe is filled with scrumptious tropical flavors that are perfect when your typical chicken dishes just won't do.
Ingredients
2 pounds boneless, skinless chicken breasts, cut into bite-size pieces
2 tablespoons extra virgin olive oil, divided
1 teaspoon salt
1/2 teaspoon ground black pepper
2 tablespoons cornstarch
1 large green bell pepper, diced large
1 large red bell pepper, diced large
1 can (20 oz.) pineapple chunks, divided
1/2 tablespoon minced ginger (or freshly grated)
1 teaspoon minced garlic
3/4 cup BBQ sauce
2 tablespoons soy sauce
2 tablespoons light brown sugar, packed
2 tablespoons apple cider vinegar
green onion, chopped (optional topping)
Hot, cooked rice (for serving), optional
Instructions
Heat one tablespoon of the olive oil in a large skillet over high heat and add chicken pieces, salt, and pepper. Cook until the chicken has lightly browned and is no longer pink. Remove the chicken from the skillet and set it aside for now.
Separate the pineapple chunks and pineapple juice. You will need both for this recipe.
Place the pineapple juice in a separate bowl and stir in cornstarch. Stir until no lumps remain. Set juice aside for a later step.
Add the remaining one tablespoon of olive oil to the frying pan and cook the green pepper, red pepper, pineapple chunks (not juice), minced ginger, and minced garlic over medium-high heat until peppers have started to soften slightly. Stir this often, so everything is cooked evenly.
Remove the vegetable mixture from the skillet and set it aside for now.
Stir together the BBQ sauce, soy sauce, brown sugar, and apple cider vinegar until mixed well in a separate medium bowl. Add the BBQ sauce mixture and pineapple juice mixture to the skillet over medium-low heat and simmer for 5 minutes until the sauce thickens. Stir well during this process as the sugar in the mixture makes it easier to burn.
Add the chicken and vegetables back into the skillet (with the sauce) and coat well to mix. Continue to
cook for an additional 2-3 minutes to thoroughly combine.
Just before serving, sprinkle with chopped green onion.
Notes
Chicken must reach an internal temperature of 165°F to be thoroughly cooked. Do not overcook, or the chicken will start to dry out.
Nutrition Information:
Yield:

6
Serving Size:

1
Amount Per Serving:
Calories:

425
Total Fat:

10g
Saturated Fat:

2g
Trans Fat:

0g
Unsaturated Fat:

7g
Cholesterol:

129mg
Sodium:

1122mg
Carbohydrates:

31g
Fiber:

1g
Sugar:

17g
Protein:

49g
Please note that the nutritional information listed on this page is an estimation based on the products I used. Ingredients and nutritional information can vary significantly between brands. Always be sure to read labels. Please verify that a recipe fits your needs before using it. Nutrition info may contain errors, so please verify it independently. Likewise, recipes may contain errors, so please use your common sense when following them.