Satisfy your summer cravings with a Berry Vodka Smash. Experience the delightful fusion of ripe berries and smooth vodka in this refreshing cocktail. Cheers to a delicious way to beat the heat!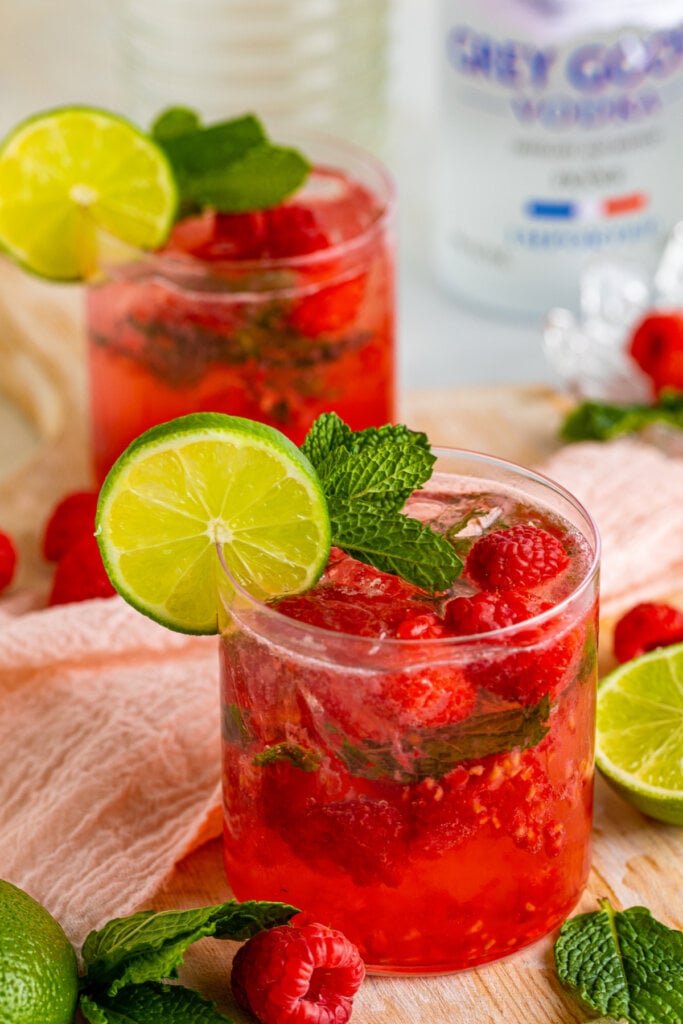 Berry Vodka Smash
The Berry Vodka Smash is a tantalizing blend of fresh and juicy berries, carefully muddled to release their vibrant flavors. Whether it's luscious strawberries, tangy raspberries, or plump blueberries, this cocktail embraces the natural sweetness of berries, creating a harmonious fusion of tastes. To enhance the experience, a generous amount of vodka is added, providing a smooth and sophisticated base for the cocktail.
With its invigorating flavors and eye-catching presentation, the Berry Vodka Smash is the perfect companion for summer sipping. The cocktail's vivid colors and the enticing aroma of ripe berries make it visually appealing, adding to the overall sensory experience.
Whether you're lounging by the pool, hosting a backyard barbecue, or simply enjoying a sunny day on your porch, this cocktail is guaranteed to elevate your mood and make the moment more memorable.
One of the great aspects of the Berry Vodka Smash is its versatility. Feel free to experiment with different berry combinations or add a splash of citrus juice for a tangy twist.
For those who prefer a sweeter touch, a drizzle of honey or a splash of simple syrup can be added. Garnish your cocktail with fresh mint leaves, sliced citrus fruits, or even a skewer of assorted berries for an extra touch of elegance.
The Berry Vodka Smash is more than just a cocktail; it's an experience that encapsulates the essence of summer. Its refreshing flavors, vibrant colors, and customizable nature make it a crowd-pleaser for any occasion.
Whether you're hosting a soirée, enjoying a quiet evening at home, or looking to impress your guests, the Berry Vodka Smash is your go-to choice. Sip, savor, and celebrate the joyous moments of summer with this delectable concoction.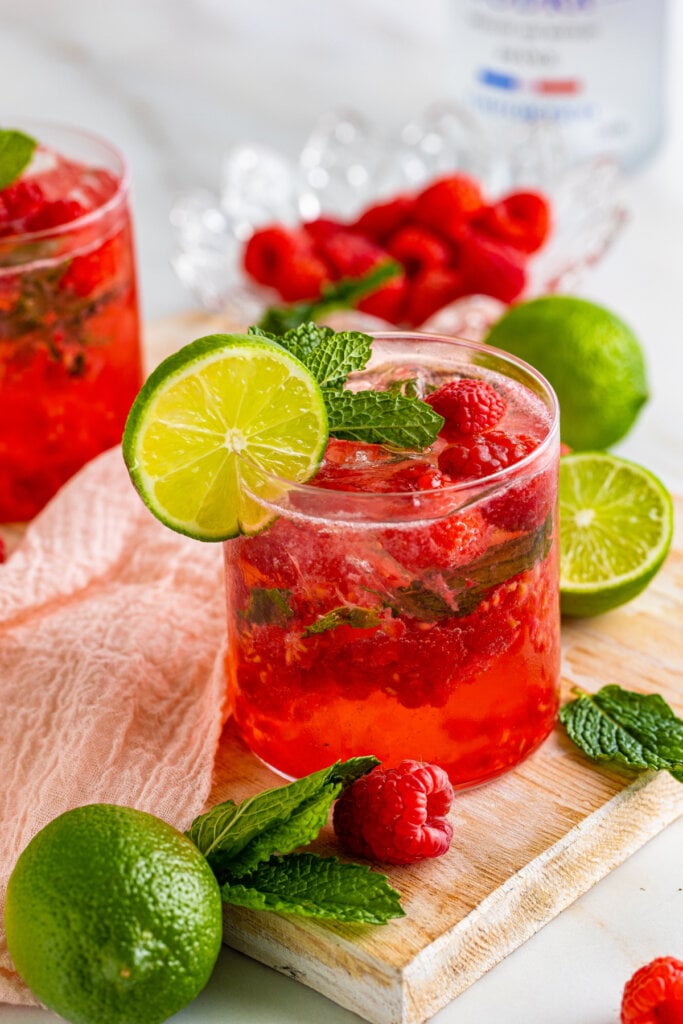 Berry Vodka Smash: Ingredients & Equipment
To make Berry Vodka Smash, you will need …
Ingredients
raspberries and fresh mint leaves – I used raspberries for this recipe but feel free to use any berry (or a mix of berries) that you want.
ice – to cool your drink, obviously.
vodka – use any brand you like.
simple syrup, lime juice, and soda water – the remaining parts of your drink that enhance the flavor.
Equipment
glass and muddler – to prepare your cocktail.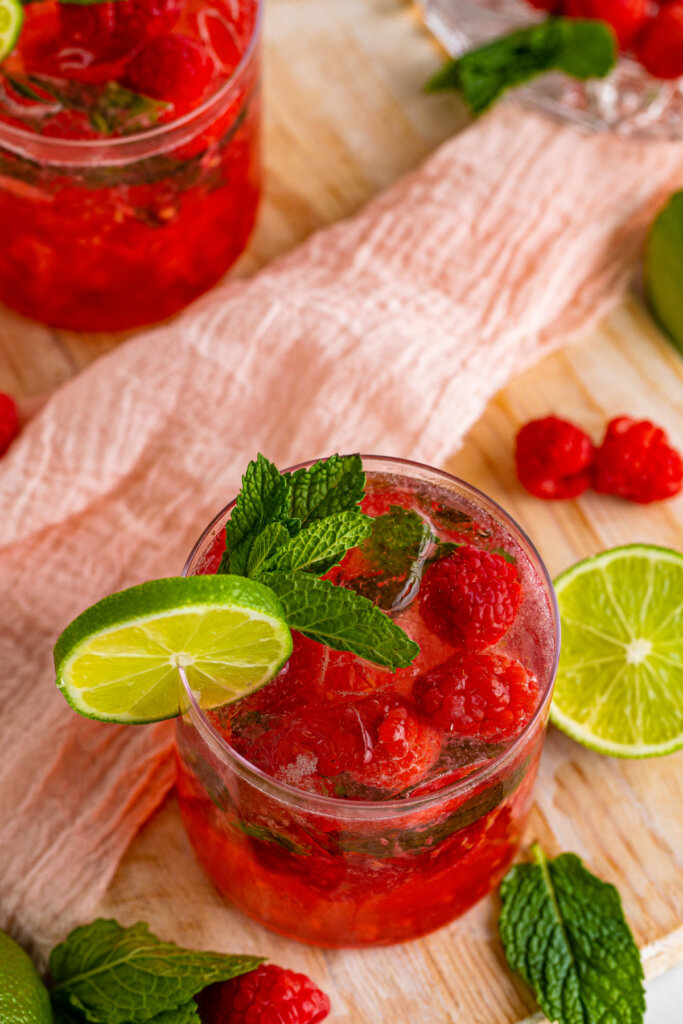 How to make Berry Vodka Smash
Muddle. Start by muddling a handful of fresh berries and mint in a rocks glass.
Top with ice. Next, add ice to the glass.
Add ingredients. Then, add the vodka, simple syrup, and lime juice.
Fill with soda water. Next, fill the glass with soda water and gently stir to combine.
Garnish and serve. If desired, garnish with additional berries, mint, and lime.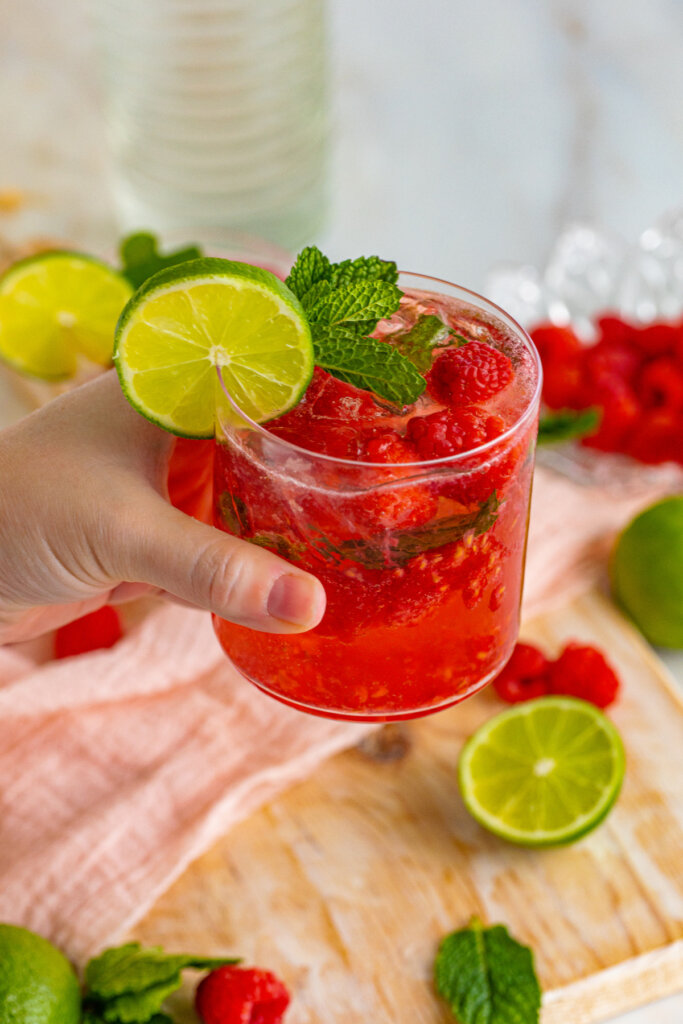 Berry Vodka Smash: FAQs
Which berries can I use for a Berry Vodka Smash?
You can use a variety of berries for your cocktail, such as strawberries, raspberries, blueberries, or a combination of these. Feel free to experiment and find your preferred berry combination for the perfect flavor balance. While this cocktail traditionally focuses on berries, you can certainly incorporate other fruits to add complexity to the flavors. For example, you can muddle fresh peaches or add a splash of pineapple juice for a tropical twist. Experiment with different fruit combinations to create your own unique version of the cocktail.
Can I customize the sweetness of a Berry Vodka Smash?
Absolutely! You can adjust the sweetness according to your preference. If you prefer a sweeter cocktail, you can add more simple syrup – or agave nectar, or a fruit liqueur like Chambord. Taste as you go and customize the sweetness to suit your liking.
Are there any non-alcoholic variations of Berry Vodka Smash?
Yes, if you prefer a non-alcoholic version, you can substitute the vodka with a non-alcoholic spirit or use sparkling water or lemon-lime soda as a base.
Can I prepare Berry Vodka Smash in advance for a party?
While it's best to prepare cocktails fresh to enjoy their vibrant flavors, you can make a large batch of the berry mixture in advance and keep it refrigerated. When ready to serve, simply mix the pre-made berry mixture with vodka and ice, shake well, and strain into glasses.
Is the Berry Vodka Smash a strong cocktail?
The strength of your cocktail can be adjusted according to personal preference. The recipe typically includes a standard amount of vodka, but you can decrease or increase the vodka quantity based on how strong or mild you want the cocktail to be. Remember to drink responsibly and adjust the alcohol content to suit your tolerance and desired level of intoxication.
Can I use frozen berries instead of fresh berries?
Yes, frozen berries can be used as a substitute for fresh berries. Just make sure to thaw them before muddling to extract their flavors effectively.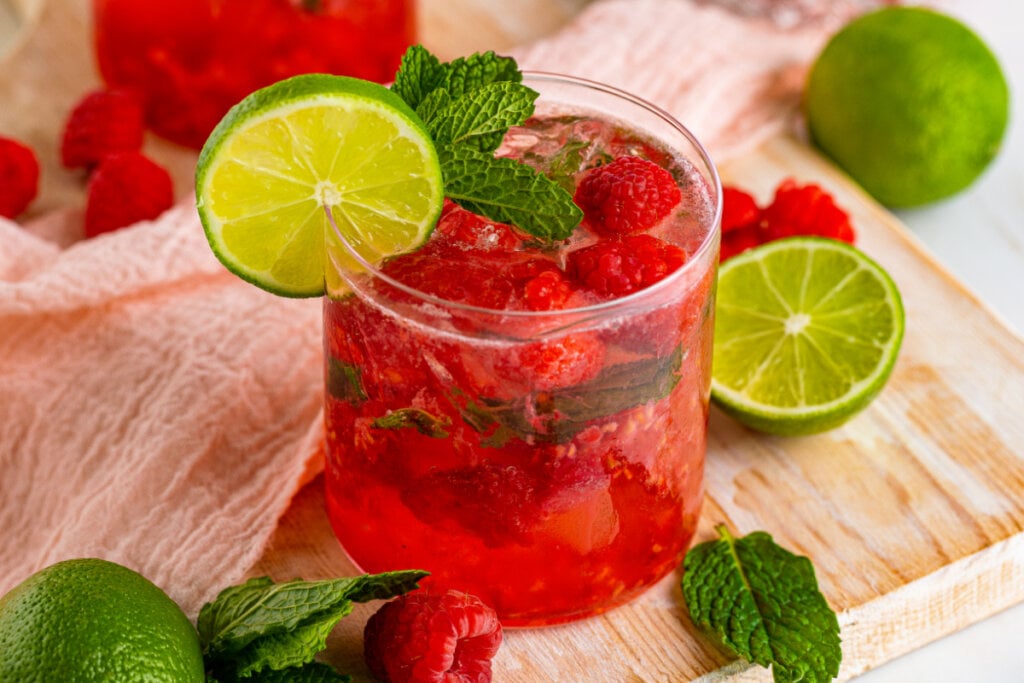 Other recipes you may enjoy
Berry Vodka Smash
Quench your thirst with a Berry Vodka Smash - a refreshing blend of juicy berries and vodka. It's the perfect cocktail for summer sipping!
Ingredients
8 raspberries
5 fresh mint leaves
ice
2 ounces vodka
1 ounce simple syrup
1/2 ounce lime juice, fresh squeezed
soda water
extra berries, mint, and lime, for garnish (optional)
Instructions
Place the berries and mint in a rocks glass. Muddle the berries and mint together until the berries are well broken up, and the mint is bruised and fragrant.
Top with ice. Then, add vodka, simple syrup, and lime juice.
Fill the glass with soda water and gently stir to combine.
If desired, garnish with more berries, fresh mint, and lime before serving.
Notes
Use any berries or mix of berries you like.
This is a refreshingly sweet cocktail, perfect for summer. If you prefer a less sweet cocktail, use half of the simple syrup. Or you can also use flavored water in place of the soda water.
This is a terrific make-ahead cocktail. Muddle your fruit and mint in the bottom of a large pitcher. Add the vodka, simple syrup, and lime juice, stir and keep in the fridge until needed. Then, add ice to your glass and pour in your cocktail mixture to about three-quarters full. Top with soda water and garnishes before serving.
Recommended Products
As an Amazon Associate and member of other affiliate programs, I earn from qualifying purchases.
Nutrition Information:
Yield:

1
Serving Size:

1 drink
Amount Per Serving:
Calories:

309
Total Fat:

1g
Saturated Fat:

0g
Trans Fat:

0g
Unsaturated Fat:

1g
Cholesterol:

0mg
Sodium:

54mg
Carbohydrates:

45g
Fiber:

12g
Sugar:

25g
Protein:

4g
Please note that the nutritional information listed on this page is an estimation based on the products I used. Ingredients and nutritional information can vary significantly between brands. Always be sure to read labels. Please verify that a recipe fits your needs before using it. Nutrition info may contain errors, so please verify it independently. Likewise, recipes may contain errors, so please use your common sense when following them.