This is a quick and easy Beef Stew Seasoning Mix for all your dinner needs! It just needs the beef and veggies of your choice to make a hearty and filling stew for the winter season.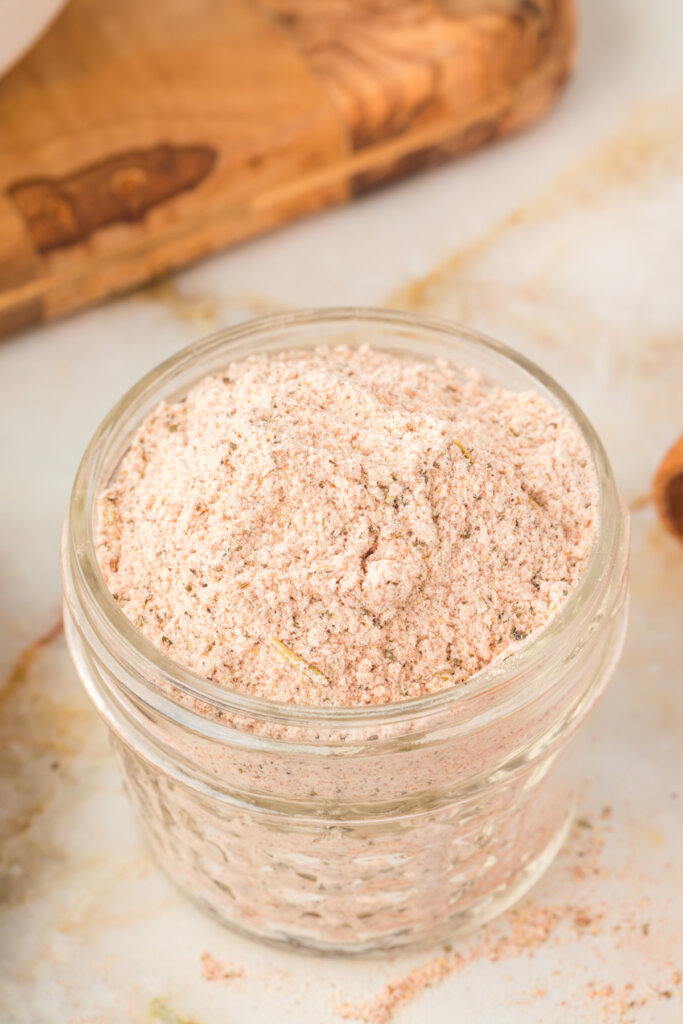 Beef Stew Seasoning Mix
It's winter as of writing, and y'all know what that means, stew season!! Because there's nothing like a nice flavorful stew as you watch the snow come in, right?!

That's why I had to share this beef stew seasoning mix with you all today. This stew seasoning is an easy-to-make recipe, very quick, and super versatile too! You can store it for up to a year, which means it's definitely a winner to pull out at the end of tiring days.
While it's meant to go along with beef stews (as the name suggests, ha!!), you can use it to add flavor to any kind of stew or soup. You can also use it to season any kind of meat for any recipe. Just give your meat of choice a nice roll in this seasoning mix before roasting, grilling, adding to a pie, and, of course, stewing!
Now I want to huddle up with some thick blankets and a big bowl of beef stew, and it's not even dinner time here. Or very cold yet, actually! Regardless, no time is a bad time for a comforting bowl of beef stew – and this seasoning mix is a flavorful addition!
In my humble opinion, it's better than anything you can get at the store … especially since you can adjust it to your liking! Enjoy!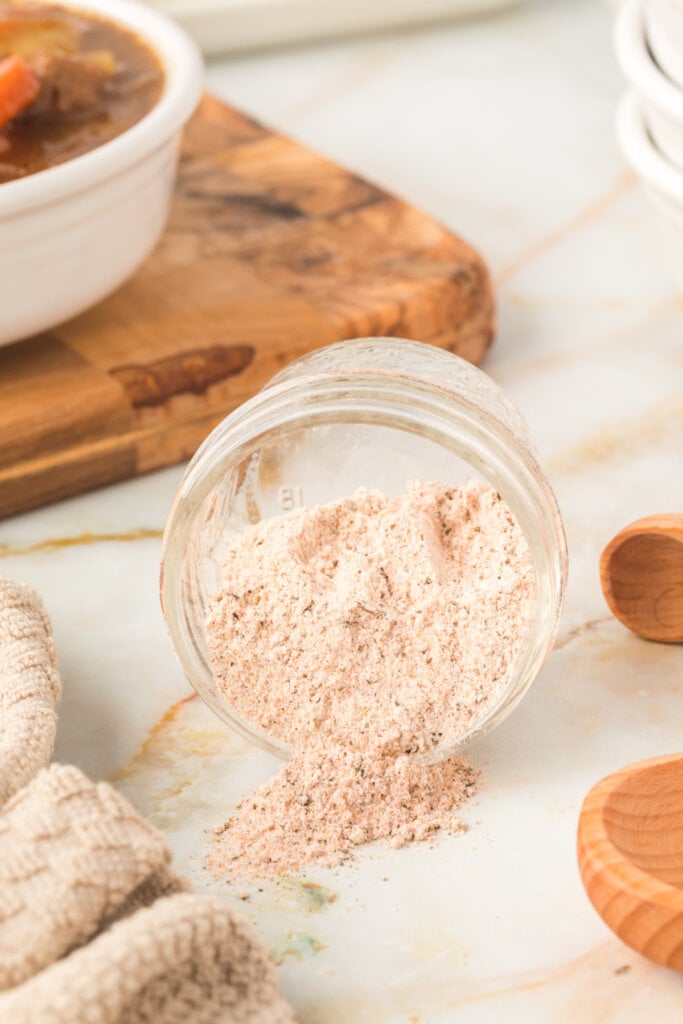 Beef Stew Seasoning Mix: Ingredients & Equipment
For this Beef Stew Seasoning Mix recipe, you'll need …
Ingredients
flour – all-purpose. A great base for your mix and for many mixes in general that end up in liquid.
garlic powder, onion powder, paprika, salt, ground black pepper, celery seed, dried basil, dried oregano, dried rosemary – the rest of your herbs and spices. A perfect combo!!
NOTE: As you can imagine, this recipe easily doubles, triples, etc.!
Equipment
bowl – all you need to mix your ingredients!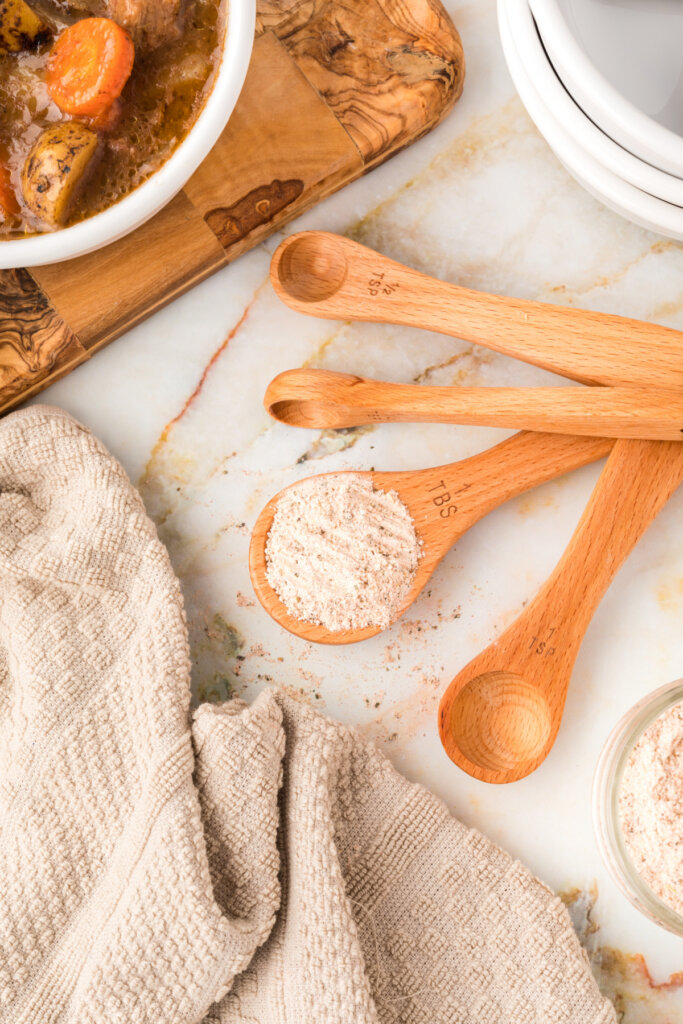 How to make Beef Stew Seasoning Mix
To make stew spices, you just need to mix all the ingredients in a bowl. That's it! Very complex.
Then, to use the spices, just toss them with about 2 lbs of stew meat before you brown it. You can also just add it right into your stew broth.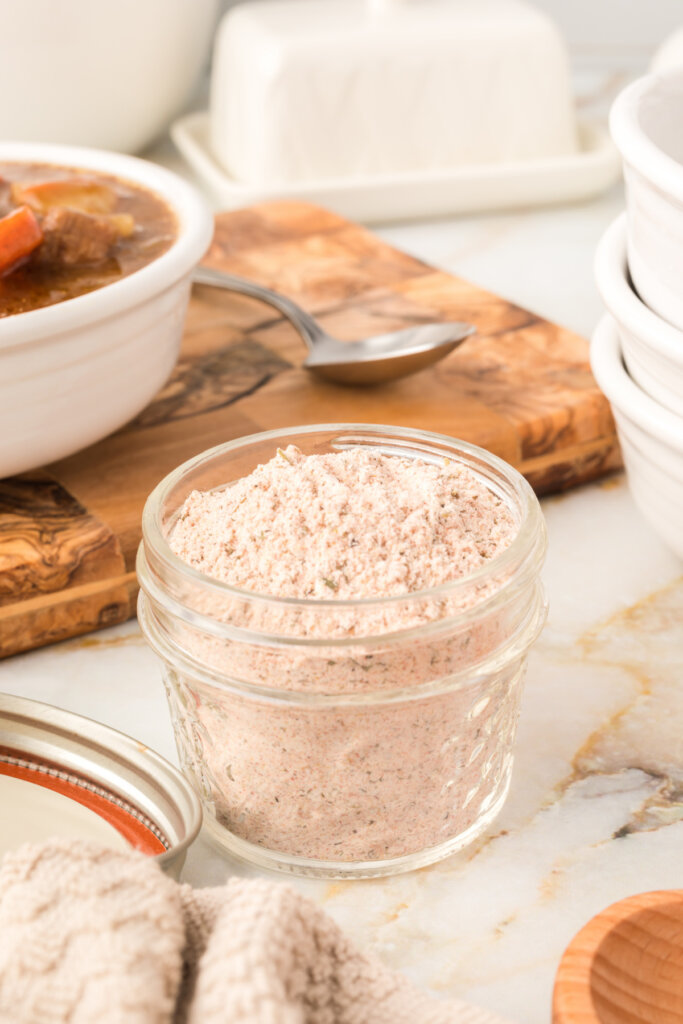 Beef Stew Seasoning Mix: FAQs
How much stew seasoning does this recipe make?
This gives you 1/3rd of a cup! Like I said above, you can easily double it (or more) if you need a lot.
How can I add more spice to my Beef Stew Seasoning Mix?
One easy way to add some more kick to your stew seasoning is to just toss in a pinch of cayenne pepper or chipotle pepper!! About 1/8 to 1/4 teaspoon should be a good starting amount. You can add more to taste!
How long does this seasoning last?
You'll want to use it up within six months to a year.
How should I store my Beef Stew Seasoning Mix?
Just keep it in an airtight glass container or sealed zip-top bag somewhere cool and dry! (Somewhere, ideally out of the sun as well, like a cabinet or cupboard.)
What are some additions or substitutions you recommend?
While I think this seasoning is absolutely perfect, you can use it as a base to make changes! Besides adding some heat (see above), some tweaks I've seen people make include:
– adjusting the amount of black pepper 
– adding marjoram, thyme, bay leaves, or ground sage
– adding brown sugar or cinnamon to balance out the saltiness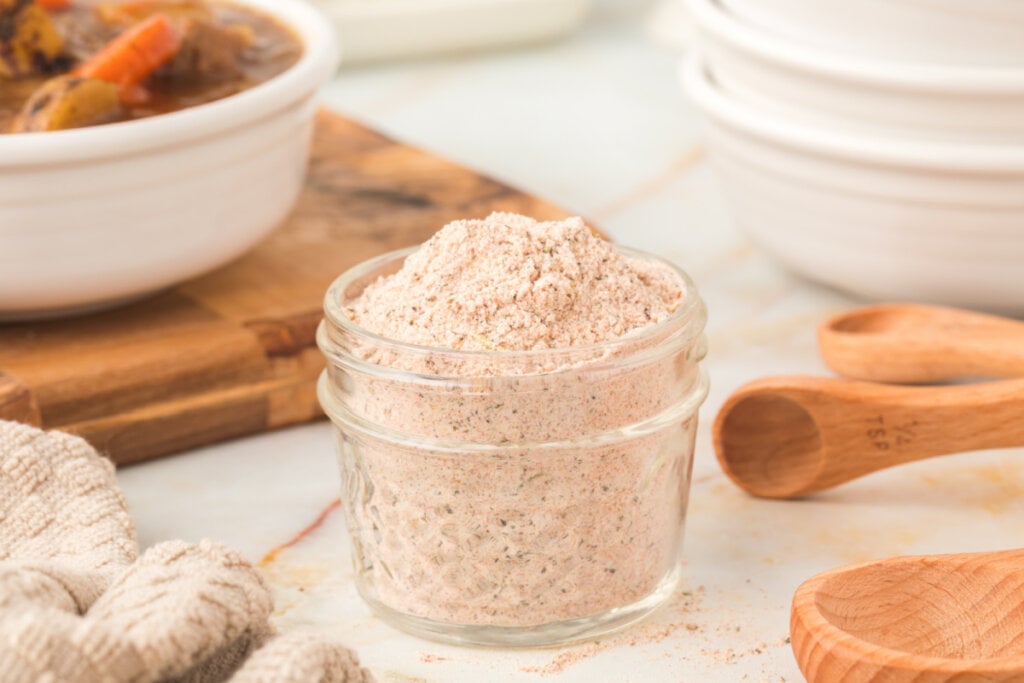 Other recipes you may enjoy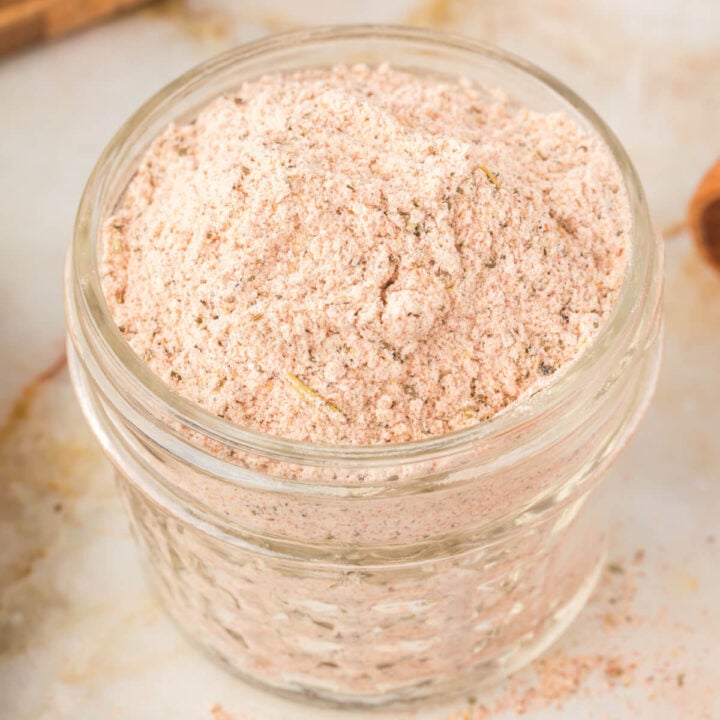 Beef Stew Seasoning Mix
Skip the store-bought packets, this quick and easy Beef Stew Seasoning Mix helps create a hearty and flavorful stew for the winter season.
Ingredients
1/4 cup all-purpose flour
1/2 tablespoon salt
1/2 tablespoon garlic powder
1/2 tablespoon onion powder
1/2 tablespoon paprika
1/4 tablespoon celery seed
1/4 tablespoon dried basil
2 teaspoons ground black pepper
1/2 teaspoon dried oregano
1/4 teaspoon dried rosemary
Instructions
Measure all ingredients into a small bowl and stir to combine.
TO USE: Add the seasoning mix to 2 lb. of stew meat.
Notes
Try this seasoning mix in my Beef Stew recipe!
This recipe easily doubles, triples, quadruples, etc …. 
If you plan on making this recipe ahead, be sure to store it at room temperature in an airtight container or zip-top bag. 
This mixture should be used within six months to one year.
Recommended Products
As an Amazon Associate and member of other affiliate programs, I earn from qualifying purchases.
Nutrition Information:
Yield:

8
Serving Size:

1
Amount Per Serving:
Calories:

22
Total Fat:

0g
Saturated Fat:

0g
Trans Fat:

0g
Unsaturated Fat:

0g
Cholesterol:

0mg
Sodium:

398mg
Carbohydrates:

5g
Fiber:

1g
Sugar:

0g
Protein:

1g
Please note that the nutritional information listed on this page is an estimation based on the products I used. Ingredients and nutritional information can vary significantly between brands. Always be sure to read labels. Please verify that a recipe fits your needs before using it. Nutrition info may contain errors, so please verify it independently. Likewise, recipes may contain errors, so please use your common sense when following them.