This family-friendly Indian Spiced Chicken Potato Stew is the perfect solution for those who want to change up their mealtime routine with something new. Potatoes and chicken are old favorites, but the flavors here are extraordinary!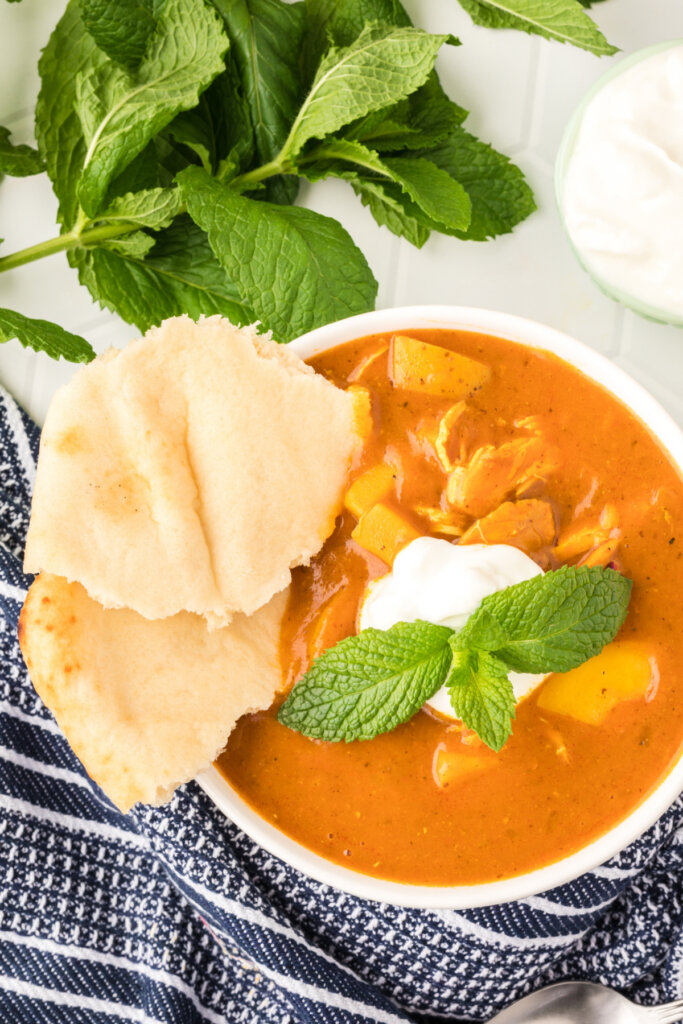 Indian Spiced Chicken and Potato Stew
I'm a little surprised whenever I meet someone who hasn't tried Indian food. I know it's not as famous as Italian food or Mexican food, but I wouldn't call the recipes super exotic or strange!
In fact, if you want to serve up the old meat-and-potatoes meal in a new way to your family, try this Indian Spiced Chicken Stew!
Imagine chicken and potatoes in a delicious spiced broth, and you've got this recipe. It's simple, warm, and filling, and it's definitely going to become your new comfort food.
It's almost like a new twist on standard ingredients! If your family loves potatoes and chicken, they will love this.
Chicken is the most versatile of all meat, don't you agree?! You could have it literally every day! Enjoy!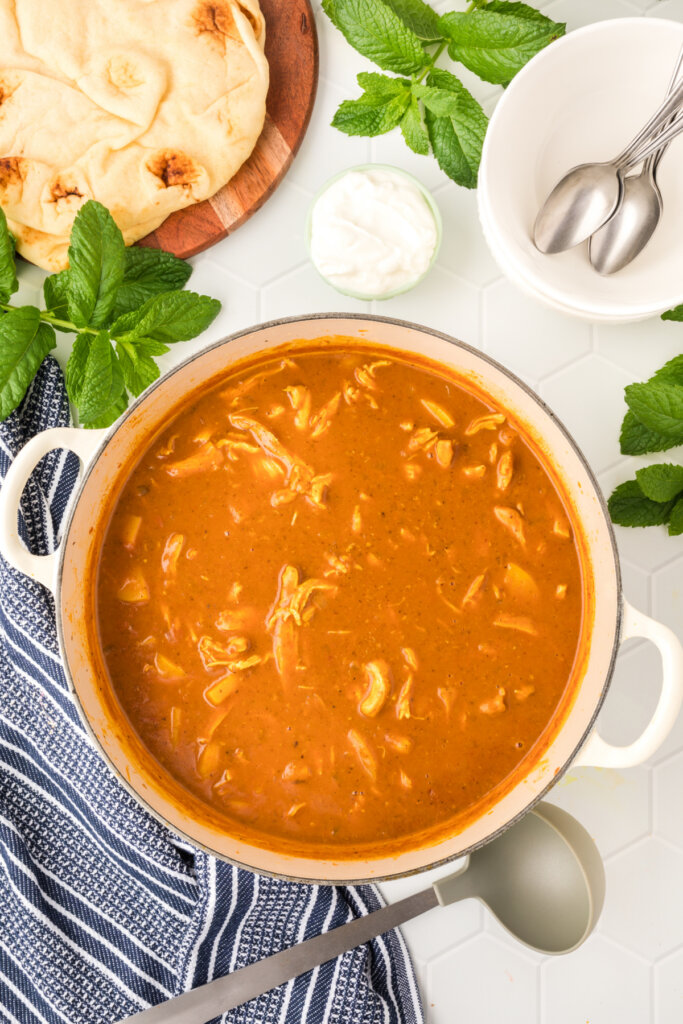 Indian Chicken Potato Stew: Ingredients & Equipment
For this Indian Spiced Chicken Potato Stew recipe, you'll need …
Ingredients
vegetable oil – you'll use this to cook your chicken and all the other ingredients of the stew in general.
chicken breasts or thighs – boneless and skinless. You'll need about 3 pounds.
salt and pepper – your chicken's light seasonings. Sprinkle them on to taste.
garam masala, cumin, turmeric, coriander, and cayenne pepper – your Indian spices! Each one brings something different to the table, so I don't recommend leaving one out unless there's an allergy or something, trust me! It won't taste right without them all. You can definitely adjust for the heat, though.
tomato paste – you'll throw this in the pot with the above spices.
onion, garlic, ginger – the flavor base of your stew. You'll cook these all together in the oil.
tomato sauce, chicken broth, heavy cream – your final liquid additions to the stew, which will bring it to the right consistency.
potatoes – I prefer Yukon Gold potatoes! You'll cut them into cubes and add them as the final ingredient in your stew.
plain yogurt, mint – optional toppings for your stew, but very tasty (and help cut down on the heat sometimes).
naan bread, rice – for serving alongside your stew. Optional, but also, I can't imagine an Indian feast without one or (preferably) both of these!! Basmati rice especially is just PERFECT with this stew.
Equipment
Dutch oven – you'll cook your stew in this!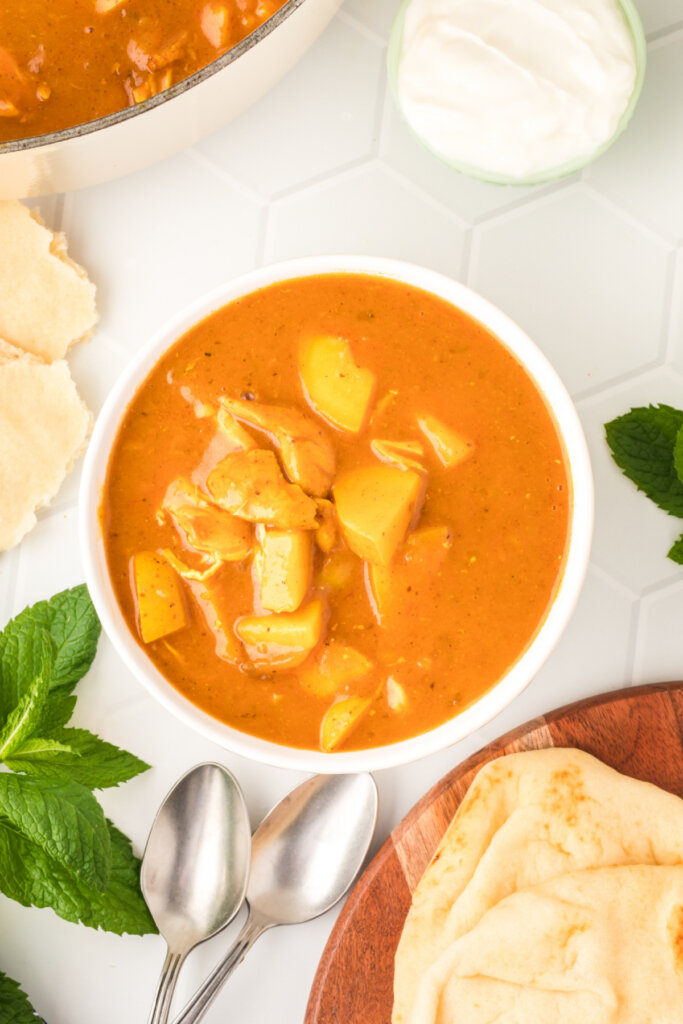 Indian Spiced Chicken Potato Stew: FAQs
How many servings does this Indian Stew recipe make?
About 10, depending on portion sizes, of course. Either way, it should be enough for everyone in your family to have dinner with some leftovers!
Can you make this stew ahead of time?
You absolutely can! Throw it all together up to 3 days ahead, let it cool, and cover/chill it.
What kind of potatoes do you recommend for this Indian Stew?
If Yukon Gold potatoes aren't available, try any waxy potatoes. The all-purpose potatoes will generally not stay tender during cooking and fall apart in your stew.
What variations can I make to my
Indian Stew?
Try adding…
– Spices like cardamom, cinnamon, cloves, bay leaf, and more! If you want to experiment with that, just add them to taste in small portions to see how your favorite spice and herb match with this stew. 
– Coconut milk! This can make the stew so much creamier and thicker, too, while adding in a delicious touch of sweetness.
– Seasonal veggies! A good choice when you have picky eaters who refuse to eat the green stuff on their plates.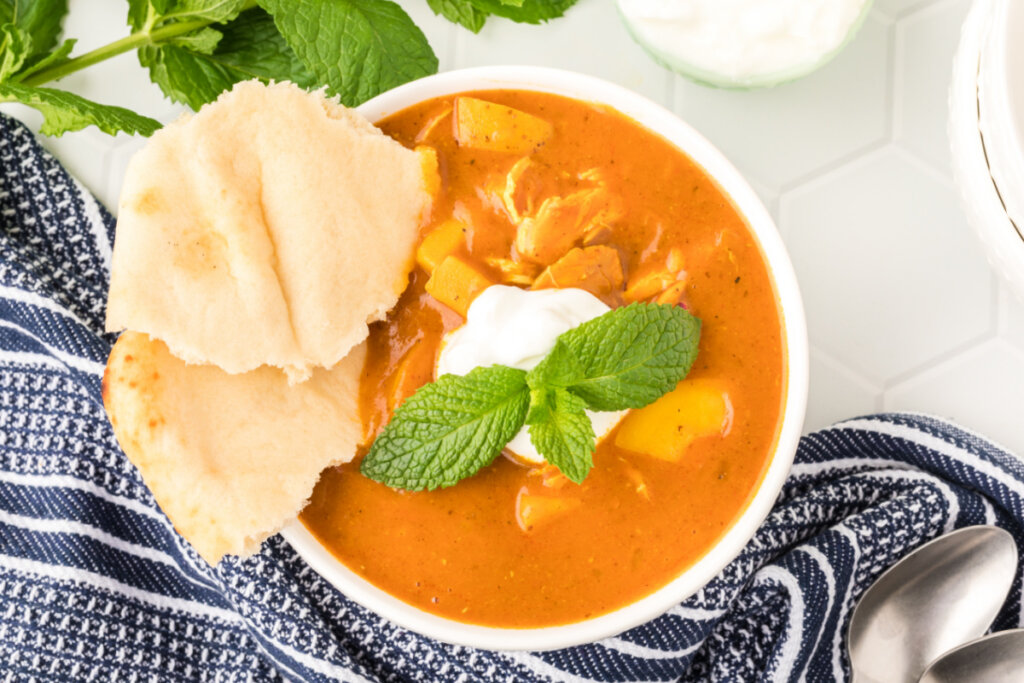 Other recipes you may enjoy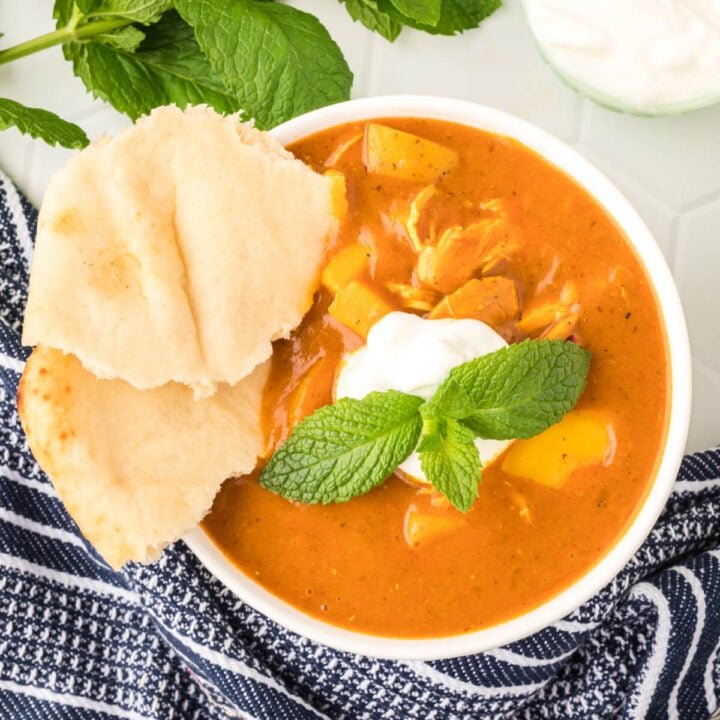 Indian Spiced Chicken Potato Stew
Cook Time:
1 hour
30 minutes
Total Time:
1 hour
40 minutes
This family-friendly Indian Spiced Chicken Potato Stew is the perfect solution for those who want to change up their mealtime routine with something new. Potatoes and chicken are old favorites, but the flavors here are extraordinary!
Ingredients
3 tbsp. vegetable oil, divided
3 lb. boneless skinless chicken breasts or thighs
salt and freshly ground black pepper, to taste
1 medium onion, finely chopped
6 cloves garlic, minced
1 tablespoon freshly grated ginger
2 tablespoon tomato paste
2 teaspoon garam masala
2 teaspoon ground cumin
2 teaspoon ground turmeric
1/2 teaspoon ground coriander
1/2 teaspoon ground cayenne pepper
8 cups low-sodium chicken broth
3/4 cup tomato sauce
1/2 cup heavy cream
1 pound small Yukon Gold potatoes, cut into bite-sized cubes
plain yogurt, mint, naan bread, rice - for serving
Instructions
Heat 2 tbsp. oil in a Dutch oven over medium heat.
Season the chicken with salt and pepper to taste. Place the chicken in the pot and cook until golden brown on all sides. Transfer the chicken to a plate.
To the same pot, add the remaining 1 tbsp. oil, onion, garlic, and ginger and cook, occasionally stirring, until onion is very soft and golden brown, 6-8 minutes.
Add the tomato paste, garam masala, cumin, turmeric, coriander, cayenne, and cook, stirring often, until tomato paste is beginning to darken, about 4-5 minutes.
Add the chicken back into the pot, followed by the broth, tomato sauce, and cream; season with additional salt and pepper.
Bring to a boil, reduce heat, and simmer, partially covered, skimming any fat off occasionally, until chicken is cooked through and very tender and the liquid is slightly thickened, about 25-30 minutes.
Add the potatoes to the pot and cook, partially covered, until potatoes are fork-tender and the liquid is thick enough to coat a spoon, 30–45 minutes. Remove chicken from the pot and either cut or shred it into bite-sized pieces. Return the meat to the pot.
Divide the stew among bowls, and top with yogurt and mint. Serve with naan, flatbread, or rice.
Notes
This stew recipe can be made 3 days ahead. Let cool; cover and chill.
Recipe adapted from Bon Appétit.
Recommended Products
As an Amazon Associate and member of other affiliate programs, I earn from qualifying purchases.
Nutrition Information:
Yield:

10
Serving Size:

1
Amount Per Serving:
Calories:

480
Total Fat:

17g
Saturated Fat:

6g
Trans Fat:

0g
Unsaturated Fat:

10g
Cholesterol:

147mg
Sodium:

363mg
Carbohydrates:

27g
Fiber:

2g
Sugar:

4g
Protein:

54g
Please note that the nutritional information listed on this page is an estimation based on the products I used. Ingredients and nutritional information can vary significantly between brands. Always be sure to read labels. Please verify that a recipe fits your needs before using it. Nutrition info may contain errors, so please verify it independently. Likewise, recipes may contain errors, so please use your common sense when following them.