These Bacon Cheddar Deviled Eggs are the perfect appetizer! Quick, easy and delicious!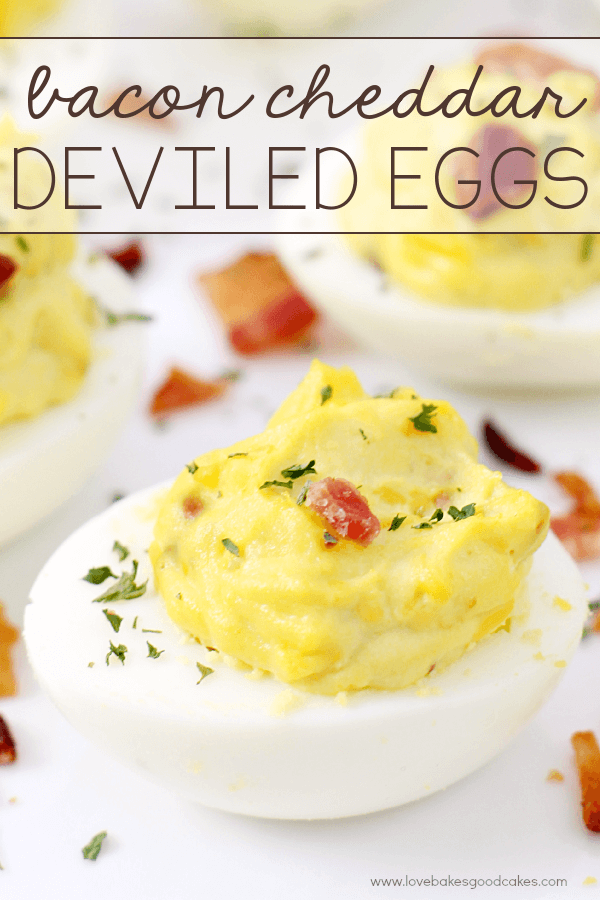 Bacon Cheddar Deviled Eggs
Are you a fan of deviled eggs? I have to be honest, growing up, I wasn't a fan. Maybe because I thought deviled eggs were weird …. and deviled? I didn't want any part of whatever that meant!
Now that I'm older, I appreciate the humble deviled eggs …. and I absolutely love how you can change up the flavors to make them more creative and tasty! While I love my simple deviled eggs recipe, I find myself trying new flavors. I mean, they are kinda fun, right?!
With football season underway and the holidays just around the corner, a good deviled eggs recipe is good to have on hand. If you're looking for something a little more fancy than just the basic recipe but is not overwhelming – then this is the recipe for you! The bacon and Cheddar cheese compliment the eggs well!
Don't forget to stop by and check out what my friends made today for Bacon Month!
Cheesy Bacon Stuffed Pretzel Rolls
Other Posts You May Enjoy:
Bacon and Egg Breakfast Fried Rice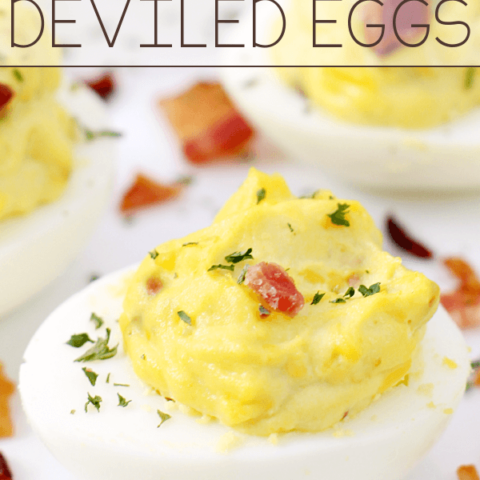 Bacon Cheddar Deviled Eggs
These Bacon Cheddar Deviled Eggs are the perfect appetizer! Quick, easy and delicious!
Ingredients
12 eggs
1/2 cup mayonnaise
4 slices bacon
2 tbsp. finely shredded Cheddar cheese
1 tbsp. prepared yellow mustard
Additional cooked bacon and parsley, for garnish (if desired)
Instructions
Place eggs in a saucepan, and cover with cold water. Bring water to a boil and immediately remove from heat. Cover, and let eggs stand in hot water for 18-20 minutes. Remove from hot water, and cool by rinsing eggs under cold running water.
Meanwhile, cook bacon over medium-high heat until desired crispness. Remove bacon to paper towels to cool. Crumble and set aside.
Peel the hard-cooked eggs, and cut in half lengthwise. Remove yolks to a small bowl. Mash egg yolks. Add mayonnaise, crumbled bacon and cheese to egg yolk and mash well. Stir in mustard. Fill egg white halves with the yolk mixture and refrigerate until serving.
Garnish with additional bacon pieces and chopped parsley, if desired.
Nutrition Information:
Amount Per Serving:
Calories:

90
Total Fat:

8g
Saturated Fat:

2g
Cholesterol:

86mg
Sodium:

105mg
Fiber:

0g
Sugar:

0g
Protein:

4g