Sometimes you need to go old-fashioned for breakfast, and what better way than with Buttermilk Pancakes? This quick recipe will have a stack on your table in just 15 minutes!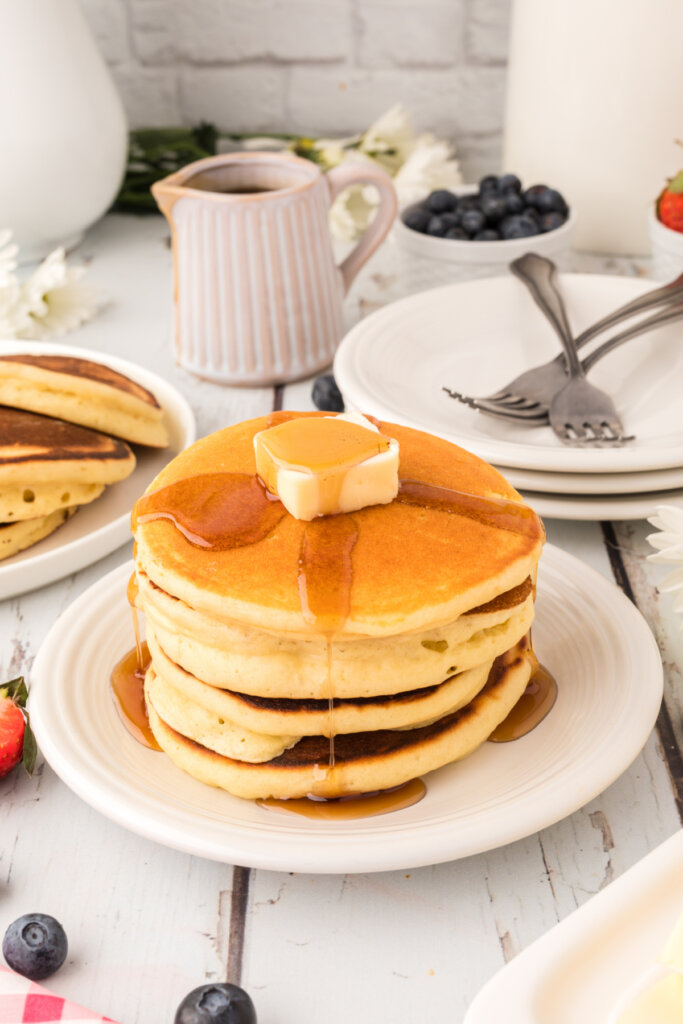 Buttermilk Pancakes
Y'all know I don't care much for breakfast food, but my family loves it, and maybe yours does too! That means even if I don't eat a lot of breakfast-type meals, I enjoy cooking them up for everyone…and collecting good recipes, of course. For instance, this is my tried-and-true buttermilk pancakes recipe!
It's easy to reach for the pancake mix when you don't have a lot of time, and that's fine. (I know I've done that!!) But the thing about pancake mixes is…they can be unpredictable. They assume everyone has the same appliances and utensils, so sometimes you end up with flat, unattractive, burnt, or just flat-out unflavorful pancakes. Not fun!
This recipe, though, makes the best buttermilk pancakes…and I don't mind being prideful about that! It's fast, it's easy, and it only requires your typical baking staples. It's perfect, too, if you've never made pancakes from scratch before and want to give it a try. And I DO hope you give it a try! Enjoy!
Buttermilk Pancakes: Ingredients & Equipment
For this Buttermilk Pancakes recipe, you'll need …
Ingredients
flour – preferably all-purpose. This gives your pancakes (or any other baked good) a bit of structure.
an egg – this is what's called a "binder" and holds your batter together!
granulated sugar – adds some sweetness to your pancakes, and also helps with texture.
salt – salt in pancakes (or again, in any baked good) brings out other flavors!!
baking powder and baking soda – these will help your pancakes rise a little and become their best fluffy selves!
vegetable oil – your "fat" in this batter, which again contributes to flavor and texture.
buttermilk – this, hands down, is what will make your pancakes so…poofy. Like clouds. (There's no other word to describe it!) Buttermilk mixes well with baking soda to eventually create the perfect squishy pancake feeling in your mouth.
butter or shortening – you may need one of these to grease your griddle, depending on what kind you have.
toppings – optional, but who doesn't like pancakes with maple syrup or butter?
Equipment
bowl – medium-sized, for beating together your batter.
griddle or skillet – for baking up your fluffy buttermilk pancakes!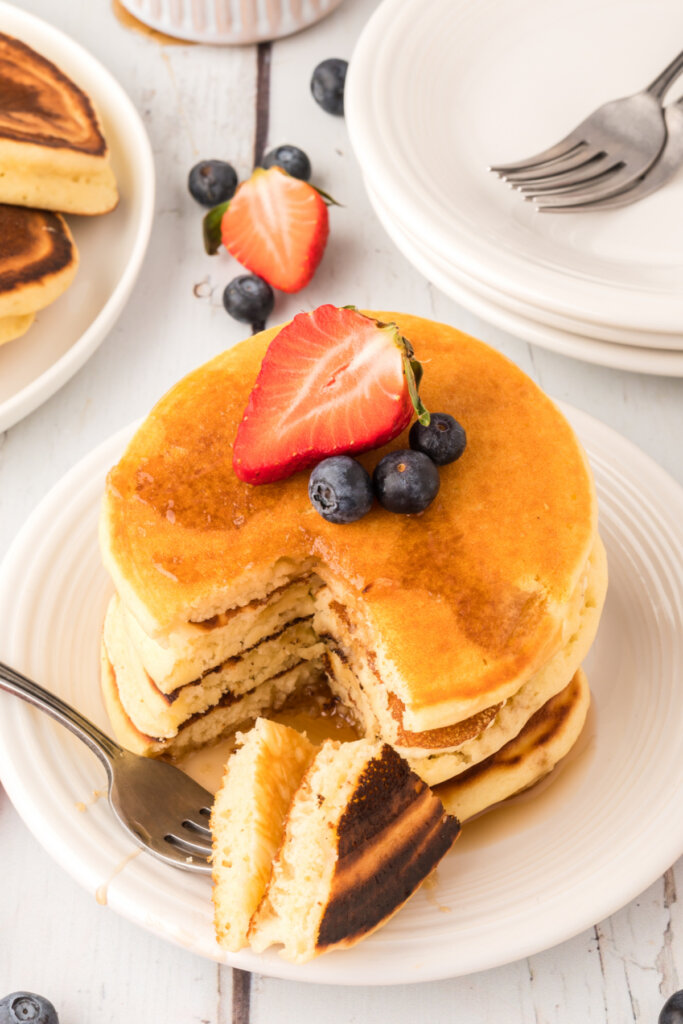 Buttermilk Pancakes: FAQs
How many pancakes does this recipe produce?
A nice stack of 9 pancakes! Perfect for a small family, although if they're big eaters, you might want to make a second batch.
How long does it take to make buttermilk pancakes?
This is a short, simple 15-minute recipe! It only takes 5 minutes of prep and 10 minutes of cooking.
I prefer thinner pancakes – anyway I can accomplish that with this recipe?
Go ahead and use 1-2 extra tablespoons of buttermilk. This should give you the perfect pancake size!
How do I know when my griddle or skillet is hot enough?
When you flick water on it and it sizzles – it's ready! Easy!
My pancakes are a little soggy – is there a way to avoid this?
You may have stacked them while warming them, which causes them to produce steam. To keep them warm, separate them out into single cakes on a towel or baking sheet in the oven.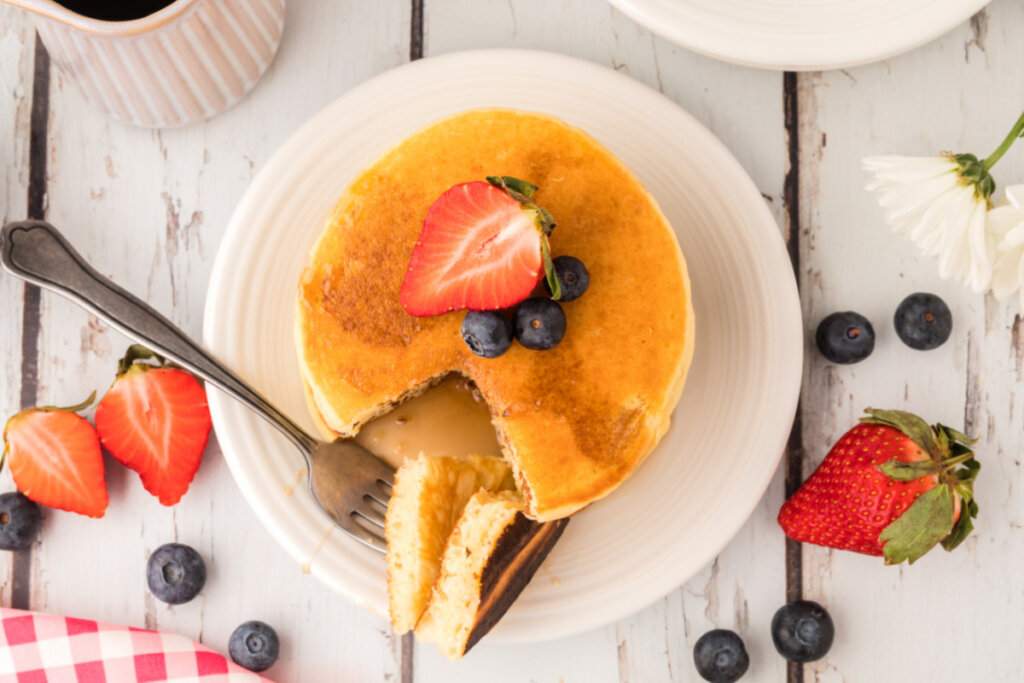 Other recipes you may enjoy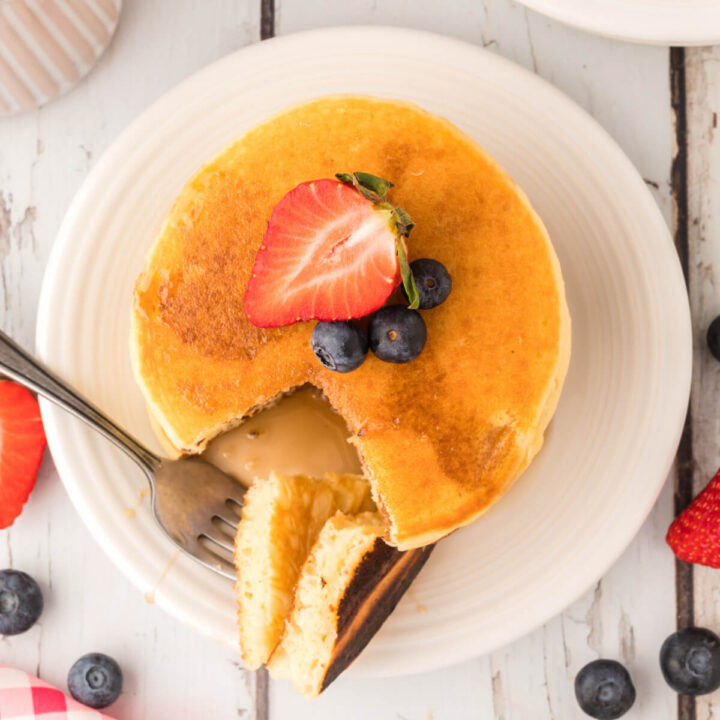 Buttermilk Pancakes
What could be better than a plate of fluffy goodness in the morning?! Even I have to get behind some classic pancakes!
Ingredients
For the pancakes
1 large egg
1 cup all-purpose flour
1 cup buttermilk
1 tablespoon granulated sugar
2 tablespoons vegetable oil
1 teaspoon baking powder
1/2 teaspoon baking soda
1/4 teaspoon salt
For the griddle
For serving
Butter and/or maple syrup, for serving
Instructions
Beat the egg in a medium bowl with a hand mixer until fluffy. Beat in the remaining pancake ingredients just until smooth.
Heat a griddle or skillet over medium heat or to 375°F. If necessary, grease the griddle with butter or shortening.
For each pancake, pour slightly less than 1/4-cup of the batter onto the hot griddle. Cook the pancake until puffed and dry around the edges. Carefully flip the pancake over and cook on the other side until golden brown. Repeat with any remaining batter.
Notes
How do you know when your griddle or skillet is hot enough? When you flick water on it and it sizzles - it's ready!
For thinner pancakes, you can add 1-2 tablespoons of extra buttermilk.
Because cooktops, pan materials, and the thickness of your pans can vary, you may need to adjust your heat as necessary.
Keep pancakes warm in a single layer on a wire rack or towel-lined cookie sheet in a 200°F oven. Stacking them while keeping them warm will produce steam that can make your pancakes soggy.
Recommended Products
As an Amazon Associate and member of other affiliate programs, I earn from qualifying purchases.
Nutrition Information:
Yield:

9
Serving Size:

1 pancake
Amount Per Serving:
Calories:

143
Total Fat:

8g
Saturated Fat:

3g
Trans Fat:

0g
Unsaturated Fat:

5g
Cholesterol:

29mg
Sodium:

263mg
Carbohydrates:

15g
Fiber:

0g
Sugar:

4g
Protein:

3g
Please note that the nutritional information listed on this page is an estimation based on the products I used. Ingredients and nutritional information can vary significantly between brands. Always be sure to read labels. Please verify that a recipe fits your needs before using it. Nutrition info may contain errors, so please verify it independently. Likewise, recipes may contain errors, so please use your common sense when following them.