Horseradish Deviled Eggs have a delicious, savory kick that makes them the best appetizer for a holiday dinner or any other occasion!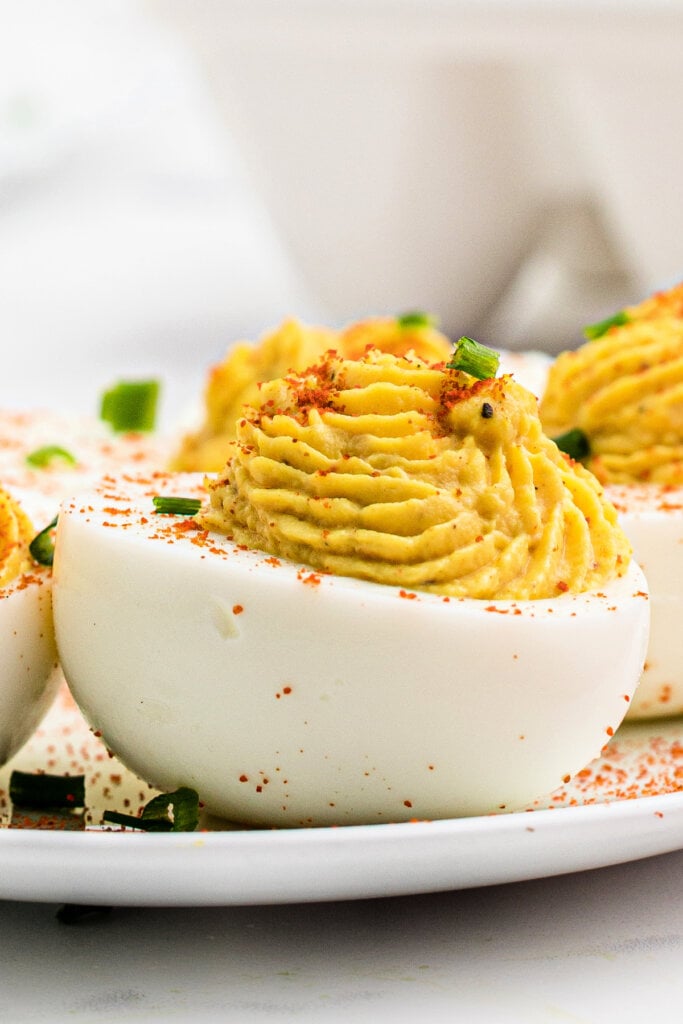 Horseradish Deviled Eggs
Horseradish Deviled Eggs are a unique take on this classic recipe. They've got a delicious, savory kick that makes them the best ever appetizer for an Easter dinner or any other occasion!
Easter's coming up at the time of writing, and I'm thinking about all the important questions, like…
Have you ever wondered why we eat eggs at Easter time? I mean, yes, there are eggs featured at Easter, but why did we get eggs involved, anyway? It seems like an empty spot in my education!! I'm sure I learned why at some point, but forgot.
Either way, because Easter is so egg-filled, I decided to pull out my deviled eggs to make for Easter dinner. They're a fantastic appetizer that gets my whole family worked up for the main course! This year, however, I wanted to really do something unique, and so I'll be making these horseradish deviled eggs instead.
Yes, horseradish! (It's a type of root vegetable, just FYI!!) Horseradish sauce, believe it or not, is actually very similar to that vinegar-mustard mixture you'd usually use in deviled eggs. It also has some turmeric added, so the overall flavor of these unique deviled eggs – so good, y'all, so good.
If you want to twist up an old favorite, Horseradish Deviled Eggs are definitely the way to go. I hope you enjoy them!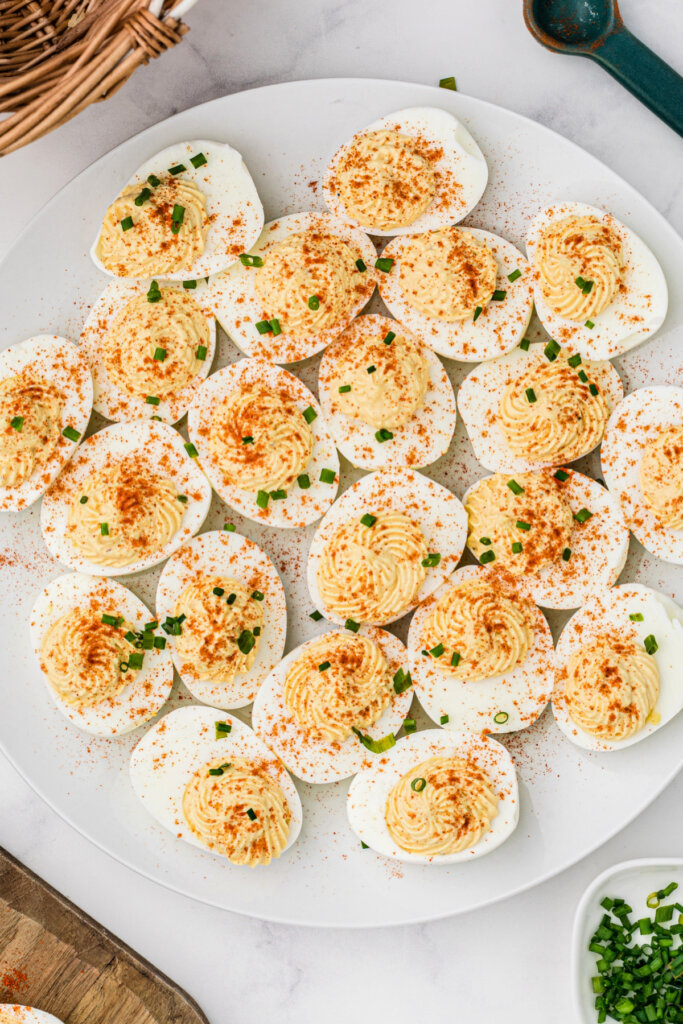 Horseradish Deviled Eggs: Ingredients & Equipment
For this Horseradish Deviled Eggs recipe, you'll need …
Ingredients
eggs – you'll need about twelve large ones for this recipe. Can't have deviled eggs without them! At least, I don't think there's an alternative 😉
mayonnaise, sour cream, Old Bay seasoning – the ingredients you'll add to your deviled egg yolks. So savory and delicious! For the mayonnaise, make sure it's full-fat.
horseradish sauce – the final ingredient for your yolk. Horseradish sauce is in the mustard family and has vinegar and turmeric added so it's perfect for deviled eggs!
paprika and chives – your garnishes. They truly wrap the entire flavor up!
salt and pepper – to taste. Use as much (or as little) as you need.
Equipment
pot – to boil your eggs.
knife – for cutting the boiled eggs in half.
small mixing bowl and rubber spatula/spoon – for mashing and mixing your egg yolk mixture.
food processor or fork – for mashing the egg yolks.
piping bag with tip – or a spoon! For filling the egg yolk mixture into the white part of the eggs.
serving platter – to serve your eggs, although I suppose this is optional!!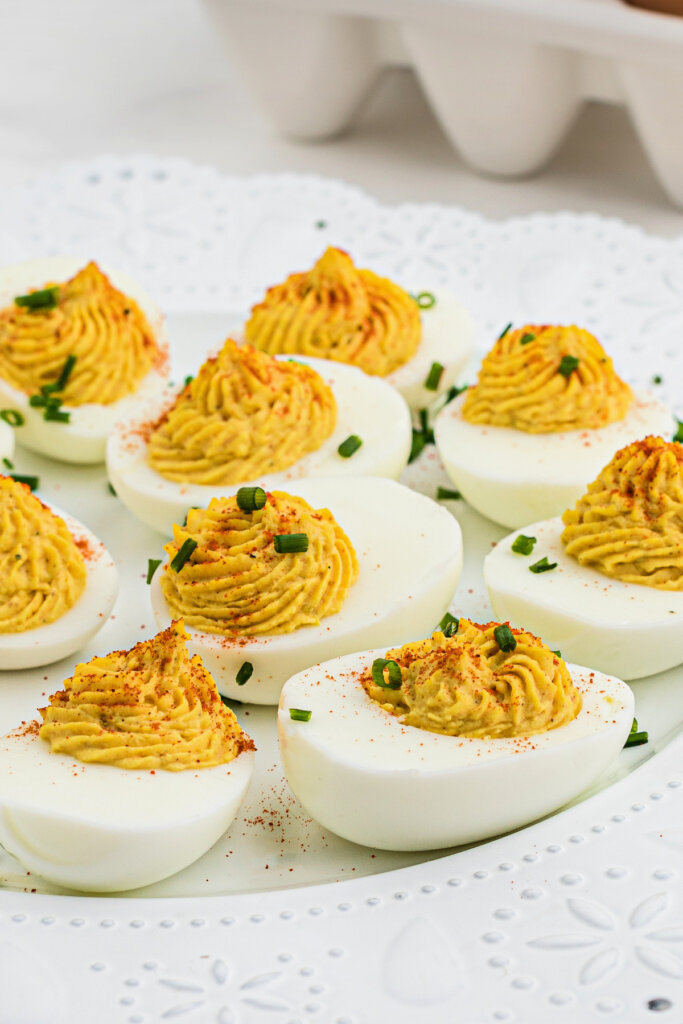 Horseradish Deviled Eggs: FAQs
How long does it take to make these unique deviled eggs?
About a half-hour! You'll want 20 minutes for prep and 10-12 minutes to cook them.
How many horseradish deviled eggs does this make?
Twenty-four since we'll be using twelve eggs cut in half.
Do you need a food processor to blend the yolk mixture?
You can use one if you want, and it'll result in a super creamy filling. I've found just as much success mashing it up with a fork, though!
How long can I keep my deviled eggs out?
A few hours at room temperature when you're ready to serve them. They're really best eaten fresh! After that, you'll want to store them in the fridge for up to 3-4 days. Use an airtight container!
Can I make horseradish deviled eggs in advance?
Absolutely. Since you can keep them in the fridge for a few days, feel free to refrigerate them until you need them. They won't lose much flavor, though as I said, they're best eaten fresh.
Why is my filling watery?
If your filling is watery, check if you used too much mayonnaise. Your filling may also be watery if you use fat-free mayonnaise.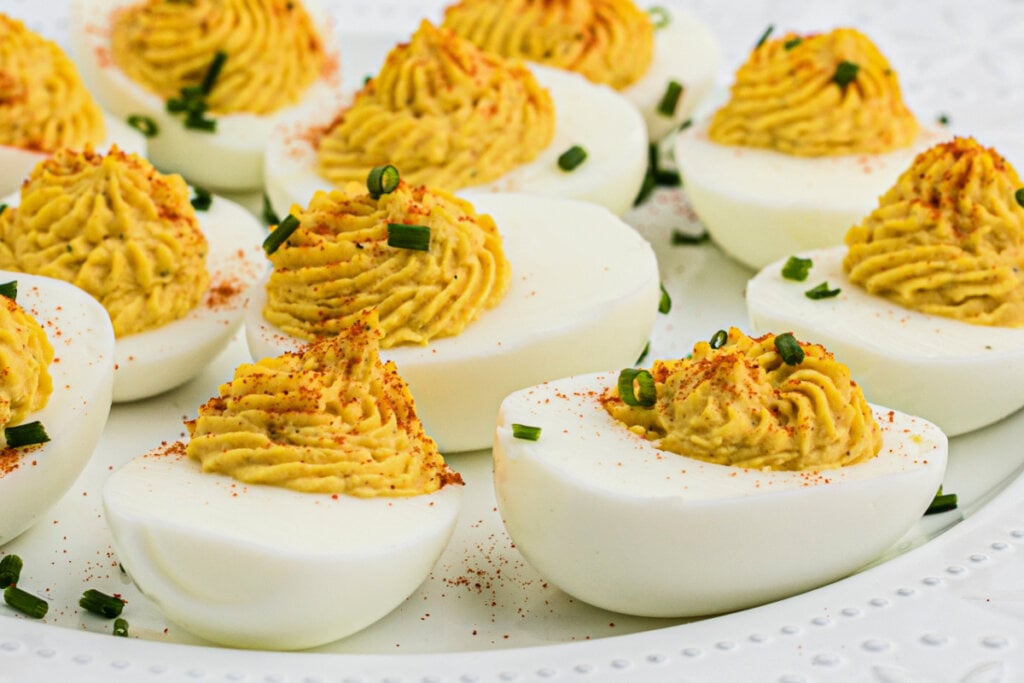 Other recipes you may enjoy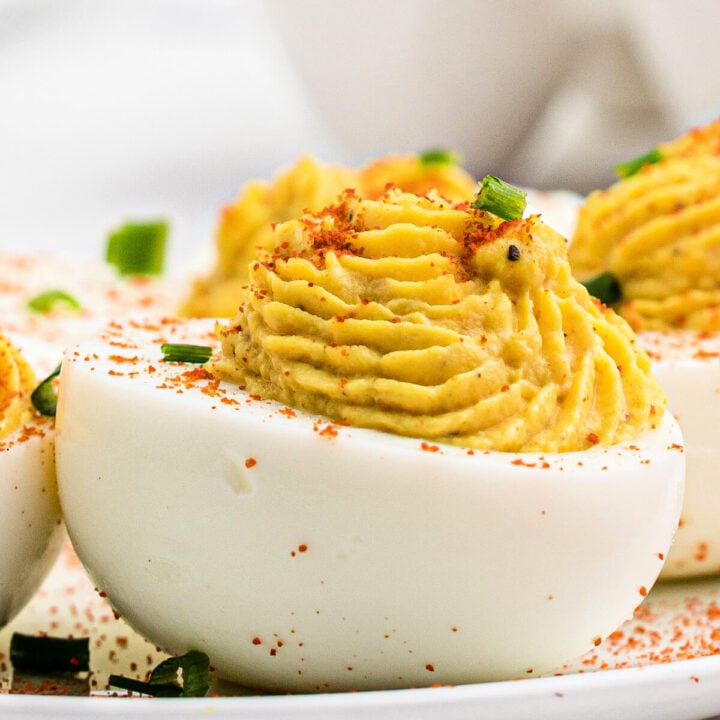 Horseradish Deviled Eggs
Horseradish Deviled Eggs have a delicious, savory kick that makes them the best appetizer for a holiday dinner or any other occasion!
Ingredients
12 large eggs
1/4 cup mayonnaise
2 tablespoons sour cream
2 tablespoons horseradish sauce
1 teaspoon Old Bay seasoning
salt and pepper, to taste
2 tablespoons chives, chopped, for garnish
1 teaspoon paprika, for garnish
Instructions
Bring a medium pot of salted water to boil. Carefully add the eggs and cook at a rolling boil for 1 minute. Then, turn down the heat and continue to cook at a low roll for 10 more minutes.
Remove from the heat, drain the boiling water and immediately run cold water over the eggs.
Add ice to help keep the water cold. Allow the eggs to sit for 15 minutes until the eggs are completely cooled.
Break the shell gently and peel carefully. Rinse the egg to make sure no shell remains.
Slice each egg in half lengthways and remove the yolk into a small bowl.
Mash the yolks with a fork and mix in the mayonnaise, sour cream, horseradish sauce, and Old Bay seasoning. Taste the filling and add salt and pepper to taste.
Add the yolk mixture to a piping bag with a large 4B tip and pipe the yolk mixture into each egg cavity.
Arrange the eggs on your serving dish and sprinkle them with paprika and chopped chives.
Notes
These eggs can be left at room temperature for a few hours, although you only want to do this at the point of serving.  Store in the refrigerator in an airtight container in between for up to 3 days.
Nutrition Information:
Yield:

24
Serving Size:

24 servings
Amount Per Serving:
Calories:

56
Total Fat:

5g
Saturated Fat:

1g
Trans Fat:

0g
Unsaturated Fat:

3g
Cholesterol:

95mg
Sodium:

95mg
Carbohydrates:

0g
Fiber:

0g
Sugar:

0g
Protein:

3g
Please note that the nutritional information listed on this page is an estimation based on the products I used. Ingredients and nutritional information can vary significantly between brands. Always be sure to read labels. Please verify that a recipe fits your needs before using it. Nutrition info may contain errors, so please verify it independently. Likewise, recipes may contain errors, so please use your common sense when following them.