These easy Classic Waffles make a tasty alternative to pancakes or French toast on those days when you just don't feel like making breakfast! Crispy yet soft, sweet yet buttery – they're just amazing!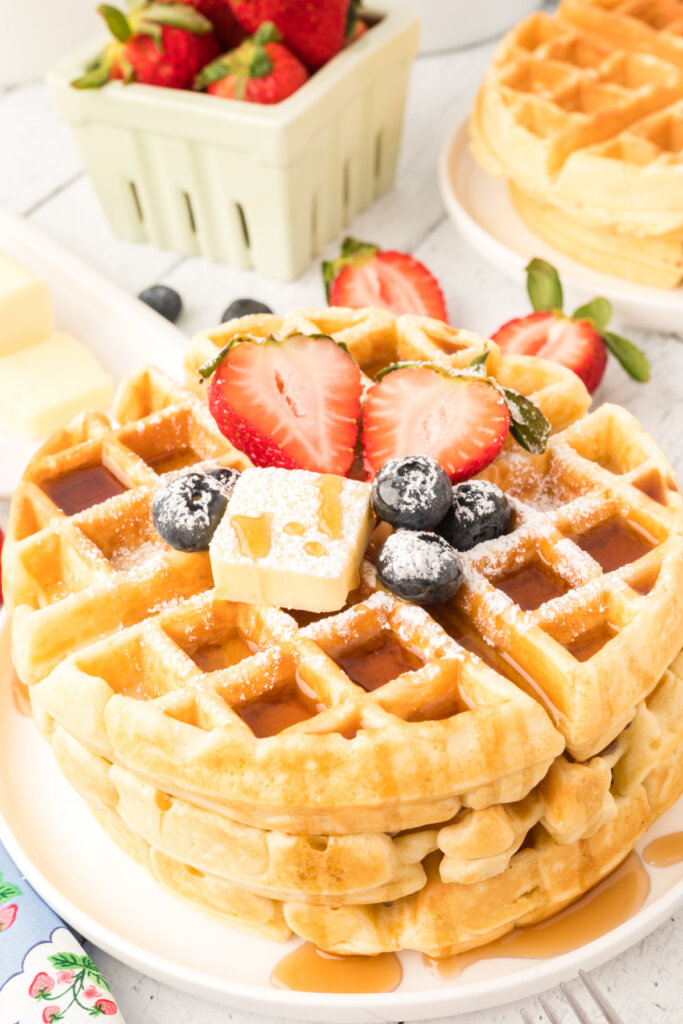 Table of contents
Waffles
My kiddos love a hot, cooked breakfast – even if it's for dinner! I have a little confession, I'm not really a fan of breakfast, but lately, I have been addicted to this classic waffle recipe! It's the craziest thing!
Before we moved out to Arizona, I donated my waffle iron to the local Goodwill, because I never used it. You know how it goes, right?!
It always amazes me how badly you need something or how many things you wish you had AFTER you get rid of them. Sheesh, just my luck!
Then I decided I needed not only one waffle iron – but two! A girl likes choices, ya know! I have the kind that makes the thick Belgian waffles and I also got one that makes the 4 square waffles!
Now I make my classic waffle recipe all the time. Note to self: don't get rid of your kitchen stuff unless it's broken – you'll wind up regretting it even if you think you'll ever use it, and you will have to buy it all over again.
Since we got those waffle irons, we have waffles for breakfast, lunch, and dinner – on different days of course! Either way, these Classic Waffles are terrific.
Sometimes you need to go back to the basics when it comes to breakfast, especially on days you just don't feel like cooking anything too complicated! 😉 Enjoy!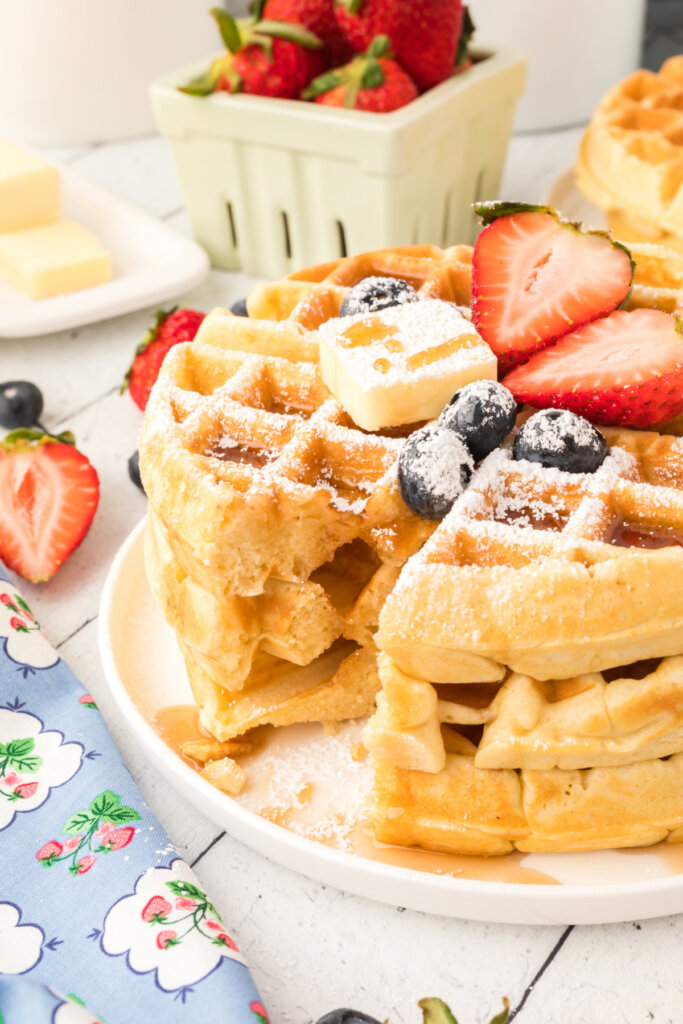 Waffles Recipe: Ingredients & Equipment
For these Classic Waffles, you'll need …
Ingredients
eggs, vegetable oil, baking powder, salt – if you've baked anything before, none of these ingredients should be very new to you! These form one part of your batter.
milk – I recommend warming up the milk in the microwave to make waffles. You'd be surprised how much warm milk adds to the texture.
granulated sugar – singling this out to let you know you can also use brown sugar!
all-purpose flour – singling this out, too, to let you know you can use whole wheat flour as well.
toppings – your optional toppings include butter, fruit, maple syrup, whipped cream … or anything else you typically enjoy on a waffle. Yum!
Equipment
waffle iron – can't make waffles without these, or else they're just flat bits of batter! Remember to check the manual for your waffle iron so you know how much batter goes into your particular device. Every brand is different in that regard.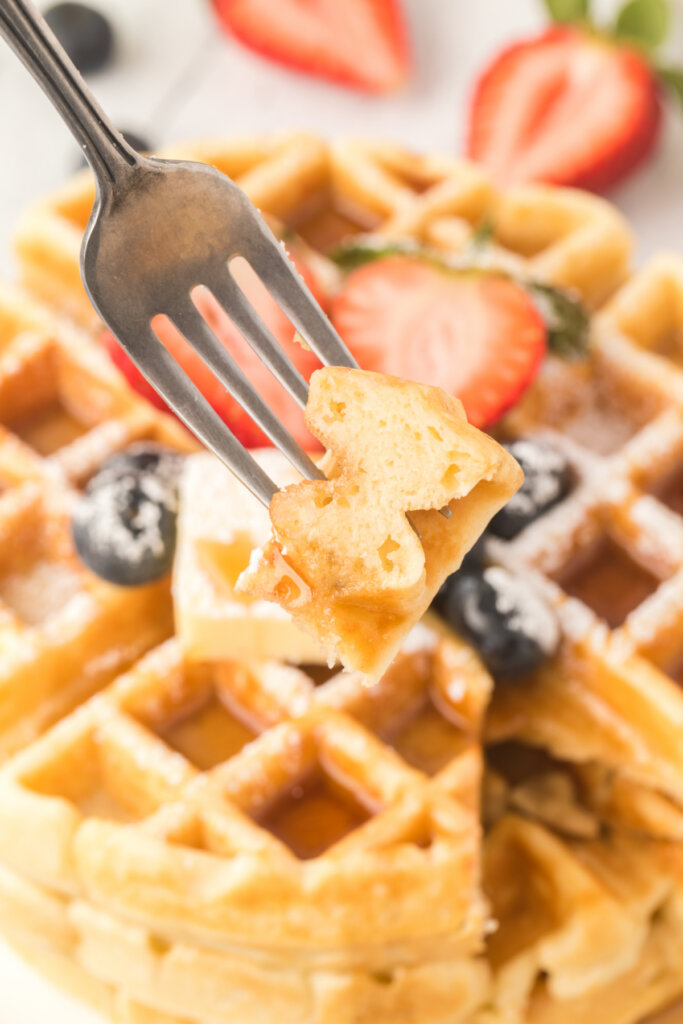 Easy Waffles: FAQs
How many waffles does this waffle recipe make?
About 6 of them, depending on your waffle iron size. You might want to make a few batches if you have a family to feed!
How long does it take to make this waffle recipe?
Only about 20 minutes! The prep time is only 5 minutes, and the rest is just cooking time.
Can you store leftovers in the freezer?
Yes! In an airtight container or Ziploc bag, you can keep waffles for up to 3 months. When you get a craving, just pop them right out and into the toaster for a tasty breakfast!
Can you use dairy-free alternatives to the milk?
Absolutely!! Almond milk is a great substitute here.
Do I need to use cooking spray on my waffle iron?
It entirely depends on your model. Your manual may point this out, or it may require some trial and error – I wish I could be more helpful here!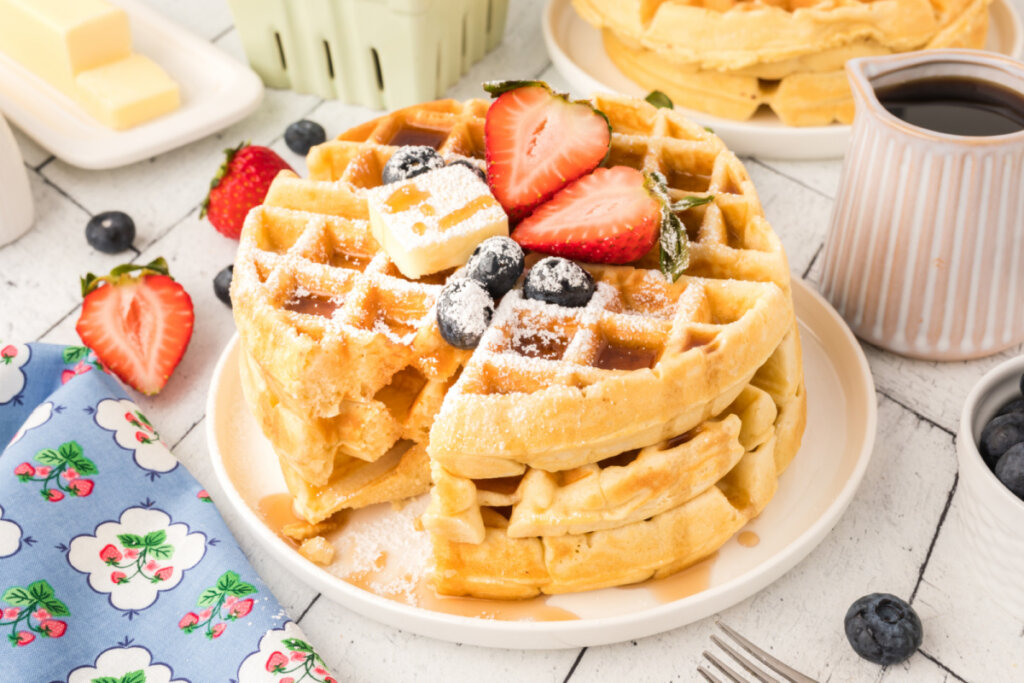 Other recipes you may enjoy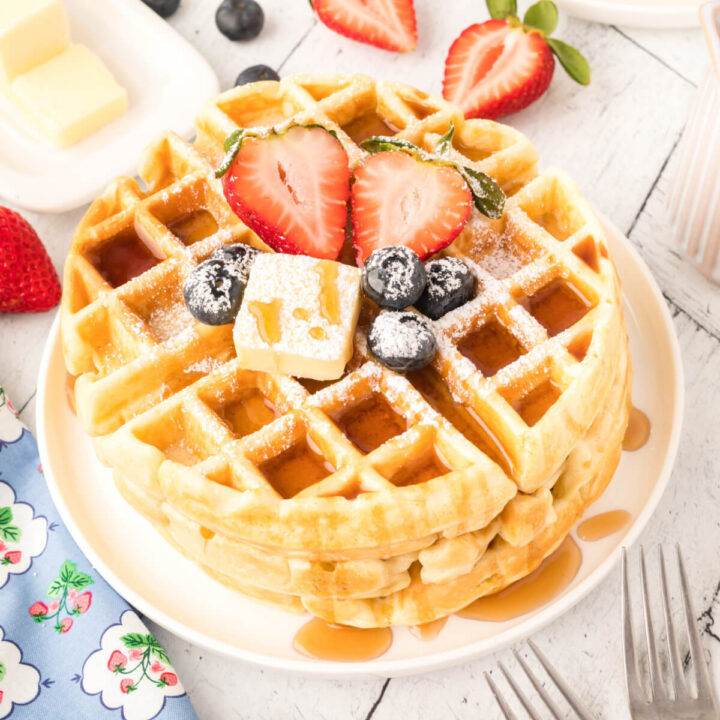 Classic Waffles
These easy Classic Waffles make a tasty alternative to pancakes or French toast on those days when you just don't feel like making breakfast! Crispy yet soft, sweet yet buttery - they're just amazing!
Ingredients
For the waffles
2 large eggs
2 cups all-purpose flour
1-3/4 cup milk
1/2 cup vegetable oil
1 tablespoon granulated sugar
4 teaspoons baking powder
1/4 teaspoon salt
For serving
Butter, maple syrup, fruit, and/or whipped cream (optional)
Instructions
Heat waffle iron.
Beat eggs in a large bowl with a hand mixer until fluffy. Beat in the remaining ingredients just until smooth.
Pour a scant 2/3 cup of the batter (see note below) onto the center of the hot waffle iron. Close the lid of the waffle iron.
Bake for about 5 minutes or until the steaming stops. Carefully remove the waffle.
Repeat steps 3-4 with the remaining batter.
Serve the waffles with butter, maple syrup, fruit, whipped cream, or your favorite t.oppings
Notes
Read the manufacturers' guide for the recommended amount of batter to add to your specific waffle iron.
Whole wheat flour can be used in place of all-purpose flour.
Brown sugar can be used in place of granulated sugar.
Nutrition Information:
Yield:

6
Serving Size:

1 waffle
Amount Per Serving:
Calories:

634
Total Fat:

32g
Saturated Fat:

9g
Trans Fat:

1g
Unsaturated Fat:

21g
Cholesterol:

107mg
Sodium:

683mg
Carbohydrates:

65g
Fiber:

2g
Sugar:

32g
Protein:

23g
Please note that the nutritional information listed on this page is an estimation based on the products I used. Ingredients and nutritional information can vary significantly between brands. Always be sure to read labels. Please verify that a recipe fits your needs before using it. Nutrition info may contain errors, so please verify it independently. Likewise, recipes may contain errors, so please use your common sense when following them.
Originally published on October 16, 2013. Updated on July 6, 2022.