Sweeten up your next picnic with this Watermelon Berry Fruit Salad! It's a healthy, kid-friendly recipe with their favorite fruits and a hint of mint, honey, and lime.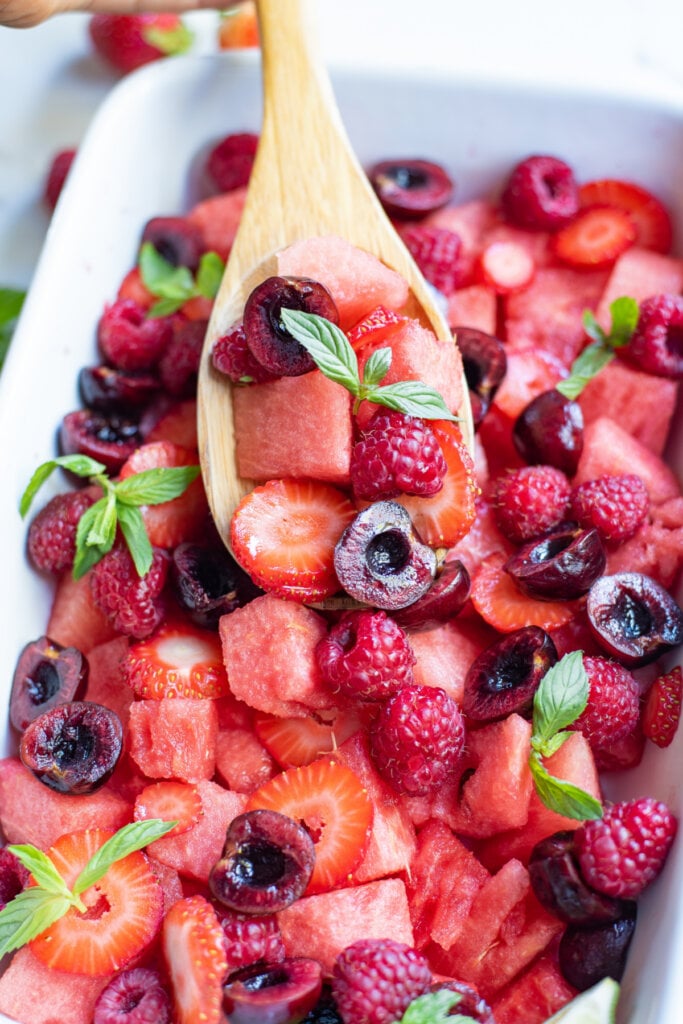 Watermelon Fruit Salad
Just like there are fall flavors (like pumpkin) and winter flavors (like spearmint and gingerbread), there are summer flavors, too! You know, the kinds of foods you don't feel right eating at any other time of year?! In this case, we're talking fresh watermelon!
Thankfully, it's heading towards summer here at the time of writing, so it's time to break out all kinds of watermelon-based recipes.
This Watermelon Berries Salad is a simple and delicious one you can make a few times a week, or prepare for a big picnic with all your loved ones. It's fresh watermelon (yum!), cherries, strawberries, raspberries – and a few other surprises, like lime, mint, and honey!
The best part about this recipe, other than the fact that it's easy to put together? It's kid-friendly. I haven't met a little one yet who's picky about this salad! It's also very healthy since it uses only natural flavors and ingredients.
Refreshing, tasty, and filling – it's my kind of summer salad! Enjoy!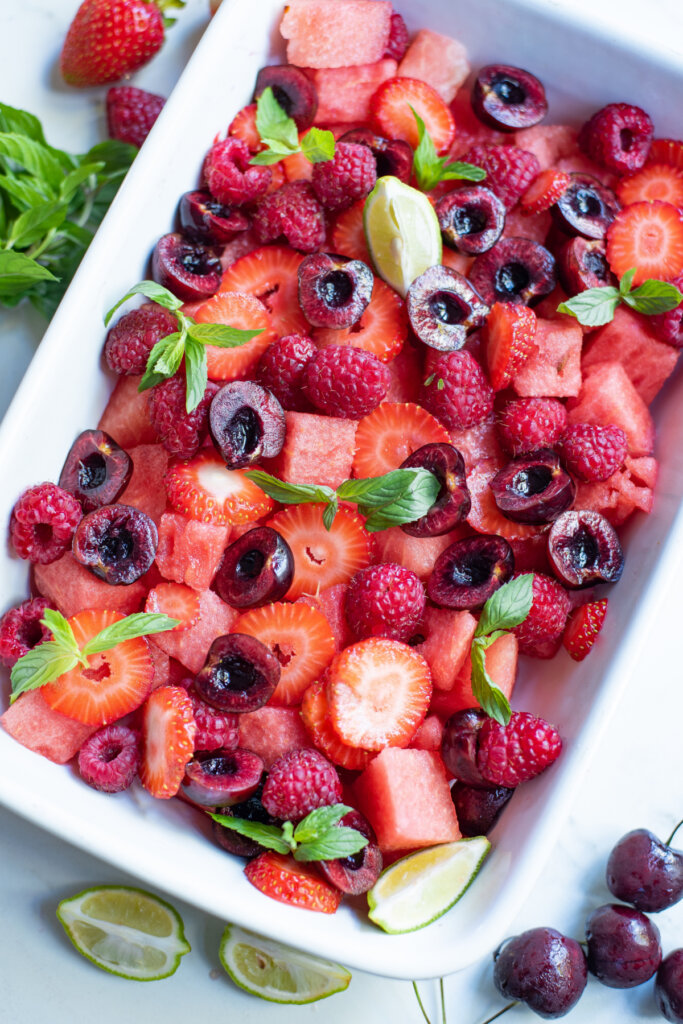 Watermelon Salad: Ingredients & Equipment
To make this Watermelon Berry Fruit Salad, you'll need …
Ingredients
watermelon – cut into cubes. Seedless is best for this recipe! Find a nice, dense, juicy watermelon for your salad.
strawberries, raspberries, and cherries – these are the delicious berries that make up the other half of this salad.
honey – a natural sweetener you'll drizzle onto the salad as a "dressing."
mint – chopped and fresh. This adds a tasty little "bite" to your salad and offsets some of the honey's sweetness!
limes – to squeeze onto the salad for a fresh citrus touch!
NOTE: You can easily halve or double, triple, etc this recipe for a bigger crowd. You're probably going to want to since this recipe goes fast! 😉
Equipment
All you'll need for this recipe is a large bowl to make your salad in!! Easy!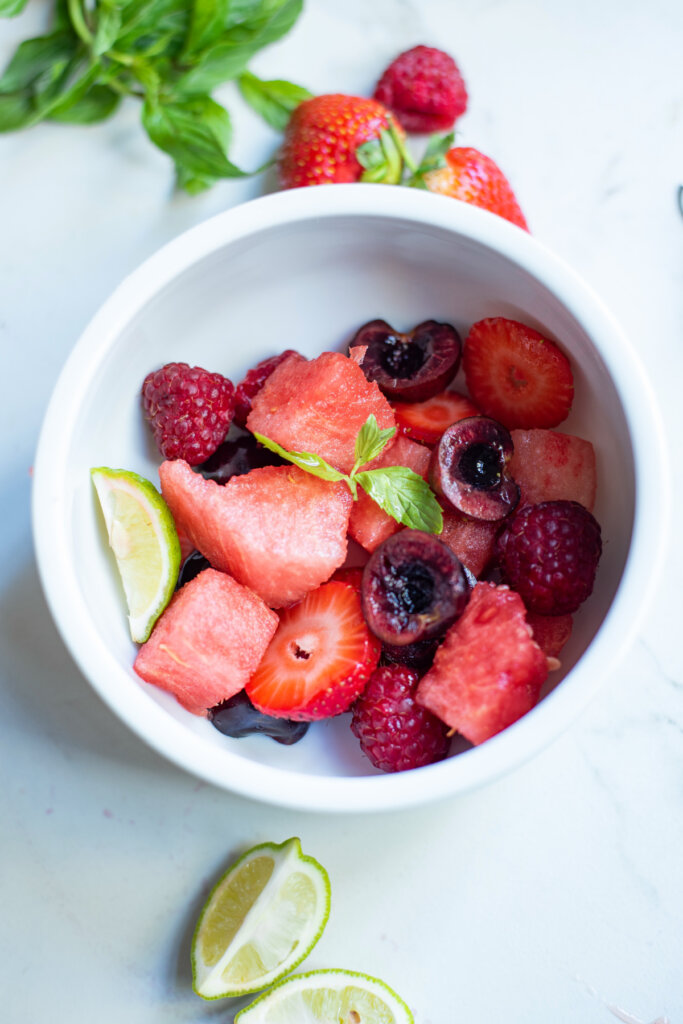 Watermelon Berries Salad: FAQs
What other fruits/add-ins do you recommend adding to this salad?
Blueberries and pomegranates go well with the rest of the flavors in particular! I also recommend some fresh basil. I know that sounds weird and more like a "savory salad" thing, but believe it or not, it's extremely tasty when mixed in with fruits too.
Do you need to use honey in this recipe?
Maple syrup is also delicious and just as healthy since it's another natural sweetener! I've heard of people using agave too!
How long does it take to put together this salad?
Around 10 minutes!! It's quick and easy.
How many servings does this recipe make?
Enough for about 4 people to have a bowl, more or less.
Can you make this Watermelon Berries Salad ahead of time?
I wouldn't make it longer than one hour before serving it so it stays fresh. The berries especially I wouldn't add until right before serving!
What should you do with leftovers?
Any leftover watermelon fruit salad can be stored in the fridge, covered/in an airtight container, for about a day. After that, it starts to get kind of mushy and unappetizing!! 
Can you freeze the Watermelon Berry Salad?
I wouldn't recommend it!
How do you find the best watermelon for fruit salad (or any other recipe)?
Since watermelon features so heavily in this salad, you want to pick out a good one! Make sure it feels heavy, isn't too shiny on the outside, and that when you knock on it, it makes a hollow sound. That should mean it's ripe and ready to go!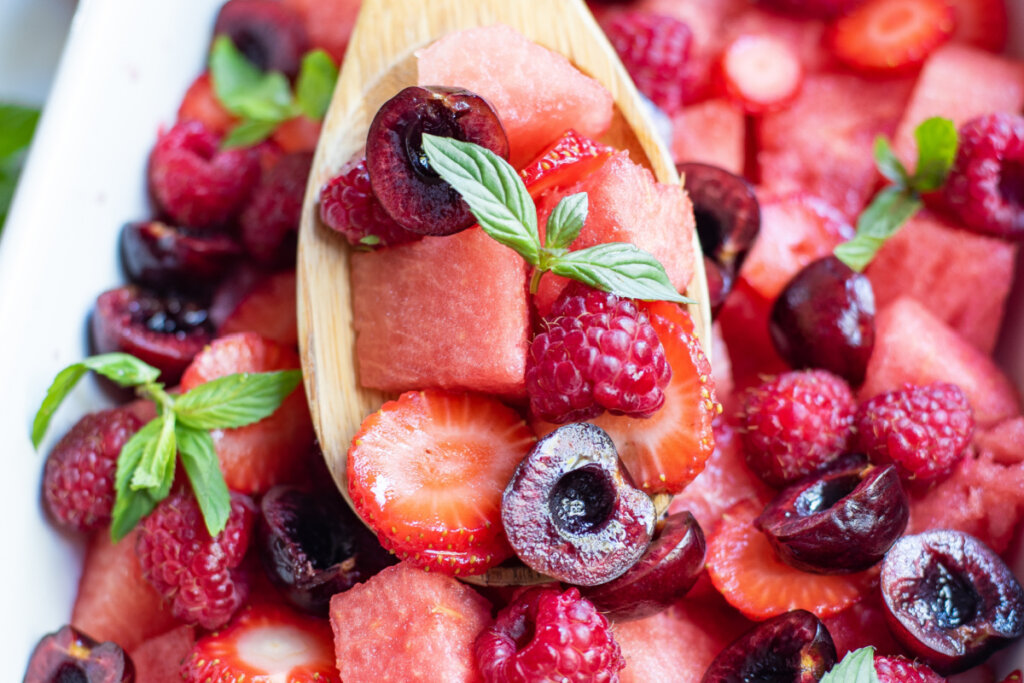 Other recipes you may enjoy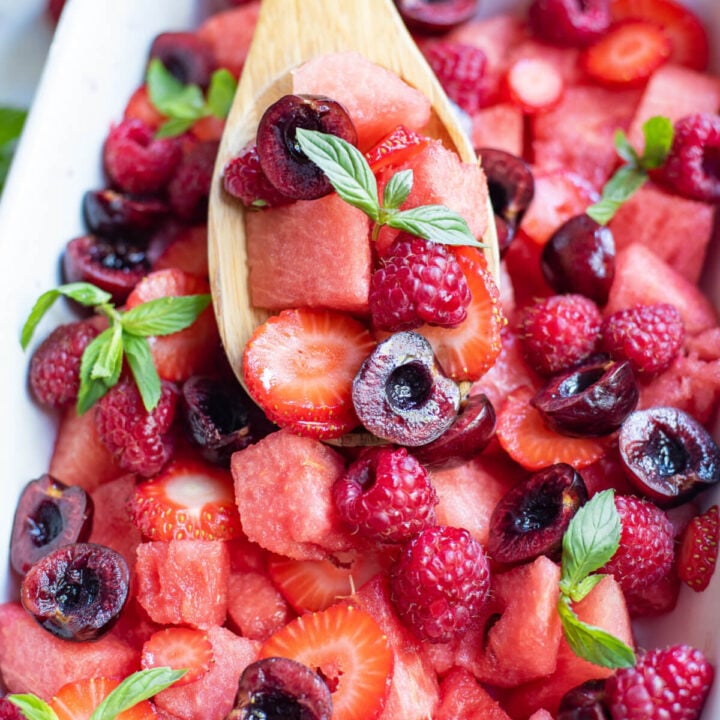 Watermelon Berry Fruit Salad
Sweeten up your next picnic with this Watermelon Berry Fruit Salad! It's a healthy, kid-friendly recipe with their favorite fruits and a hint of mint, honey, and lime.
Ingredients
1 watermelon (about 3-4 lbs.), cut in cubes
1 cup strawberries, hulled and sliced
1 cup fresh raspberries
1 cup fresh cherries, pitted and halved
2 limes
1 teaspoon honey
2 tablespoons fresh mint, chopped
Instructions
In a large salad bowl, add watermelon, strawberries, raspberries, and cherries.
Pour the honey over the top of the fruits. Squeeze the lime juice over the fruits.
Sprinkle it with mint and toss gently.
Serve and enjoy!
Notes
For the salad, seedless watermelon is the best to use. You can also use watermelon with seeds if you don't mind removing them. Choose dense, richly red, juicy, and ripe watermelon to make the salad.
Blueberries and pomegranate arils are great additions!
The watermelon can be cut 1 hour before serving. The berries, especially the raspberries, are fragile and should be added last minute.
Place any leftovers in an airtight container and in the refrigerator for up to 1 day. ANy longer and the fruit tends to start to break down.
Recommended Products
As an Amazon Associate and member of other affiliate programs, I earn from qualifying purchases.
Nutrition Information:
Yield:

8
Serving Size:

1
Amount Per Serving:
Calories:

45
Total Fat:

0g
Saturated Fat:

0g
Trans Fat:

0g
Unsaturated Fat:

0g
Cholesterol:

0mg
Sodium:

1mg
Carbohydrates:

12g
Fiber:

2g
Sugar:

7g
Protein:

1g
Please note that the nutritional information listed on this page is an estimation based on the products I used. Ingredients and nutritional information can vary significantly between brands. Always be sure to read labels. Please verify that a recipe fits your needs before using it. Nutrition info may contain errors, so please verify it independently. Likewise, recipes may contain errors, so please use your common sense when following them.