These Chipotle Deviled Eggs are the perfect way to spice up the appetizer table! Great for potlucks, game day, holidays, and parties! #GobbleAgain #IC #ad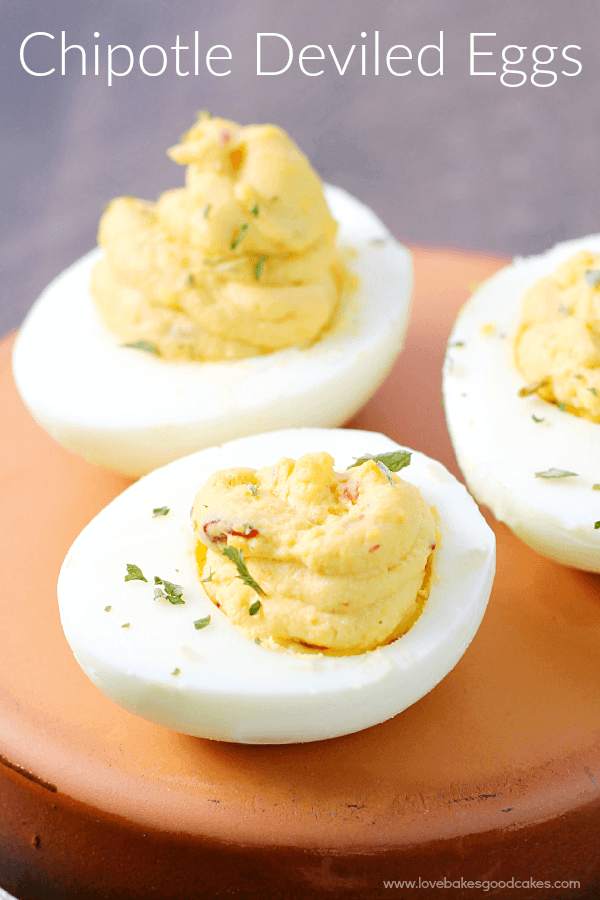 This post may contain affiliate links. As an amazon associate, I earn from qualifying purchases. See my full Disclosure Policy for details.
I participated in an Influencer Activation on behalf of Influence Central for Rubbermaid. I received product samples to facilitate my review as well as a promotional item to thank me for my participation.
Chipotle Deviled Eggs
Oh my gosh …. have y'all checked the calendar?! It's December 1st, y'all! This year has felt like it has flown by and I can't believe it won't be long before we're ringing in a new year!
We were fortunate to have Elijah and his wife, Jaden, come home for a visit for Thanksgiving. Although the time went by super fast, it was so nice to see them and enjoy a few days with them. As quickly as Thanksgiving came and went, I know Christmas will be the same – here before we know it and gone way too fast … and I am not ready!
I have to tell you, we had sooooo much food over the holiday weekend … I'm not sure what it is about holidays that requires sooooo much food! I felt like we were eating non-stop … does anyone else feel that way during the holidays?! And leftovers … oh my gosh did we have leftovers for days!!
To ensure our treats stay fresh and intact during travel or simply when there are leftovers, we need food storage containers we can rely on! Rubbermaid® relates to everyday life hassles by providing smart, simple solutions that make life less complicated – and, the food storage containers are designed to be easy to find, easy to use and to keep food fresh longer!
The Rubbermaid® Party Serving Kit is an all-in-one food serving container that securely transports and serves popular party foods. Unlike any other entertaining container, the Party Serving Kit can be used in 10+ ways, making it the most versatile transport and serve food container. The interchangeable inserts nest neatly inside for easy storage, eliminating the need for multiple single-use entertaining containers. With so many inserts, you can house anything from hors d' oeuvres, pies and other yummy treats in the Party Serving Kit this holiday season! It is also 100% BPA free, and is dishwasher safe. It is available at select retailers for the MSRP of $24.99.
The Party Serving Kit features two inserts and one base:
A single standard-sized cupcake insert
One mini cupcake / deviled egg insert
A flat base for pies, cookies, cakes, etc., featuring raised lips to contain loose items
The Rubbermaid® Party Serving Kit is easily one of the most versatile food storage/serving containers I have ever seen! It makes transporting and sharing all of our favorite treats so easy! I also love how the domed lid accommodates two-tier cakes to ensure smudge-free frosting!
The Rubbermaid® Party Platter is a lightweight two-in-one food storage container designed for entertaining at home or taking to a social event. The large divided base keeps different types of food separated, while a smaller leak-proof Twist & Seal™ inner container holds the dip and nests snuggly into the base. Each container comes with a secure lid that creates a tight seal and allows for safe and easy transportation. The Party Platter is 100% BPA free, and is microwave, dishwasher and freezer safe. It is available at select retailers for the MSRP of $8.99.
We have used our Rubbermaid® Party Platter for so many things! Our favorite use is taco night! It also makes the perfect relish tray for holidays and my kiddos love to use it as a snack center! For game day, we load it up with our favorite dip and an assortment of chips!
For the latest Rubbermaid news and special offers, be sure to follow them on Facebook, Pinterest and Twitter.
Other Posts You May Enjoy: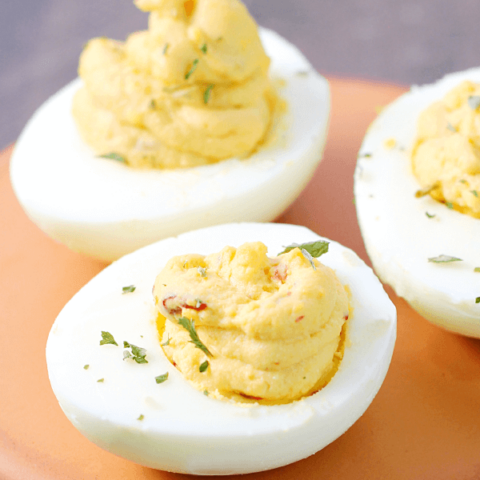 Chipotle Deviled Eggs
These Chipotle Deviled Eggs are the perfect way to spice up the appetizer table! Great for potlucks, game day, holidays, and parties!
Ingredients
12 large eggs, hard-boiled
1/3 cup mayonnaise
2 tsp. adobo sauce, from canned chipotle pepper in adobo sauce (more to taste)
1 chipotle pepper in adobo sauce, finely chopped
Chopped parsley or cilantro, for garnish
Instructions
Slice eggs in half lengthwise. Scoop out the yolks and place in medium bowl.
Mash the yolks with a fork. Add mayonnaise, adobo sauce, and chipotle peppers. Stir well to blend all ingredients.
Spoon or pipe the filling in the egg whites.
Garnish with parsley or cilantro, if desired.
Serve immediately or refrigerate in a tightly covered container.
Nutrition Information:
Amount Per Serving:
Calories:

59
Total Fat:

5g
Saturated Fat:

1g
Cholesterol:

94mg
Sodium:

94mg
Fiber:

0g
Sugar:

0g
Protein:

3g