This pizza is a combination of two pizzas we tried. The flavors worked very well together. In hindsight, I think this would be good with a little bit of spice added to it …. maybe a diced jalapeno, crushed red pepper flakes or a chipotle pepper in adobo. If you prefer it without the spice, it's just as good the way it is written! I've included the link to Frugal Upstate's pizza dough …. it's the best!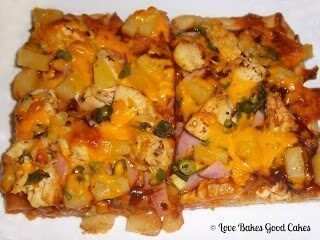 Aloha Pizza
Yield: 1 large pizza (8-10 slices)
Olive oil
1 cup BBQ sauce
2 cups (8 oz.) shredded Cheddar cheese, divided
1-1/2 cups cooked chicken breast, chopped
6 oz. Canadian bacon, chopped
1 can (8 oz.) pineapple tidbits, drained
2-3 green onions, chopped
Prepare pizza dough according to directions.
Preheat oven to 450° F. Grease a pizza pan. Pat dough into pan. Drizzle the dough with olive oil and bake for 10 minutes. Spread BBQ sauce on the crust. Top with 1-1/2 cups of cheese. Next, add chicken, Canadian bacon, pineapple and green onion. Top with remaining 1/2 cup cheese. Bake for 15-17 minutes, or until pizza is golden and cheese is bubbly. Serve hot!
I hope you enjoy!
Shared at
these
fun parties!