Even though we enjoy a traditional meatloaf, sometimes it's nice to have something a little bit different. The Mister and boys inspired this BBQ Bacon Cheeseburger Meatloaf – it combines some of their favorite things – BBQ, Bacon, Cheeseburger and Meatloaf! I hope you enjoy this as much as my family did!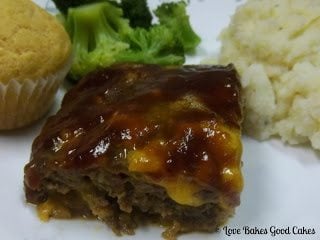 BBQ Bacon Cheeseburger Meatloaf
Yield: 8 servings
2 lb. lean ground beef
1/2 lb. bacon, cooked and crumbled
2 cups (8 oz.) shredded Cheddar cheese
1 egg, beaten
1 cup BBQ sauce, divided
1 small onion, chopped
1/2 cup green pepper, chopped
1/2 cup dry bread crumbs
Preheat oven to 350° F. Spray a 9×5 loaf pan with cooking spray and set aside.
In a large bowl, combine to beef, bacon, cheese, egg, 1/2 cup BBQ sauce, onion, green pepper and dry bread crumbs. Shape mixture into a loaf and place into prepared pan.
Bake in preheated oven for 35-40 minutes. Remove from oven, top with remaining 1/2 cup BBQ sauce. Return to the oven and bake an additional 15-20 minutes or until no longer pink. (An instant-read thermometer inserted near the center will read 160° F.)
Allow to stand 5 minutes before slicing. Serve hot or cold with additional BBQ sauce, if desired.
I hope you enjoy!
Shared at
these
fun parties!