This Whipped Cranberry Butter breathes a whole new life into leftover cranberry sauce. It's sure to become a tasty new holiday staple.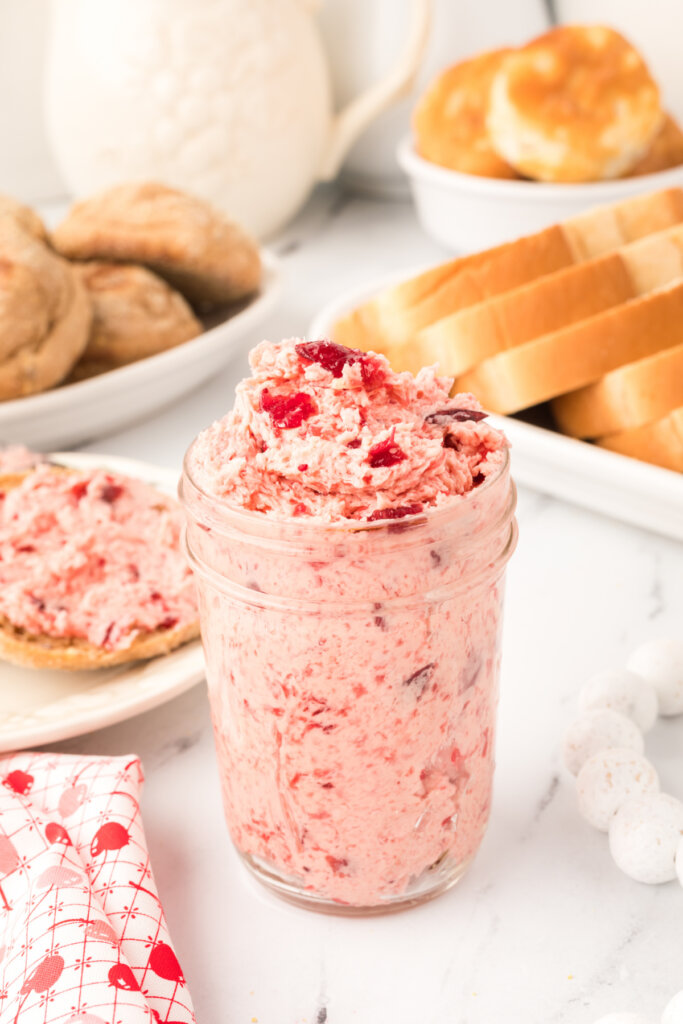 Whipped Cranberry Butter
Thanksgiving and Christmas are back-to-back bounties of delicious food!! Since smothering turkeys in cranberry sauce is everyone's favorite thing to do, no matter what fall or winter holiday is happening, why not spice things up a bit?!
This whipped cranberry sauce is sweet, tart, savory, and perfect overall! Bring it out with your turkey, or use leftovers to make it after the fact. It's also lovely on muffins, toast, pancakes, waffles, bread, and English muffins. You name it.
No matter what, it's just good, y'all. Plus, whipped cranberry butter is 100% foolproof. Yes, it's THAT easy to make. I couldn't ask for anything better!
If you like the idea of cranberry-flavored butter to spread on everything, here's your recipe!
Not only is this recipe economical, but it's also delicious!! Enjoy!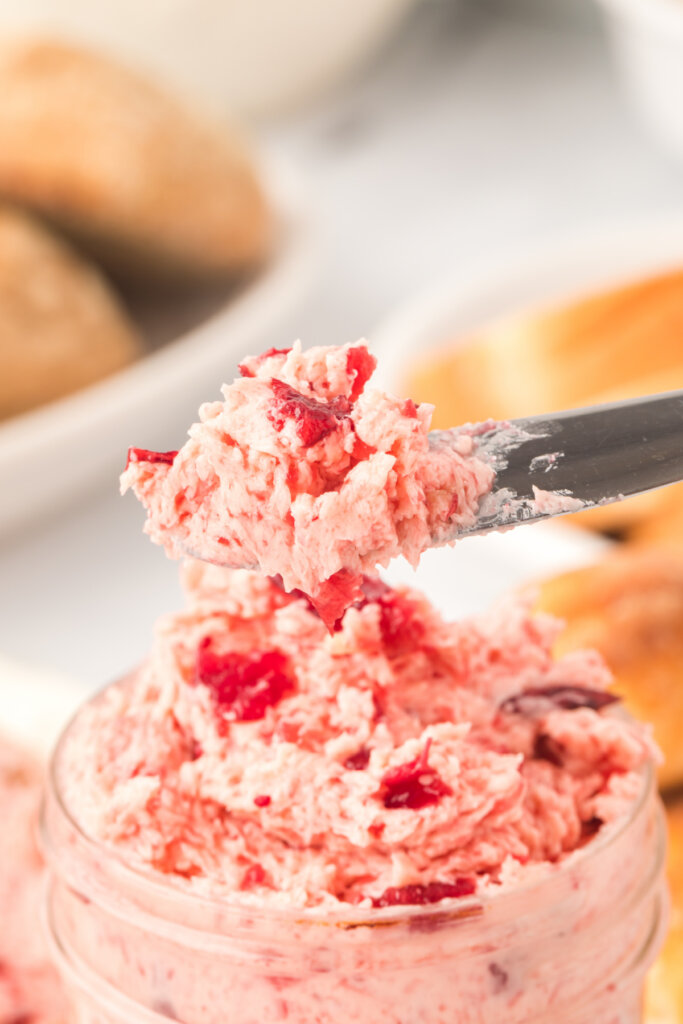 Whipped Cranberry Butter: Ingredients & Equipment
For this Whipped Cranberry Butter recipe, you'll need …
Ingredients
salted butter – can't make whipped butter without it, of course!!
whole berry cranberry sauce – use leftovers, as I said, or make it fresh for Thanksgiving!
Equipment
small bowl – you'll mix all your ingredients in here. You don't need anything else except maybe a hand mixer!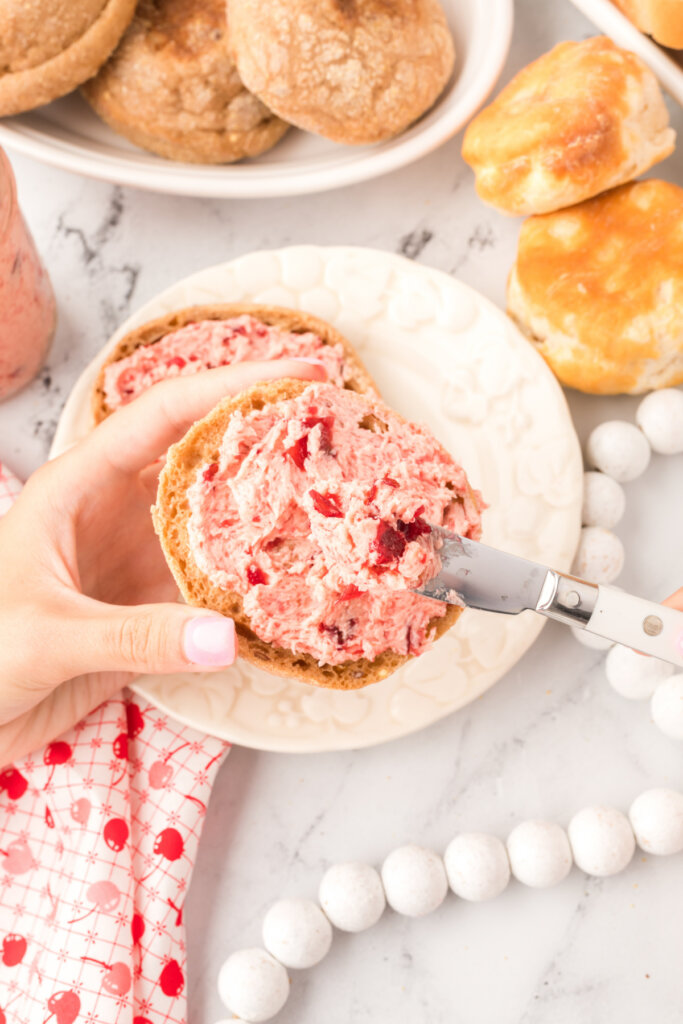 How to make Whipped Cranberry Butter
Just combine the two ingredients in a small bowl! Use a hand mixer or whatever you have on hand. When it's well-mixed, it's done, y'all. Throw it in the fridge until you're ready to use it.
That's it!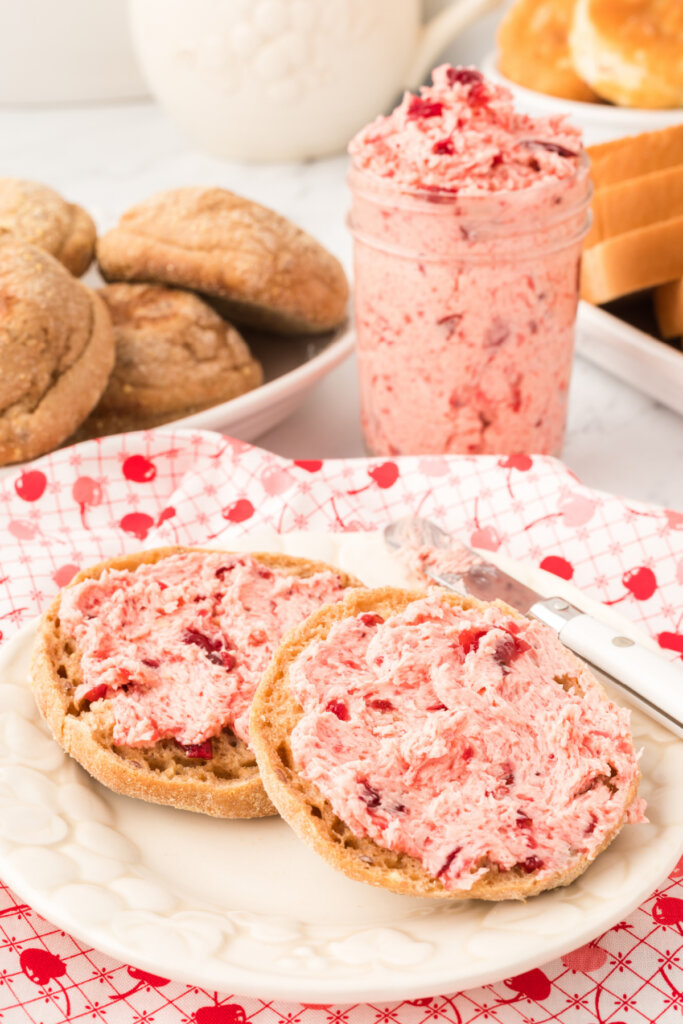 Whipped Cranberry Butter: FAQs
How long does it take to make Whipped Cranberry Butter?
Since you're just mixing ingredients, only about 5 minutes. It's pretty much the most perfect lazy day-after-Thanksgiving recipe ever!
How much butter does this recipe produce?
About a cup to a cup and two-thirds.
How can I make this butter a bit sweeter?
If you find it too tart, add powdered sugar or honey to the mix.
Is there any way I can make this butter smoother?
Using jellied cranberry sauce will result in a smoother butter.
How long can I keep my Whipped Cranberry Butter in the fridge?
Kept sealed in an airtight container, this Whipped Cranberry Butter should last for a good week in the fridge! But be aware, y'all, that it might not taste quite as good past the first 3 days. When you're ready to use it, let it come to room temperature before serving so you can spread it easily. 

Alternatively, you can add a dollop of oil (like canola or something similarly flavorless) into the butter when you make it, and it should stay spreadable even after you pull it from the fridge. Of course, this may affect the texture of the butter a bit, so use oil with caution!
What's the best way to store this butter?
I'd use a small mason jar to keep it in the fridge (see the question above).
What other additions can I make to this butter?
If you want to experiment, try adding cinnamon or nutmeg for a touch of warm spice. Alternatively, orange zest and/or orange juice give this butter a citrus-y touch, perfect for that cold weather!!
Can I make whipped Cranberry Butter with unsalted butter?
Sure! But a pinch of salt may be a good idea to help balance out the flavors. Try starting with just 1/8th of a teaspoon of kosher salt before adjusting to your taste later.
Other recipes you may enjoy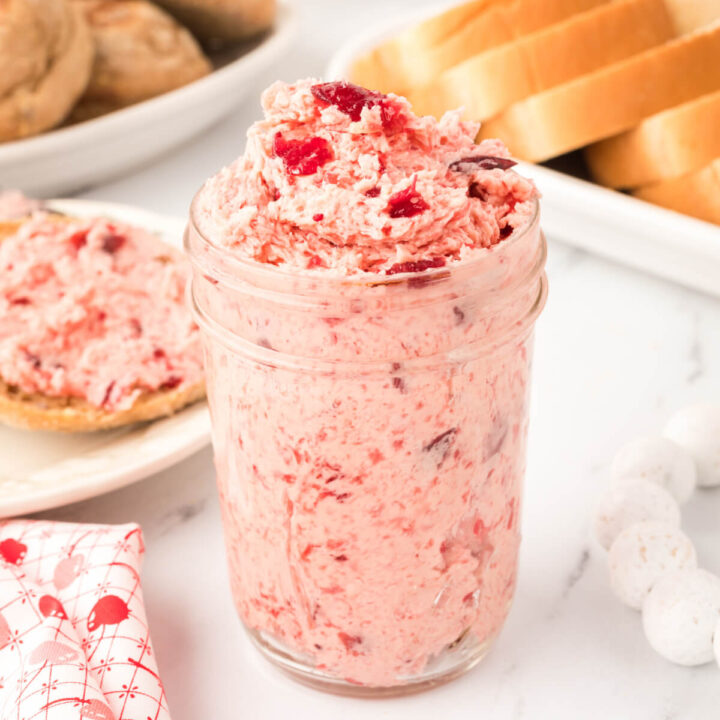 Whipped Cranberry Butter
This Whipped Cranberry Butter breathes a whole new life into leftover cranberry sauce. It's sure to become a tasty new holiday staple.
Ingredients
1 cup salted butter, softened
2/3 cup whole berry cranberry sauce
Instructions
In a small bowl, combine all ingredients with a hand mixer until well combined.
Refrigerate leftovers.
Notes
If you prefer smoother butter, you can also use jellied cranberry sauce for this recipe.
For sweeter butter, add powdered sugar or honey.
This recipe is excellent for pancakes, waffles, toast, bread, muffins, English muffins, etc.
Recommended Products
As an Amazon Associate and member of other affiliate programs, I earn from qualifying purchases.
Nutrition Information:
Yield:

13
Serving Size:

2 tablespoons
Amount Per Serving:
Calories:

162
Total Fat:

14g
Saturated Fat:

9g
Trans Fat:

1g
Unsaturated Fat:

4g
Cholesterol:

38mg
Sodium:

113mg
Carbohydrates:

9g
Fiber:

1g
Sugar:

7g
Protein:

0g
Please note that the nutritional information listed on this page is an estimation based on the products I used. Ingredients and nutritional information can vary significantly between brands. Always be sure to read labels. Please verify that a recipe fits your needs before using it. Nutrition info may contain errors, so please verify it independently. Likewise, recipes may contain errors, so please use your common sense when following them.