This Thanksgiving Salad pairs perfectly with a turkey dinner. Apples, cranberries, feta cheese, and bacon never tasted so good on a bed of lettuce!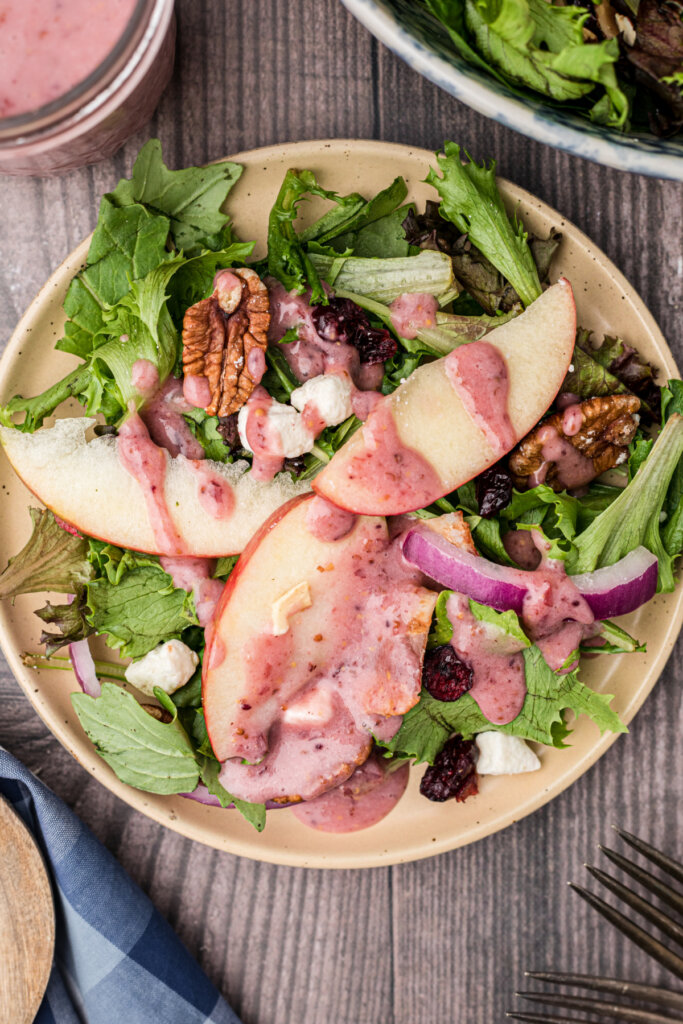 Thanksgiving Salad
They say there's a salad for every season and every climate, and nothing says fall quite like this crisp and satisfying Thanksgiving Salad, y'all! It's a blend of all the best seasonal treats: crisp lettuce like the leaves under your feet, sweet, juicy apple slices, and savory, crunchy bacon bits and nuts. There's a little something for everyone!
I'm already half-planning my Thanksgiving dinner. I know salads aren't always what people first think about when it comes to turkey day, but I always like to include one.
Still, I've noticed in the last few years that I'm always scrambling a little to figure out the best salad to serve alongside everything else.
I like my Thanksgiving to be perfect, well, the food, anyway! I can't help how the family acts sometimes!! 🙈
This Thanksgiving Salad recipe, with a drizzle of my homemade cranberry vinaigrette, is the solution to all your turkey day salad woes!
I do think it's one of the best salads for Thanksgiving Day! Of course, it's great at any other time of year, too, and like any salad, super easy to make. I hope you enjoy it!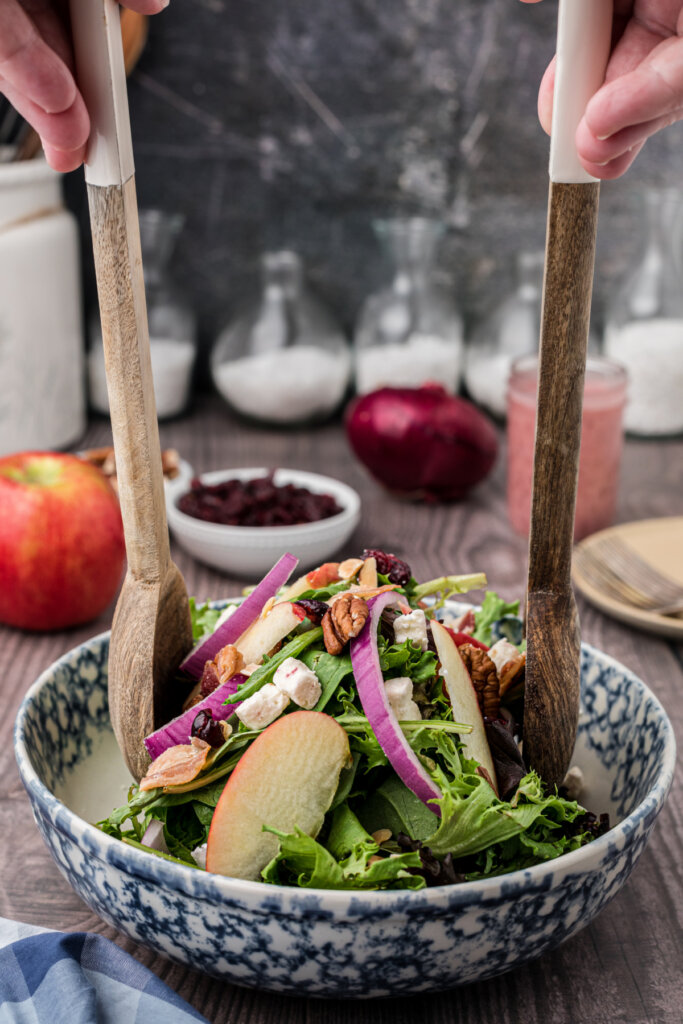 Thanksgiving Salad: Ingredients & Equipment
For this Thanksgiving Salad recipe, you'll need …
Ingredients
spring mix lettuce – the best base for this Thanksgiving salad since it usually combines a few types of delicious greens in a variety of textures. (Think spinach, both kinds of romaine, etc.)
bacon, feta cheese – savory additions to your salad! Plus, everything is more wonderful with bacon, right? 😉
pecan, toasted sliced almonds – for crunch. Some of the best toppings for any savory-sweet salad!! Don't skip out on toasting those almonds, y'all, since it brings out the flavor we all love.
apple and dried cranberries – the sweet and fruity mix-ins add tons of fall flavor.
onion – more veggies and more crunch.
salt and pepper – to taste.
Equipment
large salad bowl – to combine all your ingredients, of course!!
NOTE: As I said, this salad pairs best with my homemade Cranberry Vinaigrette!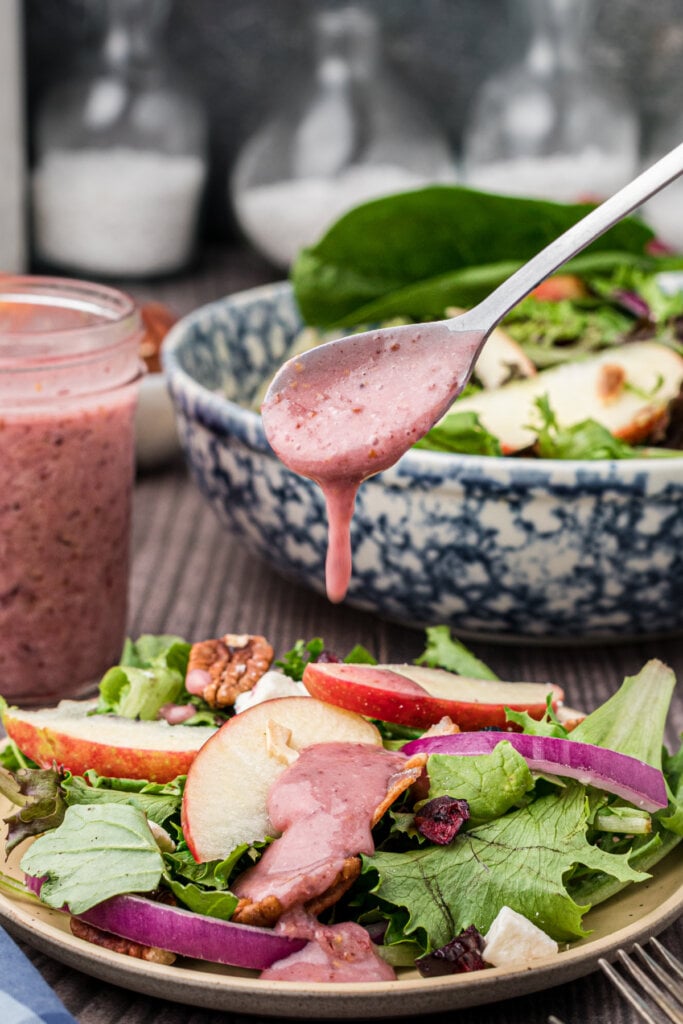 How to make Thanksgiving Salad
Start by toasting the pecans and chopping all of your fruits, veggies, and bacon.
Next, layer all of the ingredients in a large salad bowl and combine.
Lastly, add salad dressing along with salt and pepper to taste before serving.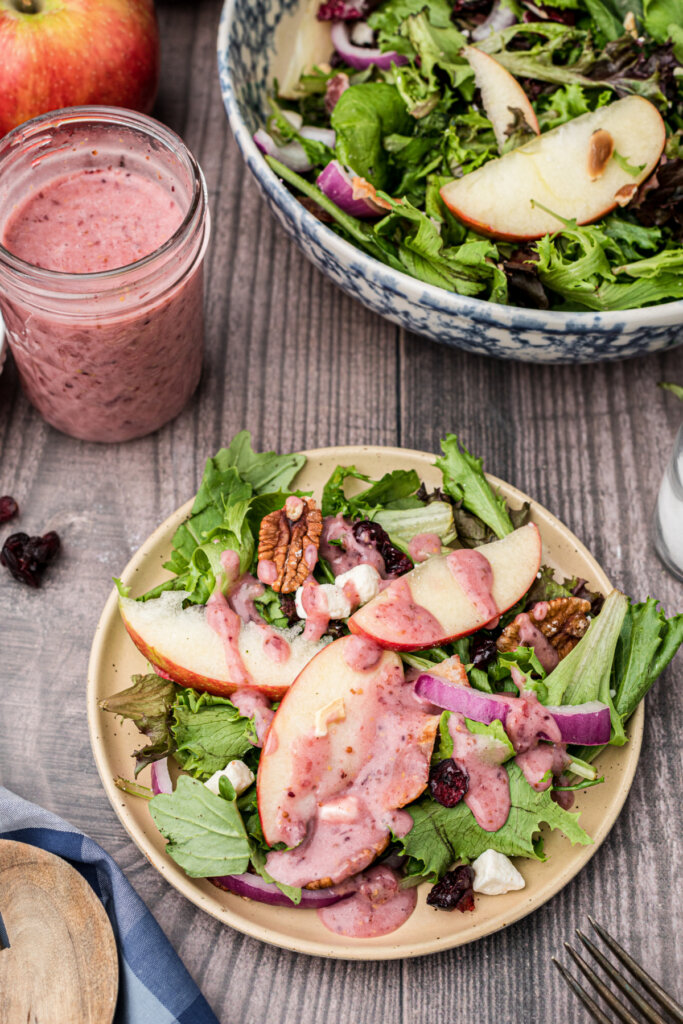 Thanksgiving Salad: FAQs
How long does it take to prep Thanksgiving Salad?
Just 10-15 minutes! You'll be chopping and combining the ingredients. Nothing weird or out of the ordinary with this salad!
How many servings does this recipe make?
About 6 servings! Of course, it'll depend on portion sizes.
Is spring mix lettuce necessary for this recipe?
Not at all. Use whatever kind you like!! I just think spring mix has the best mixture of "leaves."
Can I add meat to this Thanksgiving Salad?
Oh, yes! Leftover baked turkey or ham tastes great in this salad, for instance.
What kind of apples do you recommend?
I recommend a sweet variety that balances out the rest of the flavors for this salad. Fuji and gala are my favorites, but it'll depend on what's in season and readily available for you!
What other additions or substitutions do you suggest?
This is another one of those salads where you can customize it exactly to your tastes without sacrificing too much of what makes it wonderful. Try, for instance…
– Using pears or pomegranates instead of (or in addition to) apples
– Adding chunks of in-season squash, fresh/raw or roasted 
– Brie or blue cheese instead of feta
– Balsamic, maple syrup, or raspberry vinaigrette instead of cranberry vinaigrette
– Drizzling on a hint of lemon juice or apple cider vinegar
Other recipes you may enjoy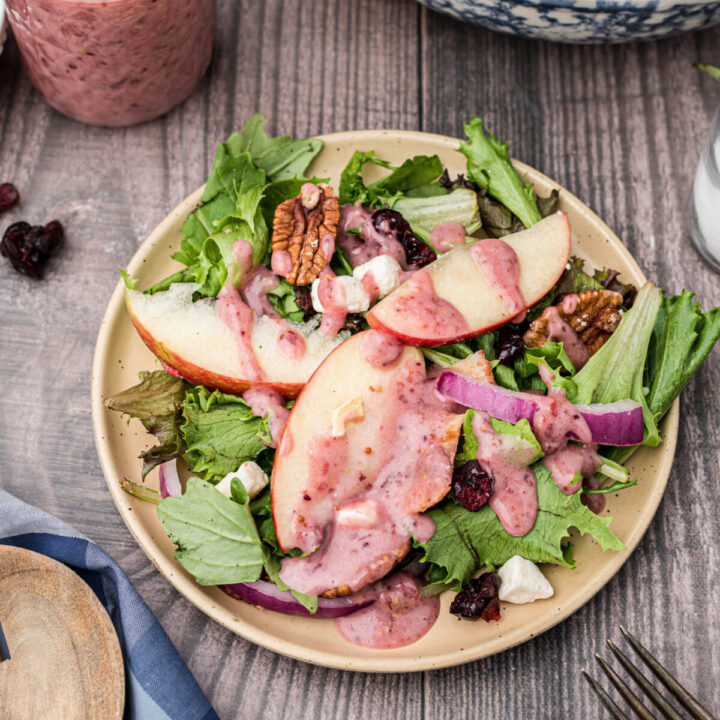 Thanksgiving Salad
This Thanksgiving Salad pairs perfectly with a turkey dinner. Apples, cranberries, feta cheese, and bacon never tasted so good on a bed of lettuce!
Ingredients
5 cups spring mix lettuce
5 slices bacon, cooked
1 apple, sliced
1/4 red onion, sliced
1/2 cup dried cranberries
1/4 cup Feta cheese
1/4 cup toasted pecans
2 tablespoons toasted sliced almonds
salt and pepper, to taste
Cranberry VInaigrette or your favorite salad dressing
Instructions
Starting with the lettuce, layer all of the ingredients in a large salad bowl, then gently combine with salad tongs.
Add the salad dressing (if using) and season with salt and pepper to taste.
Serve the salad immediately.
Notes
To toast the pecans if necessary: Add the pecans to a dry skillet and heat over medium heat until toasted, about 3-4 minutes or until toasted. Be careful not to burn them.
If you may have leftovers or are delayed in serving, it is best if you reserve your salad dressing until right before serving. You'll not be able to keep the salad after the dressing has been applied. If you prefer, you can dress individual plates of salad with the dressing.
Recommended Products
As an Amazon Associate and member of other affiliate programs, I earn from qualifying purchases.
Nutrition Information:
Yield:

6
Serving Size:

1
Amount Per Serving:
Calories:

192
Total Fat:

12g
Saturated Fat:

3g
Trans Fat:

0g
Unsaturated Fat:

8g
Cholesterol:

16mg
Sodium:

326mg
Carbohydrates:

19g
Fiber:

3g
Sugar:

14g
Protein:

6g
Please note that the nutritional information listed on this page is an estimation based on the products I used. Ingredients and nutritional information can vary significantly between brands. Always be sure to read labels. Please verify that a recipe fits your needs before using it. Nutrition info may contain errors, so please verify it independently. Likewise, recipes may contain errors, so please use your common sense when following them.