Don't buy that canned stuff – I'll show you how to make PERFECT GRAVY – flavorful and no lumps! Perfect for holidays!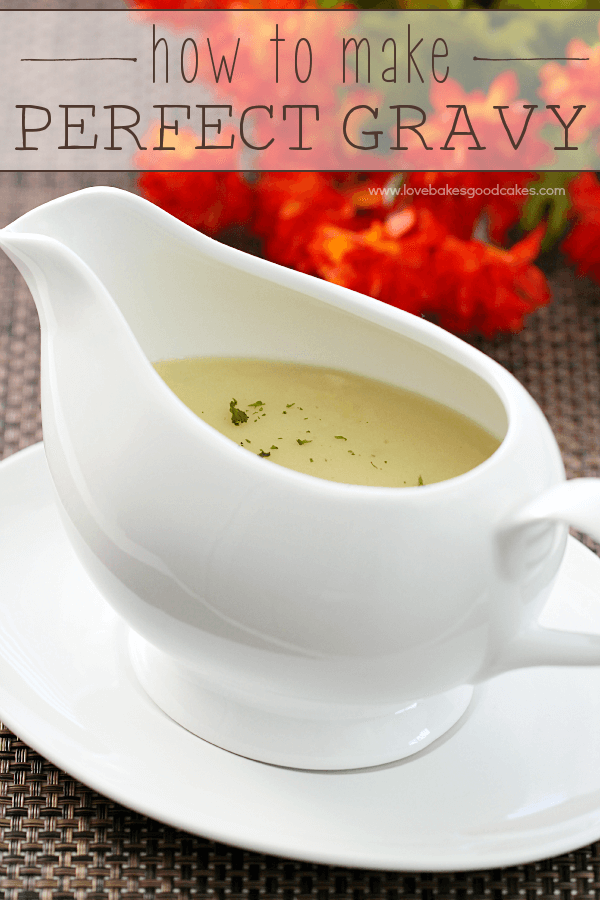 This post may contain affiliate links. As an amazon associate, I earn from qualifying purchases. See my full Disclosure Policy for details.
How To Make Perfect Gravy
Is anyone else getting excited for Thanksgiving?! For the past few weeks, I have been in a major funk and I feel like I am just now working my way out of it. Life … or in this case, death … has a way of hitting you the hardest when you least expect it. Talk about a sucker-punch outta nowhere. In light of some personal things that I have had to deal with in the last month, this Thanksgiving feels even more special – and I couldn't be more excited to spend it with loved ones!
As I told y'all in my Perfect Mashed Potatoes post, mashed potatoes and gravy rank really high on my top comfort foods list! Other than my 4-year-old daughter, who doesn't love mashed potatoes?! It just doesn't even make sense not to like them, right?! Although I have been tempted to, (tempted – I haven't done it!), I could just drink the holiday gravy out of a glass and call that a meal. But let's be honest, mashed potatoes and gravy really is all about the gravy.
I know lots of folks are intimidated by the thought of making their own gravy – but it really is easy! I promise! You can use whatever kind of meat drippings you like – my favorite is ham gravy – just give me a pool of it, y'all! In this case, I used roasted chicken – and with Thanksgiving just two weeks away, it will make an awesome turkey gravy!
Keep reading because I'll even tell you how to make a gravy without drippings in case you ever need it!
What is your favorite Thanksgiving side dish?!
Other Posts You May Enjoy: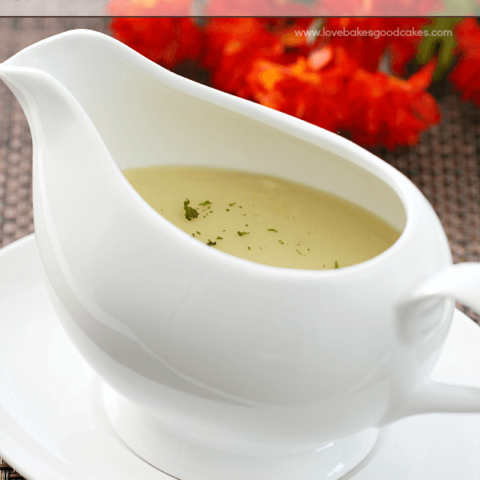 How To Make Perfect Gravy
Don't buy that canned stuff - I'll show you how to make PERFECT GRAVY - flavorful and no lumps! Perfect for holidays!
Ingredients
Drippings from cooked meat
Cool water or broth
1/4 cup flour
Pepper, to taste
Instructions
Carefully pour drippings (juice and fat) from roasting pan into a heatproof measuring cup or fat separator. Let stand until fat rises to the top.
Remove ¼ cup of the fat; returning it to roasting pan. Discard any remaining fat. Add enough water or broth to remaining drippings to measure 2 cups, if necessary.
Place roasting pan over two burners over medium heat. Add flour to reserved fat; stirring constantly with wire whisk until well blended.
Gradually whisk in the 2 cups of drippings/broth. Bring to boil. Reduce heat to medium-low; simmer 5 to 10 min. or until slightly thickened, stirring frequently.
Season to taste with pepper.
Notes
**Did you know you can still make a great gravy without pan drippings?!
In a medium saucepan, use ¼ cup of butter or oil in place of the separated fat and use 2 cups broth in place of drippings! You can also add you favorite herbs to either variation!
Nutrition Information:
Amount Per Serving:
Calories:

57
Total Fat:

0g
Saturated Fat:

0g
Cholesterol:

0mg
Sodium:

0mg
Fiber:

0g
Sugar:

0g
Protein:

2g