Looking for something a little different for dinner tonight? This is a great, quick meal – and it's easy on the budget! We enjoy this with Pistachio Salad and/or fruit.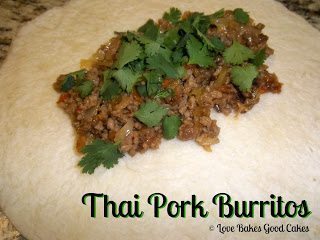 Thai Pork Burritos
Yield: 4 servings
1 lb. lean ground pork
1/4 cup bottled stir-fry sauce
1 tbsp. lime juice
1 clove garlic, minced
2 cups coleslaw mix
1 small onion, thinly sliced
1 tsp. sriracha sauce (or more to taste)
4 large flour tortillas, warmed
Fresh cilantro, chopped
In a large nonstick skillet, cook and crumble the pork over high heat until pork is cooked through. Stir in stir-fry sauce, lime juice, garlic, coleslaw mix, onion and sriracha sauce. Continue to cook and stir until vegetables are wilted and mixture is well mixed. Spoon equal portions onto tortillas; garnish with cilantro. Roll up. Serve immediately.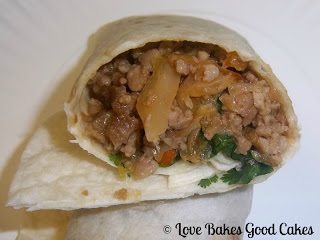 I hope you enjoy!
Shared at
these
fun parties!