Change up your boring dinner routine with this Spicy Thai Chicken Noodle Soup! An easy recipe that comes together quickly!
Thai Soup recipe
Although this might look or sound like a complicated recipe, I assure you it is not! It actually comes together in less than 30 minutes – making it perfect for a quick dinner idea any night of the week!
I got this recipe from my friend, Michelle, from A Dish of Daily Life. She recently had surgery, and a few of her blogging friends have been posting her recipes and sharing her stuff on our social media to keep her blog going while she recovers! She shares mostly healthy recipes with a few indulgences! I had the opportunity to meet Michelle last year in Las Vegas and again in Austin. She is such a fun person, and I love her to pieces!
I've wanted to make this recipe for a while. I finally made it back in December, but because of life, I haven't had the chance to post it until now! We've made it 3 or 4 times since, and it's always a hit with my family – especially with my 15-year-old, Isaac! As a matter of fact, we have a batch of the paste in the refrigerator right now, so we can make another pot of this soup tomorrow! (I need the leftover chicken from tonight for the soup, too!)
I hope you enjoy this recipe as much as we do! ?
Other recipes you may enjoy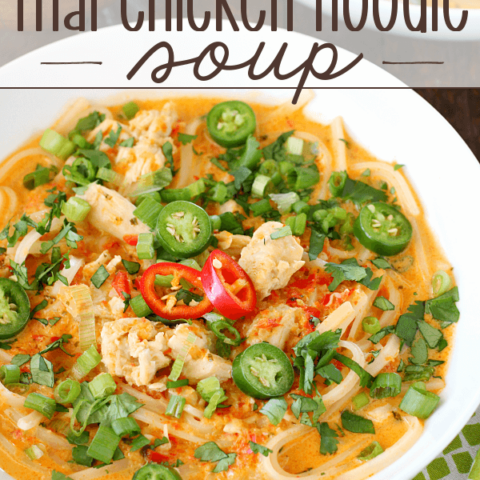 Spicy Thai Chicken Noodle Soup
Change up your boring dinner routine with this Spicy Thai Chicken Noodle Soup! An easy recipe that comes together quickly!
Ingredients
For the soup
2-3 cloves garlic
1 medium onion, quartered
1 red pepper, chopped
2 tablespoons fresh ginger (or ginger paste)
1 tablespoon lemongrass paste
2 tablespoons red curry paste
2 tablespoons chopped cilantro
2 Fresno chili peppers, chopped
2 tablespoons coconut oil
4 cups chicken broth
1 can (13.5 oz.) coconut milk
2 cups shredded chicken
7 oz. rice noodles
1 tablespoon fish sauce
1 large lime, zested and juiced
For garnish
chopped cilantro, chopped green onion, red and/or green chili slices
Instructions
Place the garlic, onion, red pepper, ginger, lemongrass, red curry paste, cilantro, chili peppers, and coconut oil in the bowl of a food processor. Cover and process until a paste forms.
Add the paste to a soup pot and heat over medium-high heat until it becomes fragrant. Add the chicken stock and coconut milk and bring to a boil. Add the rice noodles and stir. Reduce heat and simmer 10 minutes, stirring occasionally.
Add shredded chicken to the soup pot and heat through.
Just before serving, add the fish sauce, lime juice, and lime zest. Stir well to combine.
To serve, garnish with cilantro, green onions, and chilies.
Nutrition Information:
Amount Per Serving:
Calories:

480
Total Fat:

28g
Saturated Fat:

19g
Cholesterol:

40mg
Sodium:

598mg
Fiber:

2g
Sugar:

5g
Protein:

17g