Crunchy and full of soft tofu, Teriyaki Tofu Lettuce Wraps are a healthy option. Even if you're not a huge fan of tofu, you'll love these!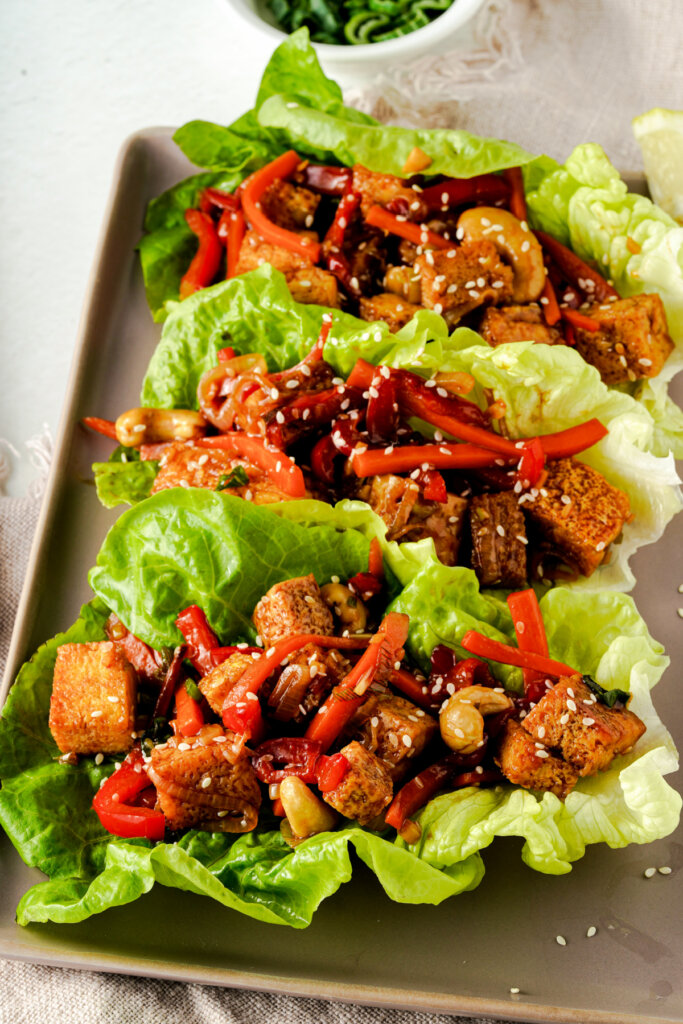 Tofu Lettuce Wraps
Before I rave about these teriyaki tofu lettuce wraps, and I WILL rave about them …
You might be wondering, "What is tofu, anyway?!" It's becoming more popular and less exotic than when I was younger, that's for sure! It makes for a very healthy and traditional Asian food item, consisting of soybeans curdled into soft, square cakes with a smooth, creamy texture. It's also a very old food … "2000 years" old! "Han Dynasty" old! (Think Mulan times!)
But it's good, y'all, trust me, or else I wouldn't be sharing it with you today. It's not "old people" food!
These teriyaki tofu lettuce wraps are almost like tacos, replacing the crispy tortillas with equally crispy lettuce packed with savory teriyaki sauce and soft tofu for an Asian taste. It's budget-friendly and easy to make and can convert any skeptic to a tofu-lover.
Plus, if you're watching what you eat, teriyaki tofu lettuce wraps are full of plant-based protein and calcium while staying low in calories and fats. They're a healthy and diet-conscious addition to just about any meal, though if you're vegan or vegetarian, I'm sure you already knew that, right?!
I don't share a lot of vegan or vegetarian recipes on the blog, but this one is way, way too good! Enjoy!!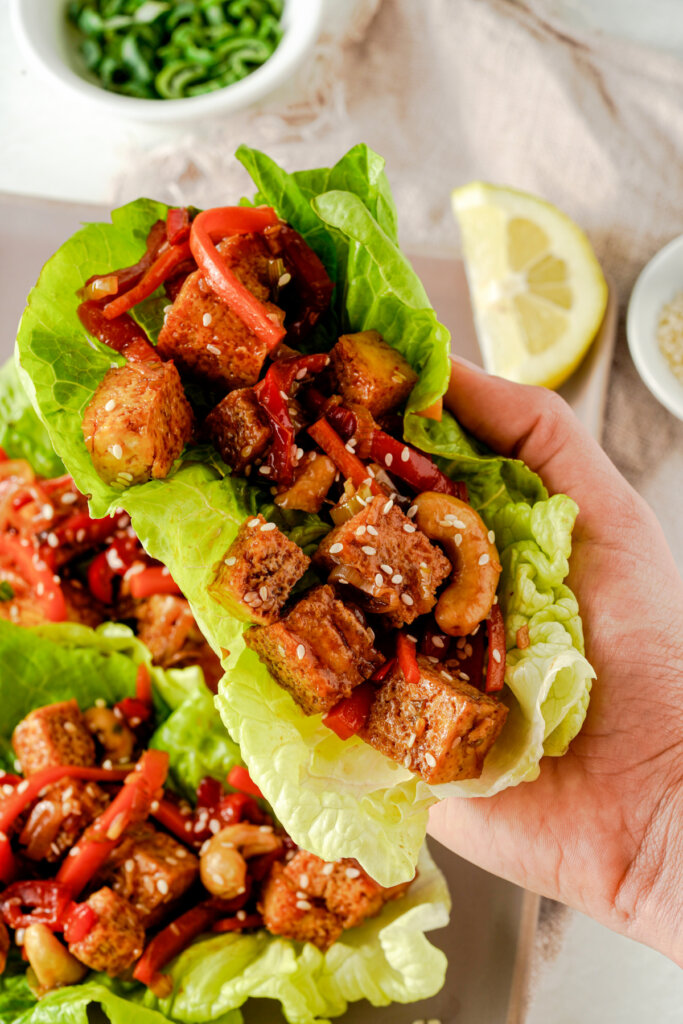 Teryaki Tofu Lettuce Wraps: Ingredients & Equipment
To make this Tofu Lettuce Wraps recipe, you'll need …
Ingredients
romaine lettuce – romaine lettuce is the best for this particular recipe, but other kinds of lettuce you can use include butter lettuces like Boston and bibb. Even leaf iceberg lettuce can work just fine!
teriyaki sauce – you can try heating some of the teriyaki sauce in a pan until it thickens, then drizzling it over the tofu for a sweeter and stickier taste.
tofu – diced. Tofu comes in both "firm" and "silken" varieties. The latter is much softer and smoother but contains less protein as well. It's up to you which one you choose!
carrots, onions, pepper, garlic – your other veggies. Delicious!!
cashews – natural or roasted are both good. And you can replace them with roasted peanuts and/or almonds if so desired … or omit them altogether for a nut-free allergy dish!
sesame seeds – for more texture and crunch!
olive oil – to saute the tofu and veggies.
soy sauce – for additional Asian flavor.
Equipment
skillet – to cook your tofu and veggies! Just FYI, though, y'all, if you have an Asian wok lying around, that would work even better. (I suggest investing in one if you like Asian-style food a lot!)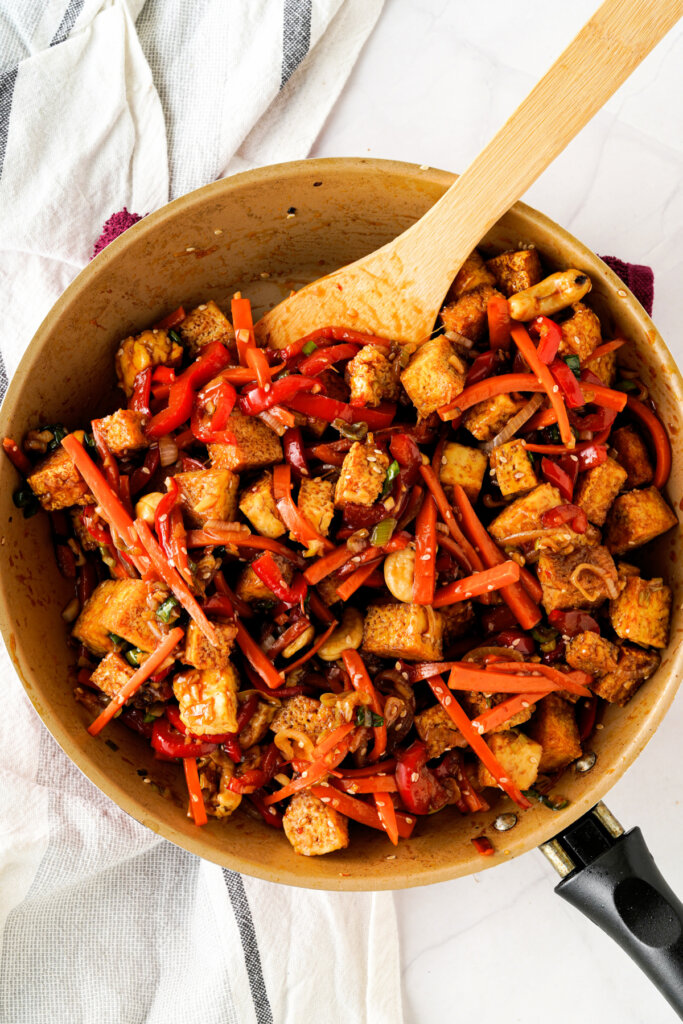 Teriyaki Tofu Lettuce Wraps: FAQs
How long does it take to make teriyaki tofu lettuce wraps?
Not longer than a half-hour! It's a quick meal idea for sure!
How many wraps does this recipe make?
About 2-3, depending on how much "stuff" you want in your wrap!
I don't have teriyaki sauce! Is there a way to make it at home?
If you don't have teriyaki sauce, you can replace it with …
– barbecue sauce, with a splash of rice vinegar
– soy sauce mixed with peanut butter, maple syrup, and rice vinegar, to taste
– hoisin sauce which is a sauce made from a combination of fermented soybeans, five-spice powder, garlic, red chili peppers, and sugar. Most brands are naturally vegan and extremely good, y'all!

Of course, these won't bring you to the exact taste of teriyaki, but they'll get you close enough – or taste so good you won't even care you're missing it!!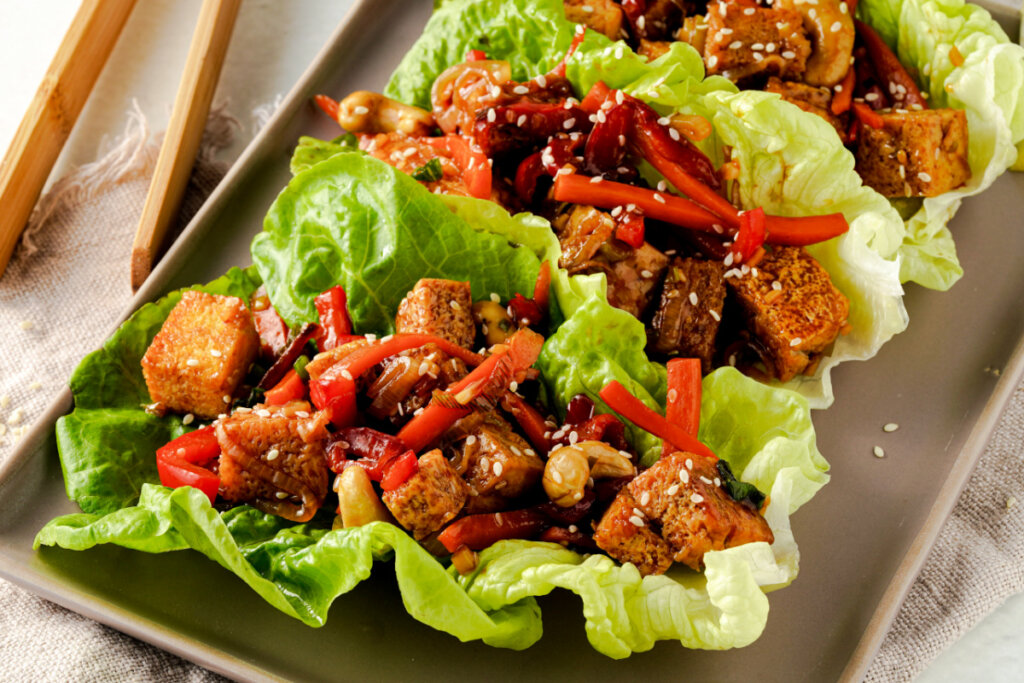 Other recipes you may enjoy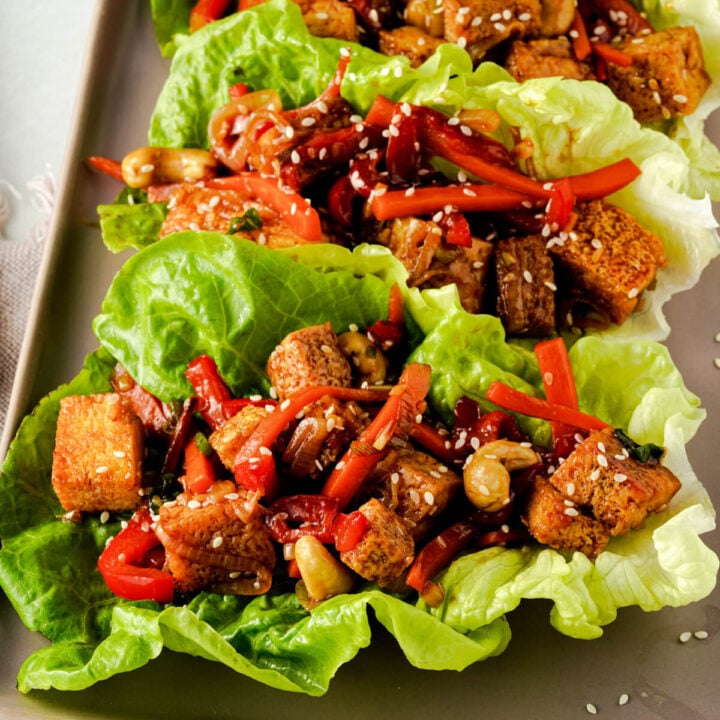 Teriyaki Tofu Lettuce Wraps
Crunchy and full of soft tofu, Teriyaki Tofu Lettuce Wraps are a healthy option. Even if you're not a huge fan of tofu, you'll love these!
Ingredients
2 tablespoons olive oil, divided
1 lb. firm tofu, drained and diced
1 large carrot, julienned
1 red bell pepper, julienned
2-3 green onions, sliced with white and green parts separated
1 clove of garlic, minced
a hand full of cashews
1/4 cup teriyaki sauce
2 tablespoons soy sauce
2 teaspoons sesame seeds
1 head of romaine lettuce, washed and dried
Instructions
Add one tablespoon of olive oil into a skillet. Add the tofu and sauté until golden and crispy on the sides. Remove the tofu from the pan and set it aside.
Add the remaining one tablespoon of olive oil into a large skillet, and add the carrot and red bell pepper. Sauté for a couple of minutes until slightly soft. Next, add the sliced green onion (the white part) and minced garlic. Stir for 2 more minutes until fragrant and soft.
Remove the skillet from the heat and add tofu, cashews, teriyaki sauce, soy sauce, sesame seeds, and some slices of the green part of the green onion. Stir to combine.
Fill your lettuce with the tofu filling and enjoy!
Notes
For spicy wraps, add some chili flakes in step 3.
Romaine lettuce is the best for these recipes, but Boston, bibb, or even leaf iceberg lettuce would work.
Cashew nuts can be natural or roasted and easily replaced with roasted peanuts.
Recommended Products
As an Amazon Associate and member of other affiliate programs, I earn from qualifying purchases.
Nutrition Information:
Yield:

3
Serving Size:

1
Amount Per Serving:
Calories:

303
Total Fat:

19g
Saturated Fat:

3g
Trans Fat:

0g
Unsaturated Fat:

15g
Cholesterol:

0mg
Sodium:

1543mg
Carbohydrates:

19g
Fiber:

8g
Sugar:

10g
Protein:

21g
Please note that the nutritional information listed on this page is an estimation based on the products I used. Ingredients and nutritional information can vary significantly between brands. Always be sure to read labels. Please verify that a recipe fits your needs before using it. Nutrition info may contain errors, so please verify it independently. Likewise, recipes may contain errors, so please use your common sense when following them.