This BLT Avocado Chicken Salad Wraps recipe makes a quick and easy dinner or lunch idea! Imagine a chicken salad combined with a BLT – all in a delicious, convenient wrap form. Sounds good, doesn't it?!
Chicken Salad with Avocado
Recently, I needed a quick dinner idea. Although BLT sandwiches sounded good, I only had 8 pieces of bacon for 7 people … so obviously, a traditional BLT was not gonna work. I mean, I could have had a sandwich, but what was everyone else going to eat?! 😂
Thinking outside the box a bit, but still going with the BLT idea, I came up with this salad wrap recipe. I had some leftover chicken from the night before and an avocado that needed to be used, so this was a cinch to throw together! Think chicken wrap + BLT + avocado. A match made in heaven! It's so good and so simple to make too.
Make these chicken salad wraps for lunch or dinner, or even as a snack, any time of year, any day of the week. They're a winner for the whole family.
There's this saying … "necessity is the mother of invention" … and when I needed a recipe, I invented this one! It's dang good if I say so myself! This BLT Avocado Chicken Salad Wraps recipe is the best chicken salad recipe! Enjoy!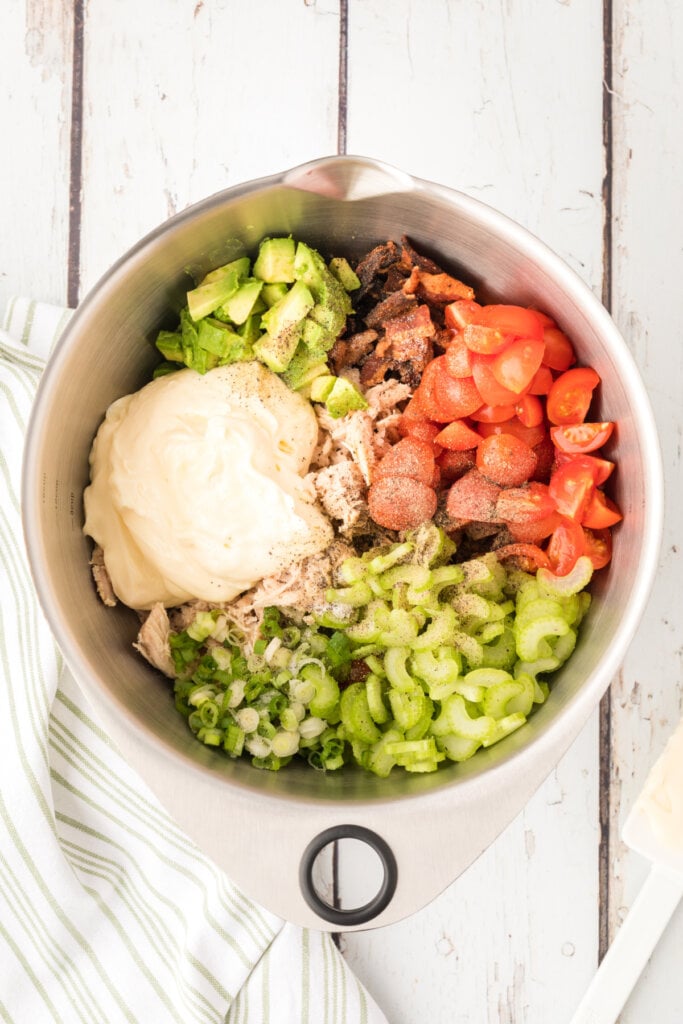 BLT Chicken Salad: Ingredients & Equipment
To make this chicken salad with avocado, you'll need …
Ingredients
tortillas – burrito-sized and warmed. These are your wraps, of course!
bacon – you'll need one or two pieces for each wrap, cooked and crumbled so you've got nice crunchy bits!
chicken – cubed, shredded … plain, buffalo, ranch … however, you like it, so long as it fits into a wrap and you enjoy it. You can use chicken breasts or chicken tenderloin, or even ground chicken if that's what you prefer.
cherry tomatoes, celery, green onions, lettuce leaves – your veggies, plus the "LT" of the "BLT" part in this wrap. Make sure they're all diced and quartered so they fit into the tortilla.
avocado – pitted and chopped. The last little part of this wrap, and an ingredient you can't leave out, in my opinion! It's truly the icing on the cake here!
mayonnaise, lemon juice, Worcestershire sauce, salt, pepper – these form your chicken salad "dressing" and they're oh so good. Be sure to adjust the salt and pepper to your tastes!
NOTE: When it comes to veggies especially, you'll want to use the freshest ingredients you can find. The chicken can be leftover, but the veggies? You'll want the good stuff!! I know this seems like a no-brainer, but you'll taste the difference – trust me! There's a big gap between an OK chicken salad wrap and a spectacular one!
Equipment
bowl – to mix all your ingredients before putting them into the wrap!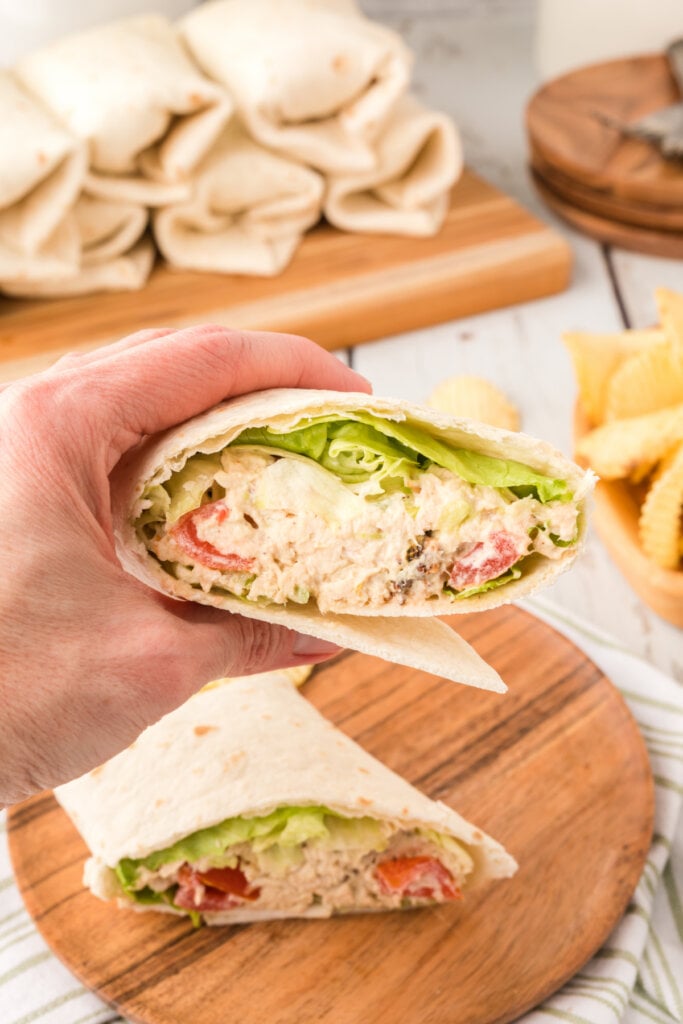 Chicken Salad Wrap: FAQs
How long does it take to make this BLT chicken salad wrap?
If you already have cooked chicken, just a few minutes as you combine the ingredients and wrap them up! If you don't have cooked chicken, I'd say about a half-hour (10 minutes for prep, 20 for cooking).
How many wraps does this recipe make?
About 6-8, depending on how much "stuff" you like in your wrap!
Is there a specific kind of lettuce you suggest?
Romaine or iceberg lettuce is your best bet here!
Is this a good make-ahead recipe?
You can leave it in the fridge for up to 6 hours – I'd wrap it in plastic wrap or something similar. But, honestly, it's best eaten immediately! You want all those ingredients fresh!
Other recipes you may enjoy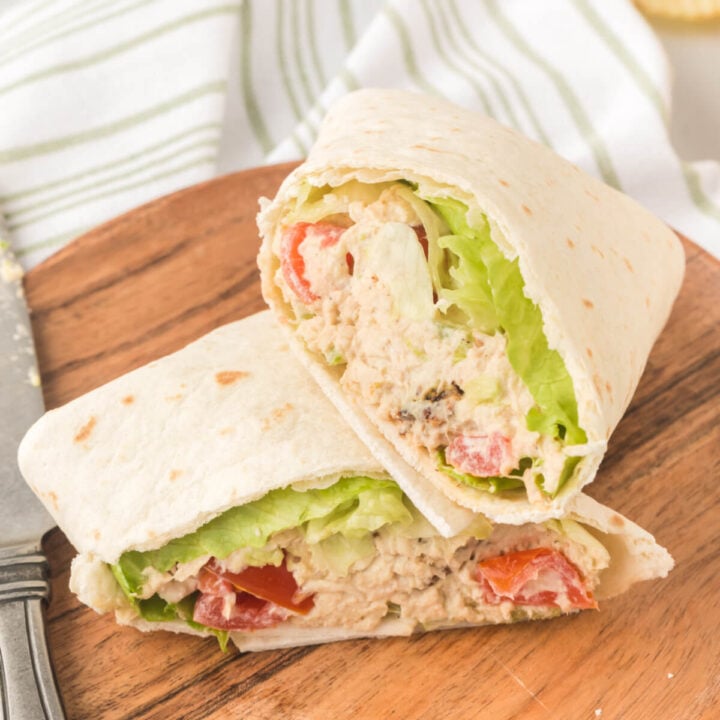 Bacon Lettuce Avocado Tomato Chicken Salad Wraps
This BLT Avocado Chicken Salad Wraps recipe makes a quick and easy dinner or lunch idea! Imagine a chicken salad combined with a BLT - all in a delicious, convenient wrap form. Sounds good, doesn't it?!
Ingredients
3 cups cooked, cubed or shredded chicken
6-8 slices of bacon, cooked and crumbled
1 cup cherry tomatoes, quartered
2 stalks celery, chopped
2 green onions, minced
1 avocado, pitted and chopped
6-8 lettuce leaves, rinsed and dried
3/4-1 cup mayonnaise
1 teaspoon. lemon juice
dash Worcestershire sauce
salt and pepper, to taste
6-8 large burrito-size tortillas, warmed
Instructions
Place the chicken, bacon, tomatoes, celery, green onions, and avocado in a medium bowl. Add the mayonnaise, lemon juice, Worcestershire sauce, salt, and pepper. Gently mix until thoroughly combined.
Line tortillas with lettuce leaves. Top with chicken salad mixture.
Roll up like a burrito. If desired, cut the wrap in half and serve immediately.
Notes
To make this slightly better for you, you can use low-fat mayo.
Or substitute the mayo for Greek yogurt!
Change up the flavors by using buffalo chicken, lemon-pepper chicken, ranch chicken, etc...
Add some fresh herbs for a new spin on the flavors!
Recommended Products
As an Amazon Associate and member of other affiliate programs, I earn from qualifying purchases.
Nutrition Information:
Yield:

8
Serving Size:

1 burrito
Amount Per Serving:
Calories:

1286
Total Fat:

63g
Saturated Fat:

20g
Trans Fat:

1g
Unsaturated Fat:

38g
Cholesterol:

121mg
Sodium:

2793mg
Carbohydrates:

130g
Fiber:

22g
Sugar:

12g
Protein:

55g
Please note that the nutritional information listed on this page is an estimation based on the products I used. Ingredients and nutritional information can vary significantly between brands. Always be sure to read labels. Please verify that a recipe fits your needs before using it. Nutrition info may contain errors, so please verify it independently. Likewise, recipes may contain errors, so please use your common sense when following them.
Originally published on August 24, 2014. Updated on June 3, 2022.