Are you a smoothie fan? As weird as it probably sounds, I run in streaks …. sometimes, I have them every single day … and other times, I won't have one for months. This Strawberry Peach Smoothie was the first one I've had in probably 2 or 3 months – I don't know how I went almost all summer without one?!

My local grocery store had peaches on sale for .69/lb last week and strawberries were .99/lb. They also had grapes for .85/lb. and plums for .69/lb. Needless to say, I got a bunch of fruit! I have noticed the prices of produce here in Arizona is a lot nicer than when we lived in North Carolina …. the milk prices are better here, too! However, I think we pay more for meat and some of the general grocery stuff than we did on the East coast. I'm sure it all evens out in the end though, right? How are your produce prices faring this time of year?
Do you ever have those moments when you want something, but you're not sure what you want? (It happens to me all the time!!) My 12 year old suggested making smoothies the other day and I thought it sounded great – and we had plenty of fruit to make them with, so why not?!
You can make this with fresh fruit or if you're like me, you can freeze some of the fruit ahead of time. The choice is yours – either way is delicious!

Strawberry Peach Smoothie
Printable recipe
Yield: 2 servings
1 cups strawberries, hulled (frozen if desired)
1 large peach, pitted and cut into wedges (frozen if desired)
1 cup milk or orange juice (you may need a little more or less, depending on how thick you like it)
½ cup of your favorite yogurt (I used peach)
1 tbsp. honey
Additional strawberries or peaches for garnish (optional)
Optional – Freeze the fruit in a single layer until frozen.
Place all of the ingredients in a blender and process on high speed until they are smooth. Garnish with additional strawberries or peaches if desired. Serve.
I'm wondering how plums would be in a smoothie – has anyone ever tried it?! That may be my next smoothie experiment! What's your favorite smoothie combo?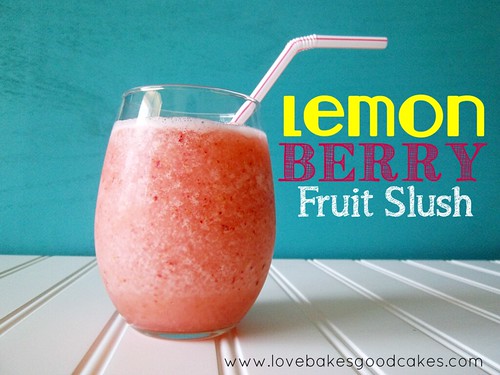 I hope you enjoy! Shared at these
fun parties!
Featured at Craftionary, Everyday Mom's Meals, Daily Buzz – Moms, Skip To My Lou and Ms. enPlace
Don't forget to share and comment ♥
Copyright © Love Bakes Good Cakes 2012-2013 All Rights Reserved