This No-Bake Peach Cheesecake is so quick and easy, not to mention delicious! It's the perfect treat all year long!
This post may contain affiliate links. As an amazon associate, I earn from qualifying purchases. See my full Disclosure Policy for details.
Peach Cheesecake
I look forward to peach season every year. I'm not gonna lie, I wish it were a longer season. There's nothing better in the middle of the summer than a fresh, juicy peach!
It should come as no surprise that I like to use peaches to flavor many of our summer treats … but what do you do during the off-peak season? Many years ago, I experimented with using peach Jello in my no-bake cheesecake recipe – and now, it's a family favorite! While I personally LOVE peach, you can use any flavor of Jello you like! I think we've tried all of the flavors and my family also really likes lime and strawberry! ?
This is one of the easiest dessert recipes ever! You will only need a few ingredients to make this mouth-watering No-Bake Peach Cheesecake! I love taking a few of these babies to potlucks, and we almost always include one of these cheesecake pies in our summer get-togethers!
I will also note that you can easily make your own graham cracker crust in a 9×13-inch pan and double the recipe for the cheesecake part to feed a larger crowd. Sometimes, I put graham cracker crumbs in the bottom of a small glass jar and fill the jars with the cheesecake filling. Feel free to adjust the recipe a bit to fit your needs! The pre-made graham cracker crumb crusts work for me because they're so easy!
Other recipes you may enjoy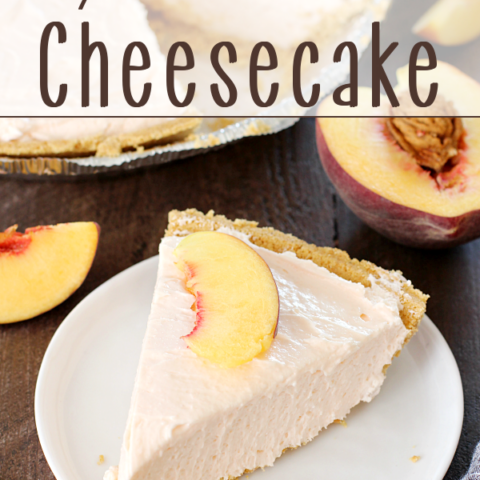 No-Bake Peach Cheesecake
This No-Bake Peach Cheesecake is so quick and easy, not to mention delicious! It's the perfect treat all year long!
Ingredients
2 blocks (8 oz. each) Challenge Cream Cheese, softened
1/2 cup granulated sugar
1 box (3 oz.) Jello peach flavored gelatin
1/3 cup vanilla flavored dry coffee creamer
1 container (8 oz.) frozen whipped topping, thawed
1 (9-inch) graham cracker crumb crust
Instructions
Place the cream cheese in a large mixing bowl. Mix it well with an electric mixer. Add the sugar, peach gelatin and coffee creamer. Mix well. Add the whipped topping and mix until well combined. Spread the mixture into the pie crust. Cover and refrigerate for at least 2 hours before slicing and serving.
Nutrition Information:
Amount Per Serving:
Calories:

634
Total Fat:

43g
Saturated Fat:

21g
Cholesterol:

112mg
Sodium:

459mg
Fiber:

1g
Sugar:

28g
Protein:

19g