Dinnertime got you in a panic? Are you short on time or just don't feel like cooking? This Southwest Cheeseburger Mac is quick and easy – but more importantly, delicious – thanks to VELVEETA Cheesy Skillets! #VELVEETA #WhatMySkilletIsFor #ad
Southwest Cheeseburger Mac with VELVEETA Cheesy Skillets #WhatMySkilletIsFor
I have been selected by Kraft Foods to be a spokesperson for VELVEETA Cheesy Skillets. While I have been compensated for my time, my opinions are my own.
As a food blogger, my mind is constantly thinking of new recipes or ways to tweak old ones. Seriously, it never shuts off. Most of the time, that works to my advantage because it gives me plenty of things to blog about! 🙂 My family will tell you that we rarely have the same thing twice …. and if we do, it's always with a new twist. There are a few exceptions, of course. But mostly, it's true. And if we do have it twice, I can tell you when we last had it by the date of the blog post!!! No joke. I know some of the food bloggers reading this are like, "girl … that is so me!!" It's in our food blogger nature and it's what we're passionate about, we just can't help it.
Keeping it real though …. sometimes I cheat. Yep. I take shortcuts. On a rare occasion, I even feed my kids cereal for breakfast! *gasp* Some days, I don't feel like cooking at all …. it happens to all of us. Even food bloggers.
The Velveeta story
I heard this story a few weeks ago that I thought was absolute genius. Y'all know those online auction sites? They always have soooo many things for sale. I mean, you can buy almost anything in an online auction ….. dachshund condiment trays, old spark plugs and even parrot-topped lava lamps. So here's the story … VELVEETA – you know, the Liquid Gold cheese people …. noticed that among all of this stuff on the online auction sites, there were also thousands of skillets listed too. Obviously, the sellers must not have known or may have forgotten what their skillets are for. So what does VELVEETA do? You guessed it! They bought more than 1,000 of these skillets and sent them back to the sellers with a box of VELVEETA Cheesy Skillets (and some other cool swag) to show these sellers what their skillets are for – VELVEETA Cheesy Skillets!! Isn't that the greatest thing?!
When I heard about VELVEETA's story, I was slightly amused at the thought of these people getting their skillets back and I had to wonder how many people they told of this awesome marketing job!! You know all of their friends and family heard about it! They even took to Facebook and Twitter to tell VELVEETA how much they enjoyed getting their skillets back! EPIC!! VELVEETA knew that once people realized what their skillets are for, they'd be more than happy to get their skillet back and share the news with people!
Velveeta #WhatMySkilletIsFor
This story stuck with me. On those days when I don't feel like cooking, I remember #WhatMySkilletIsFor – and I make a pan of VELVEETA Cheesy Skillets. Being a food blogger, y'all know it's hard for me to leave things alone – I do tend to put my own spin on things. Today, I'll be sharing one of those spins in my Southwest Cheeseburger Mac. It's still just as simple to make as the regular way since we're only adding a few cans and some extra seasoning. It's perfect for a busy night and it's a dish the family will love!
I am looking forward to trying the VELVEETA Cheesy Skillet – Chicken Parmesan next! It's a new flavor – so be sure to look for it on your next shopping trip! You can see more product information and a list of varieties with the VELVEETA Facebook App.
You're going to start off by browning and crumbling your ground beef. I like to drain mine even if it's really lean beef. I also rinse my beef too – does anyone else do that?
To that, we're going to add the ingredients listed on the box, some tomatoes, black beans and taco seasoning. Let it do its thing on the stove while you prepare a salad or veggie. Now is a great time to chop some cilantro for the garnish too!
Liquid Gold, baby! Pour that awesome creamy VELVEETA cheese sauce into the pan … and give it a stir. Although you may be tempted to chug the VELVEETA cheese sauce instead of adding it to the pan – don't do it. 😉
Serve your Cheesy Skillet with sour cream and a sprinkle of cilantro. Dinner is ready!
Velveeta Cheesy Skillets
VELVEETA Cheesy Skillets are premium dinner kits that offer consumers delicious and easy dinnertime solutions that will make your family smile! My family loved this Southwest Cheeseburger Mac – and I loved how quick and easy it is! Wield your skillets and forge the family dinner with the Liquid Gold of VELVEETA. Never forget that with just a skillet and some ground beef, chicken or tuna, you can smite a meal that will solder your family together, forever!
You have the chance to win your very own skillet and two boxes of VELVEETA Cheesy Skillets.
Other recipes you may enjoy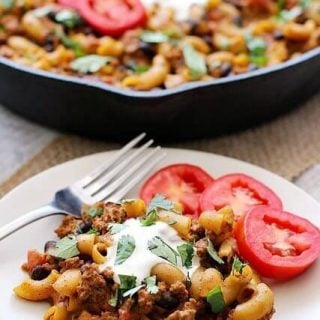 Southwest Cheeseburger Mac
This Southwest Cheeseburger Mac is quick and easy - but more importantly, delicious - thanks to VELVEETA Cheesy Skillets!
Ingredients
1 box (12.8 oz.) VELVEETA Cheesy Skillets Ultimate Cheeseburger Mac plus ingredients listed on box
1 pound lean ground beef
1 can (15 oz.) black beans, rinsed and drained
1 can (10 oz.) diced tomatoes with green chilies, drained
3 Tablespoons (about half of a 1.25 oz. packet) taco seasoning (or use my homemade mix!)
Sour cream and sliced tomatoes, for serving
Cilantro, for garnish
Instructions
Brown and crumble ground beef in a skillet over medium-high heat until meat is no longer pink. Drain if necessary.
Add 2 cups water, the seasoning from the box, pasta, black beans, tomatoes and taco seasoning. Stir and bring to a boil. Reduce heat.
Cover and simmer, stirring often, until most of the water is gone (about 10-12 minutes). Remove from the heat.
Add the VELVEETA Cheese Sauce Pouch. Stir in the cheese sauce.

Top individual portions with sour cream, sliced tomatoes and cilantro, if desired.
Nutrition Information:
Amount Per Serving:
Calories:

431
Total Fat:

23g
Saturated Fat:

8g
Cholesterol:

75mg
Sodium:

751mg
Fiber:

7g
Sugar:

5g
Protein:

26g
Originally published on June 27, 2014. Updated on April 29, 2021.