This Skillet Chicken and Peppers is an easy Italian-style dinner idea made special with Star Butter Flavored Olive Oil. Serve it over your favorite pasta or rice for a dinner your entire family will love! #CollectiveBias #shop
Skillet Chicken and Peppers Dinner Recipe with Star Butter Flavored Olive Oil
Here's a little known fact about me …. I love gangster/mob movies and tv shows. I can't help it and I'm not even sure why I like them! One thing I notice in almost every one of those movies is, how close the family is and how much time they spend enjoying great food. Truthfully, I was always kind of envious of the people in those movies – I wanted those things – not so much the gangster life, but the close family and great Italian food. 🙂
Dinner ideas
My oldest son, Elijah, and I have been watching several of these gangster movies lately. Just the other day, we watched "Goodfellas" and I kept thinking to myself that I should make an Italian dish soon. One of these days, I'm going to make Henry Hill's meatballs! I wish I had an Italian grandma to share all of her cooking secrets with me
As I kept thinking about what I could make, I spotted that Star Butter Flavored Olive Oil at my local Walmart (currently it's the only store that carries it!) – can you see it up there on the top shelf?! I had never seen it before, but thought it would be delicious in an Italian-style dish. I bought some and it's been waiting for some kind of inspiration.
This past weekend, my family and I were out and about – enjoying Phoenix and our incredible weather! It was in the 90's, y'all!! As my memory would have it (or should I say, lack thereof), I forgot to set anything out for dinner before we left, so I asked Brian to stop by Fry's before we headed home so I could pick up a few things for dinner. I love that Fry's is convenient and the staff is always so helpful!
I decided I want to make something easy and fuss-free, but still full of flavor. So, I grabbed a few peppers in the produce department and headed back to the meat department. I wasn't really sure what I want to make, so I asked one of the meat department workers if they had any "really good deals" on meat right now. He told me that they actually had a whole case of chicken at a great price – so I picked up some boneless skinless chicken breasts and thighs.
Ingredients for Skillet Chicken and Peppers
I immediately started forming an idea in my mind for a skillet-type dish with the peppers and chicken – so I went to grab a can of diced tomatoes. Every Italian-style dish needs pasta, so I picked up some of that. I had to get some cheese too – cheese makes almost everything delicious! 🙂
Other recipes you may enjoy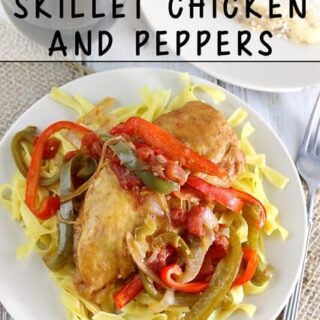 Skillet Chicken and Peppers
Total Time:
1 hour
15 minutes
This Skillet Chicken and Peppers is an easy Italian-style dinner idea made special with Star Butter Flavored Olive Oil. Serve it over your favorite pasta or rice for a dinner your entire family will love!
Ingredients
1 1/2 cups all-purpose flour
Salt and pepper, to taste
3-4 pounds chicken pieces
2-3 tablespoons Star Butter Flavored Olive Oil
1 onion, chopped
4 cloves garlic, minced
2 green peppers, seeded and cut into strips
2 red peppers, seeded and cut into strips
1 can (14.5 oz.) petite-diced tomatoes, undrained
1/2 teaspoon Italian seasoning
1/2 cup red wine or chicken broth
Cooked pasta or rice, for serving
Parmesan cheese, if desired
Instructions
Combine the flour, salt and pepper in large zip-top bag. Add the chicken pieces to the flour mixture and shake until the chicken is coated. Heat the oil in a large skillet. Brown the chicken on both sides. Remove the chicken to a plate.
In the same skillet, saute the onion, garlic, green peppers and red peppers until the veggies are slightly browned. Add the tomatoes, Italian seasoning and red wine; stir. Add the chicken back into the pan. Cover and simmer over medium-low heat for about 30-45 minutes or until the chicken is tender and the juices run clear. Serve with cooked pasta or rice. Top with Parmesan cheese, if desired.
Nutrition Information:
Amount Per Serving:
Calories:

795
Total Fat:

46g
Saturated Fat:

12g
Cholesterol:

198mg
Sodium:

1143mg
Fiber:

4g
Sugar:

5g
Protein:

54g
Originally published on April 15, 2014. Updated on April 26, 2021.