Perfect for those hectic nights, this family-approved Cheesy Chicken Broccoli & Rice Skillet recipe is made in ONE pan – making clean-up a breeze!
As you may notice, I'm posting more often now that we're into the new year! It feels good to be back after taking a much needed break from such a hectic posting schedule for the past four years!
I feel like so much has happened while I was away ….


We took a much needed family vacation back at the beginning of December – to the Los Angeles and Anaheim area! We had such a nice time, and for the most part, the weather was pretty cooperative – which was so nice! We visited the Natural History Museum of Los Angeles County, the California Science Center, the Los Angeles Zoo, The Aquarium of the Pacific – and of course, Disneyland!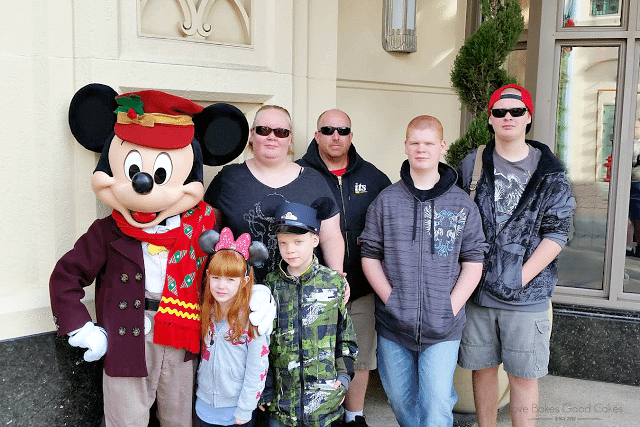 Although we ate dinner out many nights of our vacation, a few nights we made dinner at the hotel to save time and money. After many long days of checking out the sights, most nights we were more than ready to head back to the hotel! Having a hotel with a kitchenette was soooo helpful and we'll definitely do the same thing for our next vacation! Being a family of six, it's often hard to find restaurants that can accommodate us without having to wait an hour or more for a table – so I like to bring my slow cooker along or plan on simple one-dish meals! Not only is it a time saver, but in my case, it's a sanity saver! 😉 One of the meals we made while in California was this Cheesy Chicken Broccoli & Rice Skillet.
One of the reasons I love this Cheesy Chicken Broccoli & Rice Skillet is because I usually have all of the ingredients on hand to make this in a jiffy! If I don't have fresh broccoli on hand, there's always a bag or two in the freezer! With minimal prep work, it doesn't take long to get dinner on the table – and I'm only dirtying ONE pan!!


If you would like a creamier mixture, feel free to add one can of condensed cream of chicken soup with the rice and broth. We don't always do it, but it's a nice change sometimes!
Cheesy Chicken Broccoli & Rice Skillet
by Jamie @ Love Bakes Good Cakes
Prep Time: 10 minutes
Cook Time: 30 minutes
Yield: 4-6 servings
Ingredients
2 tbsp. vegetable oil
1 lb. boneless, skinless chicken breasts, cut into bite-sized pieces
Salt and pepper, to taste
1 small onion, chopped
2-3 garlic cloves, minced
1 cup long grain rice
2½ cup chicken broth
2 cups broccoli florets
1 cup Cheddar cheese, shredded
Instructions
2. Add the chicken and season to taste with salt and pepper. Cook, stirring occasionally, until the chicken is cooked through. Add the onion and garlic. Cook an additional 3-4 minutes, stirring occasionally, or until the onion is softened.
3. Add the rice and chicken broth to the pan. Stir to combine. Bring to a boil, cover, then lower temperature to medium-low to maintain a simmer. Cook for 12 minutes.
4. Add the broccoli to the pan and stir. Cover and continue to cook an additional 7-8 minutes or until the broccoli is tender-crisp and the rice is soft.
5. Sprinkle with cheese. Serve immediately.
Other Posts You May Enjoy:
Quick and Easy Chicken Fried Rice