This Beef with Barley Soup is easy, economical, and best of all, utterly delicious! Here's a soup recipe you'll want to keep around for those chilly days.
This post may contain affiliate links. As an amazon associate, I earn from qualifying purchases. See my full Disclosure Policy for details.
Southwest Beef Bean & Barley Soup
Y'all…
We have had this beef, bean, and barley soup three times in the last two weeks. The first time I made it, Brian told me he could eat it every day – he liked it that much! It's definitely becoming a staple at my house.
Of course, it took a while to really perfect this recipe. The first time I made beef with barley soup, I didn't add the beef or tomatoes, it felt like something was missing. Yes, I thought maybe the soup would still work well without meat! I guess it was more of a barley soup. And it still tasted wonderful, don't get me wrong, but it definitely needed more.
The second time, I re-added the beef, but it still felt like it needed something else. So the third time I added tomatoes, too. Absolutely delish.
Let me share that perfected recipe with you today!
Southwest Beef Bean & Barley Soup: Ingredients & Equipment
For this Southwest Beef Bean & Barley Soup recipe, you'll need …
Ingredients
olive oil, water, beef broth – the base of your soup. You can use homemade stock or store-bought. Whichever is easier for you!
pearl barley – if you've ever wondered, barley is a type of grain that's high in fiber. It looks a little like rice and has a similar texture, so it's a great filler in soups. On top of that, it has a beautiful, subtly nutty flavor that works wonderfully in this recipe. Yum!
beef stew meat – you'll want the lovely texture of melt-in-your-mouth beef for this one.
onion, celery, carrots, garlic, tomatoes – a good Beef Barley Soup is chock full of veggies, of course. 
black beans, great northern beans, kidney beans – while it isn't fully necessary, I like using all three of these beans to really add texture and flavor to the soup.
chili powder, ground cumin, dried oregano, salt – your spices. If you've made any of my other hearty soups, you're probably familiar with many of these. They're my go-to!
Equipment
For this recipe, you'll only need a Dutch oven or soup pot to make your soup. So simple!
Dietary note
You could easily make this vegetarian by leaving out the beef and switching to veggie broth. Also, seasoned gluten-free eaters know this well, but for those new to gluten-free eating, keep in mind that barley is a lesser-known grain that does contain gluten. As always, know your ingredients well!
Southwest Beef Bean & Barley Soup: FAQs
How many servings does this recipe for Beef Barley soup make?
About 8 bowls, give or take. Perfect for everyone in your family to have seconds on a cold afternoon.
How long does it take to make Beef Barley Soup?
This recipe requires 20 minutes of prep time and requires a little under 3 hours to cook. I will admit, it isn't a fast recipe. However, most of that time isn't "active" – you'll only have to stir the soup every so often. So, it's still very easy to make!
Can you use a different kind of beef besides stew beef?
Absolutely. I've seen people use steak or roast beef, or leftover beef from the previous night's dinner. It always feels better when you don't have to waste food, right?
Can you freeze this soup?
Yes. It'll last for 3 months in the freezer as long as you use an airtight container.
Other recipes you may enjoy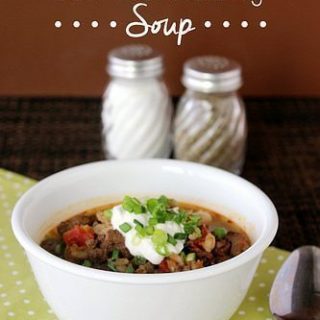 Southwestern Beef Bean & Barley Soup
Cook Time:
2 hours
55 minutes
Total Time:
3 hours
15 minutes
Y'all, we have had this Southwest Beef Bean & Barley Soup THREE times in the last two weeks. The first time I made it, Brian told me he could eat it every day - he liked it that much! This soup is a winner .... tried and true!
Ingredients
1 tablespoon olive oil
1-1 1/2 pounds beef stew meat, chopped into small pieces
1 large onion, chopped
1 stalk celery, chopped
2 carrots, peeled and chopped
3 cloves garlic, minced
9 cups water
4 cups (one 32 oz. carton) reduced-sodium beef broth
1/2 cup pearl barley
1/3 cup dried black beans
1/3 cup dried great northern beans
1/3 cup dried kidney beans
2 tablespoons chili powder
2 teaspoons ground cumin
1 teaspoon dried oregano
1 teaspoon salt
1 can (14.5 oz.) petite-diced tomatoes
Sour cream and green onions, optional
Instructions
Heat oil in a Dutch oven or soup pot over medium-high heat.
Add the beef and cook 3-4 minutes, stirring occasionally.
Add the onion, celery, carrot and garlic.
Cook, stirring occasionally, about 4-5 minutes.
Add the water, broth, barley, all of the beans, chili powder, cumin and oregano. Bring just to a lively simmer over high heat, then reduce heat to maintain a simmer.
Cook, stirring occasionally, about 2 hours. Add more water as necessary or if desired. Add the salt and tomatoes. Continue to cook an additional 30-45 minutes or until the beans are tender.
Top individual bowls with sour cream and green onions, if desired.
Nutrition Information:
Amount Per Serving:
Calories:

260
Total Fat:

6g
Saturated Fat:

2g
Cholesterol:

45mg
Sodium:

759mg
Fiber:

8g
Sugar:

4g
Protein:

25g
Originally published on February 17, 2014. Updated on April 25, 2021.