Turn up the heat and flavor with this Spicy Southwest Chicken Salad! It makes a quick and healthy dinner idea!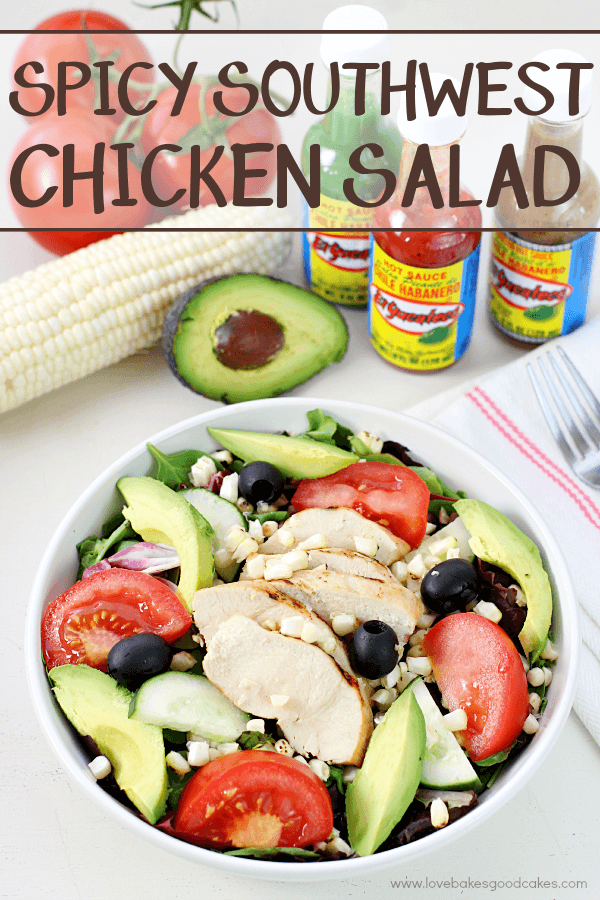 This shop has been compensated by Collective Bias, Inc. and its advertiser. All opinions are mine alone. #KingOfFlavor #CollectiveBias
Spicy Southwest Chicken Salad
With the scorching hot weather here in Phoenix, we have been enjoying quite a few salads for dinner. I love combining fresh fruits and vegetables with a grilled lean protein for a quick and easy meal. You may have noticed that chicken just happens to be a favorite in the Love Bakes Good Cakes house! Let's be honest … chicken can be kind of boring. But not today, friends! I have the perfect solution to kick boring to the curb!
We've been spending quite a bit of time outside – mostly swimming! After a long day, we love to gather on the patio for dinner while the sun sets.
El Yucateco Hot Sauces
Knowing that I wanted to make a Southwest-style salad for dinner, I thought it would be a great idea to incorporate some of our El Yucateco brand hot sauces into the recipe! I used the hot sauce as part of the marinade for the chicken and I also kicked it up with some tasty heat in our favorite Ranch dressing. Of course, depending on your family's preference, you could use the El Yucateco Red Habanero Hot Sauce – It is made with fresh red habanero peppers, tomato and select spices and seasonings. The red habanero sauce is the perfect "all purpose" sauce. It packs a little more kick than the average hot sauce but with far less vinegar, so you get the true flavor of the pepper when you add this sauce to any dish. It's what I used for our marinade and in our salad dressing.
If you prefer a hotter kick, you could use the El Yucateco Green Habanero Hot Sauce! Like the red habanero sauce, it is made with fresh green (instead of red) habanero peppers, garlic, select spices, and seasonings. It is El Yucateco's #1 seller nationally! It packs a fresh crisp habanero flavor that enhances the flavor of any dish when used as a condiment or blends perfectly into creamy dips toning down the heat while bringing that fresh habanero flavor to classic dips and dressings.
Making the chicken salad
If you're a real heat enthusiast, go big or go home with El Yucateco XXX Habanero Hot Sauce (Kutbilik)! It is a rescued recipe from the Mayan vault and has 90% of the fruit- the largest percentage of raw material in its category. This sauce is made from the ripest habaneros giving it a slightly rustic and earthy flavor. Although, it is El Yucateco's hottest sauce measuring approx. 12,000 on the Scoville scale, it is favored by all hot sauce lovers and is not so extreme that it can't be used as an everyday sauce either.
No matter which El Yucateco brand hot sauce you use for this recipe, it's sure to turn up the heat and flavor in this Spicy Southwest Chicken Salad! I know this recipe "looks complicated" because it looks long, but I assure you it is super easy and quick! Just an FYI – you can find El Yucateco brand hot sauces at Publix!
Oh!! And be sure to enter for a chance to win in the Social Sweepstakes that has a "Deluxe grilling package" including an incredible grill, cooler full of Yucateco and tools as part of the giveaway! Someone has to win it, why not you?!
Be sure to check out more delicious recipes at elyucateco.com. I'd love to hear your favorite!
Other Posts You May Enjoy: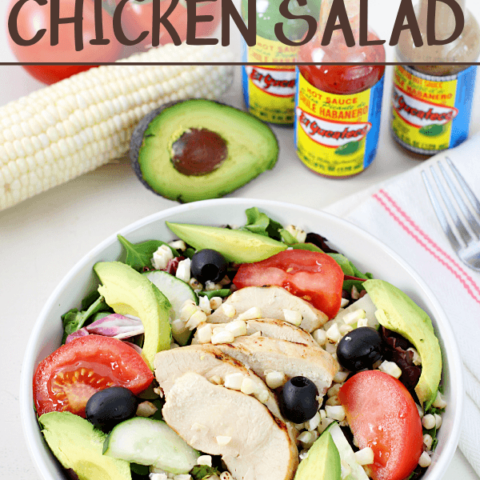 Spicy Southwest Chicken Salad
Turn up the heat and flavor with this Spicy Southwest Chicken Salad! It makes a quick and healthy dinner idea!
Ingredients
For the chicken
4 boneless, skinless chicken breast halves
3/4 cup low-sodium chicken broth
2 tbsp. (or more to taste) El Yucateco brand hot sauce (I used the red habanero sauce)
2 tbsp. distilled or cider vinegar
1 finely chopped garlic clove
1/2 teaspoon vegetable oil
1/2 teaspoon salt
For the corn
2 ears fresh corn, shucked and silks removed
1 tbsp. vegetable oil, for grilling corn
For the salad
4 cups mixed salad greens
1 medium cucumber, sliced lengthwise and cut into half circles
1 medium tomato, cut into wedges
1 medium avocado, seed removed and cut into slices
16 black olives
For the salad dressing
1 1/2 cup Ranch dressing (bottled or homemade)
2 tbsp. (or more to taste) El Yucateco brand hot sauce (I used the red habanero sauce)
Instructions
In a large zip-top bag, combine chicken broth, hot sauce, vinegar, garlic, vegetable oil, and salt. Add the chicken. Place in refrigerator and allow to marinate for 4 to 8 hours.
Preheat a grill to medium-high heat. Drain and discard the marinade. Lightly oil grill grate. Cook chicken on the prepared grill for 6-8 minutes per side, or until the juices run clear. Meanwhile, lightly oil the corn and place on grill. Rotate when dark spots appear and kernels deepen in color (usually about 2 to 3 minutes) until ears are uniformly cooked (about 10-12 minutes total time). The ear will be speckled with char spots. Once the corn and chicken are cooked through, remove from grill and allow to rest while you prepare the rest of the salad.
Using a sharp knife, cut corn from the cob.
Arrange and divide the salad ingredients on individual plates. Add corn.
Prepare the salad dressing by combining the ingredients in a jar with a tight-fitting lid. Shake well. Set aside.
Cut the chicken into strips or cubes and place on top of the salad.
To serve, drizzle each salad with prepared salad dressing.
Nutrition Information:
Amount Per Serving:
Calories:

690
Total Fat:

56g
Saturated Fat:

9g
Cholesterol:

87mg
Sodium:

1355mg
Fiber:

6g
Sugar:

10g
Protein:

26g