Can you believe this is my 100th post?! It seems like such a milestone to me, but it's probably child's play to some of the more experienced bloggers. 😉 I started this blog on February 27th, 2012 without any idea of what would happen, if anyone would read it, not knowing what an HTML code was or what a linky party was … I knew nothing about blog buttons or rss feeds … I had no idea how much time went into writing posts, taking pictures, editing pictures, editing your post, using social media to get your blog "out there" … I had no idea how much time goes into making your blog "just right" (does that ever happen by the way?!) … and I never really knew what a great community there is in blogging. How things have changed! Man, I have learned so much and y'all have been so great to me! 🙂 I am so thankful to everyone who takes the time to read, comment, share, encourage me and just be my Bloggy Friends!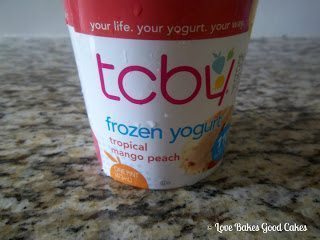 Today's recipe name is long (sorry – I didn't know what else to call it) – I'm sharing a Soft Tropical Mango Peach Coconut Cookie – The best part?!? It uses frozen yogurt and no eggs! 🙂 Don't fret if you can't find the exact same yogurt – you can use any frozen yogurt or sherbet! (You may have to call it something else, but it's all good!) I love this combination of flavors – if you can find this frozen yogurt, I definitely recommend it!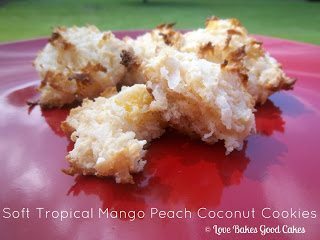 Soft Tropical Mango Peach Coconut Cookies
Yield: about 4-5 dozen
1 pint TCBY Tropical Mango Peach Frozen Yogurt, softened
2 tsp. vanilla extract
1 pkg. (18-1/4 oz.) dry white cake mix
1 bag (14 oz.) sweetened coconut flakes
Preheat oven to 350° F. Line a baking sheet with parchment paper and set aside. In a large mixing bowl, combine softened yogurt, extract and dry cake mix; mix well. Stir in coconut. Drop by tablespoonfuls 2-in. apart onto prepared baking sheet. Bake 12-15 minutes or until the edges are lightly browned. Remove to wire racks to cool.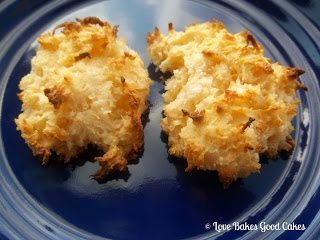 I hope you enjoy!
Shared at these
fun parties!
Featured at Lady Behind the Curtain