If you love coconut, you will LOVE this Coconut Cream Poke Cake! It is full of coconut flavor, and it is so moist! Perfect for holidays, potlucks, and summer picnics!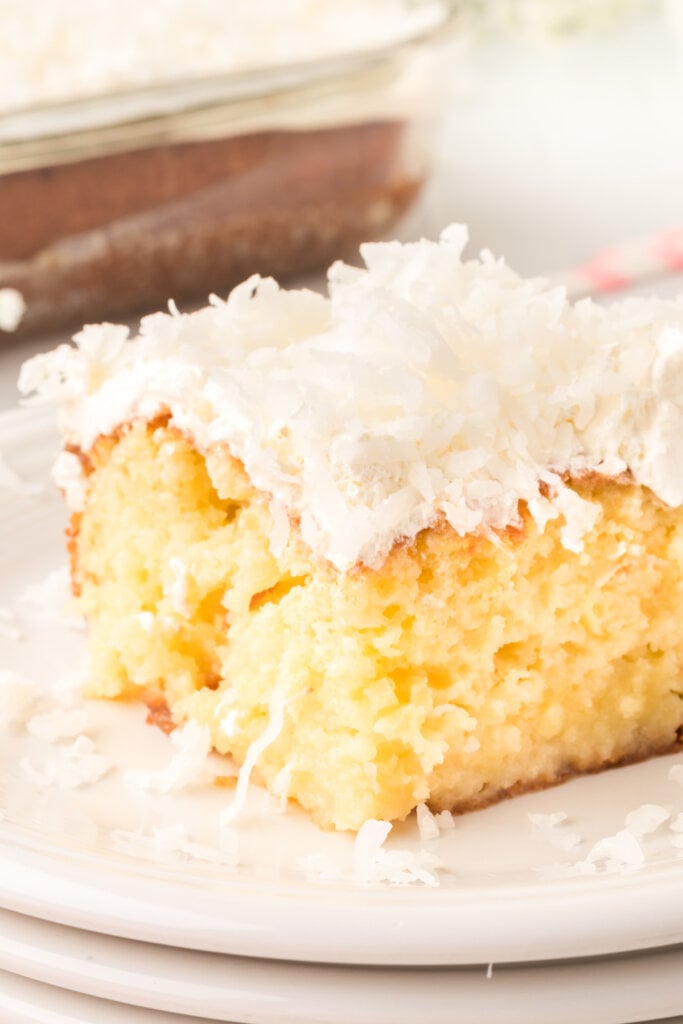 Coconut Cream Poke Cake
When I came up with this recipe, I'd been dying to make something new in my kitchen, though I wasn't sure what! Coconut sounded good to me, and poke cake sounded good too. So I thought, why not combine the two?! So I whipped up this coconut cream poke cake, and good gosh, it hit the spot.
You can have it at home with a hot cup of coffee, but it's also amazing for potlucks and cookouts. Trust me on that one!! It's super moist – and since it starts with a boxed cake mix, it's so easy to prep for an event or get-together!
Even if you're not a huge fan of coconut, you'll probably enjoy coconut cream poke cake. It's just that good and surprisingly filling for a dessert, too.
By the way, a poke cake is just a standard cake with holes poked into it so that you can drizzle a flavored filling into the holes and over the cake. Nothing too fancy! Although, with how good this coconut poke cake tastes, your friends may not believe you're not a professional baker. 😉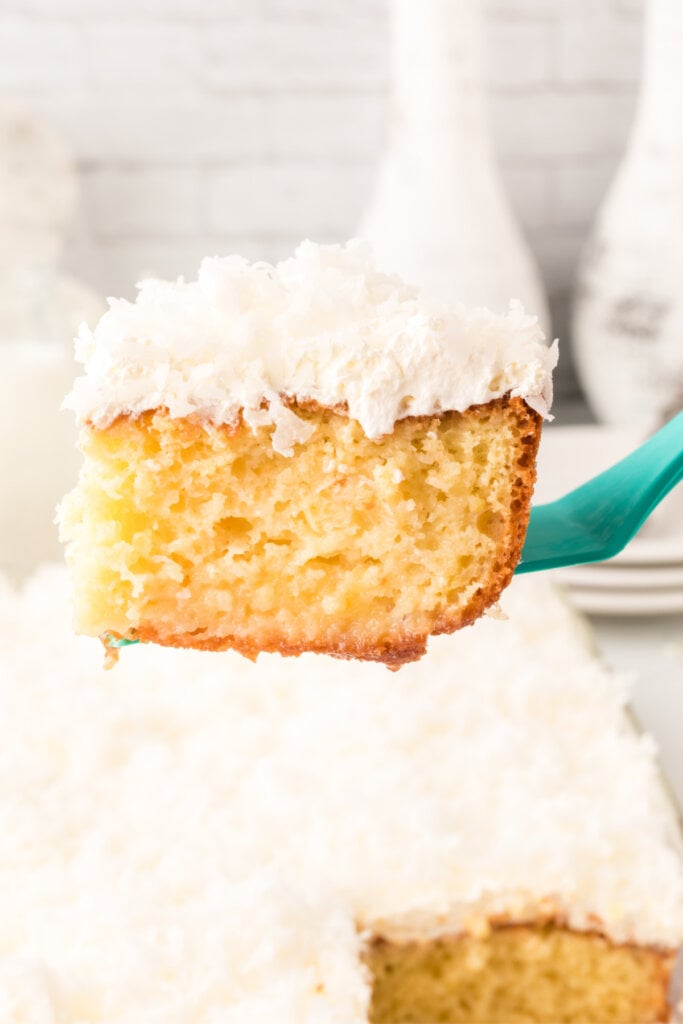 Coconut Cream Poke Cake: Ingredients & Utensils
To make this recipe for coconut poke cake, you'll need…
Ingredients
White cake mix, eggs, vegetable oil, milk, and vanilla – Your standard baking ingredients! For the white cake mix, feel free to use any of your favorite brands. Just make sure it's a relatively neutral flavor, since we're going to be adding lots and lots of coconut!
Coconut cream pudding mix – You'll add this to the above cake mix to make a coconut-flavored cake. Yum!!
Cream of coconut, condensed milk – Poke cakes always need a gooey filling, and these two ingredients will easily create that. You can usually find cream of coconut, by the way, in the international section of the store – or check the alcohol aisle. Goya, Costamar and Coco Lopez are some fairly common brands.
Cool Whip, sweetened coconut flakes – Your coconut cream poke cake toppings.
Utensils & Other Supplies:
9×13 inch baking pan – For baking your poke cake. Remember to spray it down with cooking spray!
Two bowls – About medium-sized, for mixing the cake batter and the filling.
Wooden spoon – Or something similar. You'll use the end of the spoon to poke holes in the cake.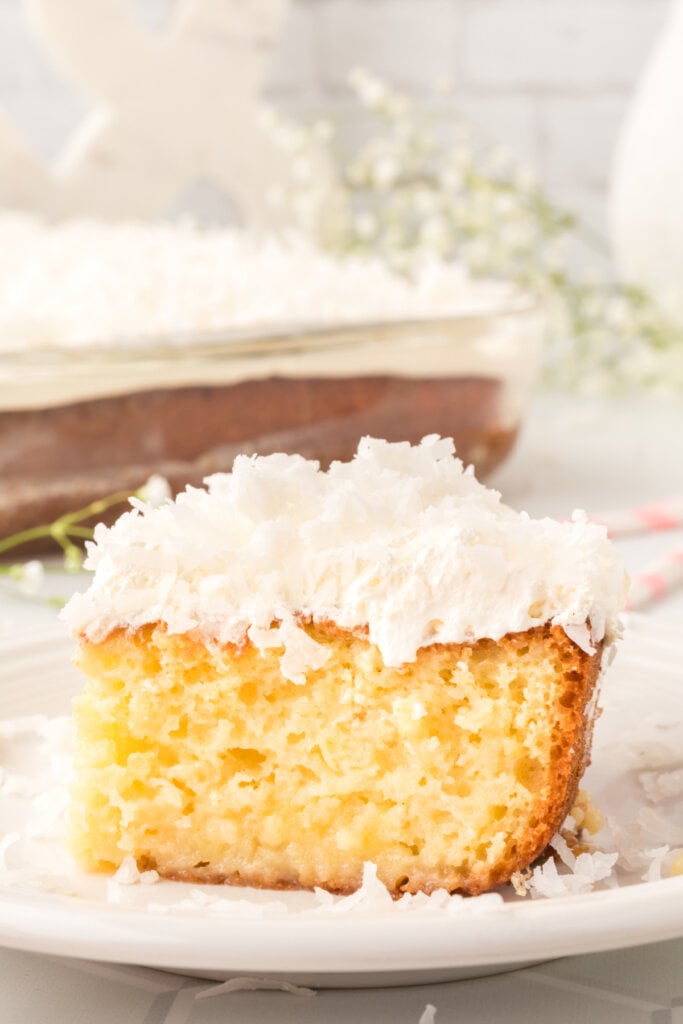 Coconut Cream Poke Cake: FAQs
How long does it take to cook coconut poke cake?
Less than an hour – but you'll want to also account for some chilling time! You can do the prep in 10 minutes and bake it up in 35 minutes. It's so quick and easy!!
How many servings does this recipe produce?
One 9×13 inch cake, which you can usually cut into about 18 to 24 slices/servings.
Can I use coconut milk instead of cream of coconut?
No, you need to use cream of coconut in this recipe! It's an easy mistake to confuse the two, but the cream of coconut has a higher fat content, which is what this recipe needs.
Do you need to chill this cake for 8 hours?
I highly recommend it. You'll definitely taste the difference. In fact, leaving it in the fridge overnight is even better. But if you're in a rush, it's not like it's inedible if you eat it immediately!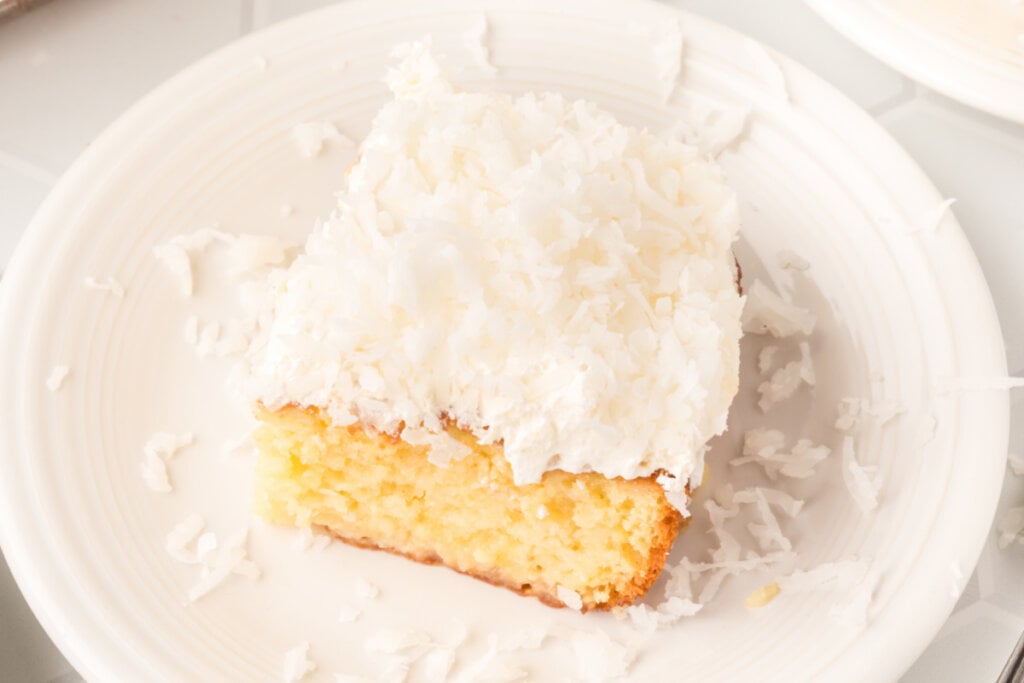 Other recipes you may enjoy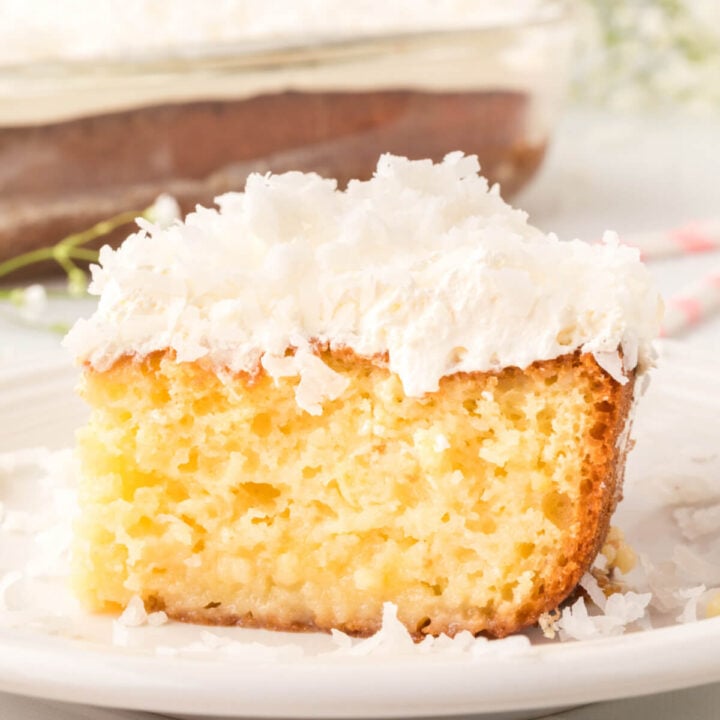 Coconut Cream Poke Cake
Total Time:
8 hours
45 minutes
If you love coconut, then you will LOVE this Coconut Cream Poke Cake! It is full of coconut flavor and it is so moist! Perfect for holidays, potlucks, and summer picnics!
Ingredients
1 box (15.25 oz.) white cake mix (any brand)
3 large eggs
1 cup milk
1/2 cup vegetable oil
1 box (3.4 oz.) coconut cream instant pudding
1 teaspoon vanilla extract
1 can (15 oz.) cream of coconut
1 can (14 oz.) sweetened condensed milk
8 oz. container of Cool Whip, thawed
sweetened coconut flakes
Instructions
1. Preheat oven to 350°F. Spray a 9x13-inch baking pan with cooking spray.
2. Mix together the cake mix, eggs, milk, oil, instant pudding, and vanilla until smooth. Pour into prepared pan. Bake for 32-35 minutes or until a toothpick comes out clean.
3. Mix the cream of coconut and sweetened condensed milk in a medium bowl. Poke holes in the hot cake with the round end of a wooden spoon and slowly pour this mixture over the cake, trying to fill the holes. Let the cake cool completely.
4. When the cake is completely cool, top with Cool Whip and sprinkle with the desired amount of sweetened coconut flakes.
5. Refrigerate at least 8 hours before serving.
Notes
This recipe needs time to allow the cake to absorb all of the yummy coconut flavors. At the very minimum, I would let it sit for two hours. The closer you can get to eight hours, the better!
This Coconut Cream Poke Cake is even better the next day (if you can wait that long!).
Recommended Products
As an Amazon Associate and member of other affiliate programs, I earn from qualifying purchases.
Nutrition Information:
Yield:

18
Serving Size:

1 slice
Amount Per Serving:
Calories:

286
Total Fat:

15g
Saturated Fat:

7g
Trans Fat:

0g
Unsaturated Fat:

7g
Cholesterol:

35mg
Sodium:

286mg
Carbohydrates:

35g
Fiber:

1g
Sugar:

21g
Protein:

4g
Please note that the nutritional information listed on this page is an estimation based on the products I used. Ingredients and nutritional information can vary significantly between brands. Always be sure to read labels. Please verify that a recipe fits your needs before using it. Nutrition info may contain errors, so please verify it independently. Likewise, recipes may contain errors, so please use your common sense when following them.
Originally published on April 17, 2013. Updated on February 22, 2022.