These no-bake Coconut Snowballs are a holiday-themed cookie treat that your loved ones are bound to enjoy this winter! They're so simple to make you can get the little people in your life involved, too.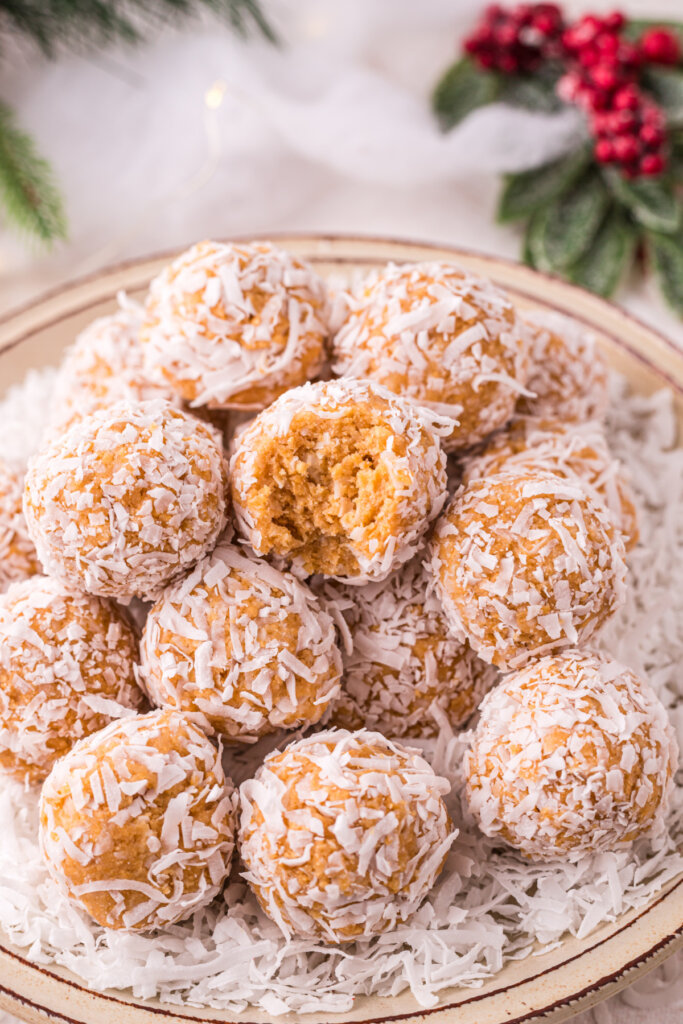 Coconut Snowballs
You may have heard of desserts like these Coconut Snowballs before. This recipe makes coconut-flavored cookies covered in shredded coconut so they look like, well, snowballs! It's adorable, tasty, and not an uncommon treat.
However, y'all, this recipe's a bit different. For instance:
It's truly no-bake and even no-stove. You don't have to turn it on once!
The dough base is literally just cream cheese and vanilla creme sandwich cookies. No need to bring out any baking supplies!
I use coconut extract instead of vanilla extract. It really brings out the almost tropical flavor of these snowballs, which is really fun when it's cold out.
They're totally nut-free, so they are safe for those with an allergy. (You can add nuts if you want into the recipe, though.)
It doesn't get much simpler than this for the holidays, y'all. Bring out the kids for this one because they'll have fun making them with you, too.
I know coconut isn't everyone's cup of tea … but these cookies may make a believer out of y'all! Enjoy!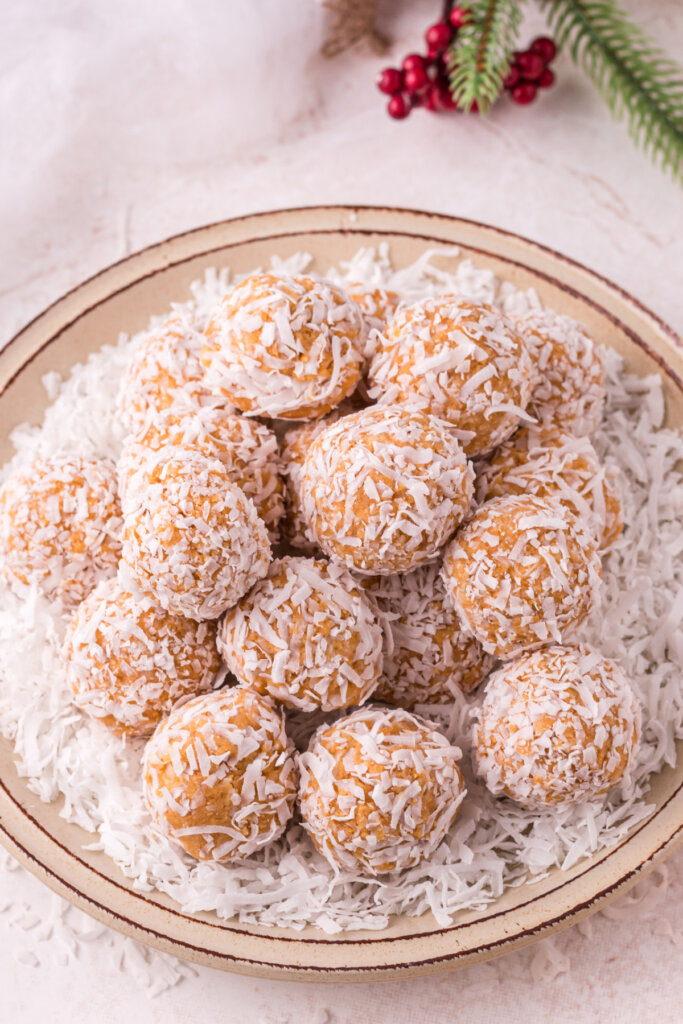 Coconut Snowballs: Ingredients & Equipment
For this Coconut Snowballs recipe, you'll need …
Ingredients
cream cheese, vanilla creme sandwich cookies – these two ingredients form your cookie dough after you pulse them together in a food processor.
coconut extract – a dash of coconut extract adds a lot more flavor to your snowballs!
flaked coconut – your "snow"!! Part of this will go inside your cookies, and part of this will coat your snowballs. Cute, right?!
Equipment
food processor – you'll use this to crush your sandwich cookies and pulse your cookie dough together.
baking sheet lined with wax paper – you'll set your coconut snowballs on these to chill them before serving (or storing) them.
bowl – to hold your shredded coconut as you make your snowballs. You can also use a pie plate.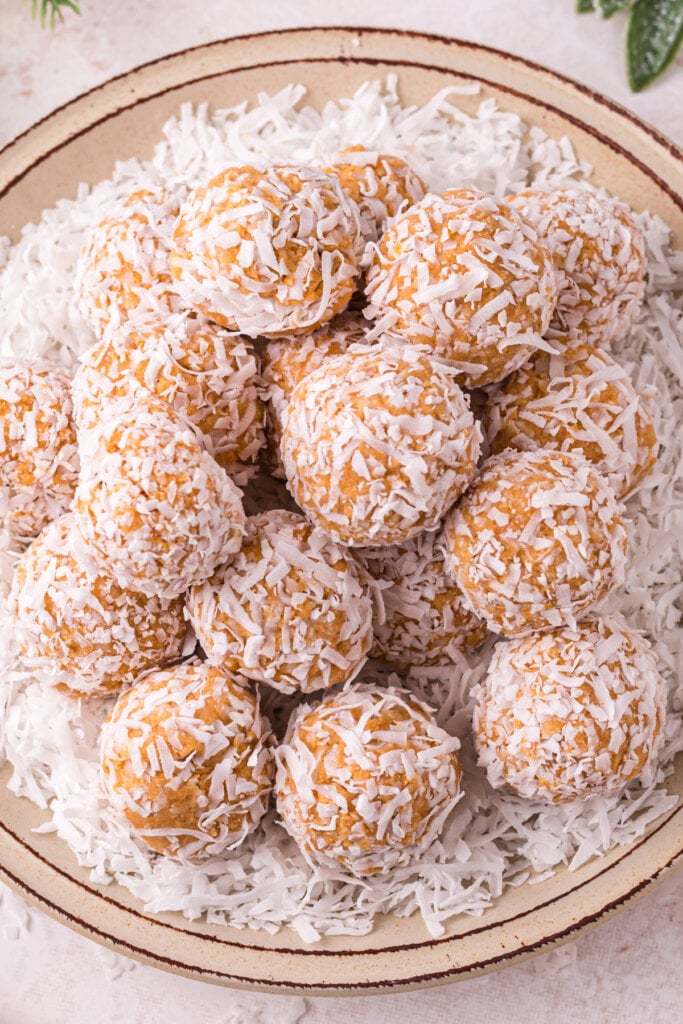 How to Make Coconut Snowballs
These no-bake Coconut Snowballs are relatively simple and only require about a half hour of prep time!
First, make your cookie dough. Crush your vanilla crème sandwich cookies in a food processor with a steel blade, then add cream cheese and pulse until combined. Throw in your shredded coconut and coconut extract and pulse again until fully incorporated. Just FYI, it'll be a thick mixture, y'all!
Next, "roll" your snowballs. Place 3 cups of coconut in a medium bowl. Scoop your cookie dough into walnut-sized balls (or about 1 tablespoon of dough). Roll each cookie dough ball into the coconut gently, so it coats the exterior of the ball. Don't worry about excess coconut—just let it drop back into the bowl! Repeat this process until you've used up all your coconut.
Finally, chill and serve or store your snowballs! Place your coconut snowballs on a baking sheet lined with wax paper. Refrigerate them for about 30 minutes or until they're firm. Now you're ready to serve them … or store them in an airtight container in the fridge until you're ready!!
Coconut Snowballs: FAQs
How many Coconut Snowballs does this recipe make?
It should give you 4 dozen Coconut Snowballs.
How long does it take to make Coconut Snowballs?
Technically, JUST technically, it takes an hour and a half. However, an hour of that is cooking + chill time. The rest of it is hands-on prep. So it's not something that'll keep you busy the whole day!
How long will my Coconut Snowballs last in the fridge?
Not very long since everyone's going to eat them up immediately! 🤩 I kid, I kid, these will last a week in the fridge. Remember, as always, to use an airtight container and to use wax paper between layers of snowballs if necessary!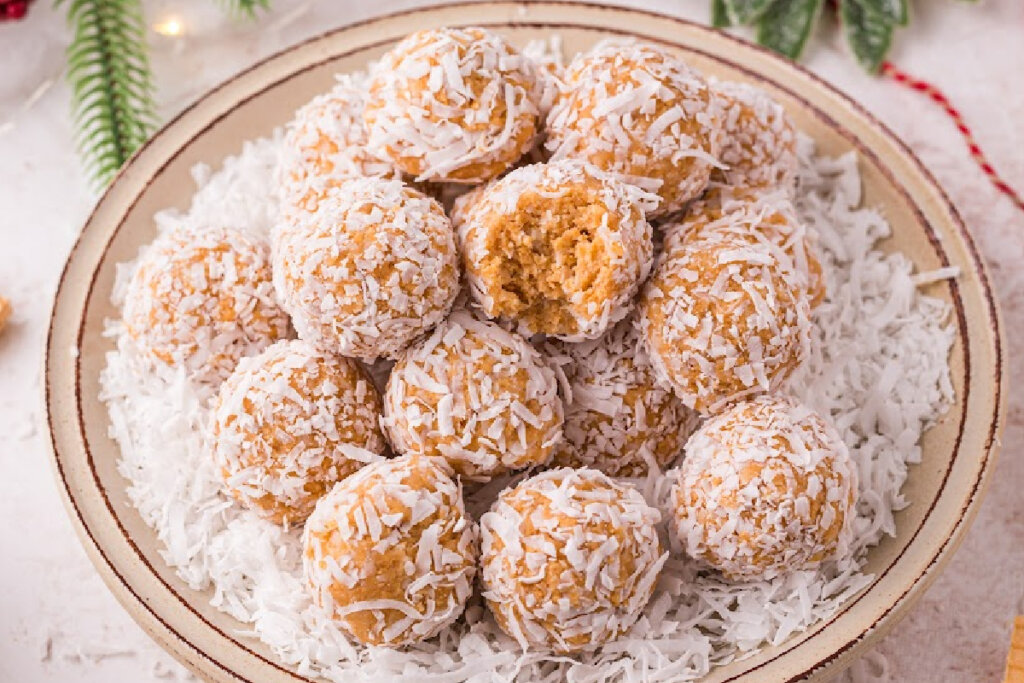 Other recipes you may enjoy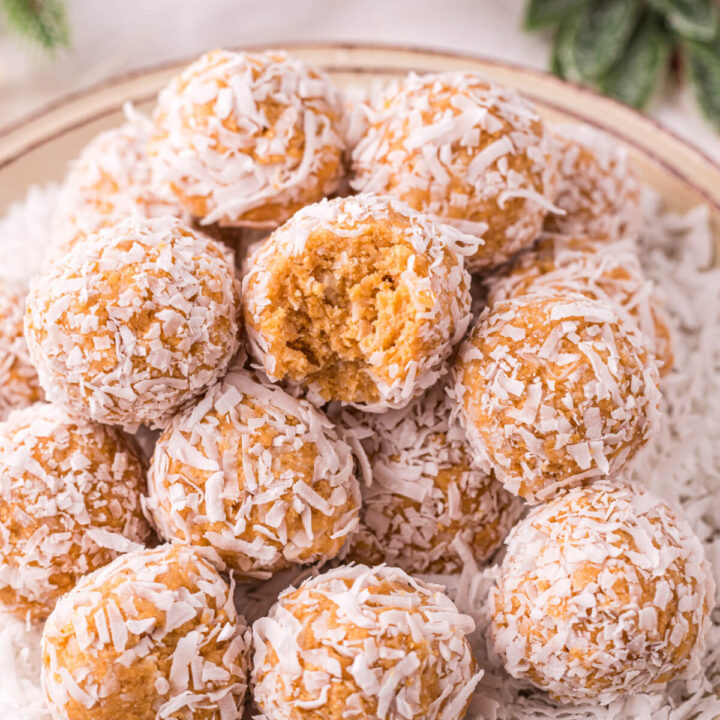 Coconut Snowballs
Additional Time:
30 minutes
Coconut Snowballs are a simple, no-bake, winter-themed cookie your loved ones will enjoy! They make a great addition to holiday cookie trays!
Ingredients
3 cups crushed vanilla crème sandwich cookies (about 30 cookies or 12 ounces)
3-1/2 cups flaked coconut, divided (or more as needed)
1 package (8 ounces) cream cheese, softened and cubed
2 teaspoons coconut extract
Instructions
Line a baking sheet with waxed paper and set it aside. Place 3-cups of coconut in a pie plate or medium bowl and set it aside.
Using a food processor with a steel blade, crush the vanilla crème sandwich cookies until finely ground.
Add the cream cheese to the food processor bowl. Pulse the cream cheese with cookie crumbs until they are well combined. Add 1/2-cup of shredded coconut and the coconut extract to the cookie dough, pulsing about 10-15 times or until fully incorporated. The mixture will be thick.
Scoop out the cookie dough into balls about the size of a walnut or about 1 tablespoon scoops. Using clean hands, roll the dough into balls and then roll the balls in the reserved coconut. Gently press the coconut into the cookie dough, allowing the coconut to coat the exterior. You want it to look shaggy and not completely pressed into the cookie dough. Let any excess coconut (snow) fall back into the pie plate. Set the coconut snowball on the prepared baking sheet.
Repeat "rolling snowballs" (cookie dough) until you have used all the "snow" (coconut).
Place the baking sheet in the fridge and chill the balls until firm, about 30 minutes.
Once firm, store balls in an airtight container in the refrigerator with waxed paper between layers.
Notes
This is an easy recipe for kids to help with!
If cookie dough is too loose or too sticky before rolling it into snowballs, set it in the refrigerator for about 30 minutes. The dough will become stiffer.
Properly stored in an airtight container in the refrigerator, these treats are good for up to about a week. Be sure to use wax paper between the layers.
This is the perfect make-ahead treat for the holidays! This recipe can be made and frozen in an airtight freezer-safe container for up to 3-4 months. Be sure to use wax paper between the layers. Allow them to thaw for a few hours in the fridge when you're ready to use them.
Recommended Products
As an Amazon Associate and member of other affiliate programs, I earn from qualifying purchases.
Nutrition Information:
Yield:

48
Serving Size:

1 snowball
Amount Per Serving:
Calories:

63
Total Fat:

1g
Saturated Fat:

1g
Trans Fat:

0g
Unsaturated Fat:

0g
Cholesterol:

1mg
Sodium:

23mg
Carbohydrates:

5g
Fiber:

0g
Sugar:

3g
Protein:

0g
Please note that the nutritional information listed on this page is an estimation based on the products I used. Ingredients and nutritional information can vary significantly between brands. Always be sure to read labels. Please verify that a recipe fits your needs before using it. Nutrition info may contain errors, so please verify it independently. Likewise, recipes may contain errors, so please use your common sense when following them.