Make this Slow Cooker Pork Roast with just a handful of ingredients, and you can practically forget about putting any effort into dinner! It's healthy, easy to cook up, and most importantly, delicious!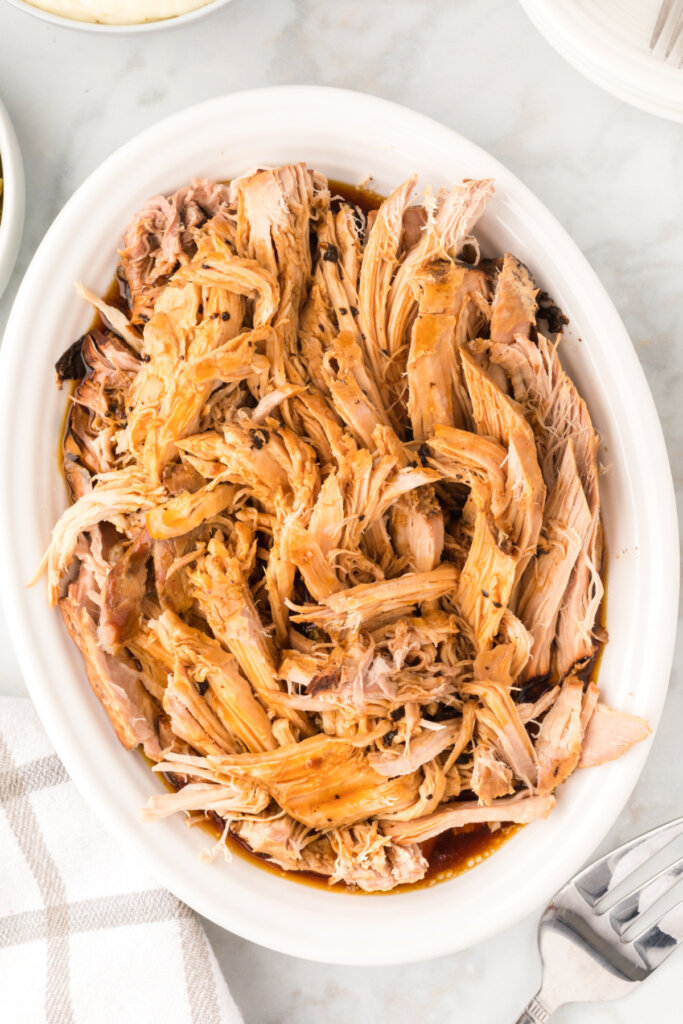 Crock Pot Pork Roast
Oh, slow cookers, how I love you! They're such miraculous devices when you think about it, aren't they?! No exaggeration! They make my favorite meals so low-effort. Case in point: this slow cooker pork roast!
Making crock pot roast pork still takes a while with a slow cooker, but it's entirely hands-off. You only need 20 minutes to prep ingredients in this recipe, and you use only 6 ingredients altogether. After that, the slow cooker takes care of everything for you! No need to stand around in the kitchen for hours and hours. That's an easy dinner!!
The nice thing about this recipe is that you don't have just to eat the pork roast as-is. You can use these instructions to make delicious, melt-in-your-mouth, utterly shreddable pork for tacos, sandwiches, and more. The leftovers are wonderful, too. I'm getting hungry just thinking about it.
There's nothing like a slow-cooked meal, y'all! I hope you enjoy this pork roast!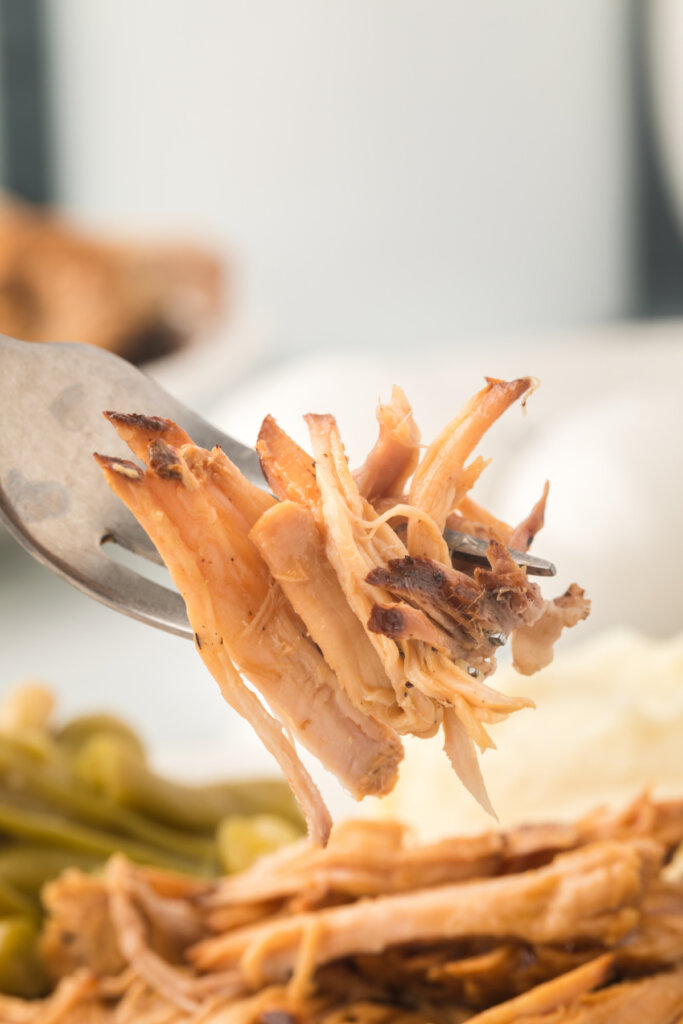 Crockpot Pork Roast: Ingredients & Equipment
For this Slow Cooker Pork Roast, you'll need …
Ingredients
pork roast – whatever cut you like, although I tend to use bone-in pork shoulder, and it's always worked for me! Boneless pork roasts are fine, too.
broth – the base of the "juice" or "gravy" your roast will cook in. Chicken broth is probably the easiest to use here!
soy sauce, balsamic vinegar, garlic, honey – the rest of your "juice" that you'll mix with the broth. It seems like a random assortment of ingredients, but, combined, these make such a good gravy!
Equipment
slow cooker or crock pot – a necessity for slow cooker pork roast, don't you think?! The average cook time will vary a bit depending on your brand, so know your device!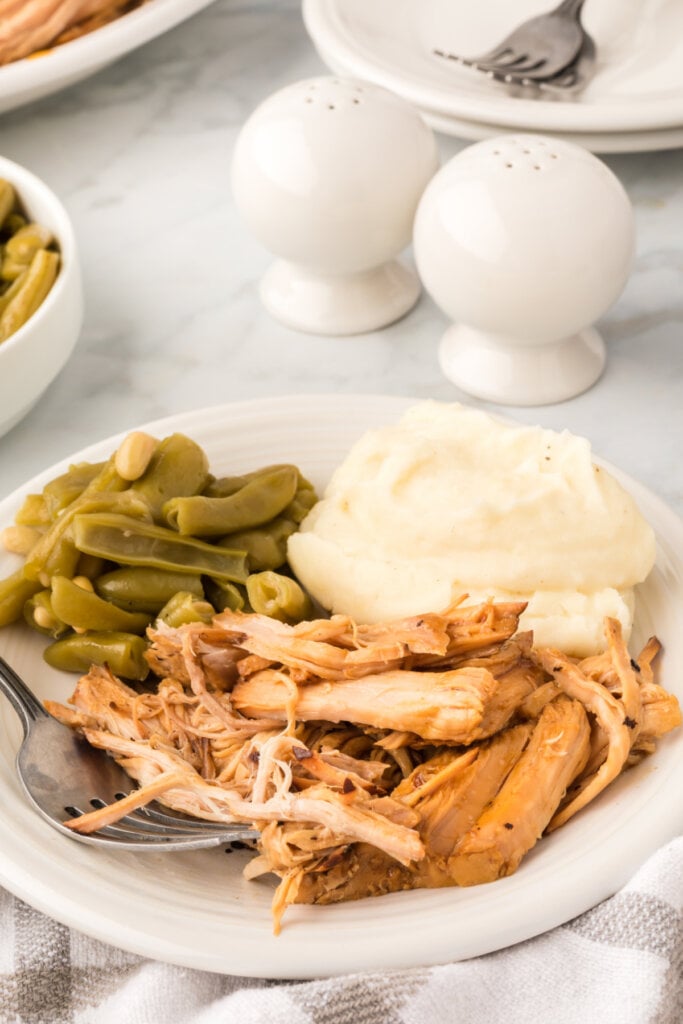 Recipe for Crock Pot Pork Roast: FAQs
How long does it take to make a slow cooker pork roast?
It only takes 20 minutes of prep, then 12 hours to cook. Never fear, though. Those 12 hours are entirely hands-off, so this is an EXTREMELY low-effort recipe! Set it and forget it!
How many servings does this recipe make?
Enough for 6-8 people to have it as a main dish, depending on serving size. Definitely a family dinner!
Should I spray down my slow cooker before making this recipe?
It's generally a good idea, but you know your device best! If it doesn't need it, the manual will probably mention that.
Can you use an Instant Pot for this?
Yes, you absolutely can! Anything that works like a crockpot or slow cooker should do!
Can you use beef or vegetable broth instead of chicken broth?
You can!! I just use chicken because it's the most convenient for me personally. They should all taste great with this roast, though!
Can I make the "gravy" thicker?
For sure! Add cornstarch into the "juice" mixture before you pour it on during serving if you want a thick gravy.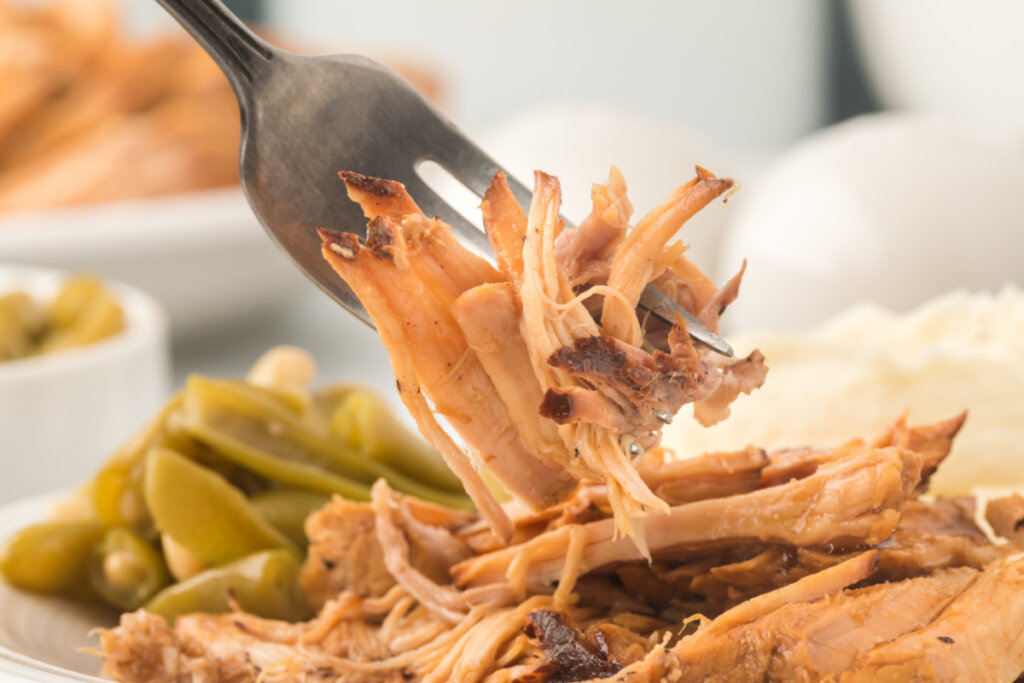 Other recipes you may enjoy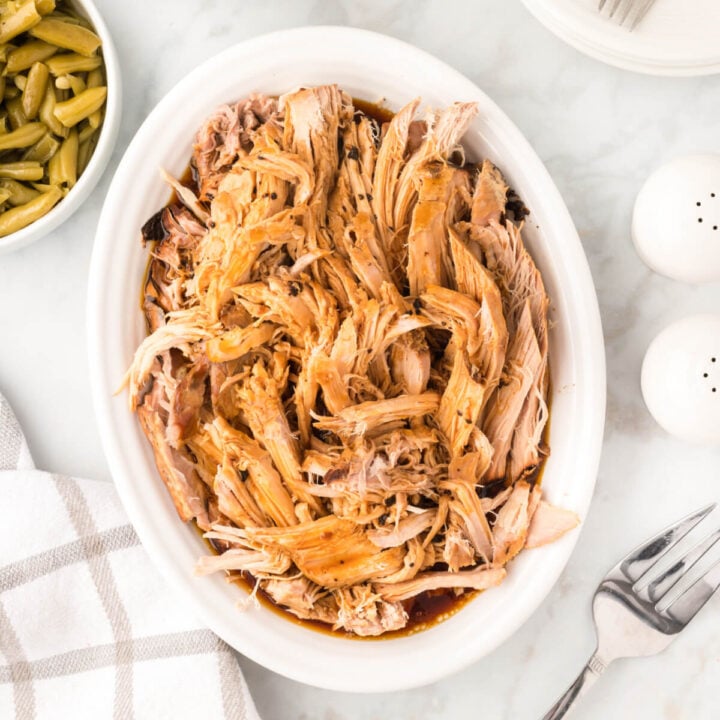 Slow Cooker Pork Roast
Total Time:
12 hours
20 minutes
Make this Slow Cooker Pork Roast with just a handful of ingredients, and you can practically forget about putting any effort into dinner! It's healthy, easy to cook up, and most importantly, delicious!
Ingredients
1 pork roast (3-4 lb.)
1 cup low-sodium chicken broth
1/4 cup balsamic vinegar
1/4 cup soy sauce
2 tablespoons honey
2 cloves garlic, minced
2 teaspoons cornstarch
Instructions
Place the roast in the slow cooker.
Combine the broth, balsamic vinegar, soy sauce, honey, and garlic in a 2-cup measuring the up. Whisk together and pour the mixture over the roast.
Cover and cook on low for 10-12 hours for that fall-apart, insanely tender type of meat. (Or on high 6-8 hours.)
Prior to serving, ladle out about 1/4 cup of the juice in the crock pot and strain into a measuring cup. Whisk in the cornstarch. Add in enough juice from the slow cooker to make 1 cup.
Microwave the cornstarch mixture on high for 30 seconds and whisk again.
Drizzle the sauce over the meat prior to serving.
Notes
Any kind of pork roast will work well for this recipe. I used a bone-in pork shoulder roast.
This recipe was originally submitted to this blog as a guest post from Butter with a Side of Bread.
Nutrition Information:
Yield:

6
Serving Size:

1
Amount Per Serving:
Calories:

89
Total Fat:

3g
Saturated Fat:

1g
Trans Fat:

0g
Unsaturated Fat:

2g
Cholesterol:

13mg
Sodium:

608mg
Carbohydrates:

10g
Fiber:

0g
Sugar:

7g
Protein:

5g
Please note that the nutritional information listed on this page is an estimation based on the products I used. Ingredients and nutritional information can vary significantly between brands. Always be sure to read labels. Please verify that a recipe fits your needs before using it. Nutrition info may contain errors, so please verify it independently. Likewise, recipes may contain errors, so please use your common sense when following them.
Originally published on January 22, 2016. Updated on July 19, 2022.