These crisp and tender Salmon Patties always disappear fast! This simple recipe will have your family begging for more!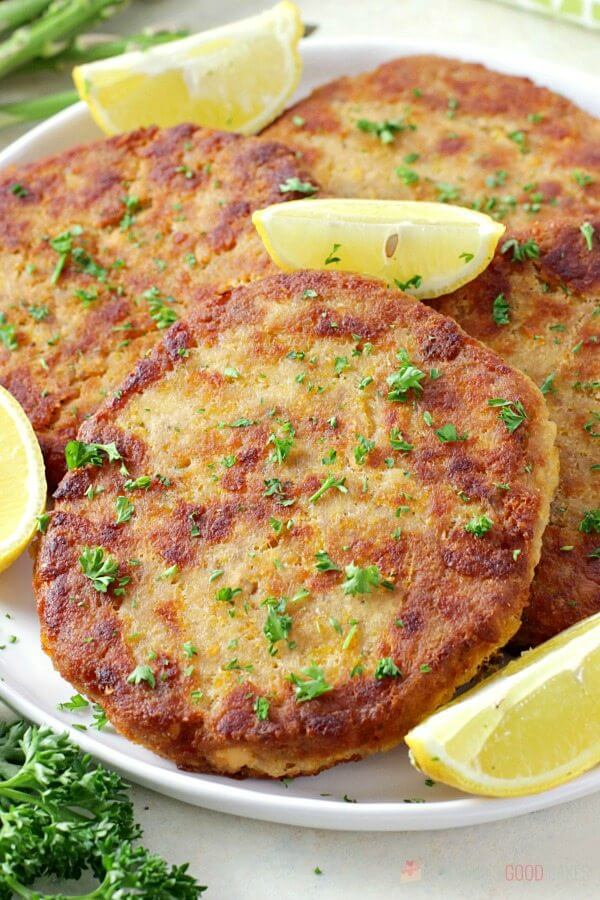 Salmon Patties
This is one of those meals that I have fond memories of. Although there is nothing special about them per se, it always seemed like a treat when my mom made salmon patties. Unlike many recipes that call for breadcrumbs or crackers, my mom always used crushed up cornflakes … so that's what I use too! Canned salmon makes this a simple and economical dish that's easy to keep on hand.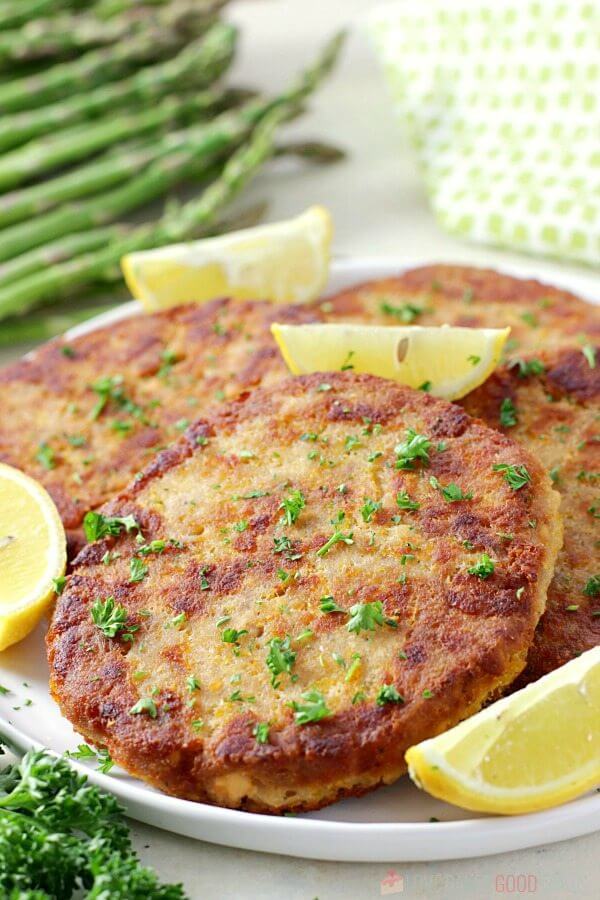 How do you make salmon patties with canned salmon?
That's actually what I prefer to use and that is what I use in this recipe! I usually keep a few cans of salmon in my pantry because it's so easy to make salmon patties when I need a quick meal. Plus, it's an economical protein and a great way for my family to get some of those heart-healthy omega-3 fats and other nutrients.
How do I keep my salmon patties from falling apart?
When making salmon patties, it is the combination of salmon, a binder (eggs), and an extender (examples – breadcrumbs, crackers, or in my recipe, cornflakes) that work to hold the mixture together. It's very similar to making meatloaf. If you notice your mixture is too loose, you just add a bit more of your extender to bring the mixture together. If the mixture seems too dry, a bit of water helps.
I like to use squares of wax paper to form my patties. When the oil is hot enough, I can easily place the patties in the pan with minimal effort, helping to keep the patties together.
I think the biggest secret is letting the patties have enough time to cook on the first side before trying to flip them over. You want a nice golden color. I find slipping a wide spatula under the patties and gently holding the patty with the other hand while I flip them over to be the easiest and best way to keep them together. Once they're golden on the second side. I drain them on paper towels before transferring them to serving plates and garnishing them with parsley and lemon wedges.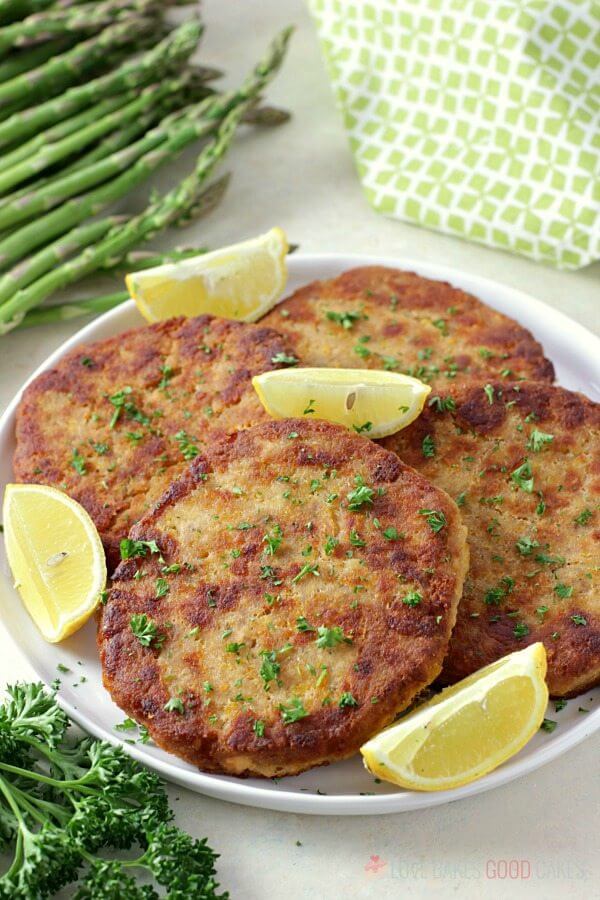 What is a good sauce for salmon patties?
I prefer mine without sauce. However, if you prefer a good sauce with your salmon patties, I suggest a Dijon mustard sauce or a creamy dill sauce. A lemon-herb sauce would be great, too.
Can you make salmon patties ahead and freeze them?
To freeze salmon patties, prepare them as noted in the recipe and form them into patties. Place them on a baking sheet and freeze them until firm. Wrap each patty in plastic wrap and place them inside of a freezer-safe container or zip-top freezer bag. Remember to use them within 3 months. To use, thaw, and proceed with cooking instructions.
Can salmon patties be baked?
Yes! I have included instructions with the recipe below telling you how to bake them.
What should I serve with salmon patties?
My mom always served fried potatoes and creamed corn when she made salmon patties. Some other great options: Oven-Roasted Asparagus, Creamy Stovetop Mac and Cheese, 7 Layer Salad, Hush Puppies, or Creamy Pea Salad.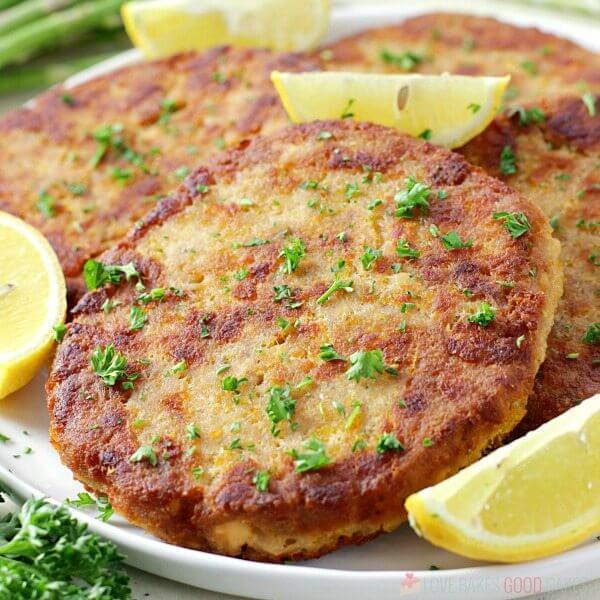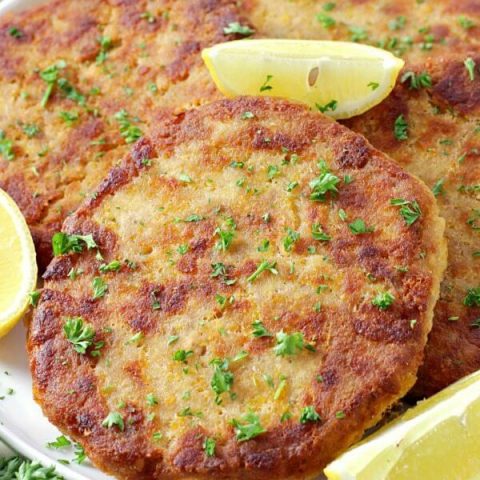 Salmon Patties
These crisp and tender Salmon Patties always disappear fast! This simple recipe will have your family begging for more!
Ingredients
1 can (14.75 to 16 oz.) pink salmon
2 large eggs, beaten
3/4 cup cornflakes, crushed
Vegetable oil
Instructions
Drain salmon. Remove skin and bones, if desired. In a medium bowl, flake the salmon. Add eggs and cornflakes. Mix by hand until the mixture comes together. If the mixture seems "loose", add a little more cornflakes. Form into patties.
Heat about 1/4-inch of oil in a skillet over medium-high heat. Fry patties in oil until browned. Carefully flip over and fry the other side until browned. Drain on paper towels.
Serve hot.
Notes
You can substitute salmon in a pouch with the skin and bones already removed - you will need about 14-16 oz. for this recipe.
To bake salmon patties:
1. Preheat oven to 375°F.
2. Bake 10-15 minutes in the preheated oven, turning once, or until golden brown on both sides.
Nutrition Information:
Amount Per Serving:
Calories:

222
Total Fat:

10g
Saturated Fat:

2g
Cholesterol:

183mg
Sodium:

489mg
Fiber:

0g
Sugar:

1g
Protein:

29g
Originally published July 15, 2012. Updated February 20, 2018.