Celebrate Fall with this easy to make and utterly delicious, Pumpkin Spice Muddy Buddies recipe! Perfect for Fall snacking or tailgating parties! #fall #muddybuddies #puppychow #snacks
Pumpkin Spice Muddy Buddies (aka Puppy Chow)
Are you dreaming of all things pumpkin yet? Just me? 🙂 If you have been around here any length of time, you know that I am obsessed with all things pumpkin. Fall is by far my favorite season when it comes to food … isn't it everyone's?!
I picked up some Pumpkin Spice flavored Wilton Candy melts awhile back and really had no idea what to do with them. As I was doing my weekly grocery shopping over the weekend, it dawned on me – Muddy Buddies!! I haven't made them in ages – and I loved the idea of making them pumpkin flavored! Some of y'all might call these "puppy chow" – I've heard both terms used. No matter what you call them, they are delicious! This Fall version – Pumpkin Spice Muddy buddies – is easy to make and is utterly delicious! It's the perfect way to snack this season! 🙂
Side note: If you're looking for a homemade pumpkin butter, my bloggy friend Deb, over at Cooking on the Front Burner has an awesome one! Click HERE to see Deb's Pumpkin Butter recipe!
Other recipes you may enjoy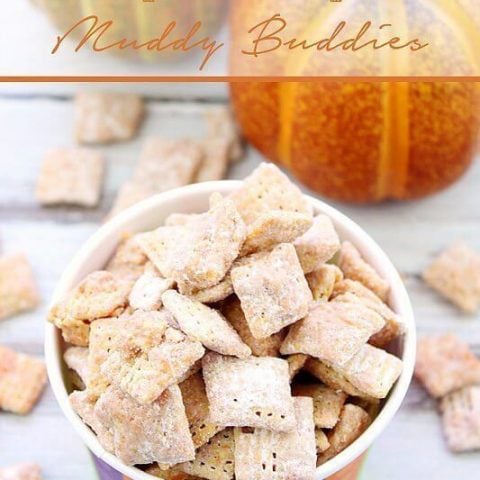 Pumpkin Spice Muddy Buddies
Celebrate Fall with this easy to make and utterly delicious, Pumpkin Spice Muddy Buddies recipe! Perfect for Fall snacking or tailgating parties!
Ingredients
8 cups Chex cereal
1 bag (10 oz.) Wilton Pumpkin Spice candy melts
1/2 cup pumpkin butter
1/4 cup ( 1/2 stick) butter, melted
1 cup spice cake mix, dry
1/2 cup powdered sugar
Instructions
Place the Chex cereal in a large bowl that has a lid or a large paper grocery bag. Set aside.
In a small bowl, combine the dry cake mix and powdered sugar. Set aside.
In a medium saucepan over low heat, melt the pumpkin spice candy melts, butter and pumpkin butter until smooth. Stir constantly.
Working quickly, pour the candy melts mixture over the cereal. Shake or stir until thoroughly combined and the cereal is mostly covered.
Immediately pour the dry cake mix mixture over the top and shake until the cereal is well coated.
Nutrition Information:
Amount Per Serving:
Calories:

529
Total Fat:

29g
Saturated Fat:

18g
Cholesterol:

46mg
Sodium:

362mg
Fiber:

4g
Sugar:

29g
Protein:

4g