Enjoy watching the new The Secret Life of Pets movie with this easy to make Kibbles & Bits Snack Mix with a FREE Printable! Great for any pet or animal themed parties, too!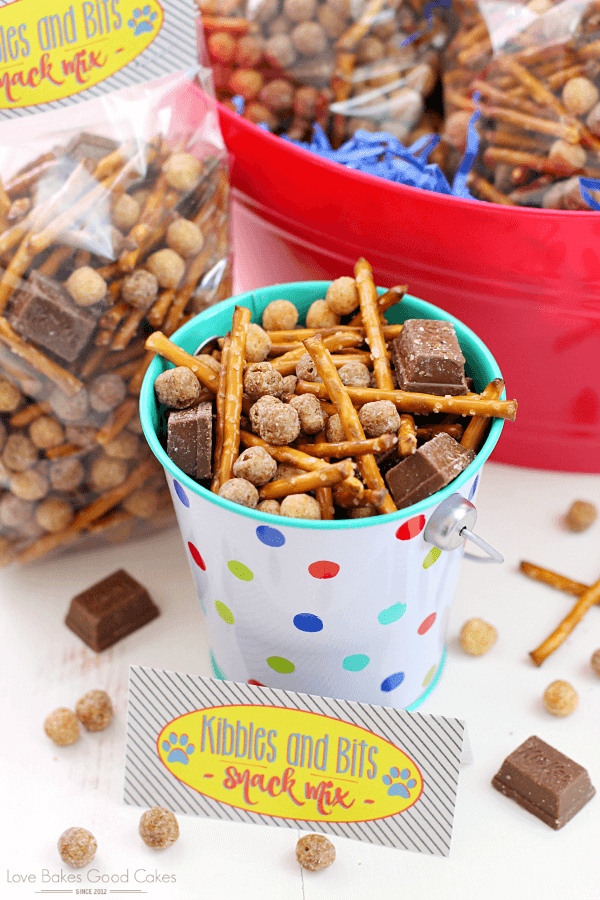 This post may contain affiliate links. As an amazon associate, I earn from qualifying purchases. See my full Disclosure Policy for details.
Kibbles & Bits Snack Mix
My kiddos are super excited for the release of The Secret Life of Pets movie today! We first caught a glimpse of the movie while watching previews for The Minions – Abby would laugh and laugh every time she saw the preview where the guy is getting ready to leave and tells his pet poodle, Be a good boy, Leonard … then leaves and the poodle turns on System of a Down's song, Bounce!!
I have to admit, it was kinda funny watching the prim and proper poodle rock out ….. and we're looking forward to enjoying the entire movie!!
Since we've been looking forward to The Secret Life of Pets, I decided it would be fun to make a snack mix just for the movie … even though you could use this snack mix for almost any kind of pet or animal party!
You can be sure that I'll have a few bags of this Kibbles & Bits Snack Mix in tow when we head to the movie theater this weekend! 😉 It's got a mixture of sweet, salty, and of course chocolate! What more could you ask for?! Since it's so simple to make, you can have your kiddos help you mix up a batch for this weekend, too!
You can use this snack mix printable for a treat bag topper or as a table card.
GET YOUR FREE KIBBLES & BITS SNACK MIX PRINTABLE HERE
Be sure to visit the blog post for the FREE printable!
My bloggy friends made some pretty awesome things for the release of The Secret Life of Pets movie, too!!
Be sure to stop by and see what they made!
8 recipes inspired from the movie:
Lime Coconut Puppy Chow from Around My Family Table
Kibbles & Bits Snack Mix from Love Bakes Good Cakes
Catnip Tea (for cats) from Celebrating Family
Puppy Chow Cookie Bars from A Savory Feast
Puppy Pops from A Little Slice of Us
Sweet Potato & Banana Pupsicles from A Joyfully Mad Kitchen
Puppy Party Snacks from For The Love of Food
Bacon Fluffernutter Puppy Chow from Bread Booze Bacon
Other recipes you may enjoy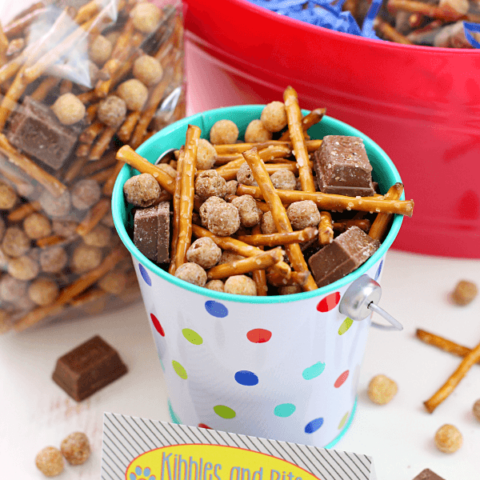 Kibbles & Bits Snack Mix
Yield:
8 large treat bags or 16 small
Great for any pet or animal themed parties, too!
Ingredients
1 bag (16 oz.) pretzel sticks
1 bag (14.8 oz.) Kit-Kat minis
1 box (13 oz.) Reese's Puffs cereal
Instructions
Combine all ingredients in a large bowl.
If desired, separate portions into treat bags.
Nutrition Information:
Amount Per Serving:
Calories:

408
Total Fat:

7g
Saturated Fat:

1g
Cholesterol:

0mg
Sodium:

959mg
Fiber:

4g
Sugar:

18g
Protein:

9g